Follow
The
Story
Of
The
Reserves
Article By Barry Grossmith
It's probably true to say that most fans are mainly interested in the fortunes of the first team rather than the Reserves, Under 18s or Juniors. That's understandable, although from a personal point of view I've managed to see the Under 18s a few times this year and the Reserves twice and thoroughly enjoyed watching those games. It's also possible that watching some of those matches may mean you're seeing a young player who will go through the ranks and make it into the first team or possibly a reserve soon to be knocking on the door of the First Eleven.
When the senior squad gained promotion last year from The Thurlow Nunn League Premier Division to The Bostik North, it also meant promotion for our second string from The Thurlow Nunn Reserve League to The Thurlow Nunn Division One. This was a big step up for our Reserves and nobody believed it would be easy at that level. And, unfortunately, so it has proved to be.
Our second string failed to pick up a single point in the first ten outings and it wasn't until the 6thOf October that we came away with a win at Wisbech St. Mary. During that time manager Aren Howell and assistant Alex Egelton had worked tirelessly trying to reverse the team's fortunes.
On the 1stof November the club announced that Aren Howell had stepped down from his responsibilities as Reserve team coach and that the club had secured the services of Luke Hillyard, ex Achilles Manager, who would take over that role from the 10thof November. Re-printed below is a short article issued by the club at the time.
Luke Hillyard (left) with brother Liam celebrating winning The Suffolk Senior Cup.
Felixstowe & Walton United are pleased to announce that Luke Hillyard will be taking over as Reserve Team Manager with his first game in charge on the 10thof November. 
Luke joins The Seasiders after leaving Achilles in early October, where he was very successful with the club finishing as SIL champions in 2018 and helping them to victory in The Suffolk Senior Cup in 2017. He spent three years in charge at Achilles. Speaking about leaving the club he said, " I felt it was time to go.  I loved my time at the club, it is a great place. But I just thought I had taken them as far as I could. Winning the title last season was the pinnacle and we'd won everything we could. I think I've left the club in a better place than when I arrived."
Prior to taking over at The Goldstar Ground on the 10th of November, Luke wants to take a look at the players in the two games against Haverhill Borough and Harleston Town in the next week. He will be looking to bring players in to strengthen the young reserve team squad.
Ian Watson, joint first team manager, said "Luke is a young, up and coming, ambitious manager whose reputation already precedes him. To say it is a major coup on the club's part is an understatement, with a number of Thurlow Nunn clubs courting him. I am personally pleased after our conversations that Luke has chosen Felixstowe as the club to join, in the main because of what our club stands for and where we are progressing throughout. Luke is keen to develop and progress, not only himself but also the talented young players we already have at our club and Kev (O'Donnell – joint first team manager), myself and Alex (Egelton – caretaker reserve team manager) look forward to working directly with him. Luke is keen to link with the Under 18 squad to push the whole club forward."
Luke's first game in charge saw his side come out victorious away at Needham Market on the 10th of November, lifting the team off the bottom rung of the ladder for the first time this season. Unfortunately, this win couldn't be repeated three days later at AFC Sudbury, with the Reserves going down 6-3 against very tough opponents. Liam Hillyard scored twice for The Seasiders and Chris Williams netted once.
Luke has been very busy bringing in fresh talent to the Reserves and below is a list of new faces at the club at the time of writing.:
| | | | |
| --- | --- | --- | --- |
| Liam Hillyard   | 30  | Achilles  | Striker  |
| Sean Hanley | 26 | Achilles | Midfielder |
| Danny Garrard | 24 | Capel | Midfielder/Winger |
| Yani Duka | 24 | Coplestonians | Striker |
| Liam Crapnell | 18 | Ipswich Wanderers | Defender |
| Lee Leparvlo | 31 | Ex-Achilles | Defender |
| Chris Williams | 32 | Henley | Winger/Striker |
| Luke Mulley | 29 | AFC Kesgrave | Midfielder |
| Mark Vanoene | 29 | Cranes | Defender |
| Josh Capocci | 26 |   |   |
| Sam Osbourne | 28 | Trimley |   |
| Josh Dowsing | 22 | Claydon |   |
For any fans not travelling to Basildon on Saturday 17thof November, you may be interested to know that the Reserves will be at home to Fakenham Town with a 3pm kick off at The Goldstar Ground. To find out more details about forthcoming games, click here or just look at Reserves fixtures and results on the website.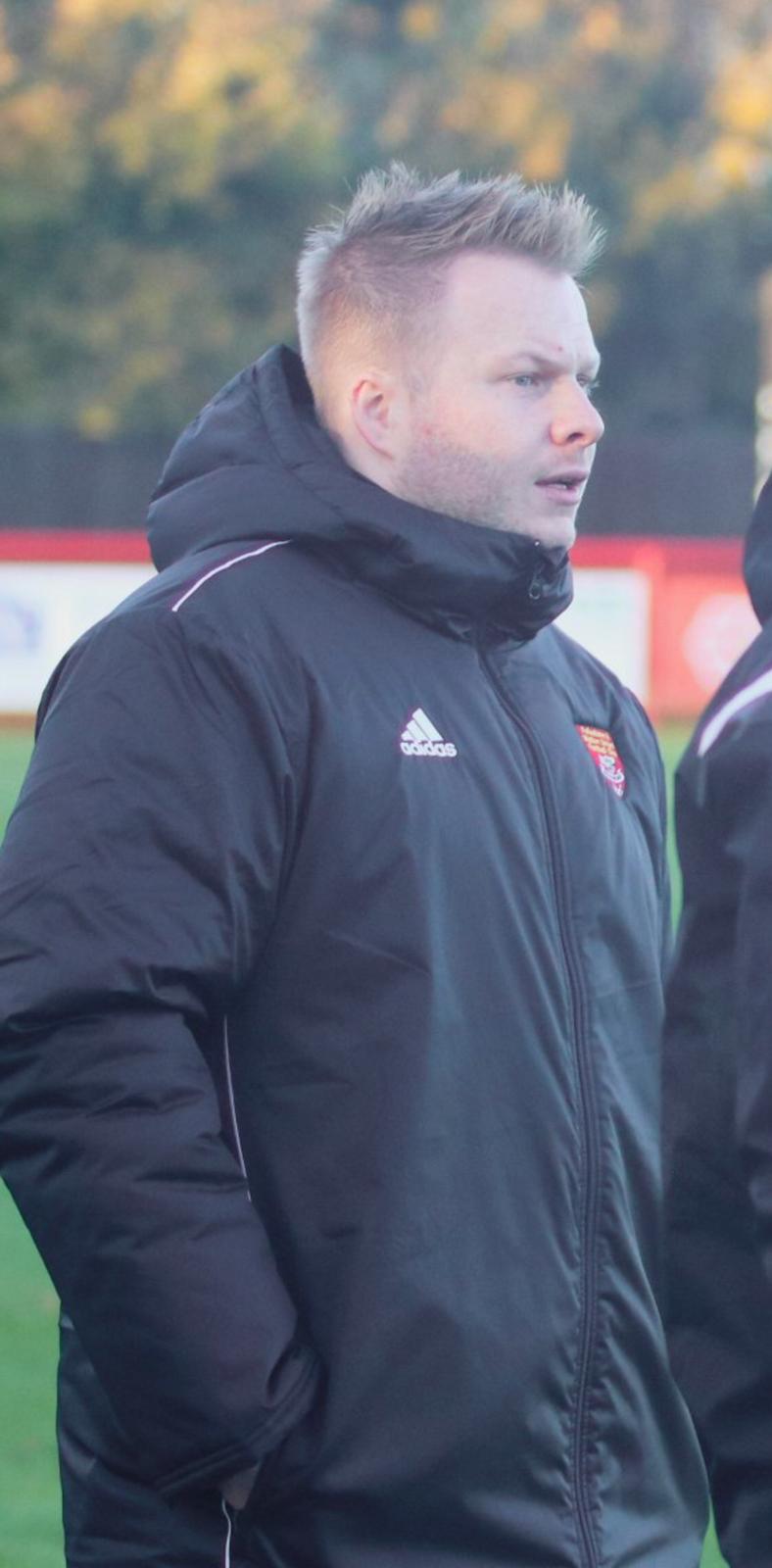 Luke Hillyard and Alex Egelton (above) have a tough job on their hands if they want to try to avoid relegation, but Luke has impressed with his enthusiasm so far and he will undoubtedly be well assisted by Alex Egelton's hard work.
To follow the progress of the Reserves, just check out the website under Seniors/ Reserves/ Fixtures & Results OR League table. Even better, get along to support the second string if or when you're not following the first team away from home. Remember, you may have a season ticket that includes free entry to Reserve games.