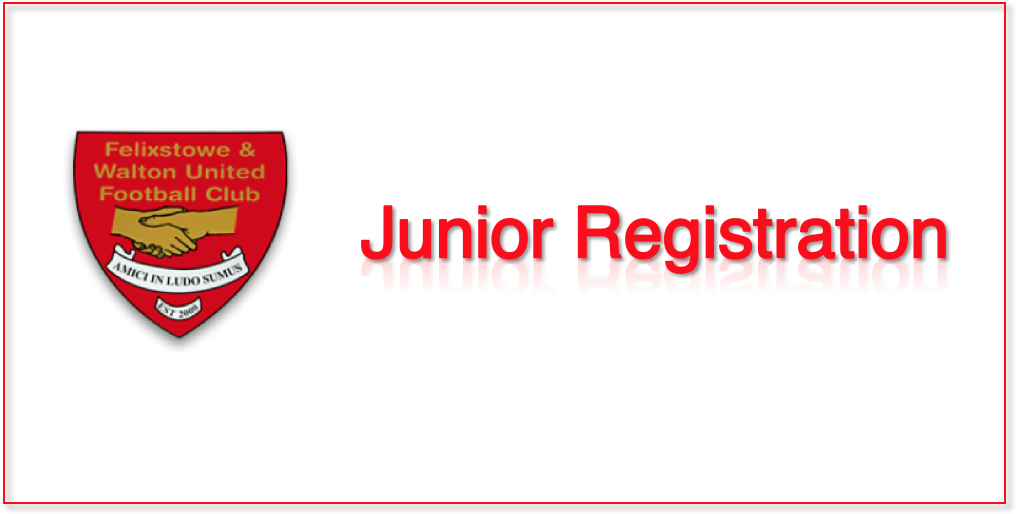 🔴 Registration for the Junior Section 2021/22 season is now OPEN  ⚪️
Welcome to Felixstowe & Walton Utd Youth Section Registration. Please use the correct link for your required age group team and please choose the correct team – 'Reds' or 'Whites'.
🔴🔴 After last season's interruptions because of Covid we very much hope we can all enjoy a full season this year from start to finish. We fully appreciate all the coaches efforts in rearranging missed fixtures from last season and continuing training through the summer to give as much football as possible to the children. Thank you to all children for all their efforts in difficult circumstances for them and to all the parents for you help with getting the children to training and matches under the Covid rules.
With this in mind and under normal times as a Section we were planning an increase across the board in the registrations this year but have decided to freeze all prices for all age groups, boys and girls.  ⚪️⚪️
NEW PLAYERS
Please do not automatically sign up and register players before speaking to the relevant age group head coach to confirm availability. All details of such coaches can be found on the website HERE.
Felixstowe and Walton United Football Club is a Charter Standard Community Club providing football facilities for both girls and boys from 5 to 18 years old. The Club fully adopts the FA Respect Campaign and their Anti-bullying policy.
Prices
Prices for 2021/22 season September to April:
U6 Start up: £15
U7s: £25
U8s: £80
U9s to U12s: £100
U13s to U16s: £110

Girls
U09-U16s: £80
 
Registration
Click on the relevant link below for your child's age group to register:
2021/22 U06 Start Up Group - Felixstowe and Walton Utd FC – Register


2021/22 U07s - Felixstowe and Walton Utd FC – Register


2021/22 U08s - Felixstowe and Walton Utd FC – Register


2021/22 U09-12s - Felixstowe and Walton Utd FC – Register


2021/22 U13-16s - Felixstowe and Walton Utd FC – Register

2021/22 U9-16s Girls - Felixstowe and Walton Utd FC – Register
Registration provided by: