Dave
Ashford
– 
President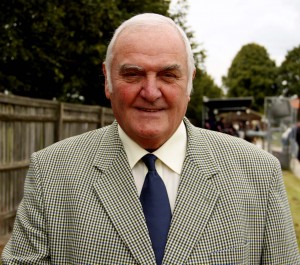 Born in Lambeth in 1940, Dave has been involved in football all his life. In his position as a more than useful goalkeeper, he played representative football for South London Boys at elementary level, and on graduating from High School played top class amateur football for Leytonstone, Walthamstow Avenue and Epping Town, being selected for the London League representative side, before joining Woodford Town in 1965, playing in the Metropolitan League (then the equivalent to The Southern League). It was a short stay at Woodford, as the ever expanding Felixstowe Dock & Railway Company beckoned and Dave 'got a job'. He then signed for Harwich & Parkeston in the Athenian League who at that time were one of the top 'amateur' clubs in the country.
A work colleague, the late Barry Gould, who was to become his business partner, was playing for Felixstowe Town, then in the Ipswich & District League. They eventually formed their own very successful business in 1968 and overwhelmed with all the travelling with Harwich, Dave went along to a training session at Maidstone Road school in 1968 and thus began his association with the club that has lasted over 46 years so far.
Dave had obtained his FA Preliminary badge and went on to firstly take over the reserve team manager's role in 1968 and then as manager from 1969 to 1977, seeing the old Felixstowe Town through the Essex & Suffolk Border league, winning the Suffolk Senior Cup and into the Eastern Counties League, FA Cup and FA Vase competitions.
Dave was elected chairman in the early 80's and has done just about every job within the club including the role of treasurer and being on the ECL Management Committee. The one role he never took up was that of secretary.
Dave was friends with Sir Bobby Robson via his association with both Felixstowe and Ipswich Town and started The Sportsman's Dinners in 1989.
He was joint chairman with Tony Barnes when Felixstowe Town and Walton United merged and then became President  and still remains a firm figurehead for the club, respected throughout the game for his contribution not only to the club,but football in general.
Dave will still be seen at all home games as enthusiastic today as he ever was.
Chris Daynes – Joint Chairman & Facilities Manager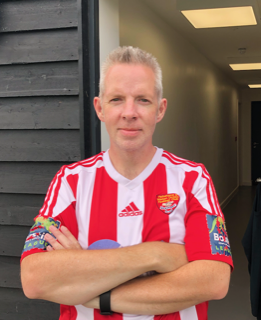 Chris grew up in Felixtowe and spent his school years watching Felixstowe Town from the old wooden grandstand at Dellwood Avenue. A lifelong Lincoln City supporter, he also spent 15 years as a season ticket holder up the road at Ipswich Town before becoming disillusioned with the professional game. He caught the bug for non-league football again and became a regular Seasider once again and a year later, in 2003, responded to a programme plea for new blood to join the committee. Chris became joint social and commercial manager with his twin brother Stuart before also taking on the role as programme editor a season later. This he did for 4 seasons before handing over the stapler to Phil Griffiths once again due to work commitments. A two year stint as bar manager followed before stepping down when taking on a new venture-The Cafe on the Corner in Felixstowe in 2011. Having sold the business, Chris returned as a full time facilities manager in 2013 and played a leading role in the clubs pitchside development project and other ground improvements, as well an active role in the commercial and social side of the club.
In 2008, Chris came across the idea of organising a professional public firework display and the event, Felixstowe Firework Spectacular, has gone from strength to strength, attracting crowds of 4000 plus and becoming not only a major event in the Town's calendar but a vital fundraiser for the club and local charities too. 
After becoming Chief Operating Officer in 2018, Chris was elected as Joint Chairman in July 2020.
MATT HOPE- JOINT CHAIRMAN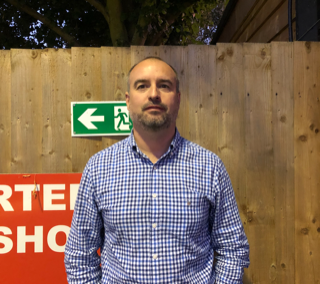 Felixstowe & Walton Utd has been a part of Matt's life, for as long as he can remember. His Dad, and a number of Uncles all played for the club during the late 1960's and throughout the 1970's. As a family they were regular visitors to Dellwood Avenue throughout the 1980's where Mum also helped out in the kitchen serving Hot Food.
Matt played for the U18's and also made fleeting appearances for the Reserve and 1st Teams before playing a number of Seasons for Walton Utd prior to the amalgamation.
Matt continued to watch and support the club but got back involved when his eldest daughter started playing football. He managed her team for 4 seasons until at 16 the girls decided they didn't want to continue, at which point Matt was approached to join the Junior Committee in the role of Director of football.
This role takes on an overview of the whole section as opposed to one specific age group and as such along side the Chairman & Vice Chairman we wrote and developed an Ethos for the junior section which focuses on football for all, regardless of ability, equal game time for everyone and, most importantly, to ensure that the children enjoy themselves. We are also now spending more time with the senior section of the football club and ensuring we provide the correct & necessary pathway for the older juniors into senior football.
The whole junior section is thriving and is something that the football club as a whole should be very proud of!!
Matt was elected as Joint Chairman in July 2020.
Andy Clarke- Joint Chairman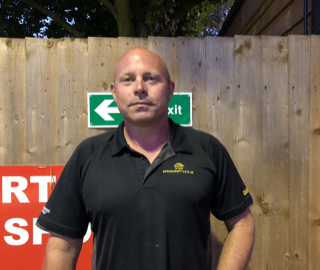 Andy
Wilding
- Life
Vice
President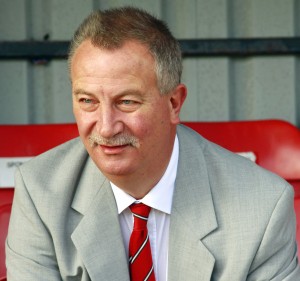 Andy took over the role as chairman in an official capacity at the clubs AGM in 2012 after being elected 'acting' chairman when Tony Barnes stepped down in the autumn of 2011. 
Andy is no stranger to the football club having been involved with the junior section for over a decade, latterly coaching the Under 18's until three seasons ago after initially starting with the side as an Under 8 team. 
During the past 13 years Andy has taken the time to qualify as a FA Football Referee Instructor and more recently gained his FA Level 2 Referee Tutors Licence. Through his work with referees he has an excellent rapport and working relationship with both the Suffolk FA and the full Football Association.
Andy has been involved in football since his early teens, playing in the Suffolk & Ipswich League (Ipswich & District League in his era) on a Saturday and the Ipswich Sunday football League on a Sunday's. He was once spotted by Norwich City scouts who were keen to offer him a trial until they discovered he was already 21 and they were looking for 17/18 year olds. (Andy describes himself as looking young for his age, although he did not specify if he was talking about then or now!)
Andy played level six (SIL) football until his mid-thirties but also took up refereeing at 32 and enjoyed it so much he split his time between playing and officiating, one week as a player and the next as a referee. He played his last senior game at the age of 42 after which he concentrated on refereeing and had '18 great years' as he describes them, as a football referee before finally hanging up his whistle at the end of the 2009/10 season.
Away from football, Andy is Managing Director of a Shipping & Freight Forwarding business and Associate Director of another company.
Andy stepped down as Chairman in July 2020 after 9 years at the helm, and was awarded the honour of Life Vice President, a fitting tribute to the huge strides the club has made under his leadership.
Phil Griffiths – Life Vice President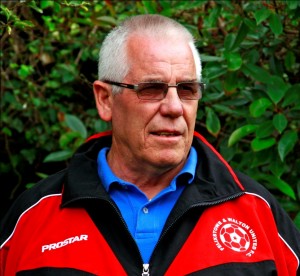 Phil has been involved with the club since the early seventies when he was posted to the town as a Bomb Disposal Engineer. With his friend Bill Sinclair he joined the club for pre-season training in 1971 and completed his first 40 years' service in August 2011.
Phil is the first to admit that the old Felixstowe Town had some very useful players in those days and he was never good enough to threaten any first team position. He did play for the reserves for a few seasons before his knee advised him to stop, but while still playing, he got involved in the off field activities of the club. With fund raising always a major issue - even though in those days the players didn't get paid, (or if they did he certainly never saw any of it!) Phil became a member of the committee, and was the club's press officer and ran the website until the summer of 2018 when he decided he did value his spare time after all.
Phil says his reason for retirement was two fold, ill health being a major factor in his and his wife Jan's decision while having people he felt confident about taking on the press and website roles.
His first encounter with the club programme came in 1974 when he and the goalkeeper, Dave Sayers, used to print it on a Gestetner machine in Dave's garage and he has been compiling it ever since with a few breaks along the way, finally parting company with the editorial side in the summer of 2015 and handing it on. 
He has held the roles of Chairman, Vice Chairman, Secretary and Treasurer down the years, as well as sponge man and floodlight erector, but has never been drawn into the management side of the game.
Following his decision to step down as Press Officer and Webmaster, Phil was awarded the role of Life Vice President in recognition of the many years of sterling dedication to the club. Phil has now said he will come along to watch the team and enjoy the luxury of being a loyal supporter.
Tony Barnes - Life Vice President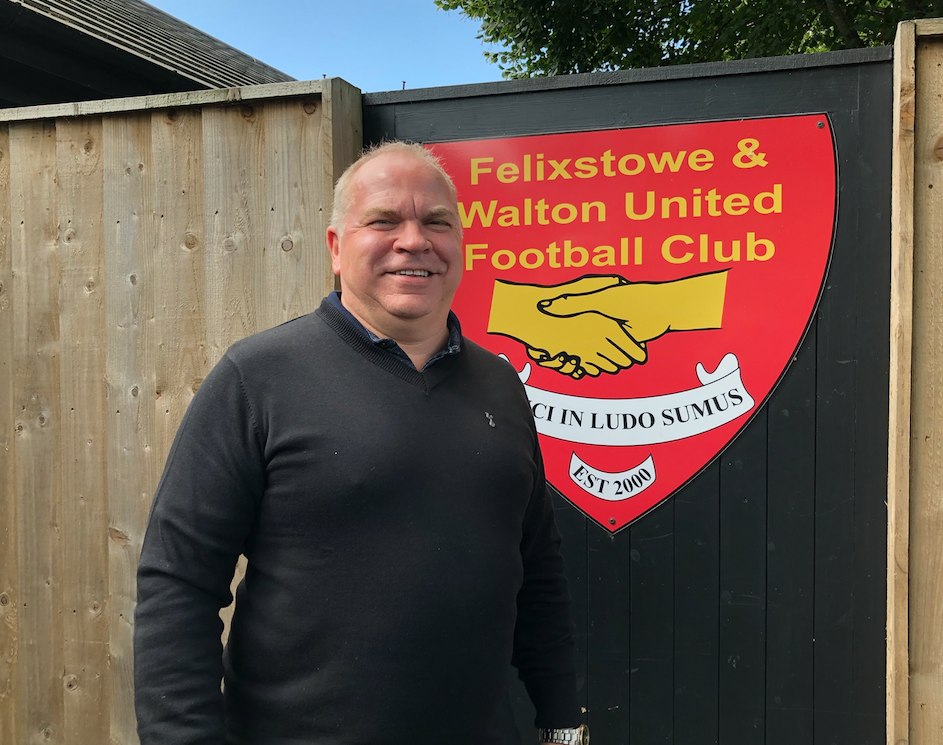 Started playing for Walton United F.C. when a close friend grabbed him out of the Pub one Saturday lunchtime in 1982 as Walton were short of players.
38 years later, he is still involved with the same club (albeit long since merged with Felixstowe Town F.C.) 
Between 1982 and 1992 Tony played for both clubs including a successful spell as captain of Walton United, followed by stints as joint manager, secretary and Chairman.
As Chairman of Walton United in 2000 Tony played an integral part in the discussions to merge Walton United and Felixstowe Town and duly became joint Chairman with Dave Ashford for the first year of the merged clubs.
Once Dave stepped down after a year, Tony took on The Chairmanship for the next 10 years until he stepped down for personal reasons in September 2011, ultimately to be replaced by the current Chairman Andy Wilding. Within a few months Tony was back at the club as Director of Football and oversaw several management changes until things settled down under Kevin O'Donnell and Ian Watson.
Tony stepped down as D of F towards the end of last season but his love for the club has once again meant a swift return as Vice Chairman.
"This club is in my heart and my heart will just not let it go, despite trying to get down to my other football love at White Hart Lane whenever I possibly can!"
We have come from almost nothing to where we are today thanks to people like Dave Ashford, Chris Hunton, Chris Daynes and Andy Wilding and many many others, hopefully I've played some part in our success too and hope and pray in lasts for several more years yet!
Tony stepped down from any official capacity in July 2020, but still plays an active role behind the scenes as an advisor, event organiser and sponsor liaison amongst other roles. Tony was awarded the honour of Life Vice President in recognition of his long service and achievements during that time.
Mike Titchener - Secretary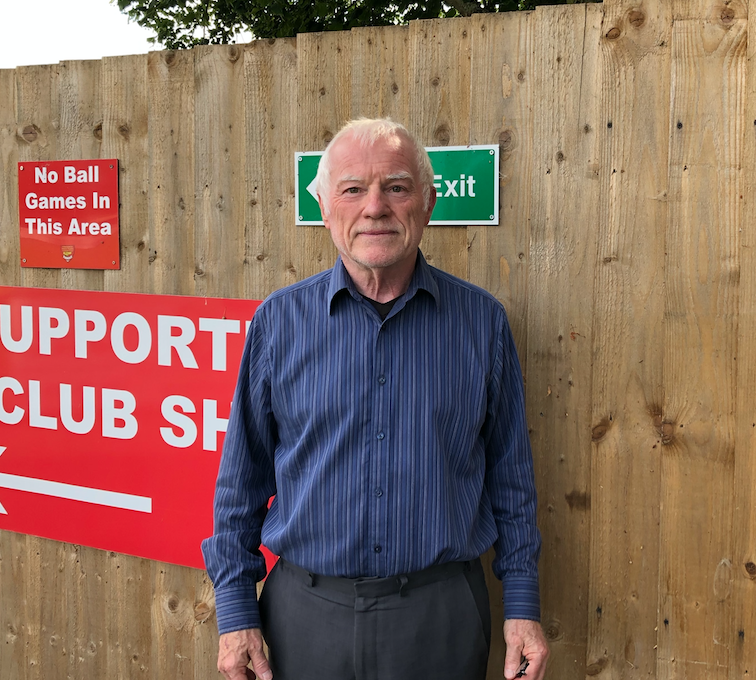 Tam Ward - Junior Chairman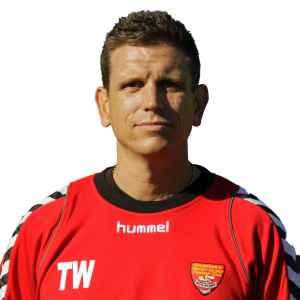 Tamlyn has been Junior Chairman for several seasons, tasked with overseeing the youth section during the planning and building of the new clubhouse, and the whole junior section has been restructured during Tam's tenure giving it a more 'professional' outlook.
Tam was instrumental in enticing Clinic Real Madrid to The Goldstar Ground in 2016 and getting them to return on an annual basis.
Under his tenure the club ethos has been completely re-written with a new code of conduct and player pathway, giving tes junior section of the club a real identity.
Tamlyn's ultimate aim is to bring the Senior & Junior section ever closer rather than two separate entities, and the fruit of that ambition is now beginning to show.
Stuart Daynes - Press Officer
Stuart first became involved with the club in 2003 when he joined the committee with his twin brother Chris. He had been a supporter since a boy, but spent most of his early adult life following Ipswich Town. Stuart has held several roles within the club, currently handling Press duties, the Club Shop, membership scheme and several fundraising initiatives. Stuart has lived in the town all his life and has a 16 year old son, Matthew.  He worked in the leisure industry for 15 years, before leaving to manage a commercial trailer repair company, a position held for the last 20 years.
Ruth Ward - Junior Secretary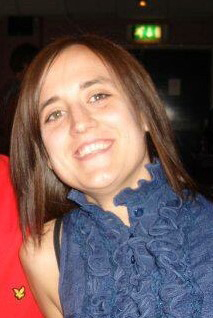 Ruth was born in Ipswich and moved to Felixstowe when she met Tamlyn (Junior Chairman) and got married. She has always been 'into sports' running for Ipswich Harriers and representing Suffolk in track events and cross-country.
Although never into playing football during her youth and before she met Tam, she did once travel to Italy to play in a works 5 a side tournament. Although not playing much, she did spend most weekends watching her Dad play for Bramford Road Old Boys and then her brother, who played for various youth teams in the town, so football was always a big part of her youth.
The Ward family are massive Arsenal fans. Son Harrison joined the Seasiders in 2007 as a five year old, and since then Ruth & Tam have become more and more involved in the club. Harrison is now playing for the under 16 side, and was spotted pre-season training with the under 18's, daughter Eloise plays for the under 14 boys team and the under 15 girls side.
The club is now a huge part of Ruth's life, and most weekends are spent at the Goldstar ground in the football season, watching the two children play and socialising with other Felixstowe & Walton families.
Ruth has been the girls section secretary since 2011 and is part of the main club committee - part of her role is to assist the club in maintaining our community club charter standard accreditation.
Gary Hammond - Treasurer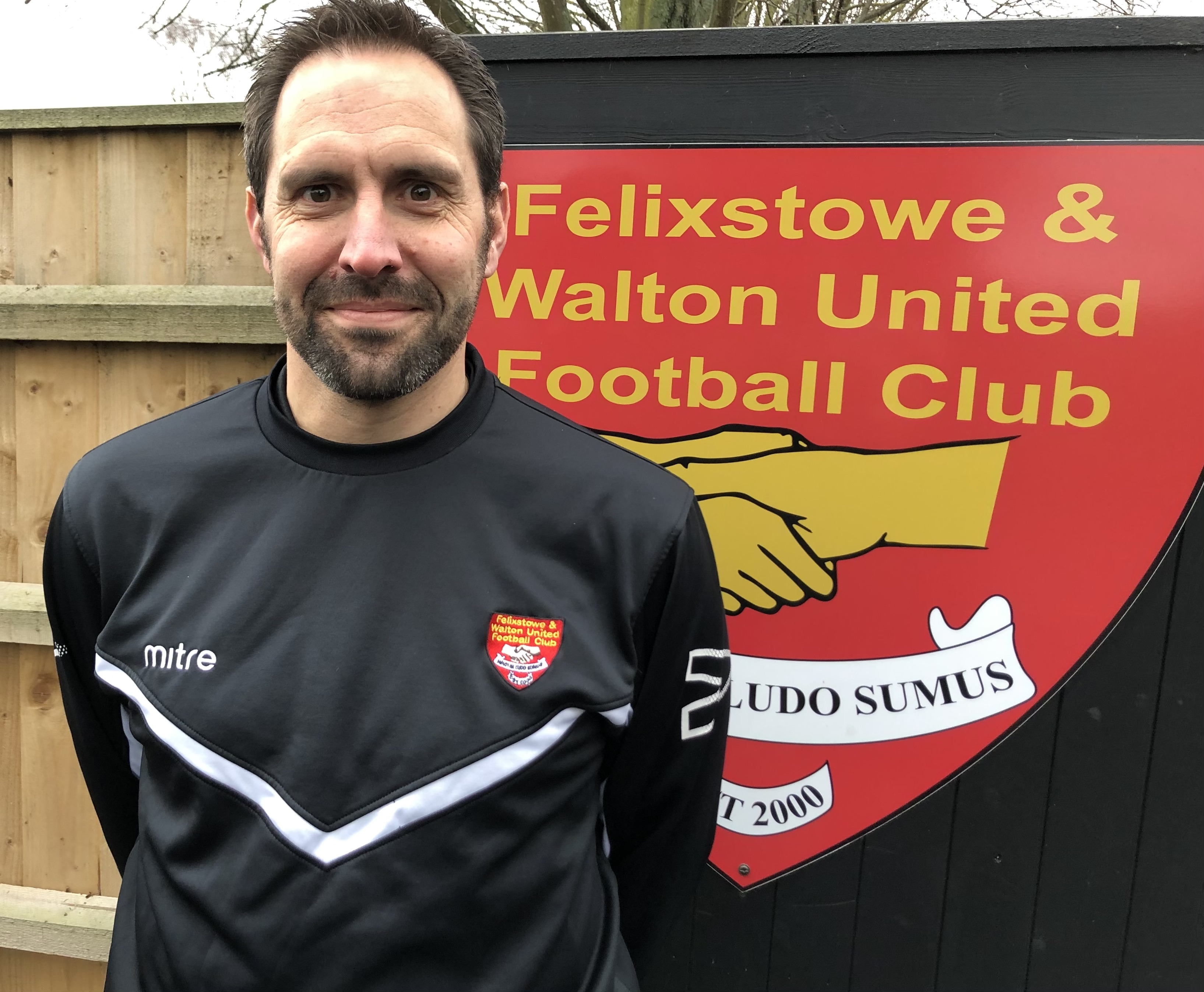 Gary joined Felixstowe & Walton as goalkeeping coach in the summer of 2018 having played in goal for Walton United in the double winning side back in 1999/2000. He comes with a wealth of experience having spent time with Ipswich Wanderers, Stowmarket and Woodbridge.
 Jim Seymour - Ground Officer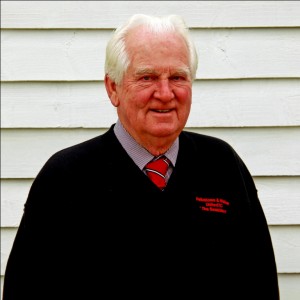 If anyone wanted an example of what being involved in Non-League football is, then they need look no further that Jim.
If you ask him his age he will tell you reluctantly, but Jim is to The Seasiders what four other people probably are anywhere else. He looks after the ground (other than cutting the grass), he is on the gate and afterwards you will find him in the clubhouse selling raffle tickets. If you are not sure who he is, wait for the now famous words 'Just the last one or two left!',  and that's Jim... 
Chris & Jayne Ryan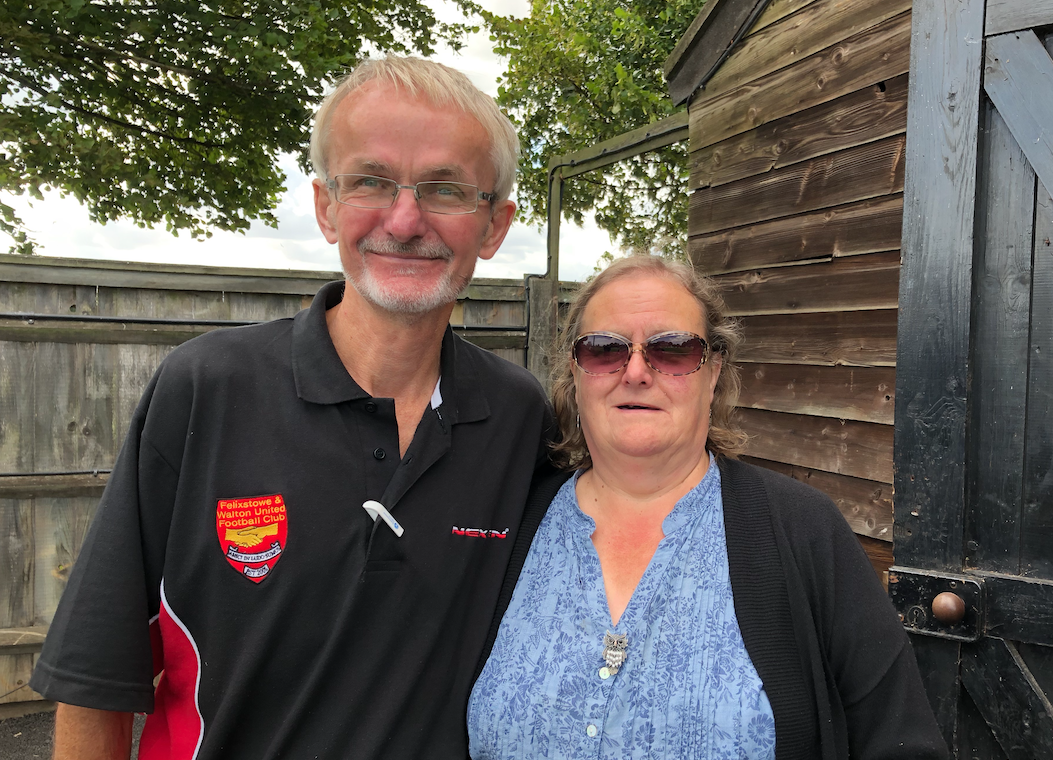 Les Soall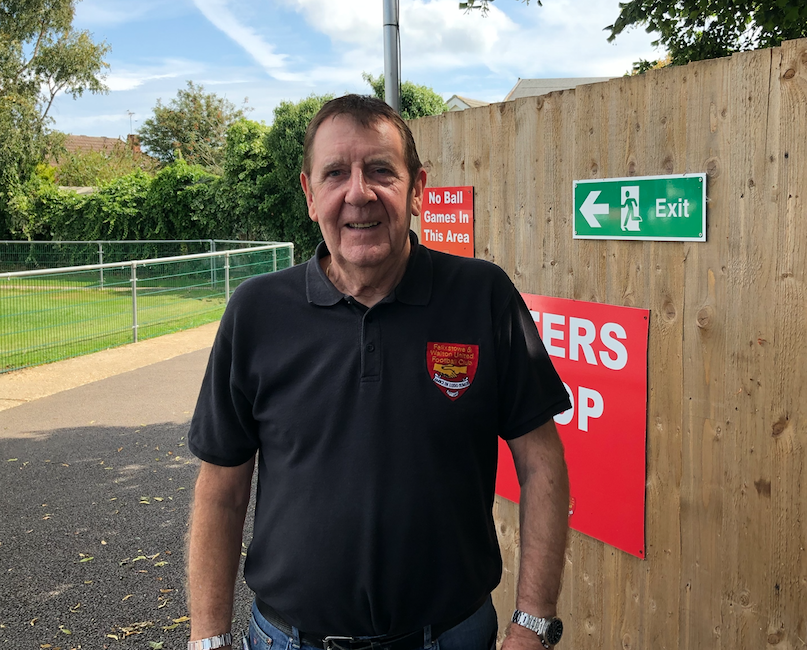 Winnie Mclean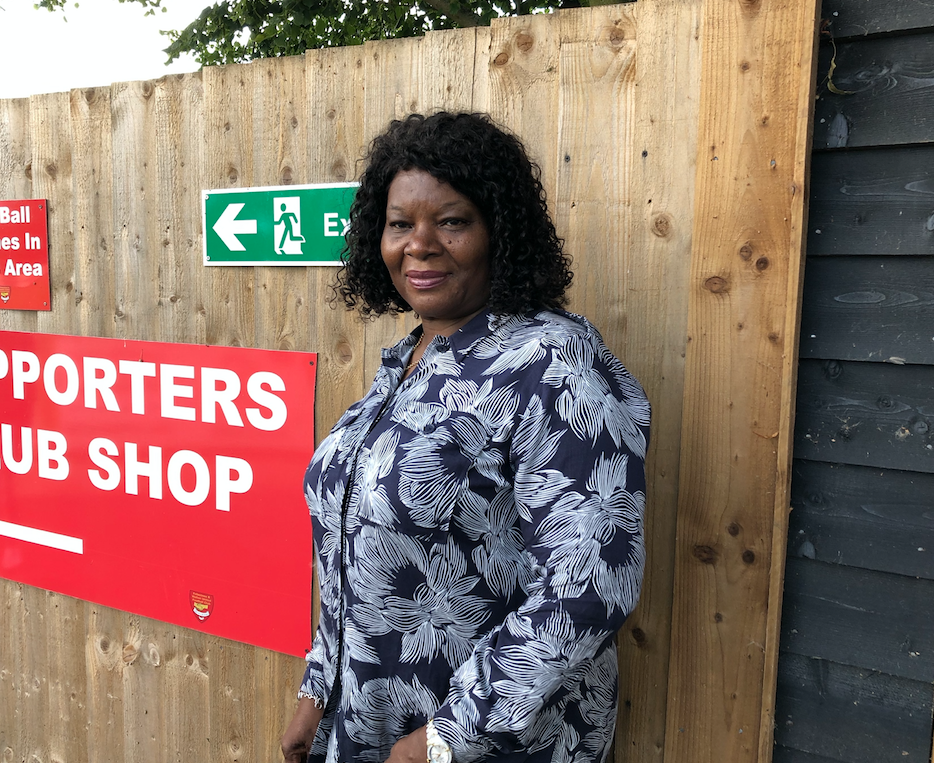 Lynne Hakes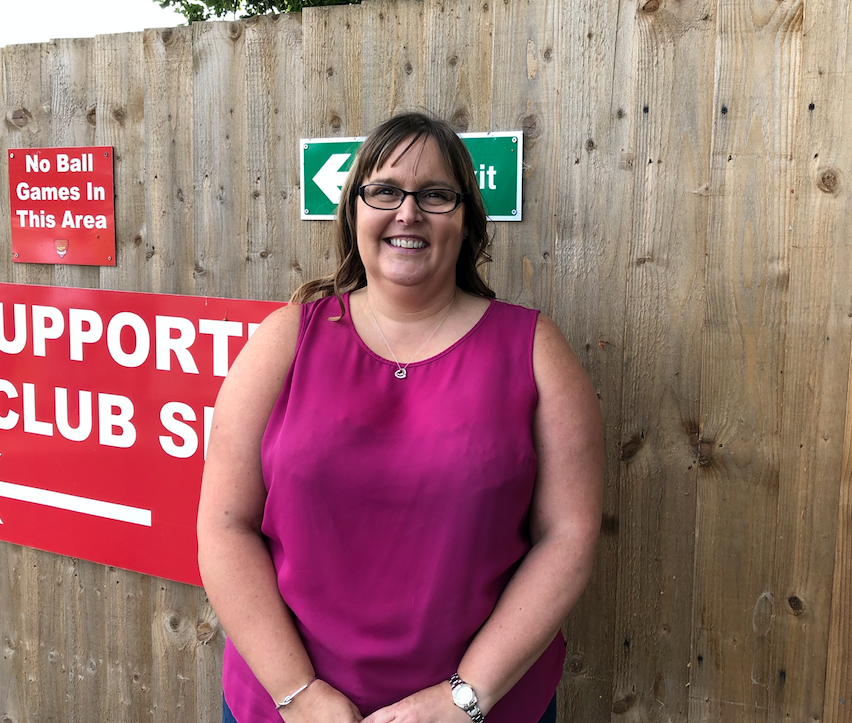 Jason Thompson -Junior Development Officer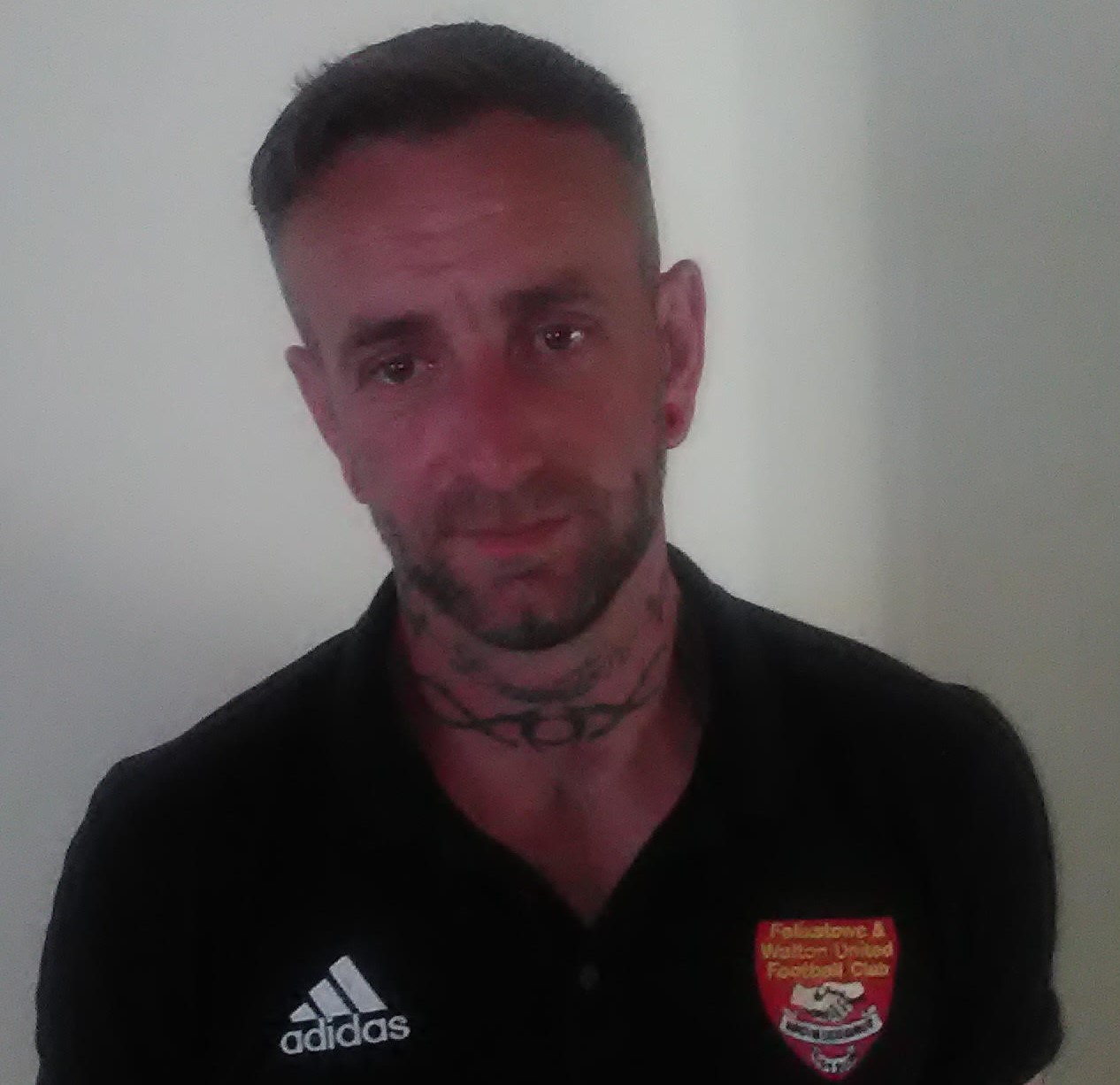 Jason very recently gained his UEFA B coaching badge.  He also has his Youth Awards and Goalkeeper Level 1. Jason has been at the club for 8 years and currently coaches the 2018/19 Under 14 boys as well as being the Junior Development officer and running Goalkeeping coaching sessions at the club.  He also looks after the the clubs' Girls only Wildcats sessions and more recently assistant coach of the newly formed Felixstowe Academy.
Christine
Florey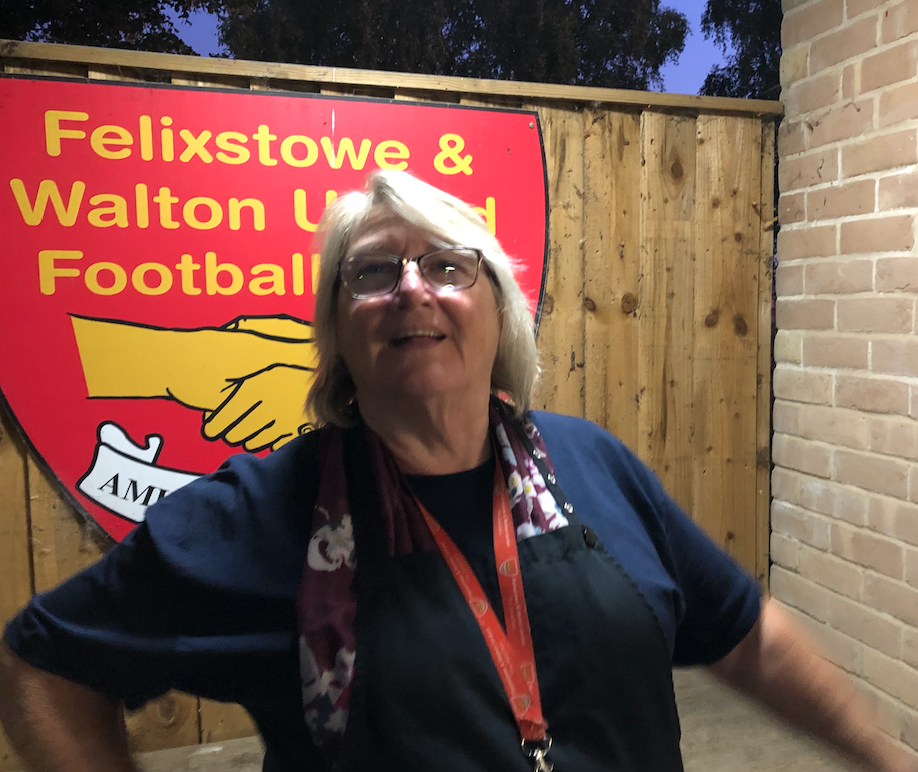 Scott
Dunne