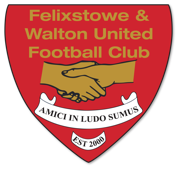 Felixstowe
&
Walton
United
Football Club
Ltd 
Annual Club Membership runs from 1st June-31st May and is open to all.
Felixstowe & Walton United Football Club Ltd Is licensed as a Members Club and you must be a Member (or guest, see Membership Rules below) to purchase alcohol from the club premises or hire the club facilities.
Please Note - Up to two parents/guardians of registered junior players will receive automatic membership of the club included within the junior registration fee when signing on. The names of the two members should be indicated in the relevant section of the junior registration form and membership cards will then be issued in due course.
Single Membership - £1.00
PLATINUM, SILVER and STANDARD Season Tickets automatically covers membership for as long as the relevant ticket is valid.  
Membership forms are available from the Clubhouse or by email on request to This email address is being protected from spambots. You need JavaScript enabled to view it.
Completed forms and the relevant fee can be handed into the clubhouse for the attention of Mike Titchener, Club Secretary. Membership Cards will then be issued in due course.
You can also download a form by clicking here
By becoming a Member you agree to adhere to the Membership Rules below (PDF Version), please read carefully.