Events
Felixstowe and Walton host a number of events throughout the year.  Below are the latest events coming up, click on each one for full details.
The following events are taking place at Felixstowe & Walton Utd FC Clubhouse, unless other venue is stated.
Tickets for all events listed are available from the clubhouse bar or by emailing This email address is being protected from spambots. You need JavaScript enabled to view it.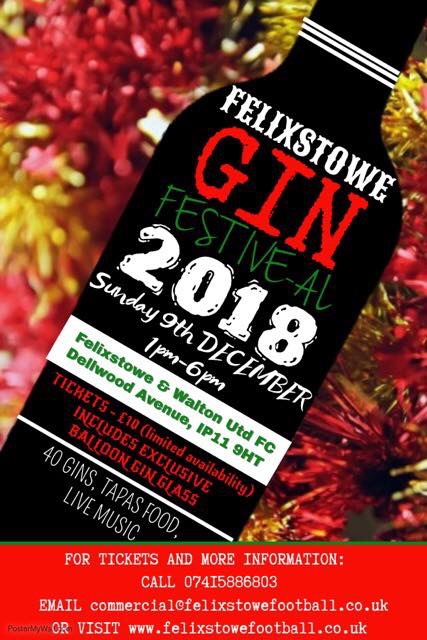 Sunday
9th December
from
1pm-6pm
Following the success of the last festival in August, Felixstowe & Walton United F.C. are staging a Christmas themed Gin Festival on Sunday 9th December from 1pm-6pm.
Featuring around 40 gins, including some incredible seasonal flavours...... all served with matching garnishes and mixers.
Also includes live music, a festive tapas menu and we will also be welcoming local craft distillers to showcase their gins, with the outside event area festooned in lights.
Tickets are £10 and include an exclusive branded balloon glass and a Gin Festive-al guide.
All 160 tickets sold out very quickly at the last event so early purchase is recommended.
Due to logistical difficulties, tickets cannot be reserved and must be purchased from the football clubhouse in Dellwood Avenue on a first come, first served basis.
*Only 30 tickets remaining at time of writing.
It was the hottest day of the year so far, but still people turned out for The Seasiders Big Walk on Sunday. Actually, some people walked on Friday, others on Saturday and there's still time for people to get involved even after the event.
Presentation Evening Story written By Phil Griffiths and Photos by Stan Baston