Update-
Statement
from
the
COO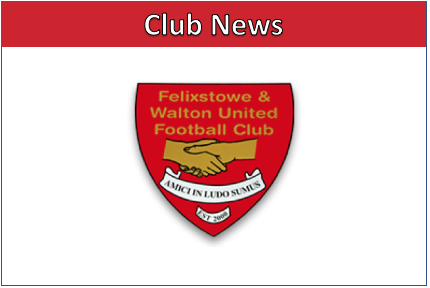 The clubs Chief Operating Officer has released a statement detailing the steps being undertaken to safeguard the clubs future.
Football quite rightly takes a backseat compared to the crisis we are living through now and the catastrophic effects this virus is having on so many lives.
However, we'd like to update supporters, sponsors and stakeholders with the action the club is taking to ensure we still have a club to return to when football resumes, whenever that may be.
With the vast majority of our income streams suddenly suspended, including matchday revenues, bar & food sales, facility hire and club events we were facing a bleak future, alongside most other sports clubs across the land.
We have therefore been overwhelmed with the support received from a variety of sources.
From the players forgoing their remaining wages this season, to supporters contributing over £1180 when we appealed for donations in lieu of attending the Histon match and from many companies refusing a refund for their tables at the postponed Sportsman Dinner to our brewery partner Greene King agreeing to replace the wasted stock from our cellar with like for like new stock when we re-open, we are truly humbled by the outpouring of support.
We're also immensely proud of our squad who have donated their players fine pot to the club and the NHS, topped up by the Junior section to make a total of £1000 to directly support the well-being of nursing staff at Ipswich Hospital.
We've also taken other measures to reduce fixed costs  to an absolute minimum by suspending TV subscriptions, waste disposal and various other bills.
Our bar staff are in the process of being furloughed, enabling the club to claim 80% of their wages from the Government whilst keeping them in employment and ready to return when the situation changes.
I can reveal we have today applied for the Government Small Business grant of £10,000, thanks to us already receiving small business rate relief and yesterday was spent filling in an application to Sport England for assistance towards our rent payments. We hope to hear positive news on that particular grant in the coming days.
Although the clubhouse is closed, rest assured that volunteers are working hard behind the scenes and a Committee Meeting is due to take place on Monday evening using the Zoom video conferencing app!
The club stages a number of events throughout the year, all with the aim of raising funds to support the football side of the operation. Our goal is to reschedule as many of these postponed events as possible in order that we do not lose the income entirely.
Whilst all those positive steps are taking place to put us in the best possible position throughout the club when football resumes, we do expect the face of the game to have altered across all levels.
Our main concerns going forward will be around sponsorship. Many of our sponsors and advertisers will be facing very difficult times themselves and it's fair to say football will not be their top priority in the short term.
We would urge all our supporters to support those businesses, where possible, during these tough times and the club will stand by those club partners whatever happens so our relationship can continue in the longer term.
For now, we urge all those connected to the Seasiders to continue supporting the fundraising schemes still in operation-
Red & White Club- £5 per month to enter the draw with £350 paid out each month.
Details here- https://felixstowefootball.co.uk/club/200-club
Seasiders Lottery- This new weekly fundraiser starts this Sunday. Simply choose 4 numbers from 1-20 and if you match all 4 numbers drawn you win the weekly jackpot. 
Details here- https://felixstowefootball.co.uk/club/seasiders-lottery
Rest assured the club will be back once the Coronavirus is under control to continue the amazing work our volunteers, staff and YOU have created over many years.
Stay safe everyone.
Chris Daynes
Chief Operating Officer
Chairman Andy Wilding added the following: "We are not just a football club, we are a community club, run by members of the community, for the community. Your support is overwhelming and truly appreciated".