Bowers
&
Pitsea
-
Bostik
1
North
Result:

Felixstowe & Walton Utd 0-4 Bowers & Pitsea

Date:

13 April 2019

Time:

15:00

Match Type:

Bostik North

Venue:

Goldstar Ground, Felixstowe

Attendance:

361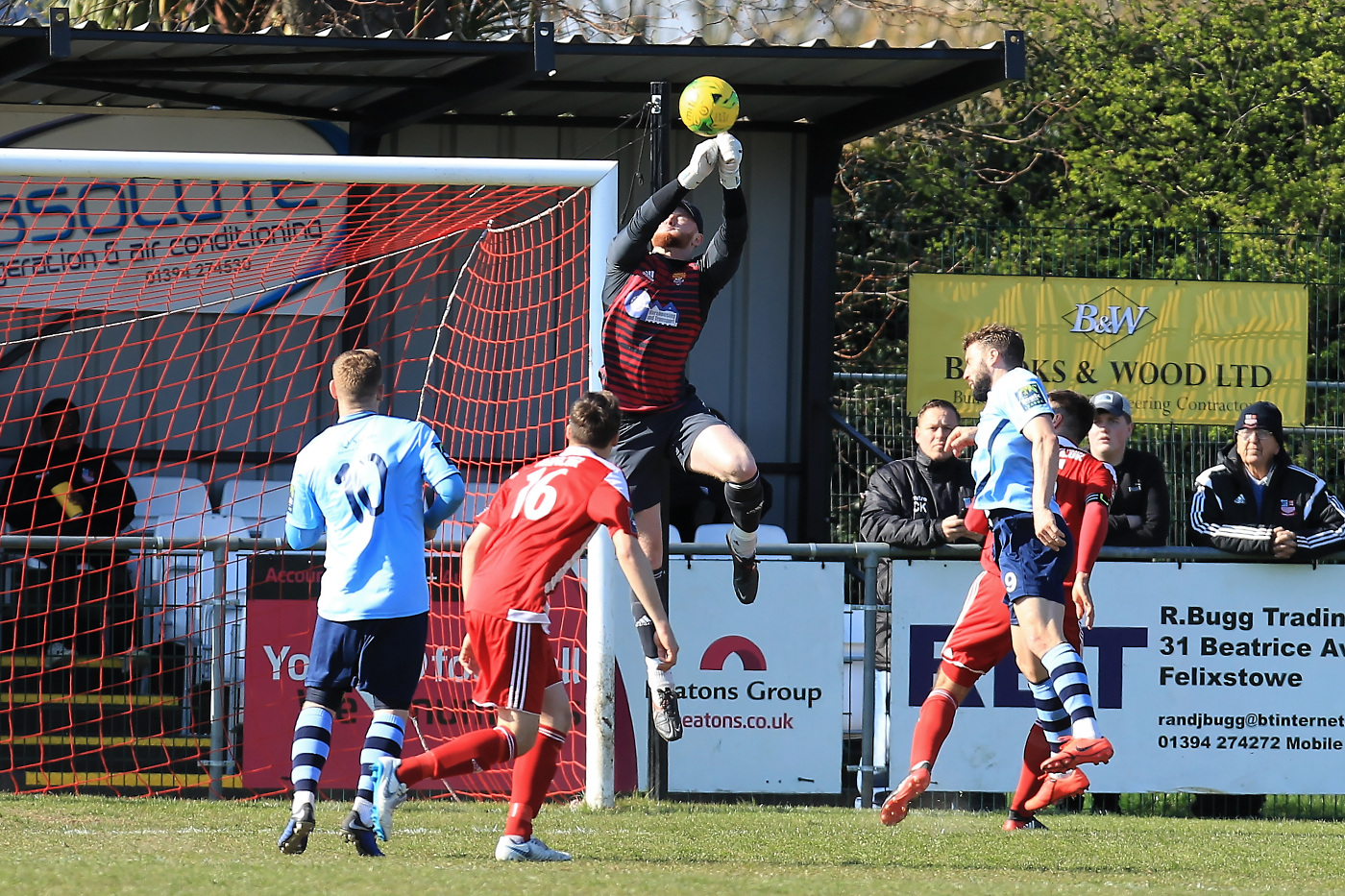 Our nine-game unbeaten home record did come to an end on Saturday when Bostik North One League winners Bowers & Pitsea came to town and left with four goals and all three points. But that cannot take anything away from what has been a very impressive few months for The Seasiders. As Danny Bloomfield said immediately after the game, "Behind the scenes we enjoy it when we win but we don't get over excited and we won't get over excited about losing this one because there's a bigger picture. We'll learn from this."
Of course, it's never easy to accept defeat but, on this occasion, Saturday's visitors undoubtedly deserved their win and showed just why they have such an outstanding record this campaign, with only two defeats all season. They were organised, worked extremely hard, challenged for everything and fought for the whole ninety minutes.
Before the game, there was a hint of what might come when the Bowers & Pitsea Secretary made it clear that their season was far from over. They knew that four goals at The Goldstar Ground would bring their season total to 100 scored in all competitions. He explained how there were a number of league and club records still to be broken and that the season was still very much alive for them. So much for us hoping they might just take their eye off the ball now they were confirmed champions!
And so to proceedings. In-form Liam Hillyard sat this game out carrying a slight knock, leaving Rhys Henry to partner Jack Ainsley up front. Miles Powell found himself on the bench while Dan Davis returned to the back three. A strong bench found Milo accompanied by Joe Francis, Stuart Ainsley, Jordy Matthews and Henry Barley.
It was pretty clear from the start that Bowers were going to be very tough opposition. They applied pressure from the outset, limiting our forays forward to just the occasional venture. Ethan Clarke and Kye Ruel looked the liveliest of the bunch but it was the visitors who took an early lead when Bradley Warner found himself in a one-on-one  facing keeper Jack Spurling, who watched Warner slot the ball past him into the left hand corner. This was not the start we wanted.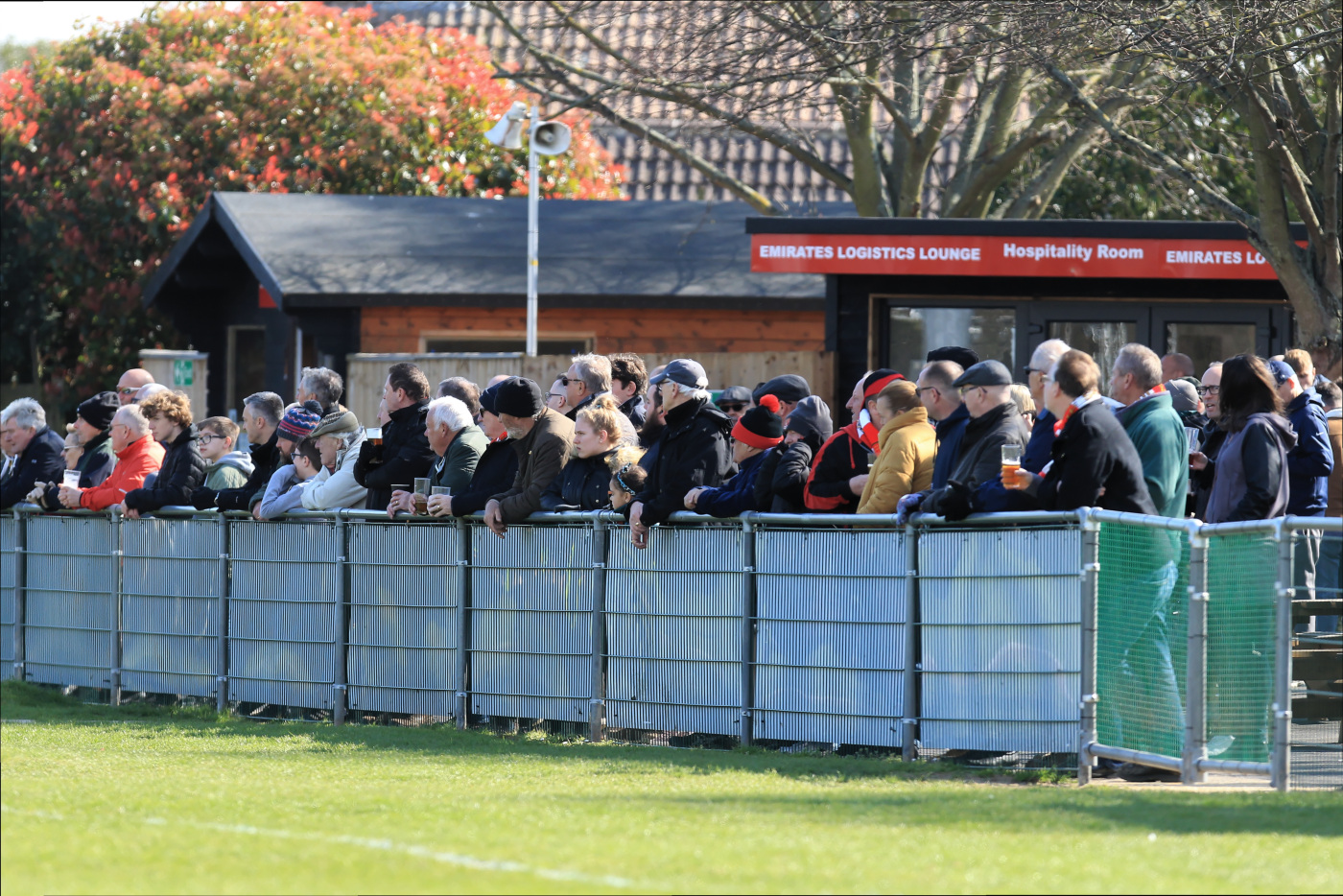 Attacking the Dellwood Avenue end, Bowers had most of the possession and any number of corners. And it was from one of those set pieces that they managed to double their lead on 32 minutes when Matthew Lock's glancing header slipped past Spurling into the goal.
Before we had found time to catch our breath, the visitors extended their lead even further when, following yet another corner, this time from the left, James Thomas managed to back heal the ball in for goal number three, just six minutes before half time. It was now a matter of getting to the break, regrouping and trying to get something from the second half.
That second period did see us get off to a brighter start but the visitors' persistence saw them first contain us, then move forward for goal number four. This time it was Ben Sartain who took full advantage of a bit of a mix up in the box, nab a loose ball, and pretty much wrap the game up from just inside the area with 25 minutes left on the clock.
What was encouraging was seeing how we still played with a will to try to a least get on the scoresheet. The problem was that our determination and fighting spirit was equally matched by their desire to keep another clean sheet and allow themselves the chance to break even more records.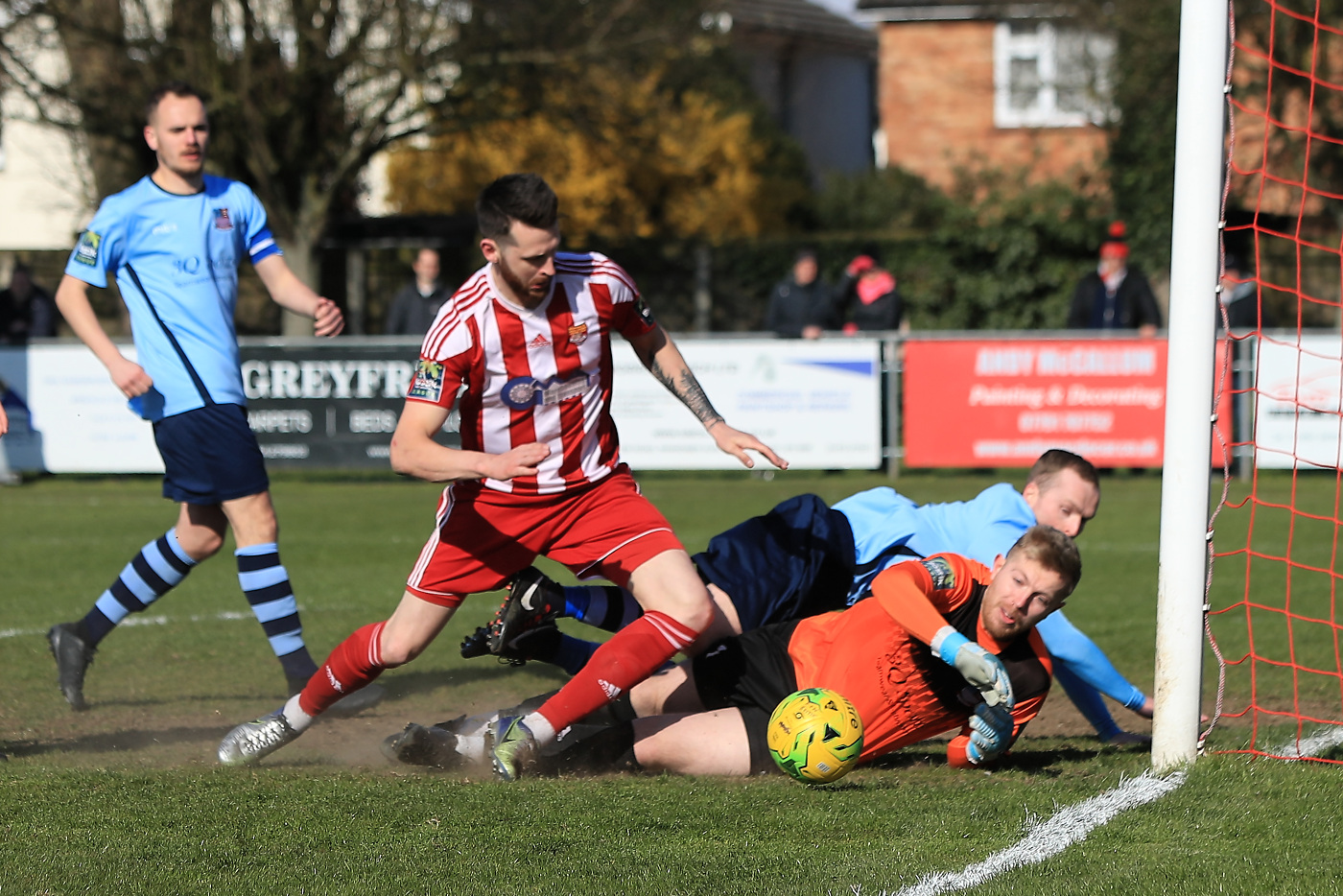 Speaking straight after the game, boss Ian Watson said, "It took us a while to get used to this league but we keep on learning and we'll learn from today. What was pleasing was that when we were four down, we didn't just go through the motions. We didn't do that."
Assistant Danny Bloomfield added, "We've made really good progress. Before today we were nine games unbeaten at home. They taught us a lesson today and that will be excellent for us. Footballing-wise, they weren't better than us on the ball but they were robotic in what they did, well drilled and organised. They were fitter than us and a bit sharper. We know we've got more to do and the squad's capable of doing it." He admitted that, "We haven't been too good recently. Look at Canvey last week. We weren't brilliant. But (importantly) we've got to use today as a positive. There's a gift in everything."
Next up is a trip to Coggeshall, who already find themselves in the play offs. They are, as Watty said, "..a bit of a rival for us. It'll be nice to go there and get a result. We've got three games to go and a chance to work hard with the lads during the coming week."
After that trip to the Seedgrowers, we entertain Mildenhall on Easter Monday in what will be our final home game of the season. Then it's a matter of a visit to Romford prior to our Suffolk FA Premier Cup Final against Leiston at Portman Road. With Bury winning yesterday and Sudbury losing, we now find ourselves in eighth place, second in a three-horse Suffolk mini-league in the Bostik North. Clearly there is still plenty to play for this season: a mini-league to win, a plus goals column to obtain and a Cup Final to win. This season is far from over!
Click here for line ups, substitutions, cards etc.
Click here for photos