Canvey
Island
-
Bostik
1
North
Result:

Canvey Island 0 - 1 Felixstowe & Walton Utd

Date:

06 April 2019

Time:

15:00

Match Type:

Bostik North

Attendance:

164
Let's establish something straightaway. To pick up three points away from home and keep a clean sheet means we worked hard, defended well and fought from start to finish. But let's also accept that this was not our finest hour. 
Jack Spurling was brought into action early on having to save with his left foot from Kane Gilbert. Shortly after this,  Frankie Merrifield headed wide from a Ryan Melaugh corner. Gilbert threatened again on ten minutes, forcing Spurling to scoop a rebound off the line, preventing Canvey from taking an early lead. Our first effort came on around 12 minutes when Jamal Wiggins found himself in a one-on-one with their keeper Harry Palmer. Fortunately for the Gulls, an impressive sliding tackle from a defender pushed the ball away for a Felixstowe corner.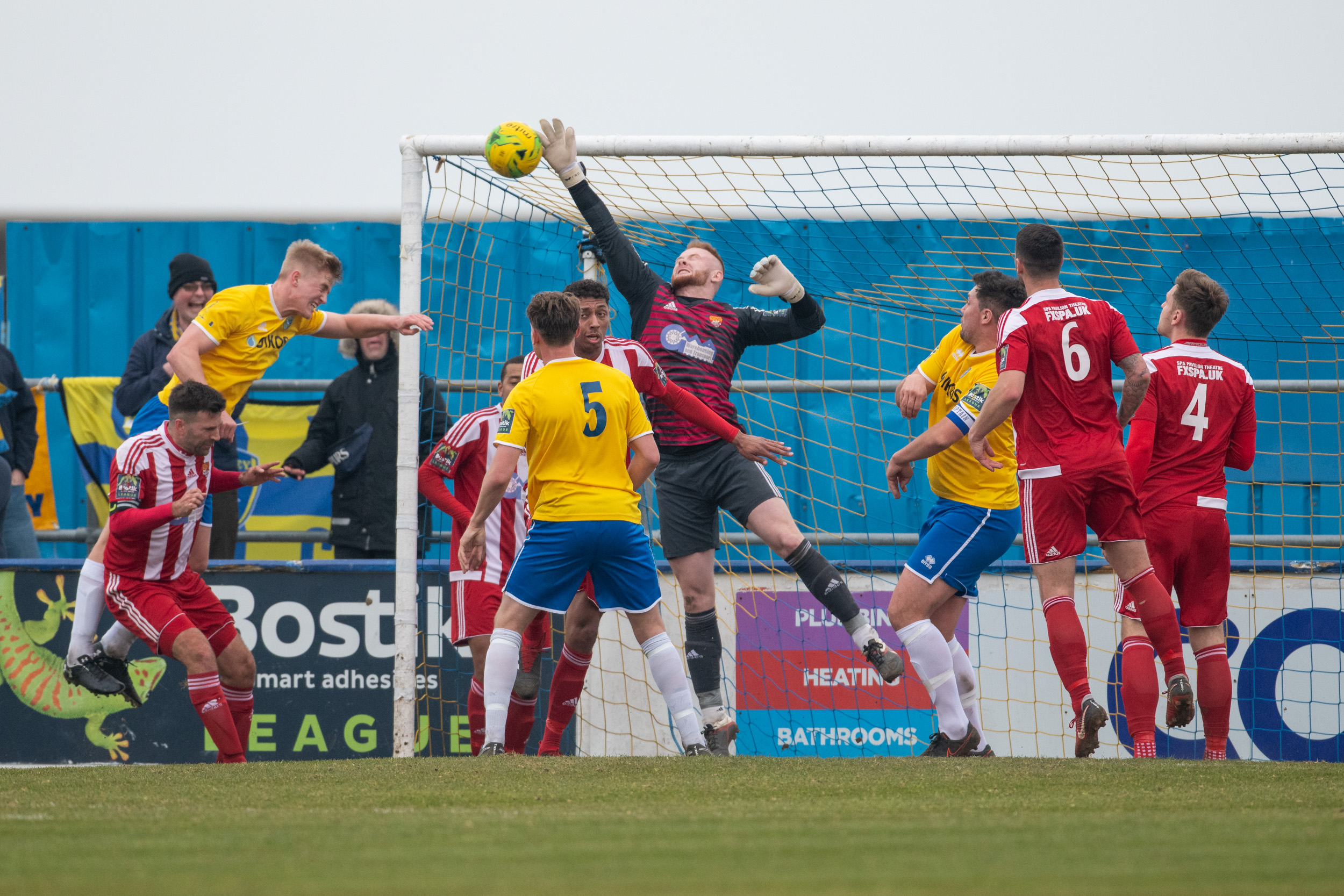 Throughout the opening stages, Canvey kept piling on the pressure, with Frankie Merrifield testing Spurling with a low volley and Gilbert continuously making a nuisance of himself. With half time approaching, defender Sam Collies tried a cheeky effort from inside his own half, with that particular attempt floating wide off the upright while Spurling managed to find himself a little stranded.
With more than a few Felixstowe fans perhaps willing the referee to blow the half-time whistle in order for Watty and Danny to gather their troops and plot a strategy for the second half, Ethan Clarke fed a precision ball through to in-form Liam Hillyard, who stepped around Zak Littlejohn before powering home from around 15 yards.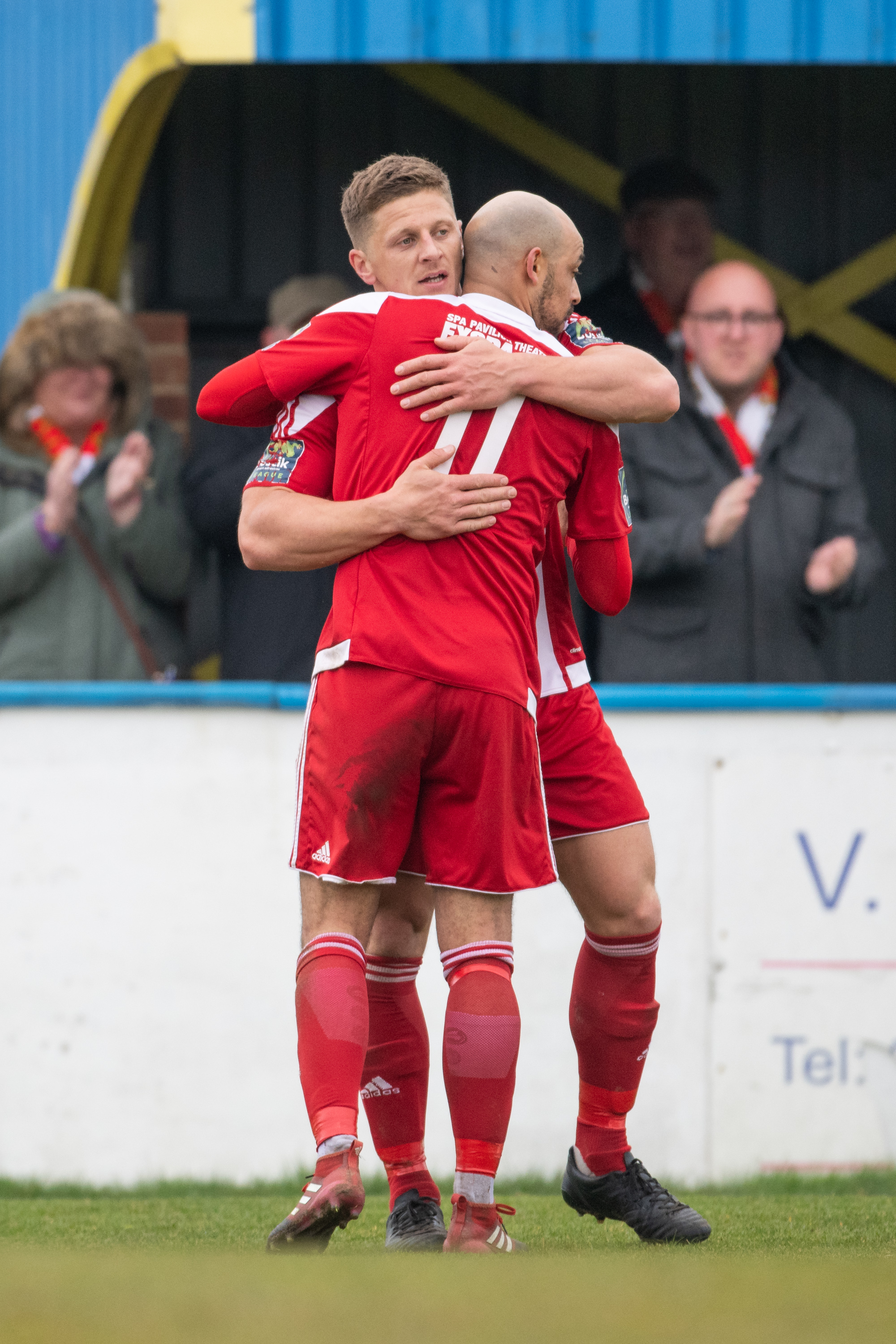 Shortly after the resumption of play, we could possibly have gone two up. Callum Bennett's free kick from just outside the area hit the right hand post and bounced back onto a Canvey defender, rewarding Felixstowe with a corner. If anything, things just got worse for The Seasiders in that second half, with Merrifield and Gilbert continuing to cause problems just as they had before the break.
But let's return to the words and sentiment at the top of this report. We came away with three points and a clean sheet, have moved up to seventh place and find ourselves second in the current form table, only behind league champions Bowers & Pitsea. And let's not tire of repeating: this is four wins on the bounce, ten games since a defeat and only three defeats in nineteen games.
Speaking after the game, Watty said, "I felt a little bit embarrassed leaving. We've stolen three points - with so many below par performances, still we managed, as a team, to step up to the mark. We were okay for a couple of minutes but soon dropped our level. They worked harder than us, then they dominated and were by far the better side. Canvey really came at us in the second half and we didn't do the simple things. We kept giving the ball away and we looked tired in areas. Some of the players looked a little bit leggy." This was an honest appraisal and shared, no doubt, by many of the travelling fans.
There were a few changes to the starting line up with Jack Ainsley slotting into the back three and Kye Ruel playing up front alongside Liam Hillyard. Miles Powell was rested for this game and Jordy Matthews was unavailable due to illness. The strength of the bench was a clear sign of just how much competition there is for places with Stuart Ainsley, Dan Davis, Joe Francis, Darren Mills and Henry Barley all sitting this one out.
We also spoke to The Gulls Boss, Mark Bentley, who was surprisingly generous when saying, "It was a fairly even first half and it was nice to see some decent football. We're lacking a bit of confidence at present but I'm pleased with the boys," adding, " We need to be more clinical. It was different for us playing against a 3-5-2 formation. We did cause you problems in pockets but that has been the story of our season - we need to finish better."
Next up at The Goldstar Ground are Bostik North Champions Bowers & Pitsea. This will be an encounter between to two top sides in the form table and one can hope that maybe, just maybe, Bowers might come to Suffolk knowing their work for the season is done, but with only two defeats all season, a goals plus difference of 68, fifteen points clear of second place Maldon & Tiptree and a recent form record of six wins out of six with 27 goals scored and just 2 conceded, we might just have our work cut out a little bit.
But we finish with confirmation of a very old cliché in football, but one nevertheless which is always worth remembering, articulated by assistant boss Danny Bloomfield: "I'm really pleased that despite playing below standard, we were resolute, picked up three points and kept a clean sheet. Doing all this while not playing well is a sign of a very good football team." 
Click here for line ups, substitutions, cards etc.
Click here for photos