Maldon
&
Tiptree
-
Bostik
1
North
Result:

Felixstowe & Walton Utd 3 - 2 Maldon & Tiptree

Date:

30 March 2019

Time:

15:00

Match Type:

Bostik North

Venue:

Goldstar Ground, Felixstowe

Attendance:

320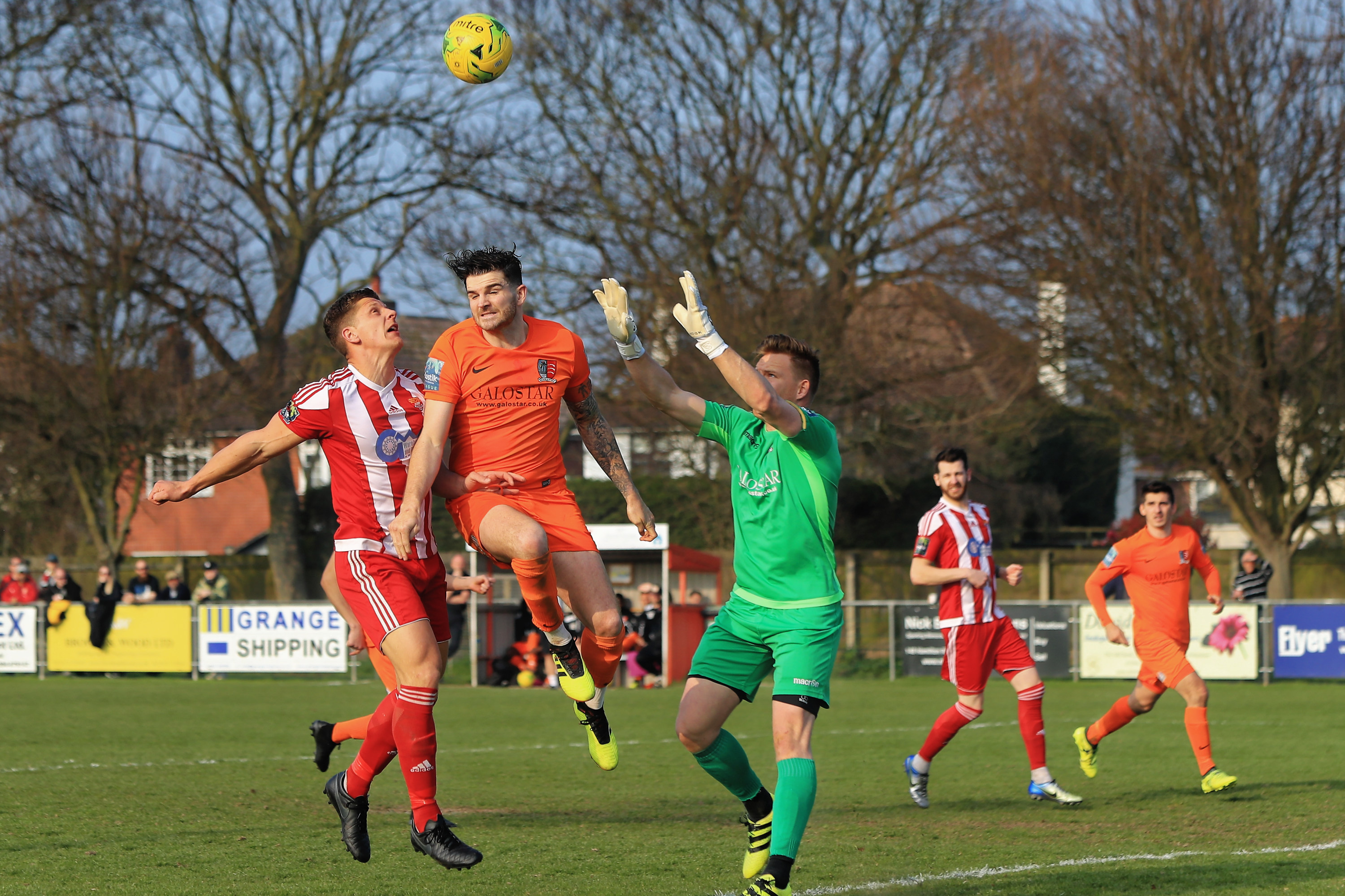 Saturday's visitors to The Goldstar Ground, Maldon & Tiptree, came with an impressive unbeaten away record having won thirteen of their matches on the road and drawn three. With barely five minutes on the clock, it looked like they might be in with a good chance of extending that run. For some reason we just seemed to be unable to really get started and things looked ominous when The Jammers' number 3, Matthew Briggs, a player with experience in The Europa League during his time at Fulham, put the Essex side ahead. Perhaps, earlier in the season, Seasiders' heads might have dropped, but these days there is a clear desire to battle and compete. And that is exactly what we witnessed throughout most of the game.
Having said that, the early exchanges showed just why Maldon find themselves in second spot behind Bowers & Pitsea. It took until around the 15-minute mark before things began to settle, but even then, there were probably very few people in the ground who thought the day's affair would be anything other than extremely challenging.
With Joe Francis unavailable, Jordy Matthews ill and Dan Davis deemed not 100% fit, we saw Jack Ainsley drop into the back three, Callum Bennett (cup tied on Tuesday) back in the number 2 shirt, with Joe Bloomfield moving into midfield, Kye Ruel in for Joe Francis and Jamal Wiggins replacing Jordy. By the end of the 90 minutes, the entire starting eleven and all three subs who came on were worthy of the praise Watty and Danny heaped on the team. Having three players missing, making replacements and still having the likes of Stuart Ainsley, Rhys Henry, Henry Barley and Rory Porter on the bench, no one can be left in doubt about the strength of the squad these days.
The game progressed with Felixstowe slowly getting up to speed, leading to a busy yet exciting five-minute period just before the break. With what seemed to be a pretty straightforward headed clearance needed, a Maldon defender found himself a little too far forward allowing the ball to come off the back of his head. As the ball was heading back to the keeper Ben McNamara, it kept its height forcing McNamara to stretch to collect. His momentum carried him back into his own goal and the official running the line indicated, without hesitation, a Felixstowe goal.
Just four minutes later, goalscorer Matthew Briggs caught Kye Ruel's left leg in clear view of referee Paul Burnham who immediately pointed to the spot. After a long delay when the officials were talking to Briggs, Jack Ainsley stepped up to score his 21st Bostik North goal this season and send Felixstowe into a 2-1 half-time lead.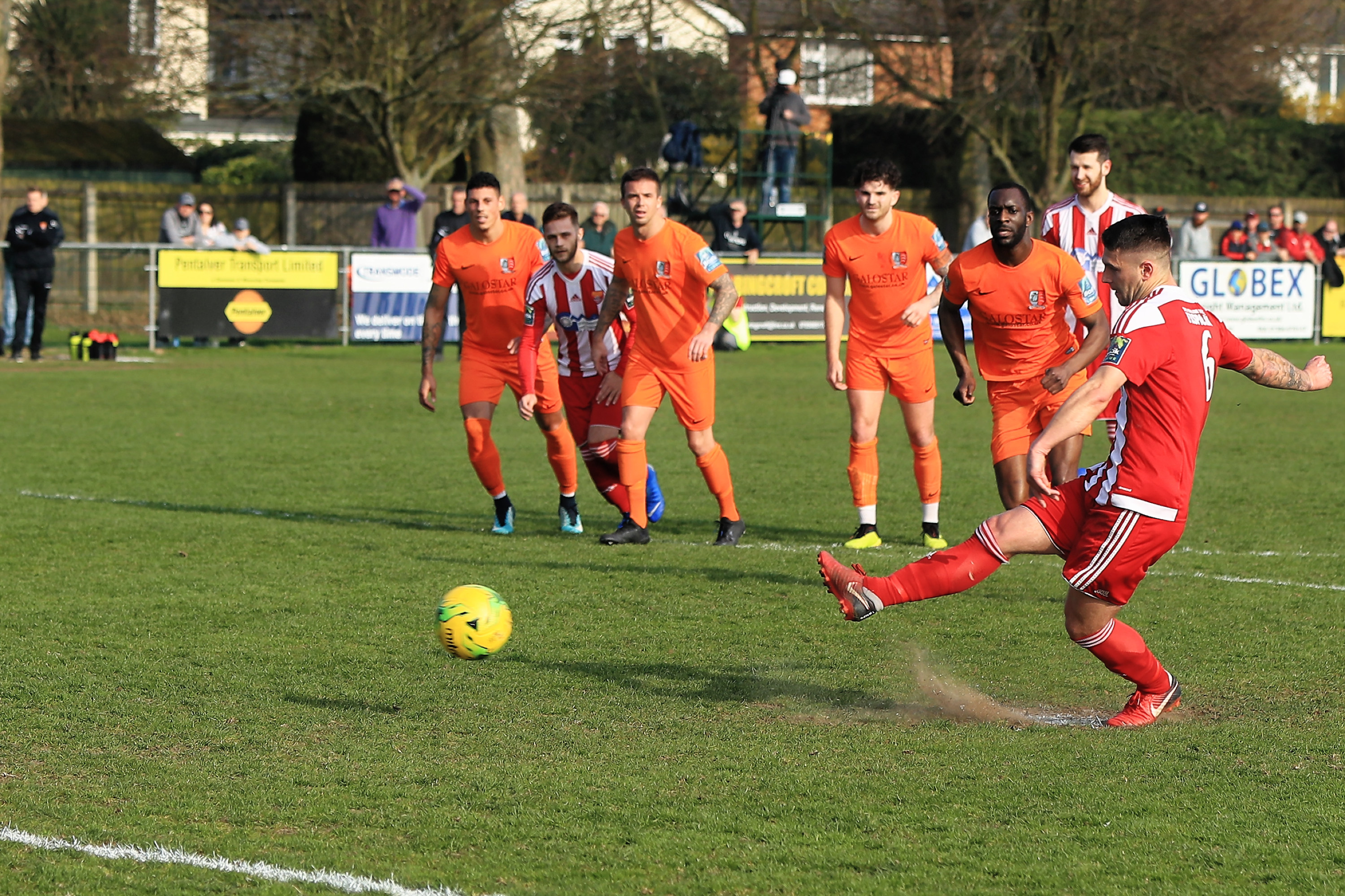 In order to hold on to such a slender lead for another 45 minutes, it was going to take a lot of graft and spirit from The Seasiders, but it's just that hard work and determination, perhaps lacking a little earlier in the season, that is allowing us to be in such a fine vein of form at present. Nine games unbeaten and three defeats in eighteen games is the kind of statistic that may lead some people to voice, "Yeah you say that every week." But I'm afraid I'll keep on reminding everyone of such impressive stats because behind them lies a lot of hard work and effort from so very many people.
Back to the game. The second period did see chances still falling Maldon's way but it was Felixstowe who grabbed an extended lead on the hour mark when Miles Powell crossed from the left to find in-form Liam Hillyard able to confidently head home. The fact that it took quite a while before mention was made of Hillyard in this report is no indication of what he brought to the game. This was yet another good day at the office for a player who was playing at step 6 earlier this season.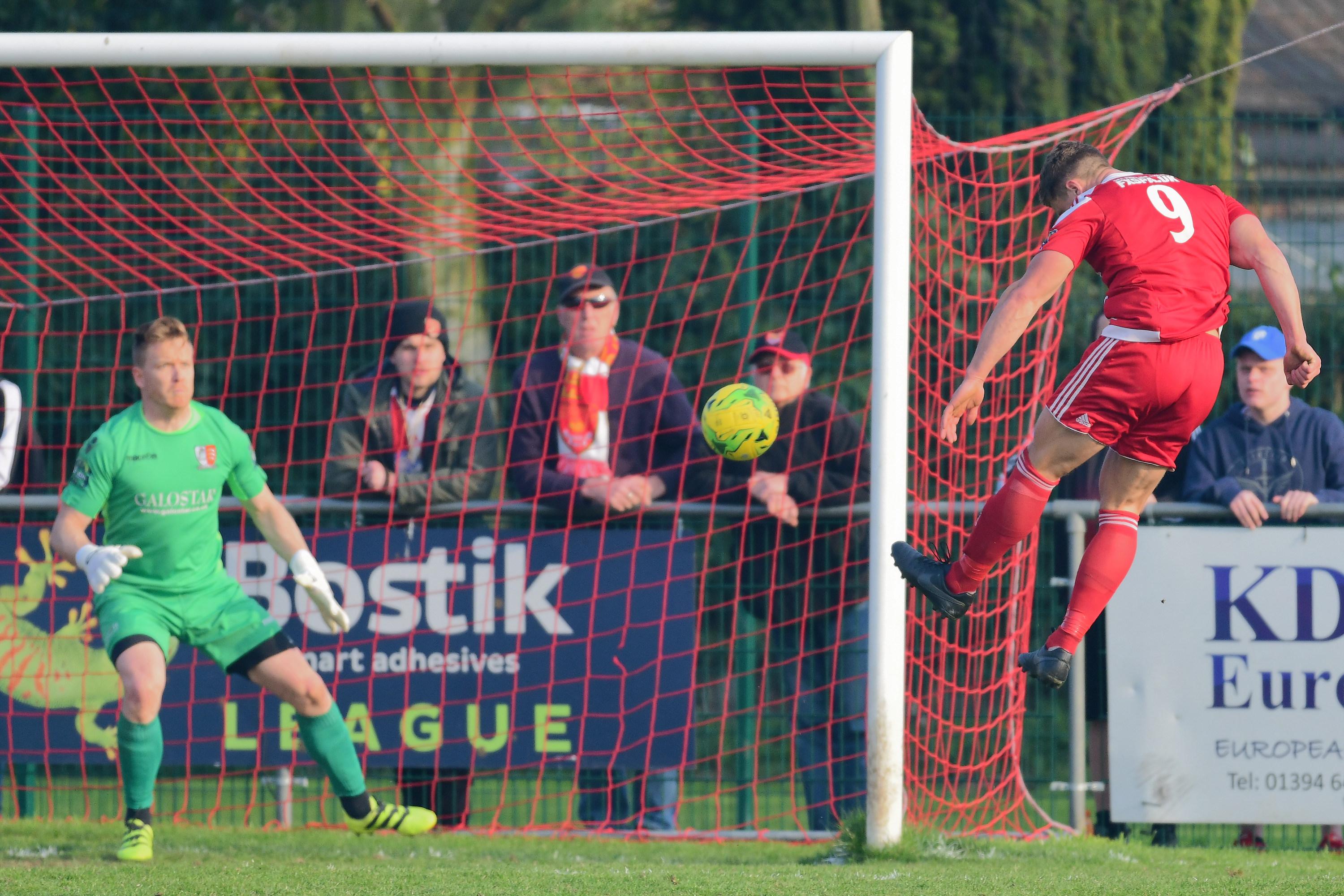 Laste Dombaxe did pull one back for the Jammers on 69 minutes with his effort appearing to be deflected past keeper Jack Spurling. There were chances at either end in the final 20 minutes but the final whistle came and with it delight on the faces of all home fans. That delight wasn't just because this was another win, another three goals scored, another defeat avoided, a dent in Maldon's excellent away record. It was delight at just how competitive Felixstowe & Walton have become in this our first season as a step 4 club.
Clearly, Watty and Danny had wide smiles on their faces after the game when speaking to Seasiders TV, with Watty offering, "They're a good side. They're one of the best sides we've played this season, but we deserved to win the game today. The boys worked so hard, especially in the second half and they did exactly what we asked them to do at the half-time talk."
Maldon did have their own take on things and it's fair to allow them to make their feelings known. In an official tweet after the game they said, "A result we did not deserve today. A great performance from the boys, unfortunate decisions from the referee and countless chances but not enough to win."
From a personal point of view, hearing Maldon say they felt this was a great performance from their boys, shows just how well we must be doing to be able to beat top sides who put in great performances. Anyway….enough from me. This is from Danny Bloomfield: "We didn't start great but that first 25 minutes showed our steel and determination. The middle 15 of the first half saw us get back into it. The last 10-15 minutes saw us put them under pressure. We were aggressive in everything we did, our running, our tackling and our dribbling and they couldn't deal with it in that last 15 minutes. We're proud for lots of reasons. This was a test today. It showed how far we're progressing again. And that's what we want - progress. And (today) we got our answer again - progress."
Click here for line ups, substitutions, cards etc.
Click here for photos