Stowmarket
Town
-
Suffolk
Premier
Cup
Semi
Final
Result:

Stowmarket 0-3 Felixstowe & Walton Utd

Date:

26 March 2019

Time:

19:45

Match Type:

Suffolk Premier Cup Semi Final

Venue:

Hadleigh

Attendance:

567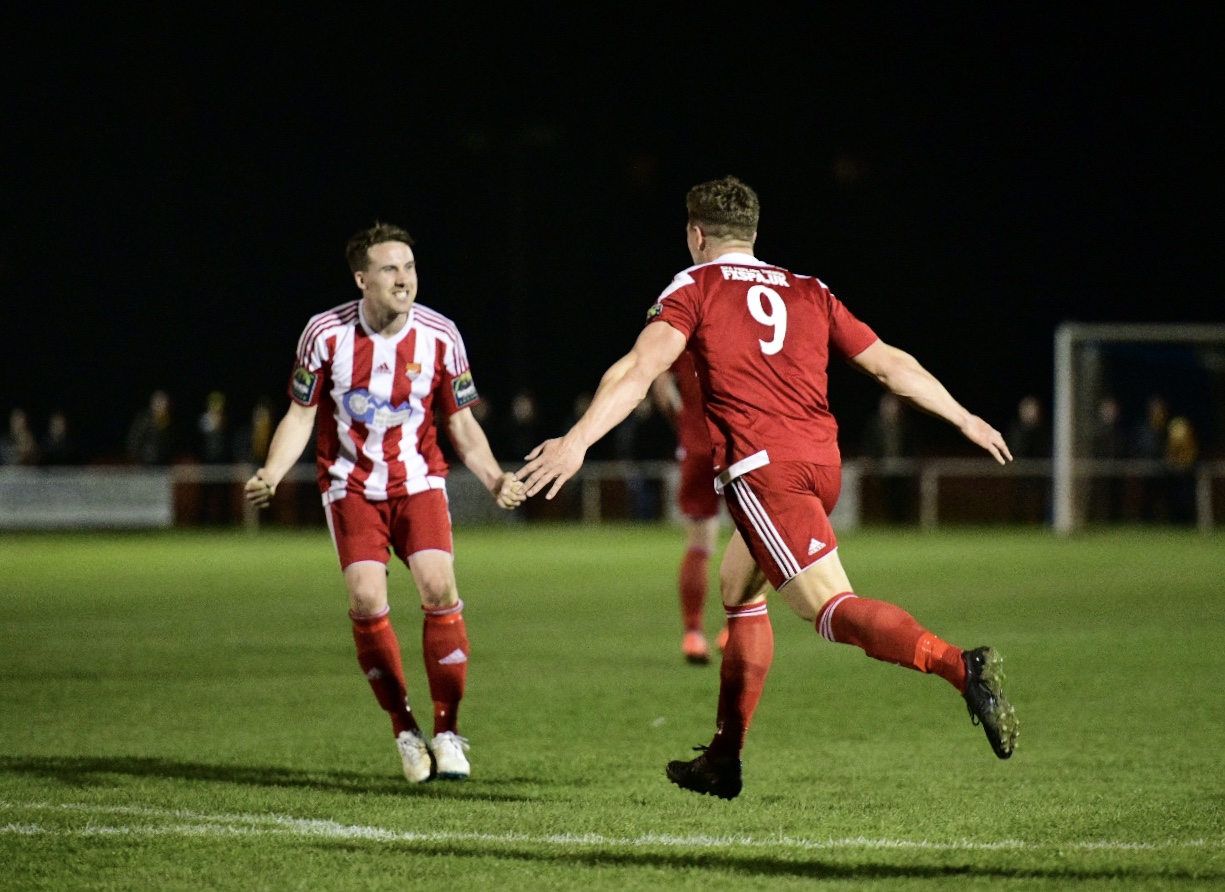 Some match reports are just that little bit easier to write than others. This is one of the easier, more enjoyable ones. But let's try not to get too carried away with the emotions and celebrations and reflect on a very satisfying win against Stowmarket in the Suffolk FA Premier Cup semi-final.
A decent crowd of 567 souls turned up to watch this local derby, hosted by Hadleigh United. On this occasion, the vociferous Seasiders followers were matched by an equally enthusiastic band of Stowmarket fans. It had the feel of 'this is a game we really, really want to win'.
The team was unchanged from Saturday but with Joe Bloomfield in for cup-tied Callum Bennett and the strong bench including Stuart Ainsley, Kye Ruel, Jamal Wiggins, Rhys Henry and Darren Mills, it showed just how fierce competition for places is.
We started by saying we wouldn't get too carried away, so let's take on board Danny Bloomfield's thoughts, speaking at the final whistle, where he managed to explain how even when things aren't going quite according to plan, there are still positives to take:  "In that first 25 minutes we weren't playing great. We were a bit nervy, but I never felt we were going to concede. Even when we're not playing well, we work hard. The desire to keep clean sheets is there and there is an understanding that Team is Everything. We're all in it together. Then when we played, we dominated for periods of the game. You can see what it means to everyone. Two of the celebrations were by the dugout. It shows the culture of what's being developed here. I'm proud, very proud."
It's true that it did take a little time for the team to find their rhythm and credit has to be paid to Stowmarket, who tested keeper Jack Spurling who, once again, made some fine stops including in a couple of one on one situations.
The break came on 39 minutes when a corner from the right, taken by Ethan Clarke found Joe Francis who headed clear into the Stowmarket net. Cue the first dugout celebrations. Speaking after the game, Franny, in his inimitable way, had this to say, "Still got it! 32 years old and scoring headers. It's what I do." And what the fans did was breathe a massive sigh of relief. Finally, class was beginning to show. 
We didn't have to wait long before Liam Hillyard picked up the ball in the box, turned and placed a shot low into the corner of the net to put The Seasiders two up going into the break. This was perfect timing for that second goal.
After the break, the hope was to go on a put the game to bed, but once again Stowmarket put up a strong fight and it took a while before we started to dominate again. There were chances at either end with one effort by Kye Ruel to convert, after the ball having bounced off the upright, being the pick of the bunch.
And then it happened. On 84 minutes, Hillyard picked up the ball on the edge of the box with his back to goal, turned with his opponent trying to hang on for dear life to then bang the ball into the back of the net. Game over, but not before more celebrations by the dugout.
Hilly told us after the game, "As soon as I hit it (his 2ndgoal) I saw it hit the back of the net. I ran over to the dugout to celebrate 'cos I know how much it means to all the players and the management. I'm happy for everyone involved at the club." Looking forward, he added, "But the league is important too. It'll be good to be as high as possible in this our first season (at this level)."
This was a 3-0 win against worthy opponents but importantly there is the realisation that not only will the club have a cup final appearance at Portman Road, but that whilst it will be a tough evening out, there's enough confidence in the side to be in with a serious chance of coming out on top against Stuart Boardley's Leiston FC.
We leave the final words, first, to Chairman Andy Wilding: "I'm really looking forward to the cup final. If we can produce the same as we did tonight then I'll be a very happy man." Director of Football Tony Barnes concluded with, "Twenty years of waiting and we're at Portman Road. Superb." At least that's what we think he said because it's hard to speak when you have a grin as big as Tony's was after the match. But the very final word has to go to Vice Chairman Andy Clarke who had this offering: "Aaaaarrghhhhh!!"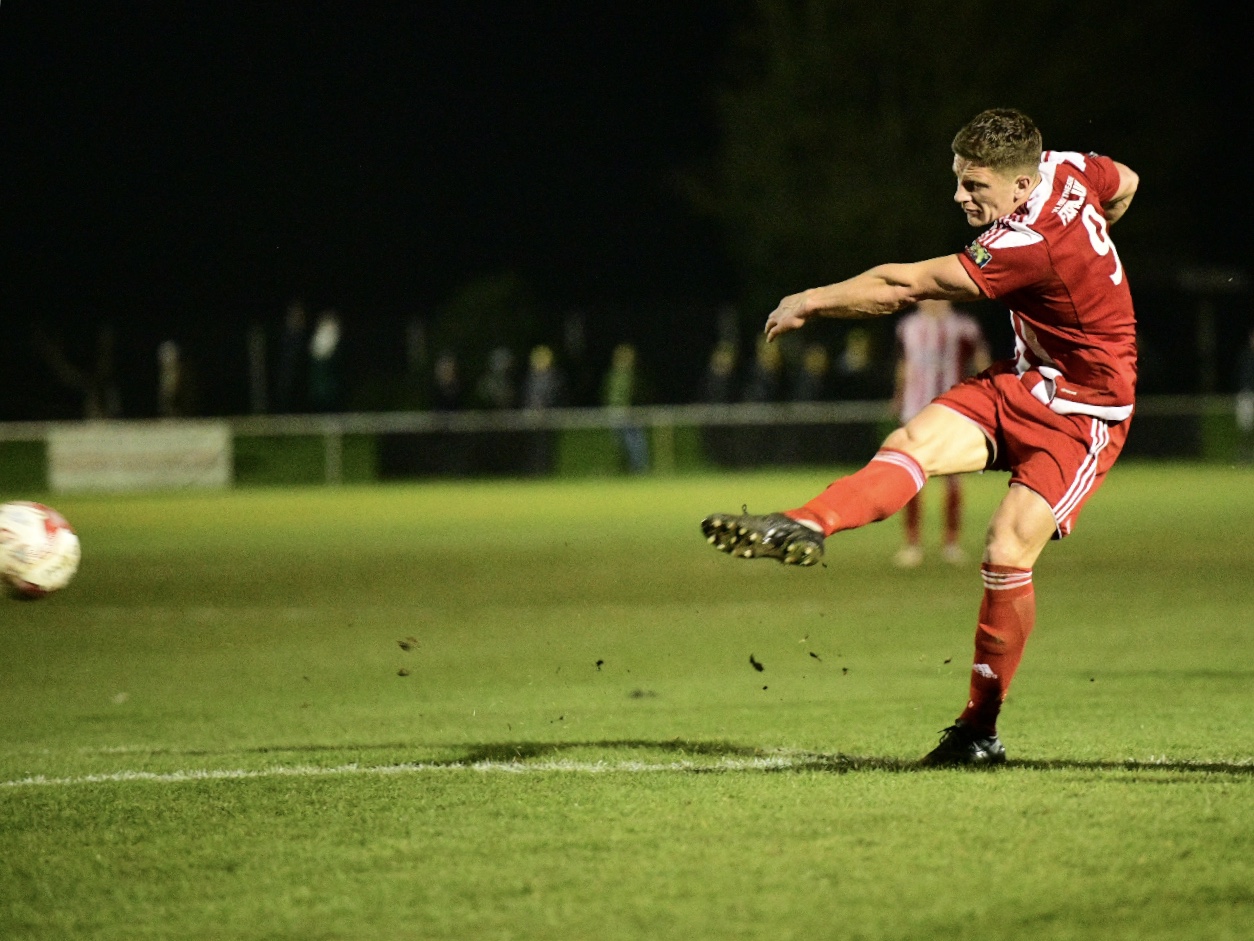 Click here for line ups, substitutions, cards etc.
Click here for photos