Brentwood
Town
-
Bostik
North
(Home)
Result:

Felixstowe & Walton Utd 3 - 0 Brentwood Town

Date:

23 March 2019

Time:

15:00

Match Type:

Bostik North

Venue:

Goldstar Ground, Felixstowe

Attendance:

416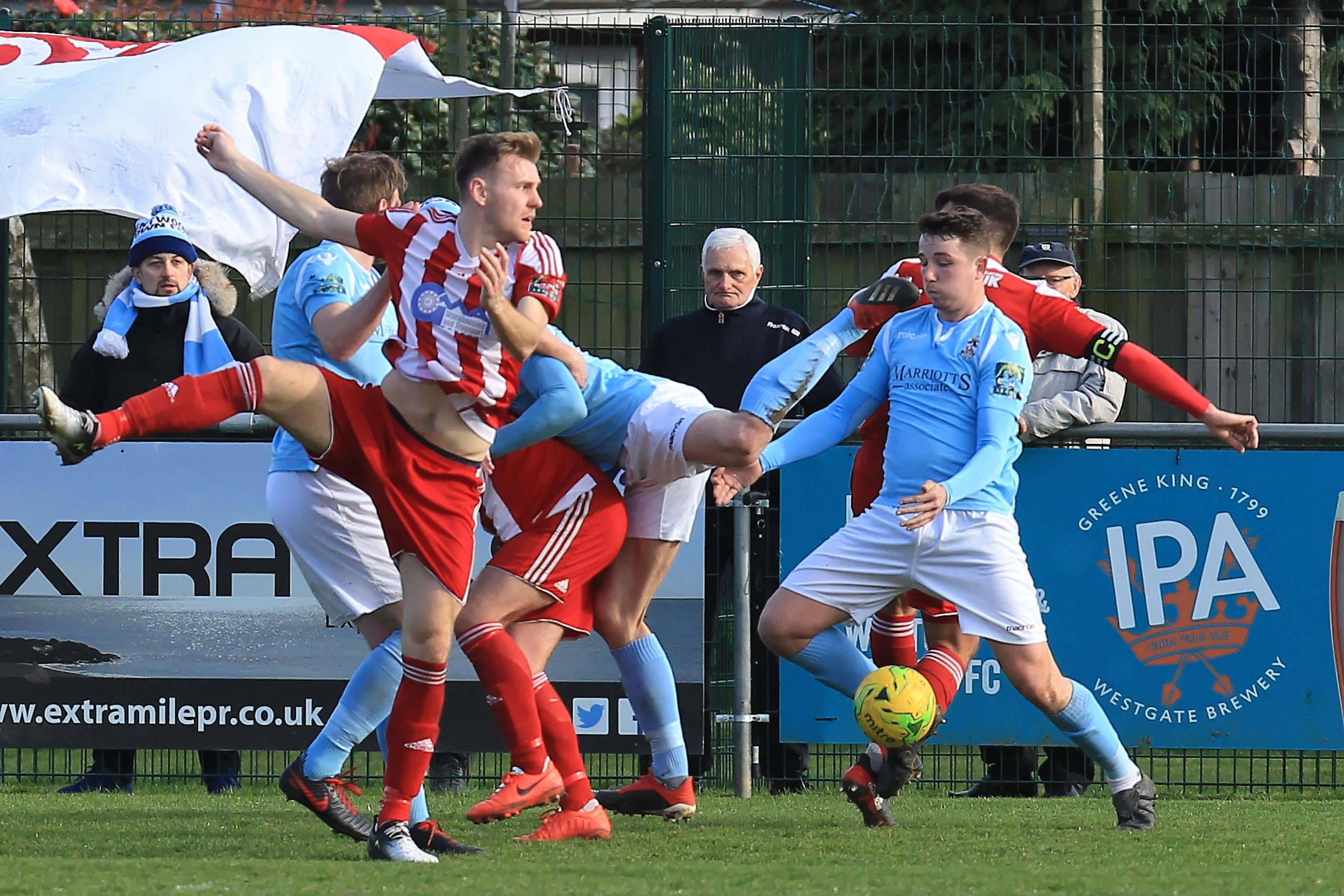 Just one week ago we returned from Witham with one point from a 1-1 draw, having battered the opposition goal with chance after chance. A point on the road is always welcome but there was a clear sense of frustration from all concerned. Nobody wanted the same thing to happen at home to Brentwood.
Well, it took a mere 5 minutes before some of those fears and worries began to look unwarranted. A through ball found Liam Hillyard in a one-on-one with their keeper Rob Budd. Able to control the ball well, Hillyard slotted past the keeper, giving The Seasiders a one-goal lead.
Despite starting the game mid table with just four away wins from sixteen all season, the Essex side were on something of a high having beaten Coggeshall away in midweek. This time, however, they found themselves up against a team playing with increasing confidence and a certain swagger which, had it been in evidence all season, might have found Felixstowe in and around the play offs. So much for ifs and buts!
An obvious sentiment when anyone takes a one-goal lead is I'd feel a lot happier with a second goal. I'd like to see that cushion. Well people didn't have to wait too long to see that second goal arrive. A corner from the right from Ethan Clarke found Josh Kerridge at the far post, who headed goalwards. Firing home from close range, captain Rhys Barber brought that all-important cushion scoring his third of the season in The Bostik North. As half time approached, the sentiment changed a little to I'd feel a lot happier with a third goal. I'd like to see that cushion. This was understandable because Brentwood hadn't been simply sitting there waiting to concede goals. They'd had their chances too and, thanks once again to Jack Spurling who brought off more than a couple of impressive close range saves, the visitors could easily have nabbed a goal or two themselves.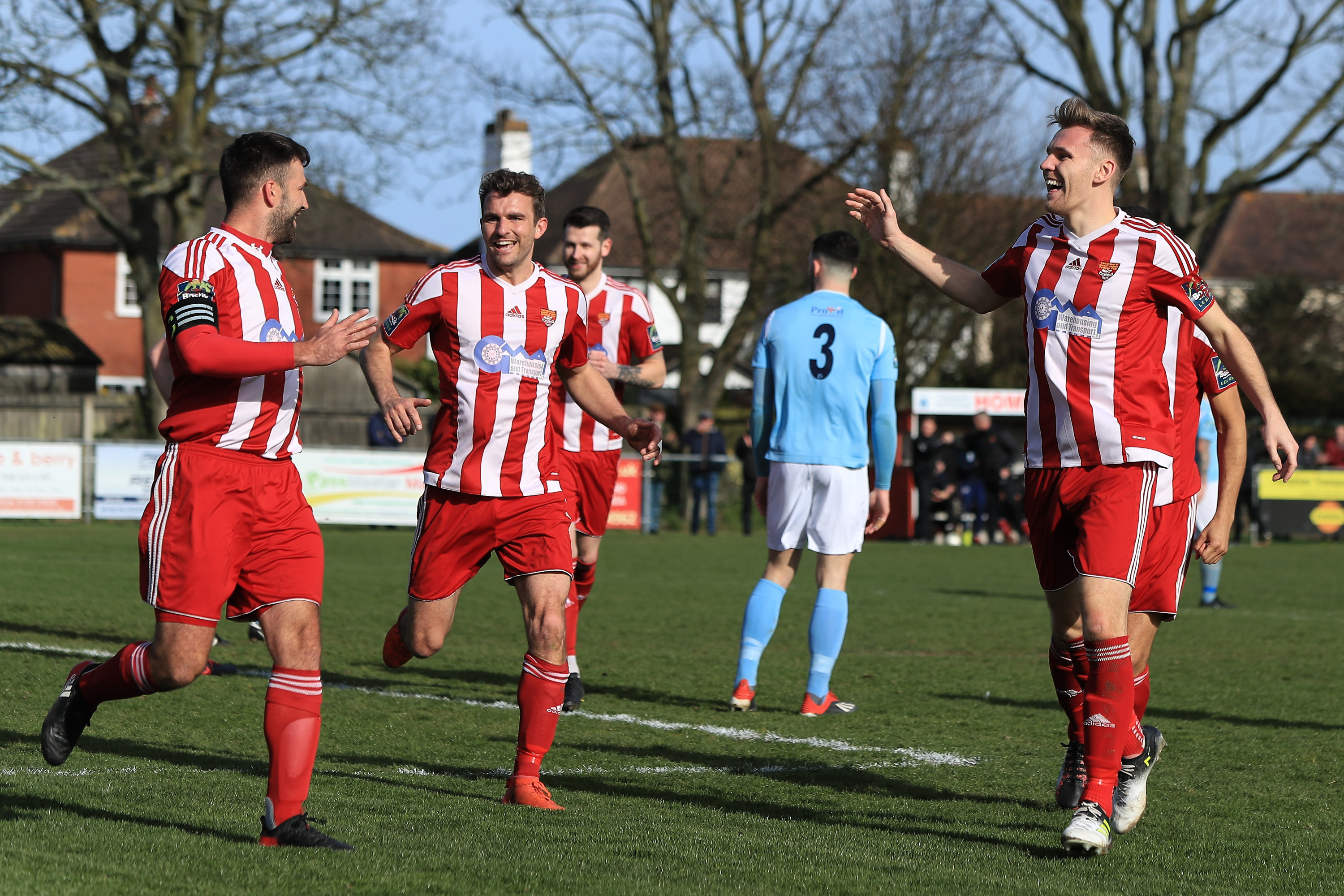 The second half brought exactly the kind of reward a home supporter craved. Miles Powell was nudged off the ball in the box and the referee pointed straight to the spot. Up stepped Jack Ainsley to confidently convert, bringing his Bostik North tally to 20 for the season. There the scoreline remained until the final whistle and perhaps the three-goal lead did take the wind out of Brentwood's sails.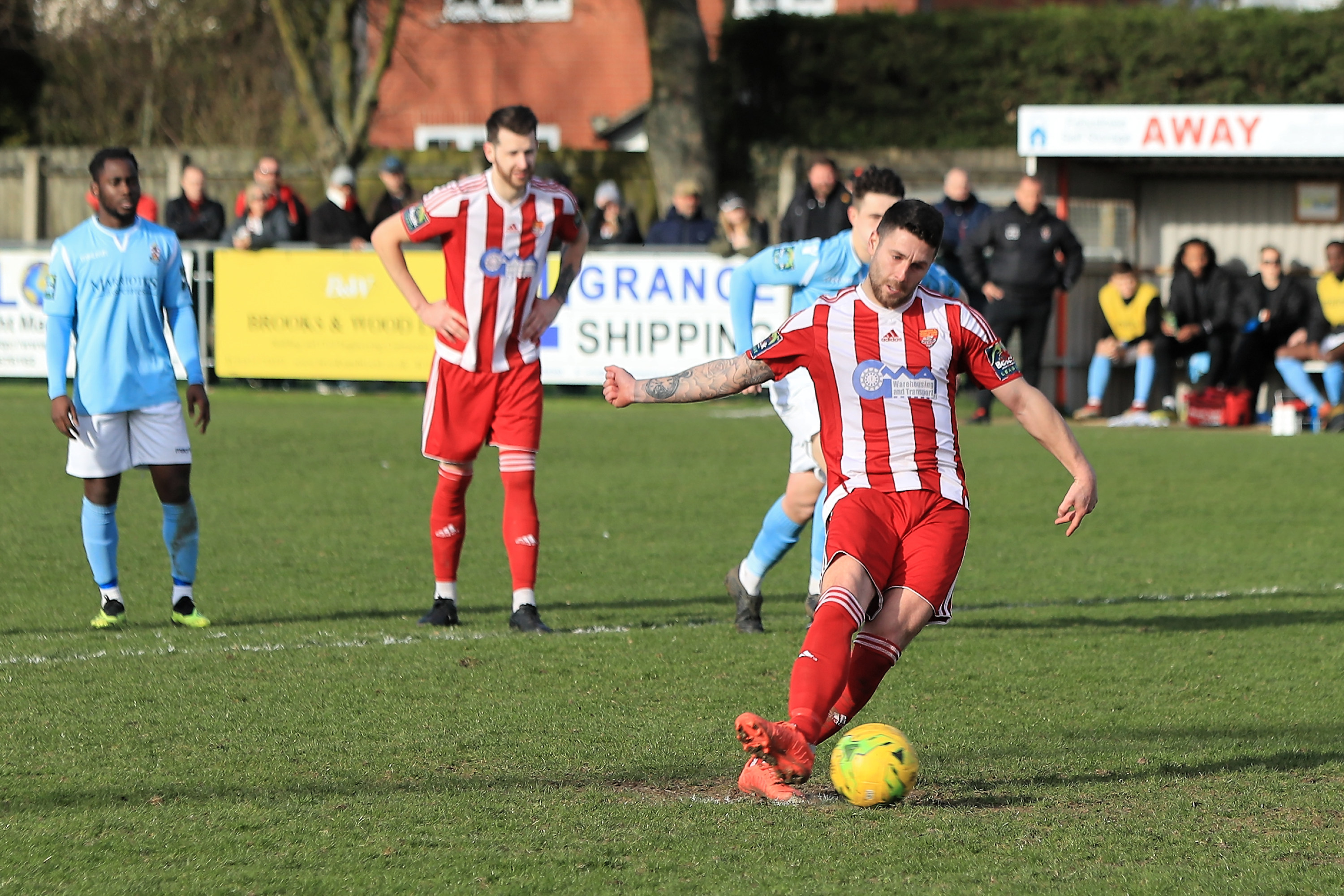 This was The Seasiders' 50th league goal this season yet, somehow, we remain with a goals against column of 52. It would be nice to finish the campaign on goals plus. This win does, however, lift us into 8th spot in something of a Suffolk Mini League with AFC Sudbury 6th and Bury Town 7th just ahead of us. For anyone interested, it's now mathematically impossible to finish in either the play-offs or the relegation spots, no matter how the final games pan out.
There are still tough games to come with Maldon and Tiptree (30thMarch) and top-of-the-table Bowers & Pitsea (April 13th) yet to visit The Goldstar ground as well as tough away fixtures at Canvey Island and Coggeshall. The season ends with games against the current bottom two,  Mildenhall and Romford. But those games will all be approached with that growing sense of self-belief reflected by a very apparent positive vibe around the club.
This vibe was evident when captain Rhys Barber talked to Seasiders TV straight after the game. Talking first about his goal, Felixstowe's second, he said, "It was a good time to go two up. A very well-timed goal. Today was good because we've been comfortable in games, but we haven't gone on and beaten people. We've played teams that have let us have possession of the ball but we've never really gone at them. Today I think we looked a threat every time we went forward. I think we needed it."
Next up for Felixstowe is Stowmarket on Tuesday 26thMarch in The Suffolk FA Premier Cup semi-final at Hadleigh United's ground. With the prospect of playing in the final against Leiston FC at Portman Road in May, players and fans alike will no doubt have already turned all their attention to this particular game. Despite Stowmarket playing at a level below us, an important local derby like this will be just as tough as any game Felixstowe are likely to be involved in this season. Perhaps with Tuesday's game in mind Ian (Watty) and Danny made three substitutions against Brentwood with Joe Bloomfield replacing Callum Bennett, Darren Mills coming on for Liam Hillyard and Jamal Wiggins on for Jordy Matthews. Competition for places is fierce at present (remember Stuart Ainsley and Rhys Henry weren't even on the bench yesterday) and with Callum cup tied for the semi, it was no doubt important to bring other players on for match practice and fitness.
Speaking about Tuesday's game and adding more about the buzz at the club, Rhys Barber continued, "We beat Stowmarket in the Premier Cup last year and there are a few people at the club now who have played in the final before. Jack Ainsley won it last year with Leiston so we have experience. There's a good atmosphere among the boys. Danny has had a fresh look at things, Callum has improved so much and we've got the direction that we needed."
If you're reading this before Tuesday's game, please allow for a personal appeal. If you can possibly make your way to Hadleigh on Tuesday night, please get there. Stowmarket will undoubtedly bring a fair few and The Seasiders will appreciate all the support we can muster. Personal appeal over!
Click here for line ups, substitutions, cards etc.
Click here for photos