Grays
Athletic
-
Bostik
North
(Away)
Result:

Grays Athletic 2 - 2 Felixstowe & Walton Utd

Date:

02 March 2019

Time:

15:00

Match Type:

Bostik North

Attendance:

235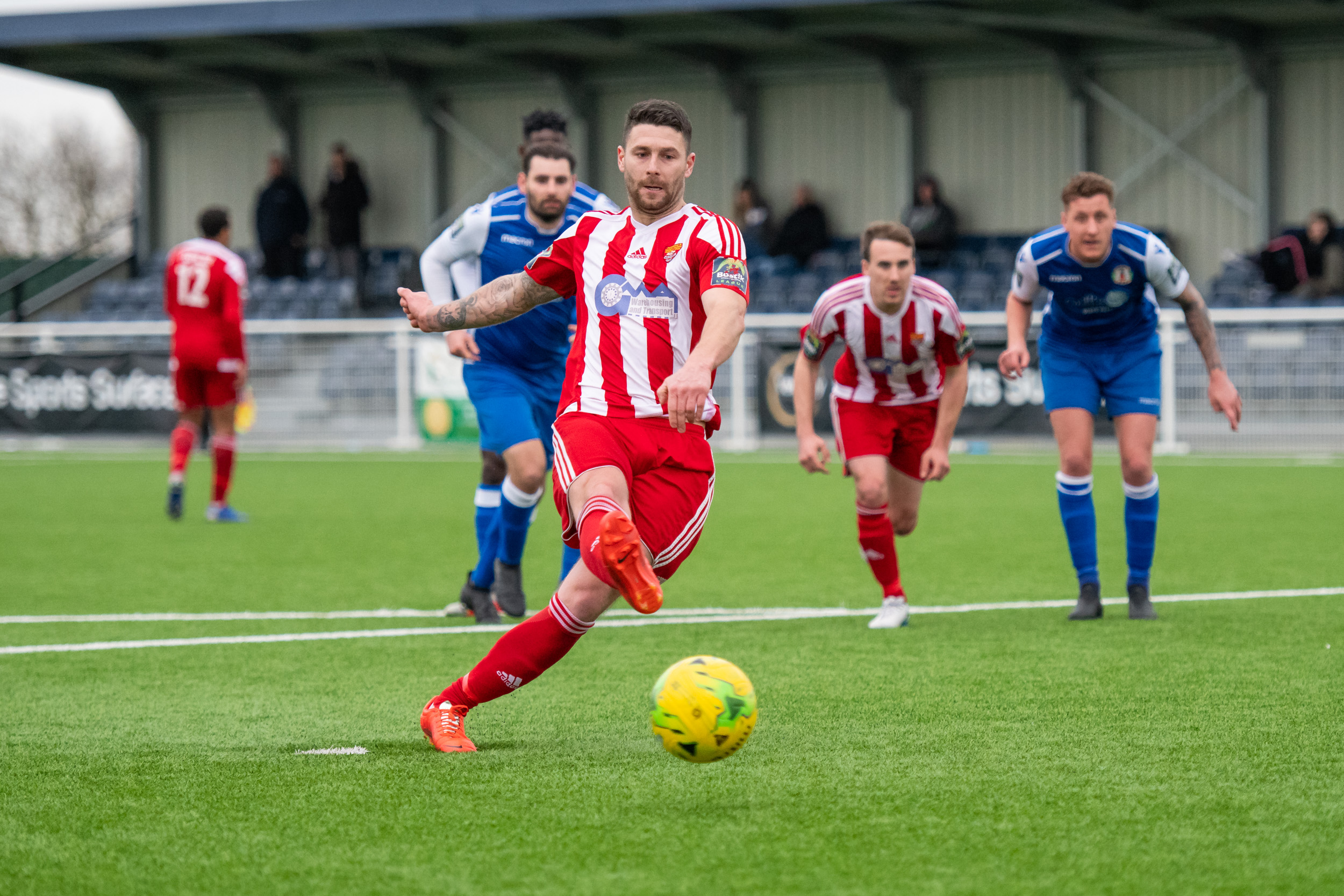 This game away to Grays Athletic was billed as a possible  "Third Time Lucky" for The Seasiders. Regrettably, this was more in the vein of "Third Time Unlucky." Prior to Saturday's encounter at the home of Aveley FC, where Grays ground share, our two sides had met twice already this season, with the Essex side having secured two wins, one in the league and one in The Velocity Trophy. And it was their wide man Joao Carlos who, once again, seemed to enjoy playing against us. Already with three goals to his name from those two earlier visits to The Goldstar Ground, it was Mr Carlos, yet again, who opened the scoring for The Essex side on 10 minutes.
At that stage, even a Felixstowe fan wearing red & white tinted glasses would have been forgiven for fearing the worst. Maybe Grays were trying extra hard to impress new boss Jim Cooper in his first game in charge, but they were certainly impressing many in the crowd of 235, including most of the travelling support.
A neat through ball from Grays' eventual man of the match, Mitchell Hahn, allowed Carlos to cement their dominance as his side tried to keep the ball on the ground and deploy a passing game.
Maybe earlier in the season Felixstowe's heads might have dropped, but there seems to be a new steel and determination within the camp these days. After those initial exchanges we managed to get a toehold and when Miles Powell was brought down in the box on 22 minutes, Jack Ainsley stepped forward to confidently bring things back to level pegging.
There wasn't much time to relax, however, because just 4 minutes later, Aron Gordon, in a one on one with keeper Jack Spurling, slotted the ball home giving the lead back to Athletic. Yet again, The Seasiders showed their spirit when Rhys Henry leveled things again with an impressive drive from just inside the penalty area. Thirty minutes gone and 2 goals apiece. Where was this going to end, one wondered. Well, in fact, it ended there, so far as goals were concerned.
After the break, Grays seemed either to have run out of steam or abandoned their flowing game altogether. This was probably due, in part, to how sharp Felixstowe were in that second period. The longer the game went on, the more it looked like we were likely to bring home the spoils.
Watty and Danny made two changes on 64 minutes, bringing on Liam Hillyard for Miles Powell and Ethan Clarke for Rhys Henry. Grays had already made two changes themselves so it was fresh legs all round. Jordy Matthews also came on replacing Stuart Ainsley on 72 minutes. It was Felixstowe who seemed to benefit most from the substitutions, creating a number of chances pushing for the winner.
With just two minutes of normal time remaining, Mitchel Hahn blocked a ball looking for all the world to be heading across the line, resulting in a straight red for their man of the match and the chance we were all waiting for, the chance to make it third time lucky. Up stepped Jack Ainsley who, however, managed to miss the target, meaning we will have to wait until next season before clocking up a win against a very decent Grays Athletic.
Jack was almost certainly very disappointed to miss from the spot but he has impressed all season with 19 goals to his name in The Bostik North so no one will be blaming him for anything at all. It happens!
Speaking after the game, Watty had this to say: "The character of the players is superb at the moment. We weren't showing this spirit earlier in the season. To come back from a goal down and again from 2-1 down is impressive. I'm chuffed with a point but disappointed at the same time. We had a couple of flashes across their goal late on and we were clearly the better side in the second half."
Danny Bloomfield echoed Watty's words with, "We struggled to get to grips with them during that first twenty minutes. They have a new manager and everyone was keen to impress, but we did eventually get into the game and we absolutely deserved to win. We dominated them. The subs came on and did a job for us. I'm disappointed to only get a point."
Next up for The Seasiders is Basildon, who went down 4-0 at home to AFC Sudbury this weekend, slipping down now to 14thplace. With only three defeats in our last 13 matches, Watty & Danny's boys will look forward to extending this good run of form next week without, of course, assuming or taking anything for granted.
Click here for line ups, substitutions, cards etc.
Click here for photos