Heybridge
Swifts
-
Bostik
North
(Home)
Result:

Felixstowe & Walton Utd 3 - 0 Heybridge Swifts

Date:

02 February 2019

Time:

15:00

Match Type:

Bostik North

Venue:

Goldstar Ground, Felixstowe

Attendance:

400
"Team is Everything" is the phrase that's being heard repeatedly these days from Watty and Danny and it showed on Saturday at home to Julian Dicks' Heybridge Swifts. Another home win, another clean sheet, and another decent turnout of 400 at The Goldstar Ground left most people in the bar, after the match, re-writing history and denying that they had ever doubted anything prior to kick-off. In truth, there were one or two faithful Seasiders around 2.45 saying they'd be happy with a point today. Well they saw all three come Felixstowe's way and, despite having to defend a little too much throughout the game, fully deserved the spoils.
It took just three minutes until the game came to life when Rhys Henry flighted a ball from wide left allowing Jordy Matthews to power home such an early lead past Heybridge keeper Chris Haigh. For some reason, a one-goal advantage can just as easily lead to match nerves as when things are level. Perhaps it's desperately not wanting to lose such a welcome advantage. Or maybe it's just me!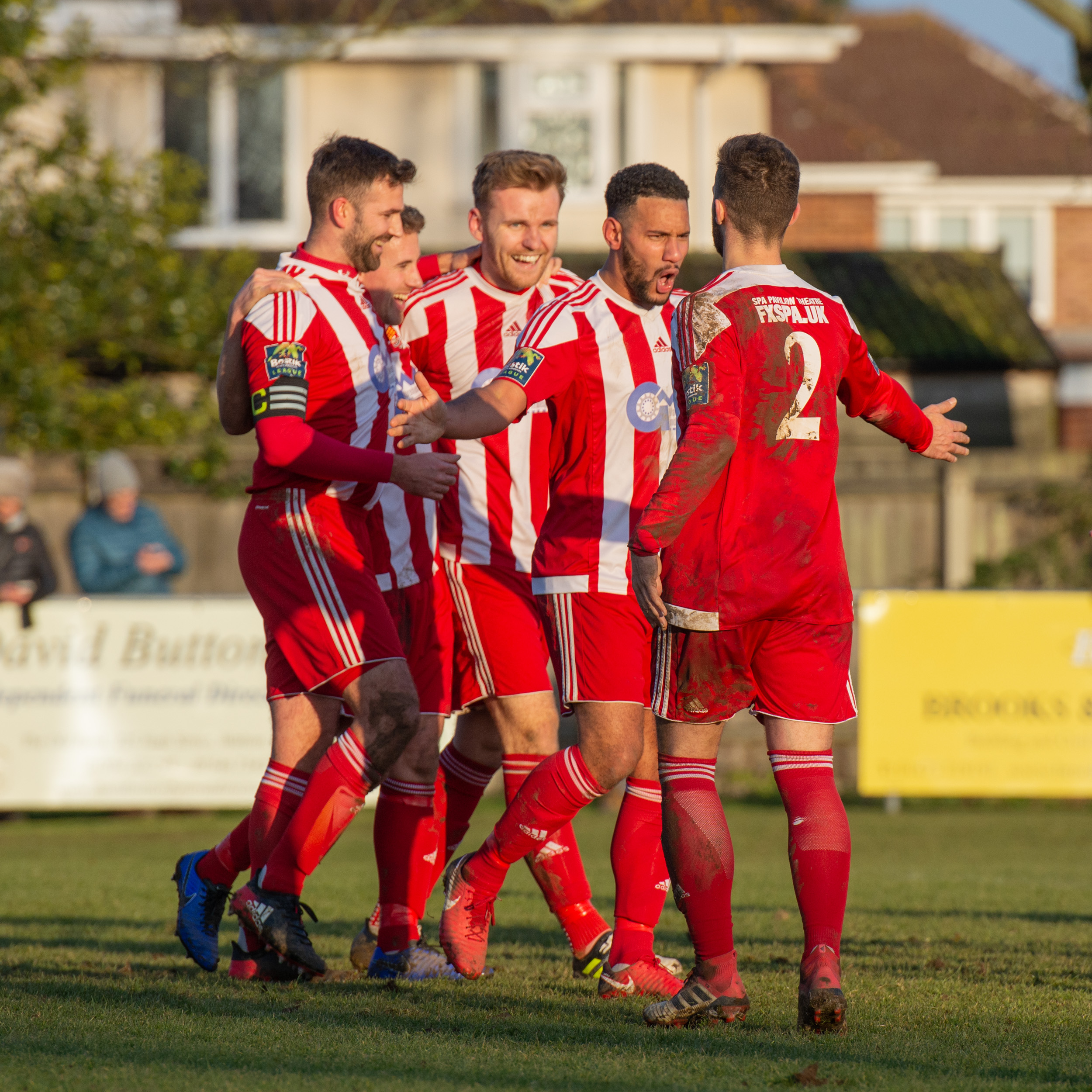 Although the visitors had a little more of the early exchanges, we did look dangerous when we did come forward, moving out of a busy midfield. One such foray forward led to a corner from the right, which was dispatched by Callum Bennett. Waiting in the middle was Josh Kerridge who, to the delight of home fans, doubled the lead. But did those match nerves completely disappear? No, not really.
I checked out at half time how other fans felt and realised I wasn't alone. More than just an odd voice said they'd take a point! Fortunately Watty and Danny seem to have instilled more confidence within the team than there is within certain sections of jumpy fans. Perhaps the management duo would like to offer a confidence and self-belief talk to supporters!
In recent games, we have switched to a 3-5-2 formation and to this observer it seems the players are getting used to things. The second half did see the Swifts exert pressure but our defence put in an impressive display and this was acknowledged by Julian Dicks when talking to Seasiders TV after the game, saying, "Take nothing away from Felixstowe. They set out their stall well and stuck to their plan. My side weren't good enough - by a long shot. We had a few opportunities and didn't take them, (Felixstowe) had opportunities and took them."
Ten minutes after the break, however, it was time for some of those nerves to resurface and perhaps it was time to accept that a few of those half-time doubts might prove to be well founded when the referee awarded a penalty to Heybridge. Keeper Spurling's reflections were, "I had an idea which way he was going to place the penalty but, at the last minute, they switched penalty takers…I inched left, saw the new penalty taker look to my right and went that way." Penalty saved! No need for any worries to resurface after all!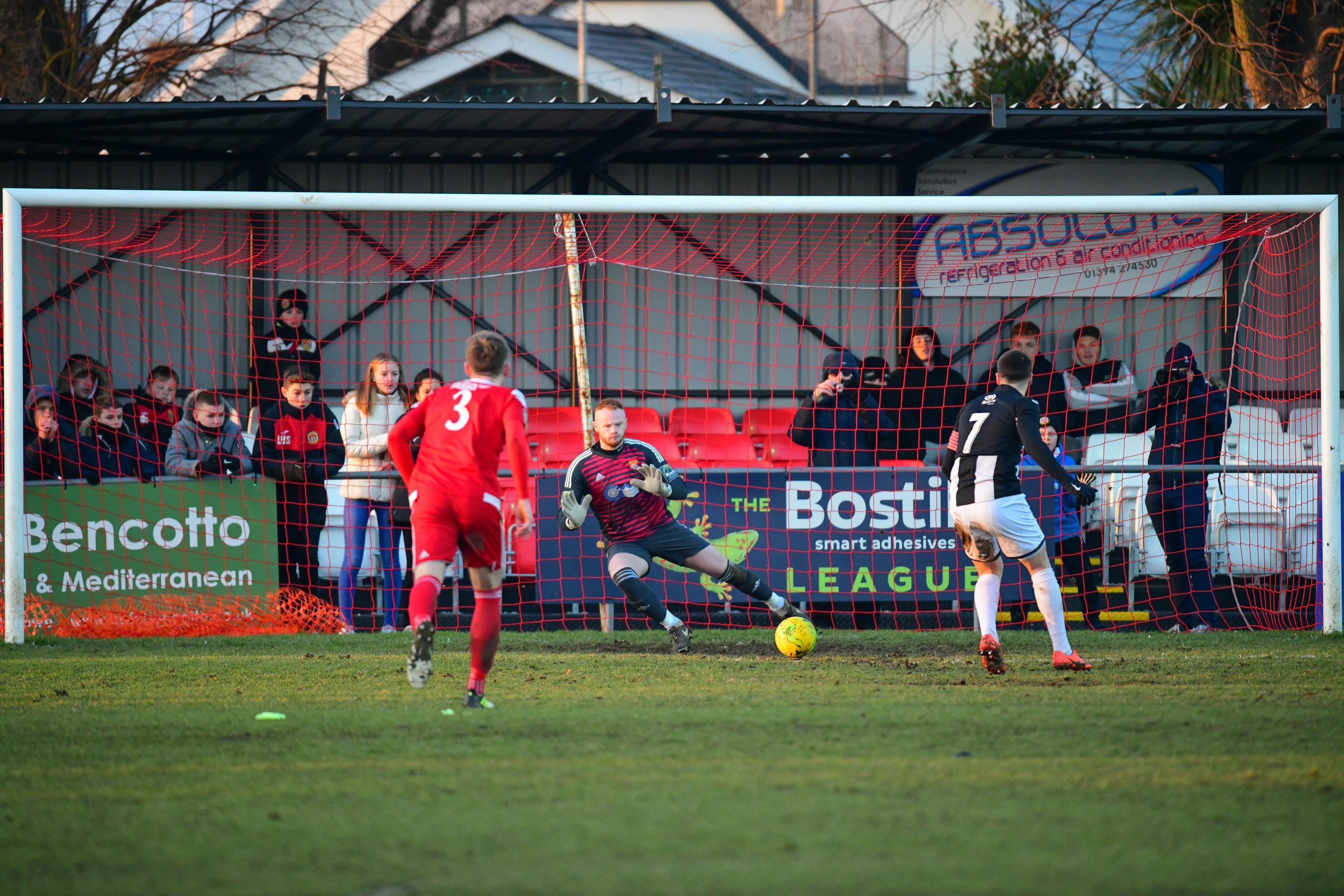 Heybridge did pile on the pressure as the game progressed but there was a sense that the game was well and truly put to bed on 67 minutes when a mix-up in the Swifts' penalty area allowed Rhys Henry to convert into an open net.
Talking after the game, before leaving the field of play, a smiling Danny Bloomfield told fans, "The boys worked hard and listened to what we wanted them to do. We're progressing, we're getting better. The lads are giving everything, showing the fans that they care and want to get even better. It was a competitive game and we stood up to what was thrown at us. We are not easy to play against. Heybridge are a good side and I'm pleased with how we played against them." And again, during that short interview we heard the phrase, "Team is Everything."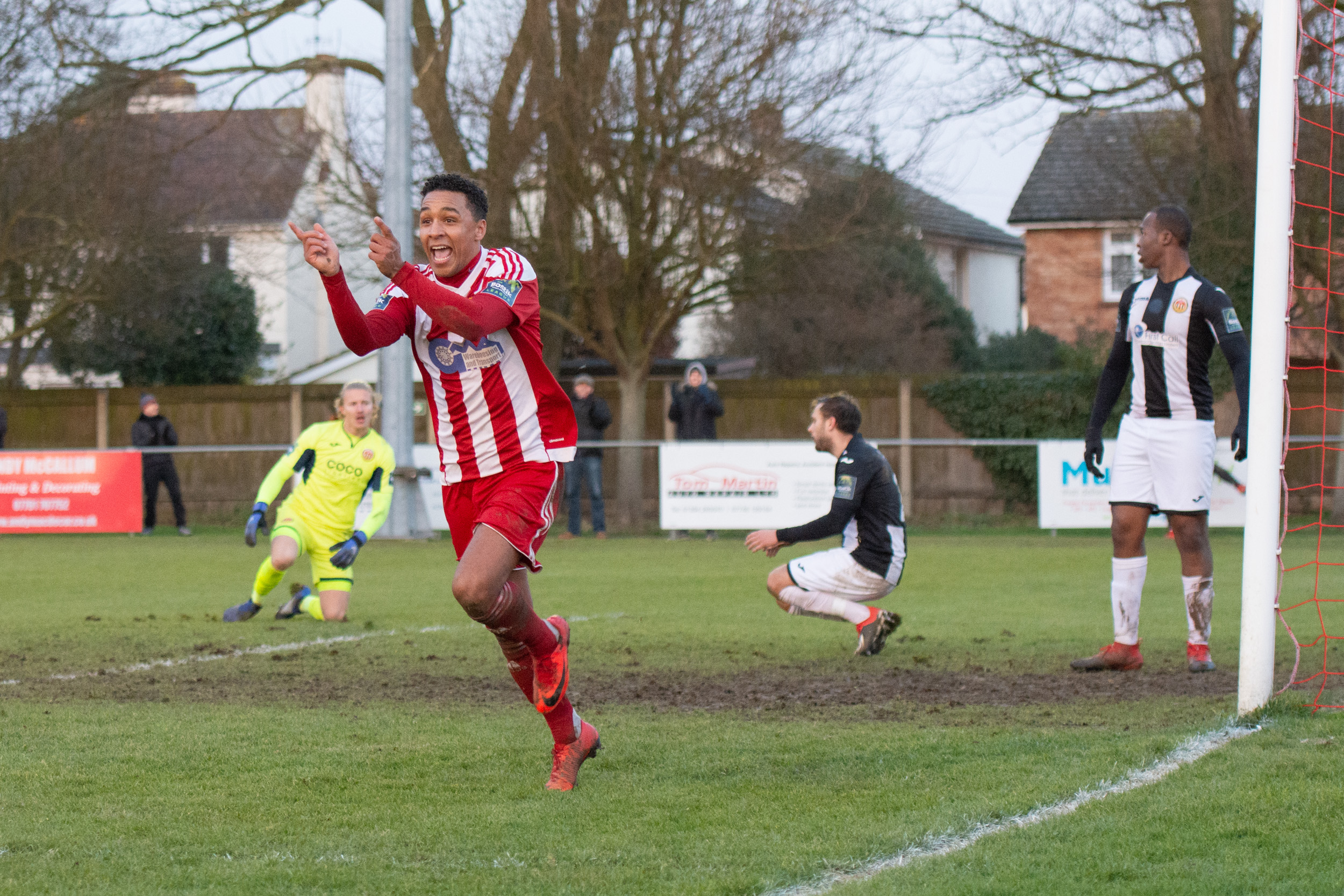 Jack Spurling, also in conversation with Seasiders TV, told us he'd enjoyed the banter with the visiting fans behind his goal but kept focused throughout. He added, "Our defence was solid, the early goal set us up." He also re-iterated the message of team spirit by saying, "There's a lot of togetherness within the team."
And so it's off for a tricky encounter with Soham Town Rangers on Tuesday night, hopefully managing to avenge the 3-1 defeat to the Cambridgeshire side we encountered back in September when The Rangers were bottom of the league. And then on to AFC Sudbury on Saturday for an even trickier game.
With team spirit good and confidence high within the squad, maybe it's time now for the fans to approach these games more hopeful than they have been.
Click here for line ups, substitutions, cards etc.
Click here for photos