Coggeshall
-
Bostik
North
(Home)
Result:

Felixstowe & Walton Utd 3 - 0 Coggeshall

Date:

05 January 2019

Time:

15:00

Match Type:

Bostik North

Venue:

Goldstar Ground, Felixstowe

Attendance:

560
How quickly moods can change. Just a short while ago we were "five, six, seven games without a win…..slipping down the table" and while all that was factually correct, we are now in a position to say "three-game unbeaten run, with eight goals scored in last three games and just two points away from the top half of the table." The truth is that things need to be seen with the right perspective. Overall, in a difficult-to-predict league, The Seasiders do not look like a team that will be struggling near the foot of the table come late April. We certainly did not look like that on Saturday at home to Coggeshall.
This season we are averaging 413 through the turnstiles each week and Saturday saw some 560 fans come along to experience what turned out to be a very enjoyable day that started with the under 7s having a training session on the pitch and ended with a photo opportunity with Olly Murs. To offer a 3-0 win as well meant this was a day many will have thoroughly enjoyed.
As for the match itself, the first half finished goalless with Coggeshall being denied a lead on 16 minutes when their effort to find the net was ruled offside. In fairness, maybe the visitors slightly edged the first 45 minutes, but what was clear was that there was little to choose between the two sides and here was a game that was certainly winnable.
After the break it seemed only a matter of time before the deadlock would be broken, with it being quite apparent that The Seasiders had the bit between their teeth. On the 60th minute Rhys Henry found the back of the net with a powerful drive from around the edge of the penalty area following a corner on the left from Callum Bennett. For some reason, however, having a 1-0 lead in a game doesn't seem to ease the nerves very much. In fact, it can make fans even more anxious, keen not to throw away a slender lead.
Nerves that maybe were fraying a little were eased on 73 minutes when Callum Bennett's corner from the left found Josh Kerridge rise above everyone around him to power home from close range. 2-0 with around a quarter of an hour left on the clock and still there were probably one or two fans looking anxiously at the minutes slowly ticking by. We were on course for a very welcome three points, at home to Coggeshall. This was a game where it would have been a criminal offence to throw away a two-goal lead.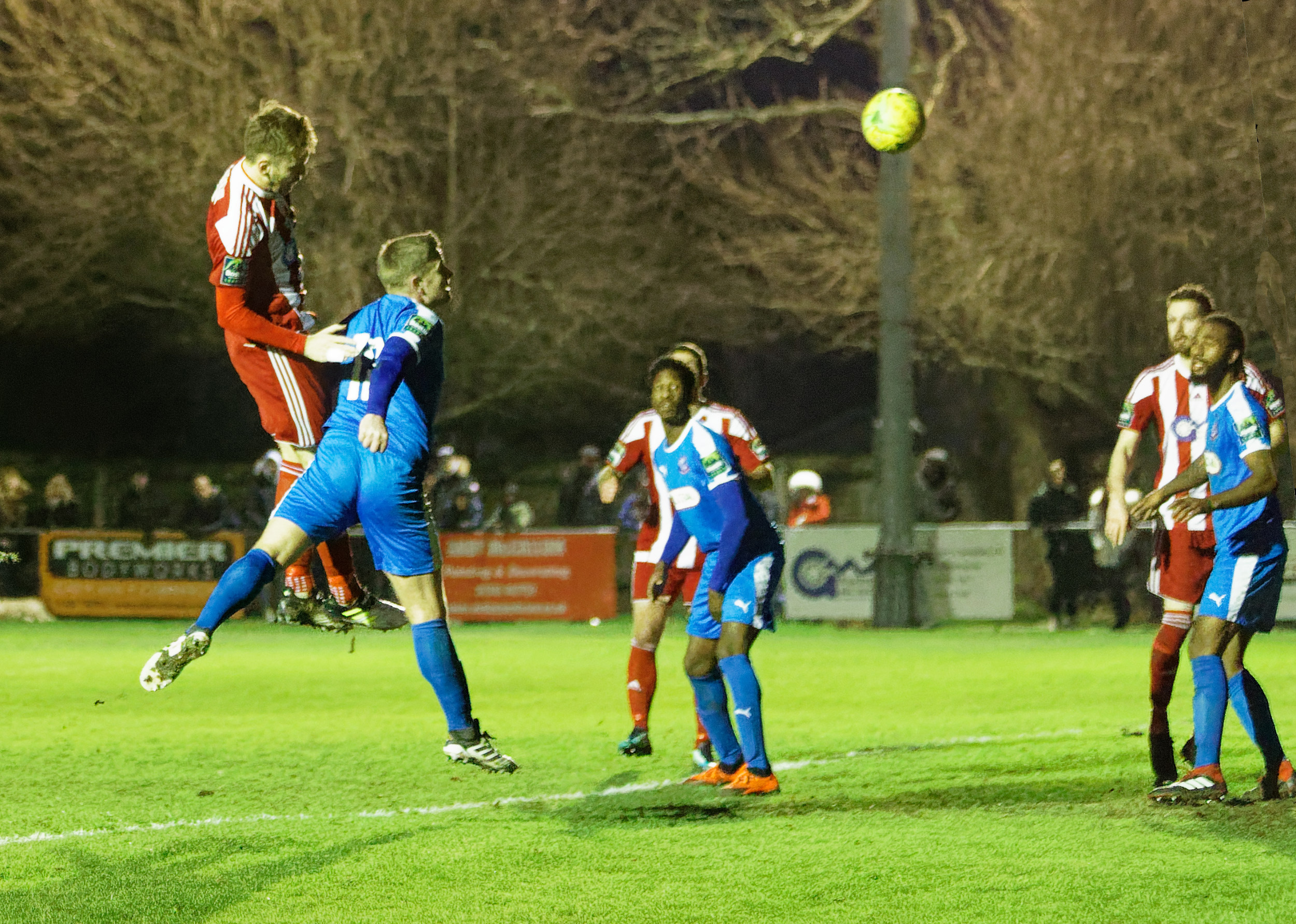 With 10 minutes remaining, finally we could relax when an unlikely effort from Josh Kerridge from inside his own half caught keeper Danny Sambridge unawares as the ball slowly sailed over his outstretched arms towards the goal. Would it find the line and cross it? You bet it would. 3-0 and the points wrapped up. Although I have to say I did hear one Seasider still nervous with just 5 minutes remaining and the three-goal lead still intact! I struggled to find words of comfort but felt suitably relaxed myself to be able to start thinking about the next game away at Aveley on Saturday.
Speaking after the game, Watty told us that the team had been working hard in the lead up to the game and, "We wanted a clean sheet today and we got that. We got in their faces and forcing them to make mistakes (as we were), working hard around the ball. We got it right today and we made the right choices."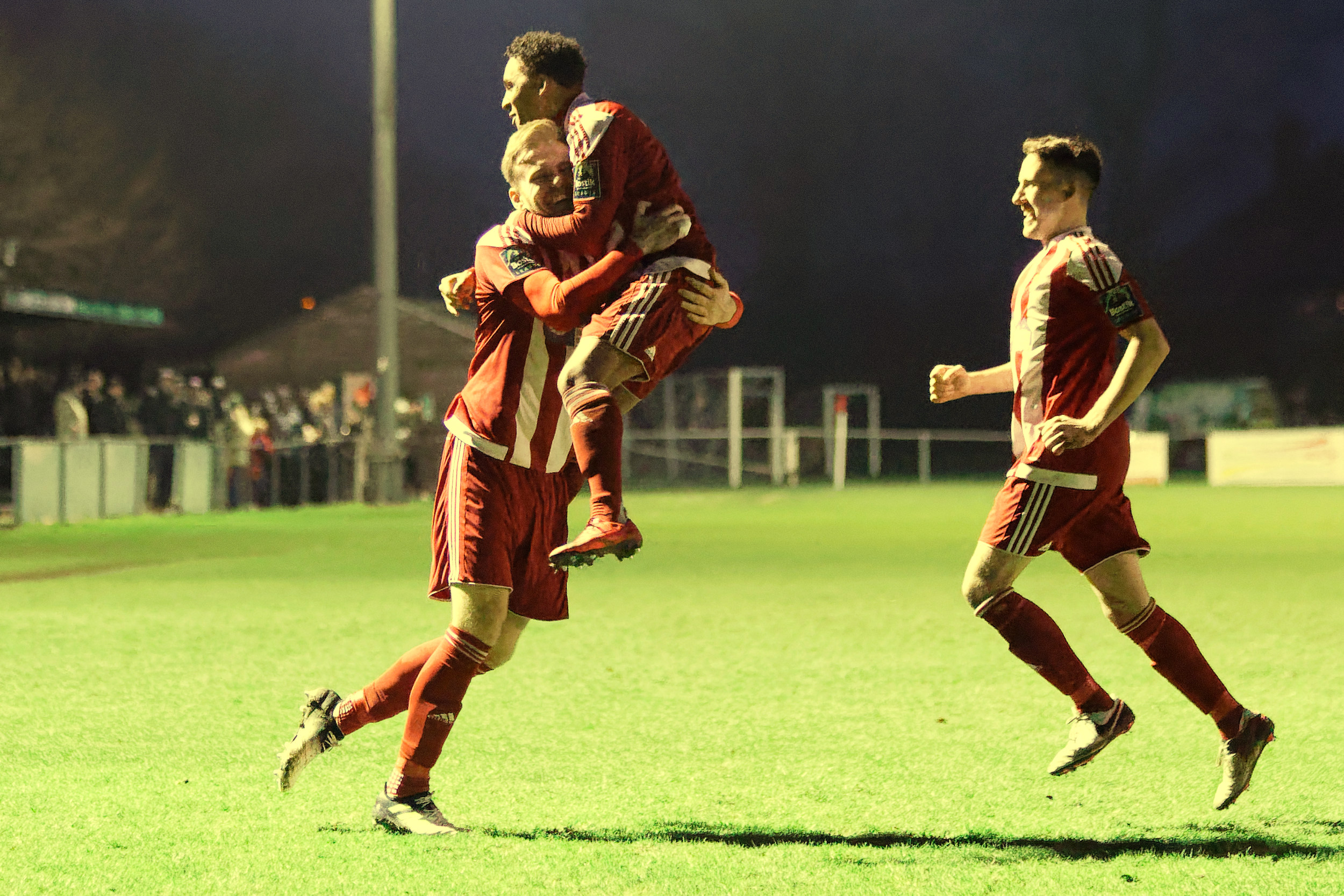 Assistant boss Danny Bloomfield told Radio Suffolk after the game, "Every game is about progression and we've done that in the last few games."
Speaking to Kye Ruel on Saturday, we also discovered that he will be back in contention very soon and will give things a try out with the Reserves first. With Darren Mills also close to a return and Stuart Ainsley back from suspension, Watty and Bloomfield are soon to have that oft-quoted "nice problem" of a fully fit squad and serious competition for places.
There is no doubt that this team is capable of beating anybody in this league and with a full squad and a boost to confidence there is every reason to travel south to high-flying Aveley believing it's quite possible to come away with something from that game.
Click here for line ups, substitutions, cards etc.
Click here for photos