Mildenhall
-
Bostik
North
(Away)
Result:

Mildenhall 3 - 3 Felixstowe & Walton Utd

Date:

29 December 2018

Time:

15:00

Match Type:

Bostik North
Two years ago it was Mildenhall who finished champions in The Thurlow Nunn Premier Division, gaining promotion to The Bostik North. Last season it was our turn to move up to step four. On Saturday we met again at Recreation Way under circumstances with both sides wishing for a more comfortable position in the table and with neither side having chalked up a win in their last five games.
With managerial changes at both clubs in recent weeks, this fixture had unpredictability written all over it before the start. As it panned out, both sides extended their winless runs to six when the spoils were shared in what may have been an exciting game for any neutral in the crowd, but what was probably just a little too nervy for any Mildenhall or Felixstowe fan.
We started with young Louis Donovan-Perry making his first team debut at left back, with Joe Bloomfield in midfield and Liam Hillyard up front. It looked like the perfect start for The Seasiders when Callum Bennett's corner from the left found the head of Miles Powell who powered us into an early lead.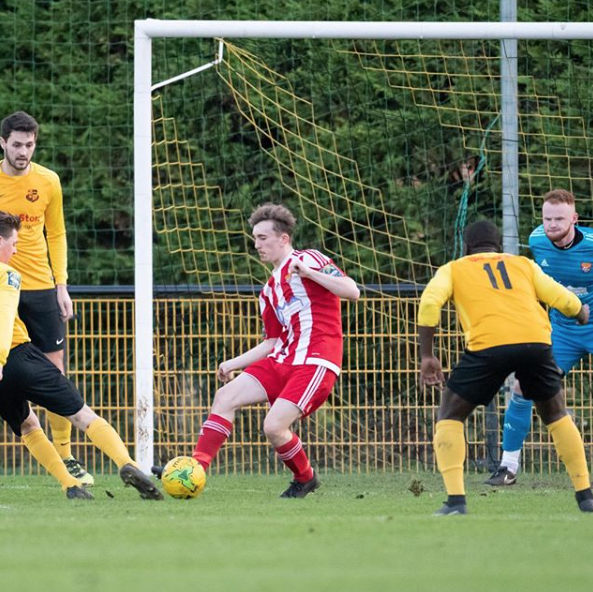 I mentioned unpredictability a little earlier and it soon hit home to the travelling faithful that any assumption that an early lead would mean easy pickings was soon laid to rest. Thomas Debenham hit back for "The Hall" just three minutes later and things were all level in the blink of an eye.
The first half saw chances at either end with Jack Ainsley and Joe Francis coming close at one end while Mildenhall fashioned to hit the bar and bring a couple of decent saves from keeper Jack Spurling at the other.
With just 5 minutes until the break, Abouhadje Kouassi put the home side ahead but what goes around comes around. Our early lead was short; so too was their 40thminute lead. On the stroke of half time, a powerful header from Captain Rhys Barber meant things were all square at the break, with everything to play for in the second half.
What can only be described as a lively first half, full of incident, soon became a lively second half too, still full of incident. Less than 10 minutes into the second half things turned a little sour for Felixstowe when Jarid Robson put Mildenhall in front for the second time. This time it took a little longer for an equaliser. When it came, however, a combined effort of a through ball from Callum Bennett, a forward pass from Jack Ainsley and an excellent finish from Joe Bloomfield offered the goal of the day. So far as goals are concerned, that was it for the day.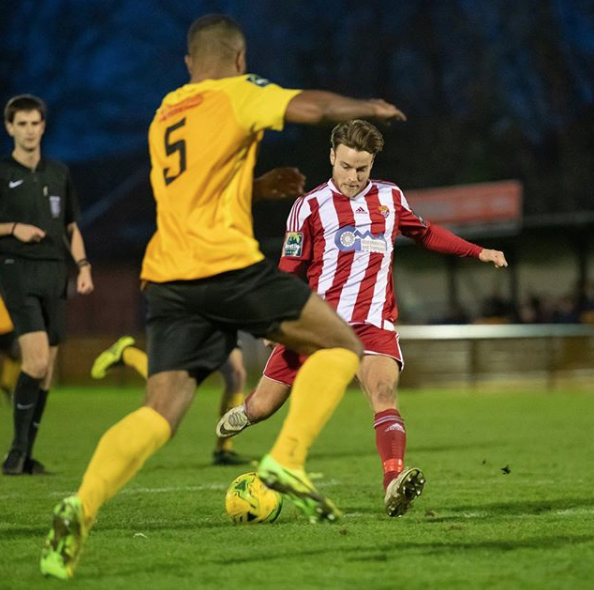 The second half, however, and particularly the final twenty-five minutes saw The Seasiders at their best, with more than a few opportunities to wrap things up and bring home three points. In the end it was a point apiece, with most fans probably happy with that outcome.
Director of Football, Tony Barnes, talking to Seasiders TV after the game, said, "It was a first half dominated by Mildenhall and I'm happy with a point at the end of the day….We looked a far better side when we brought on the energy of Rhys Henry and Jordy Matthews."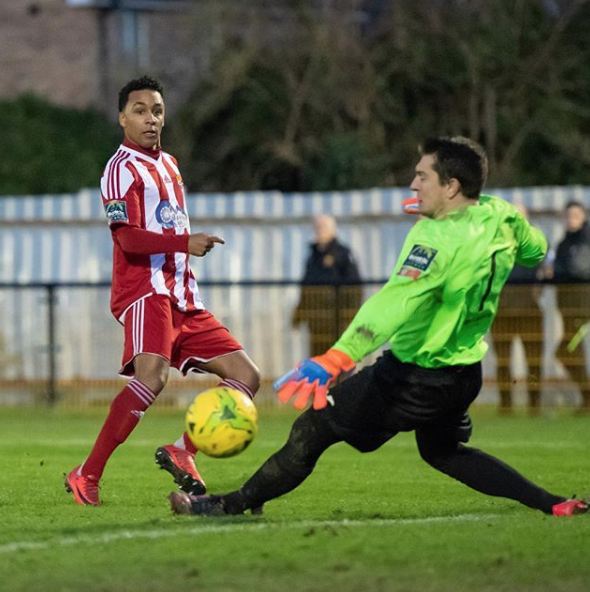 What was encouraging in the game was that we were twice behind yet came home with a point and this sentiment was clear from boss Ian Watson who told me, "So again a frustrating point today; however, we can look at the fact that we again came from behind twice to get a result. (This is) something we had not been doing recently and losing games. However, I felt that there was only us that looked like we were in the ascendancy and would get that elusive winner and 3 points. Danny and I are looking to bring a new mentality to the squad and direction. It has only been two weeks so far and that culminates with Christmas & New Year in between, so feel we are moving the football to the level we expect. We have also asked questions of the squad with not only their performances, but also their attitude, passion and desire."
As mentioned earlier, this game saw Louis Donovan-Perry make his first team debut and praise from first Tony Barnes who said, "It was lovely to see Louis make his debut. He looked sharper the longer the game went on."
Watty also had praise for the youngster, saying "I'm very pleased with Louis Donovan-Perry's first senior game for the club and (he has) a bright future ahead of him too. Liam Hillyard was unplayable at times and the attitude of our three on the bench was outstanding, something we now expect. The impact made by all three was superb, as was our third goal, the pick of a six-goal thriller and certainly a game for the neutral."
We remain 8 points clear of the drop zone but have a tough run of fixtures ahead, facing Coggeshall at home next, followed by trips to Aveley then Bury Town. Nevertheless, with the spirit shown in the second half at Mildenhall and the new management team of Watty and Danny Bloomfield settling in, not to forget the return soon of Darren Mills and Kye Ruel, the optimist writing this particular report remains confident results will come and a move closer to mid table isn't too much to hope for.
Click here for line ups, substitutions, cards etc.
Click here for photos