Dereham
Town
-
Bostik
North
(Home)
Result:

Felixstowe & Walton Utd 2 - 2 Dereham Town

Date:

22 December 2018

Time:

15:00

Match Type:

Bostik North

Venue:

Goldstar Ground, Felixstowe

Attendance:

396
It has to be said that the run up to the end of 2019 has not been kind to Felixstowe & Walton. Saturday's 2-2 draw at home to Dereham Town FC extended the run of games without a win (in all competitions) to six. This was also the third time this season that we have failed to pick up maximum points when facing the league's bottom side at home at The Goldstar Ground. The other two occasions pitted The Seasiders against Soham Town Rangers, who took all three points back with them to Cambridgeshire, and Witham, who hotfooted it back to Essex with one point. Now the Magpies, living up to their name, escaped to Norfolk also with a point in the bag. That surely is enough in the way of presents to be distributed around the three other counties of East Anglia. 
In fairness to Manager Ian Watson, he made clear earlier in the week that we needed to be "wary of the wounded animal." That reference was made following Dereham's 8-2 surrender away at AFC Sudbury last weekend. Nevertheless, a look at the team sheet before kick off suggested we were almost at full strength with just Darren Mills and Kye Ruel still out injured. The bench also looked as strong as anyone could reasonably expect it to be. 
Straight into the starting line up came Callum Bennett, returning to the club following his departure last season and his spell at Brantham Athletic. Up front, Liam Hillyard retained his place following his impressive debut last weekend at Maldon and Tiptree. In the dugout we welcomed Danny Bloomfield who joined the club earlier in the week as Watty's assistant. 
With a very healthy 396 fans in attendance and Christmas just around the corner, everything was set fair for a return to winning ways as the perfect starter for the Christmas party due to follow proceedings in the clubhouse after the match. 
The problem is that things didn't quite go according to plan. It was Dereham's number 10, Jamie Forshaw who opened the scoresheet with a shot on 16 minutes that seemed to catch keeper Jack Spurling a little wrong footed. Fortunately we didn't have to wait long before things were back on an even keel. A corner on the right saw Ethan Clarke's effort headed goal-bound by Liam Hillyard and you could almost hear a sense of collective, "Now were were we? Can we start again please?"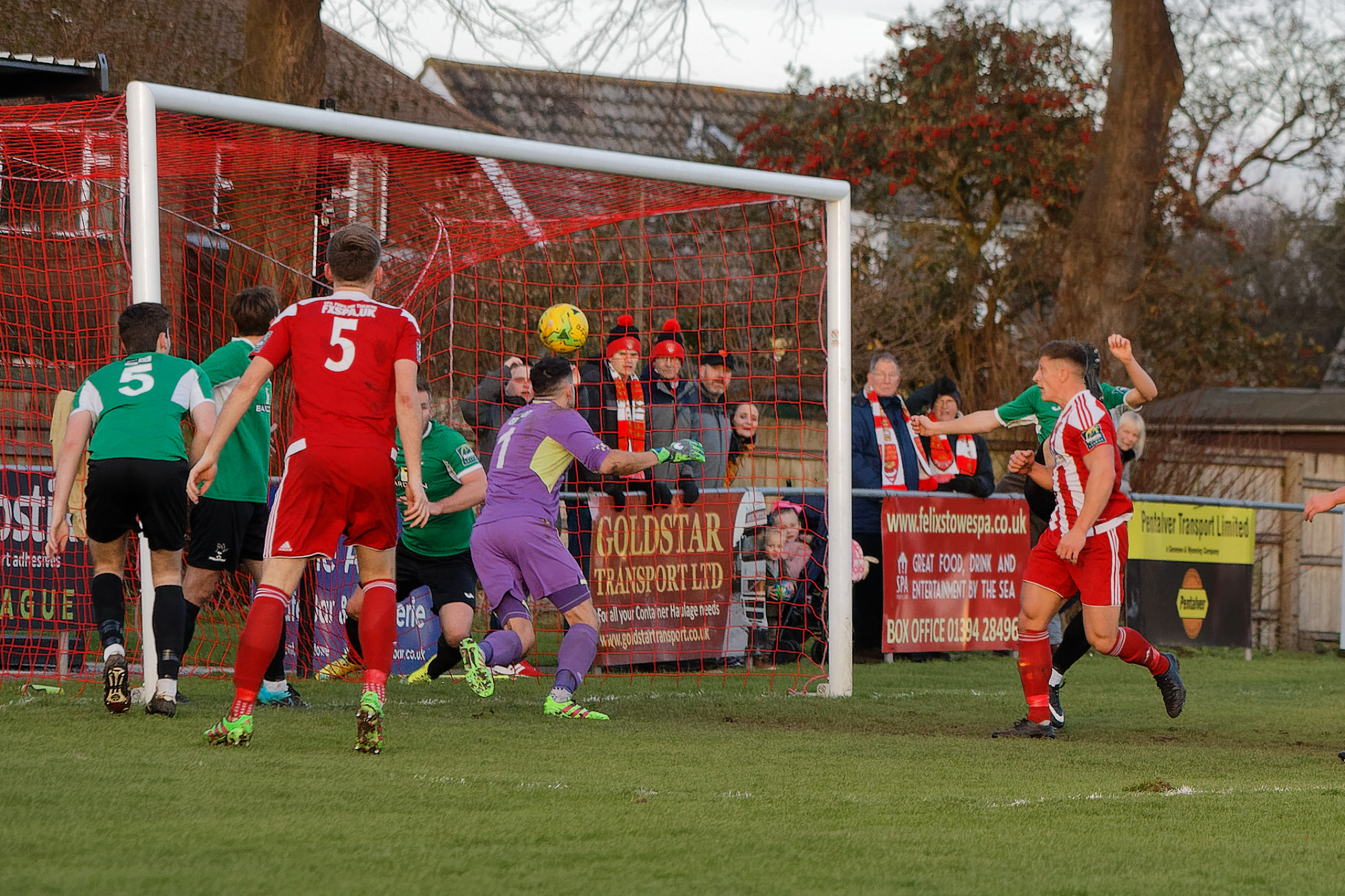 Regrettably, we didn't impress in that first 45 minutes. Speaking after the game, Watty told us, "I think we could have done a bit better in that first half." This sentiment was shared when Australia-bound Sam Ford added, "We gave away silly passes in silly areas." 
And so to the break with everything level. Only a real pessimist was thinking about our recent second-half form where we have let leads slip and generally not performed as well as we undoubtedly can. But when Forshaw converted from the spot on the hour mark following a coming together between a Dereham forward and Ethan Clarke, it was a real optimist who might have imagined three points was just around the corner for The Seasiders. 
Some twelve minutes after that spot kick, things were level again when a busy Miles Powell headed home from close range allowing for some hope that maybe, just maybe, three points were achievable. 
Alas, there was no fairy tale ending and we had to settle for a point apiece. A couple of fans did voice their opinion after the game that, "It could have been worse" and perhaps they had a point. As pressure mounted on the Magpies defence, the risk was always there that a breakaway could easily have let a marauding Dereham striker through for a one on one but both Dan Davis and Josh Kerridge came to the rescue on that front a couple of times.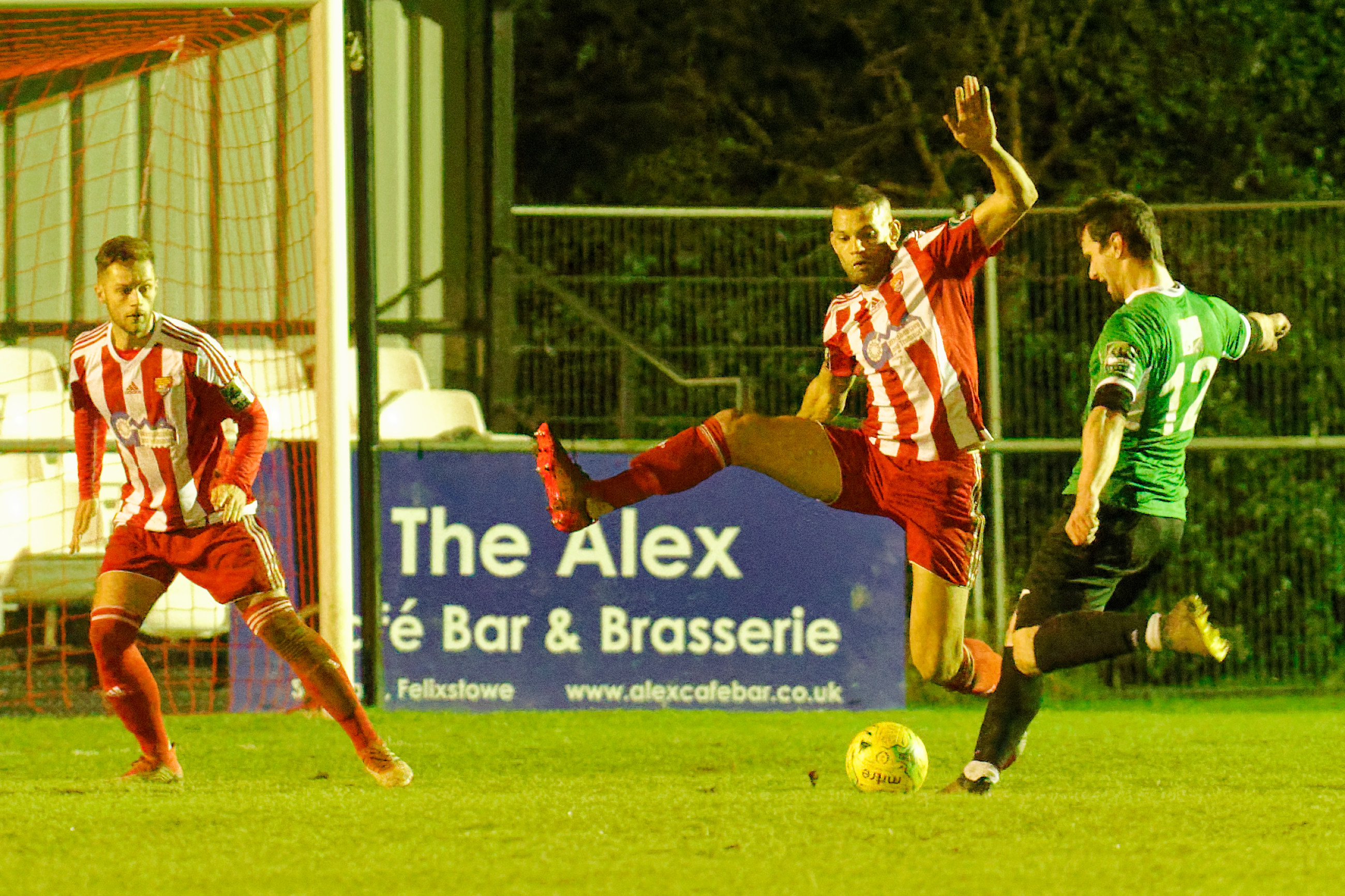 And so it's all attention focused now on next Saturday's trip to Mildenhall and hopefully a return to winning ways. This league has certainly thrown up some surprising scorelines so far this season, making the game of predicting results decidedly difficult.
If I can venture a personal prediction however, (I promise not to make a habit of doing this), perhaps settling for some middle ground half way between the optimists and the pessimists, maybe finishing in the top four is as unlikely as is finishing in the bottom four. Settling for somewhere comfortably away from relegation would be some achievement at this level and undoubtedly this is well within our capabilities. 
Click here for line ups, substitutions, cards etc.
Click here for photos