Maldon
&
Tiptree
-
Bostik
North
(Away)
Result:

Maldon & Tiptree 2 - 1 Felixstowe & Walton Utd

Date:

15 December 2018

Time:

15:00

Match Type:

Bostik North
The message that came across loud and clear last week from Ian (Watty) Watson was that it was time for the players to take some responsibility and to step up to the plate. It seems that this message has been understood because, as Watty said after the game at Maldon on Saturday, "There wasn't one bad player out there today."
We travelled to Essex with five senior players unavailable: Rhys Barber, Joe Bloomfield, Joe Francis, Jamal Wiggins and Ethan Clarke. With Darren Mills and Kye Ruel still not back from injury, to come away having performed as we did is something everyone at the club should be proud of.
There was a first team debut for young Kyle Jopling who is on loan from Colchester United and Liam Hillyard was brought in from the Reserves to bolster the attack. Hillyard impressed with his ability to hold play up, allowing other players to benefit, and praise has to be heaped on everyone involved for enduring the driving rain, sleet and a persistent wind.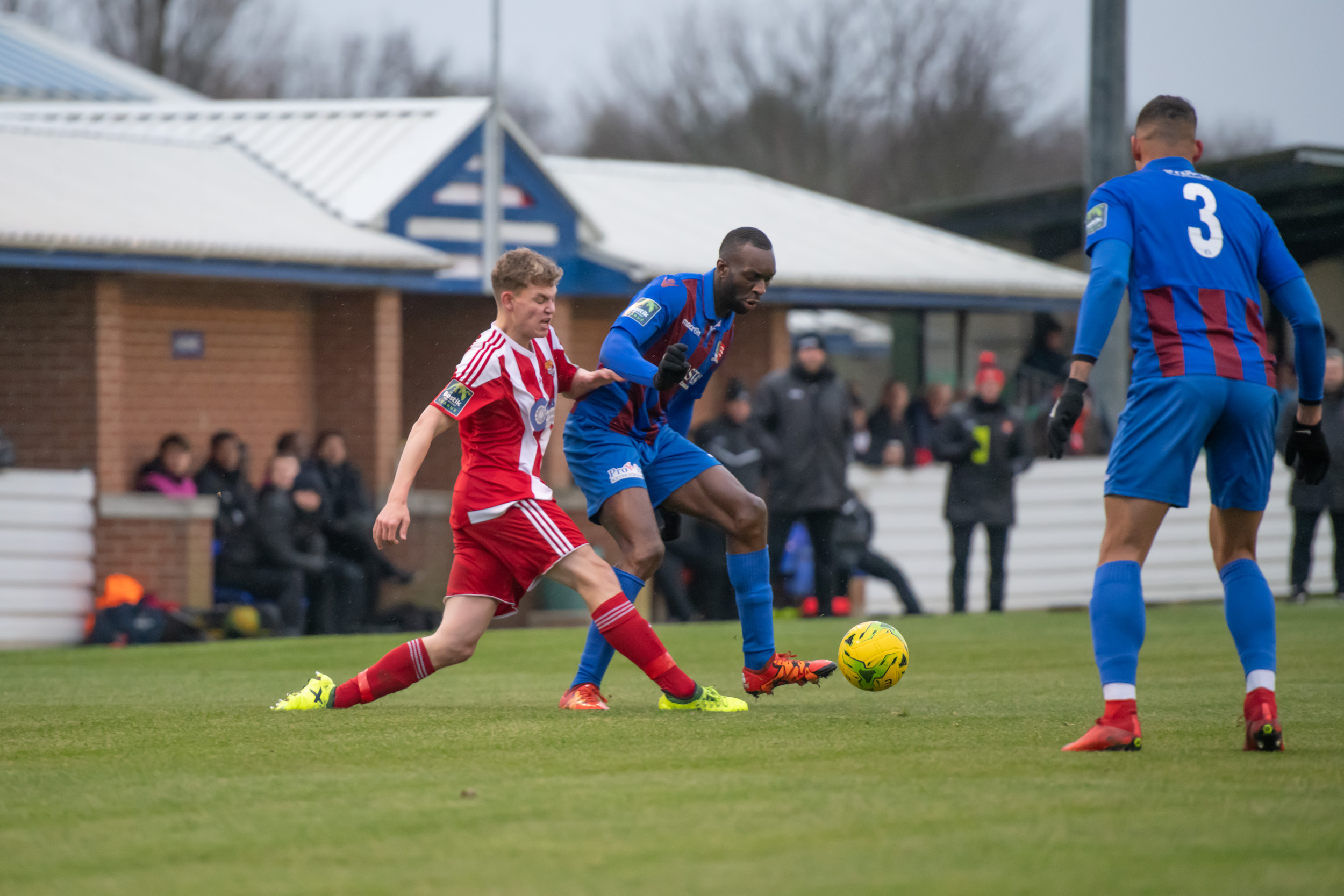 We travelled to Maldon on a poor run of form, having failed to win any of the four previous games. To then have to face an in-form Maldon riding high in the table with our own depleted squad, in testing conditions, was always going to be tough. But we came away, admittedly frustrated and disappointed but with heads held high.
Keeper Jack Spurling impressed with a fine save from Michael Brothers early on and Miles Powell and Liam Hillyard both came close midway through the first half. Matthew Briggs for Maldon and Jordy Matthews for Felixstowe both had efforts go wide and the half-time scoreline of 0-0 was probably a fair reflection of the first period.
There was some concern expressed from one or two fans during the break that we seem to have suffered badly the longer games have gone on recently and that this could be the result of a lack of fitness or even poor self-belief. And although we did lose our way a little in the second half, spirits were certainly lifted when a Miles Powell shot from the edge of the box was deflected past keeper Ben McNamara, putting The Seasiders ahead. There was little doubt that Powell's effort was almost certainly going in anyway but disputes about who to credit were the last thing on anybody's mind at the time. A one-goal lead away to Maldon with half an hour left on the clock meant everything was set up for thirty minutes of edge of the seat (whilst hiding from the rain) entertainment, if that is the right word.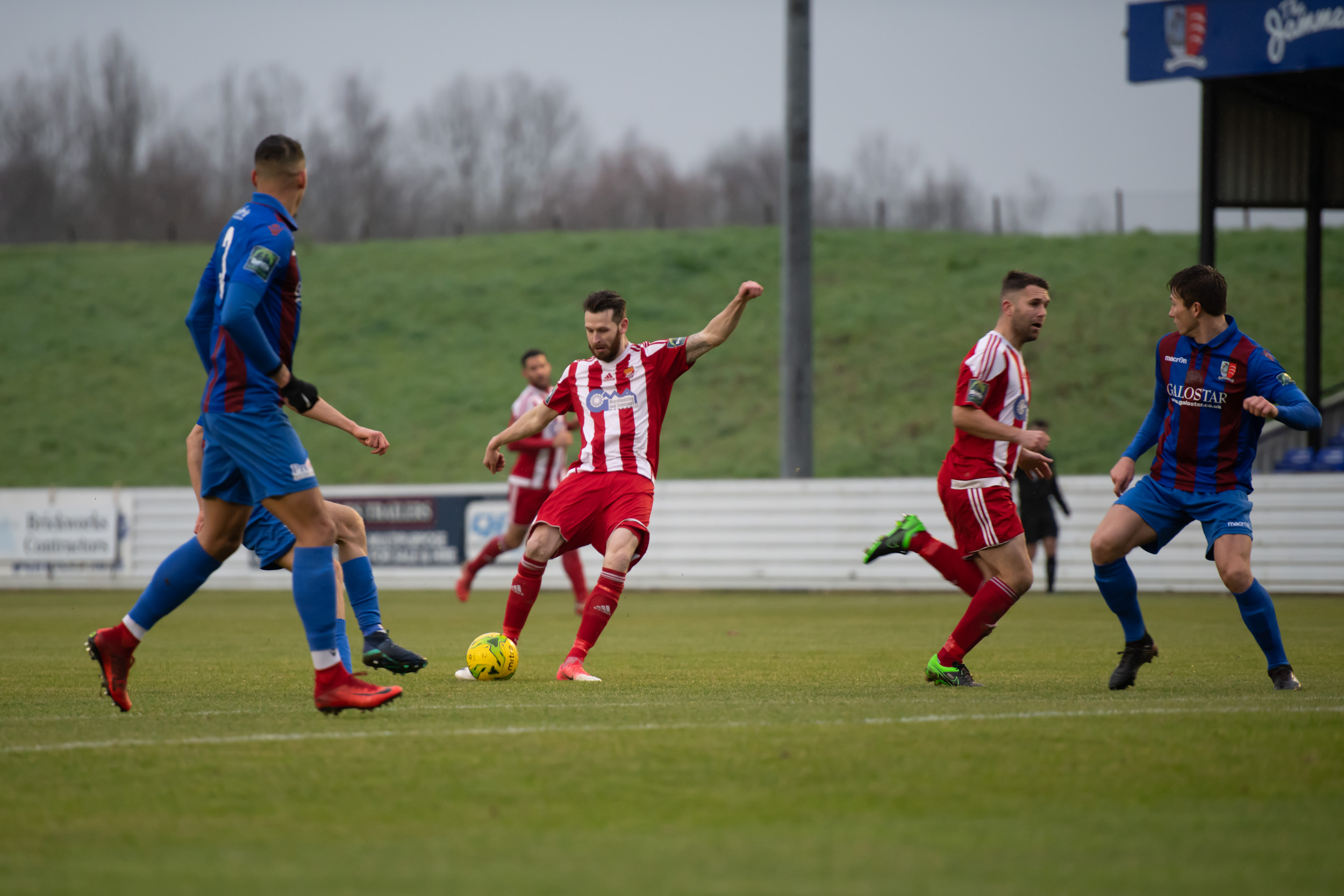 Now was the time to see if those fears expressed at half time were warranted or not. As the clock ticked down, hopes were raised of coming away with three points and a turn in fortunes but football is a cruel sport as the cliché goes and so it was on 74 minutes. A coming together between Jordy Matthews and a Maldon striker in the box left the referee with no option but to award a spot kick to the home side. A soft penalty perhaps but probably a penalty nevertheless. Substitute Decarrey Sheriff converted and brought the sides level with 15 minutes still to play.
No sooner had fans started to adjust their emotions, ready to hope for a comeback but willing anyway to leave with a point, than Maldon found themselves 2-1 up when Eddie-Louis Desane netted from the left. Second-half heartbreak visited the travelling fans once again.
It was always going to be tough getting back into the game with the rain driving down, the minutes ticking away and The Jammers finding the corner flags inviting places to play football. In truth, the area where Felixstowe maybe got things wrong was in not managing to hold on to possession after Maldon had drawn level.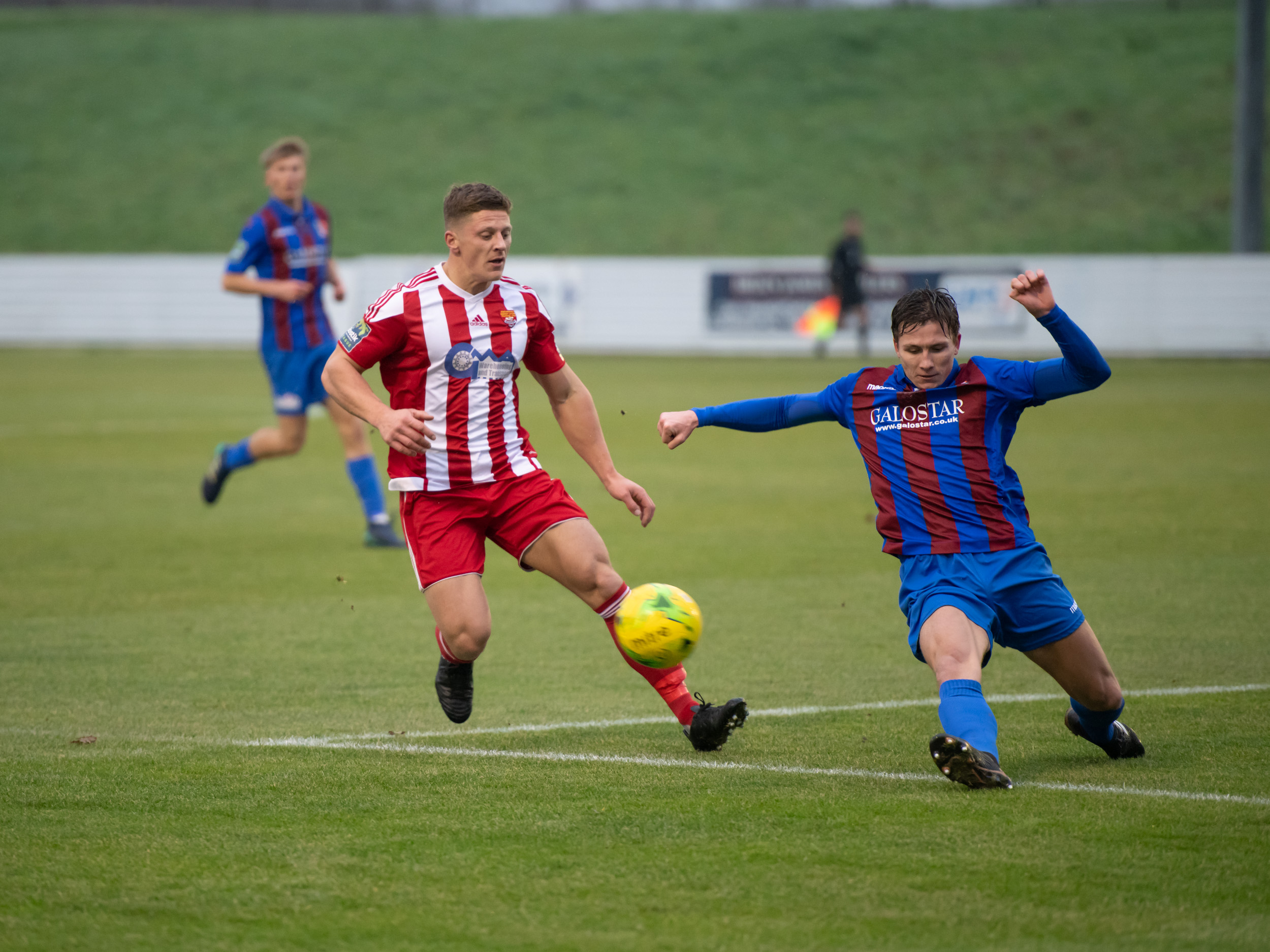 Before we knew it, the referee was blowing his whistle for full time, with players and fans alike keen to retreat to the warmth of the dressing rooms and clubhouse, yet somehow wishing there were still 10 minutes left to play. 
Back inside there were mixed emotions, with some Seasiders frustrated and disappointed and others content that the team had worked hard throughout and could easily have come away with something from the game.
As Watty said a little latter, "It was frustrating again, to be fair, but the boys gave 100%  which I asked them to. They put a shift in and we had a game plan right for 75 minutes. It was just frustrating to then go and concede a second. But we'll take the positives as we go into the game next week, which is a six pointer."
The club announced after the game that Danny Bloomfield will be joining Felixstowe & Walton United as Assistant to Ian Watson, thus concluding a quick turnaround following the departure of joint boss Kevin O'Donnell last weekend.
Attention, in the main, now turns to next week's home match with bottom-of-the-table Dereham Town. Everyone will be acutely aware, however, that we failed to pick up all three points against Soham Town Rangers when they were bottom nor against Witham Town FC when they found themselves on the bottom rung. Nobody, therefore, will be taking our Norfolk visitors for granted.
Click here for line ups, substitutions, cards etc.
Click here for photos