Grays
Athletic
-
Bostik
North
(Home)
Result:

Felixstowe & Walton Utd 1 - 2 Grays Athletic

Date:

10 November 2018

Time:

15:00

Match Type:

Bostik North

Venue:

Goldstar Ground, Felixstowe

Attendance:

310
Over the past few weeks the same message has been coming from Kevin O'Donnell and Ian Watson: "We need consistency." We seem to win, then lose, put in a poor first half followed by a good second half and generally find ourselves unable to settle into any form of flow. Saturday's game against Grays Athletic encapsulated all the above within just 90 minutes.
Speaking after the game to Seasiders TV, Ethan Clarke told us, "We were flat in the first half but dominated them in the second." Jordy Matthews echoed this with, " They were sharp in the first and it was role reversal in the second." And finally, Jamal Wiggins added, "In the first half we were always on the back foot but in the second we moved the ball well. It was a game of two halves."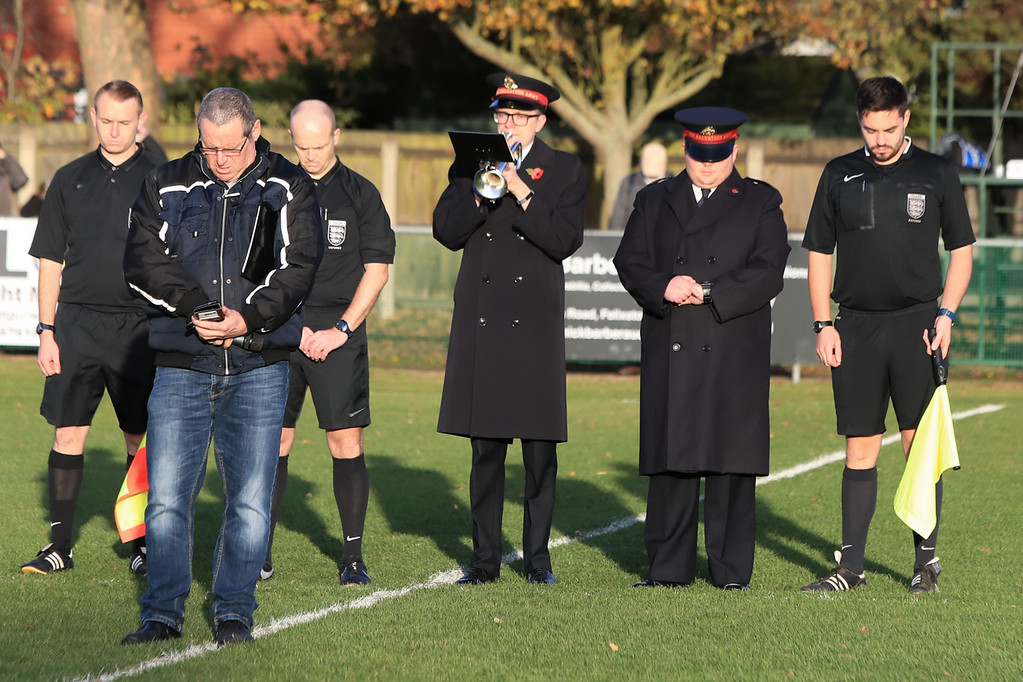 The day started with a moving rendition of The Last Post and a minute's silence impeccably observed. With attention turning to the match in hand and people finding their seats and settling in for the game, suddenly Grays were a goal up. We seemed to be unready and it was being a little sloppy at the back which lead to Joao Carlos putting Grays ahead; the same Carlos who scored against us back in September in The FA Trophy. Let's hope we can stop him adding to his tally of goals against Felixstowe when we meet the Essex side again next March.
Just a week or so ago, Grays re-signed striker Kieran Bishop from Coggeshall. Bishop had been Grays' leading scorer in the last two seasons and it seems he's enjoying life back at his home club, scoring last Saturday and again this Saturday in the 28thminute. Apart from a ball that didn't quite cross the line 5 minutes before half-time, The Seasiders didn't really make much of an impression throughout that first 45 minutes, going in two goals down.
I'm not sure exactly what was said in the dressing room at half time but whatever it was, it worked. Miles Powell brought us back into the game with a well- directed header just three minutes after the break and watching the second half was like watching a different game. Grays now seemed rattled and Felixstowe showed, once again, that the team has it within itself to compete at this level. This is three games on the bounce now where we are being inconsistent, not just from game to game but within games.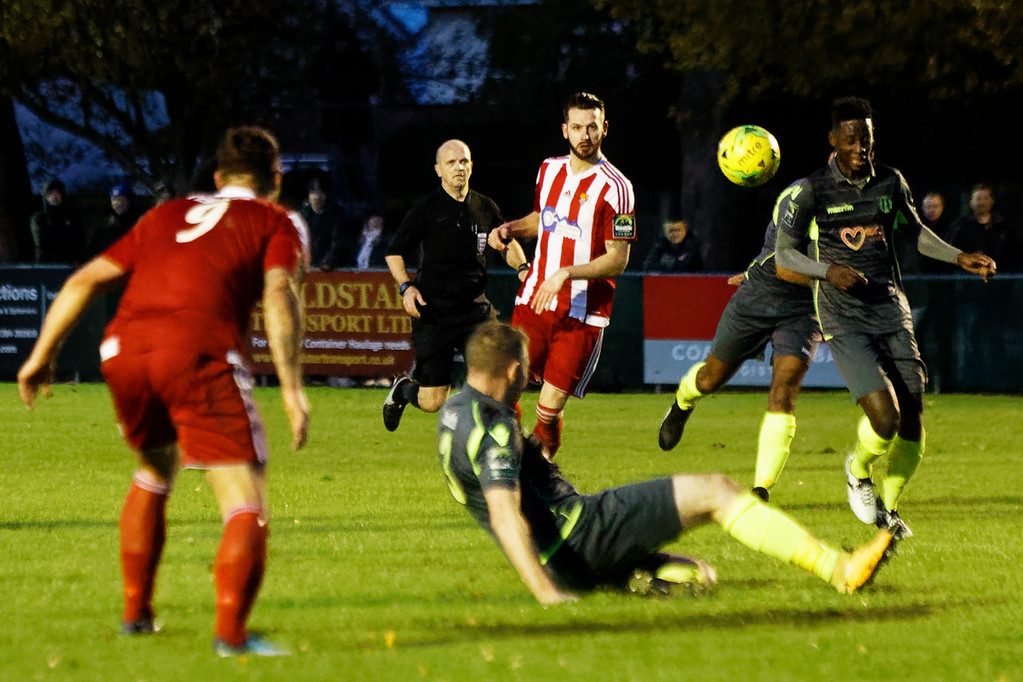 Speaking later, Kevin O'Donnell said, "They were value first half and we were value second half. On the plus side, we took the game to them in that second period but unfortunately the damage was done in the first half."
And so we can look at things from two different perspectives. The bottle half empty view of things is that we can't find that elusive consistency and are always vulnerable. The bottle half full view, however, shows that we can score goals, we can defend, we can battle. We are clearly not out of our depth at this level. And so, the ability is there. It's a question of utilising it to good effect, throughout each game and during all games.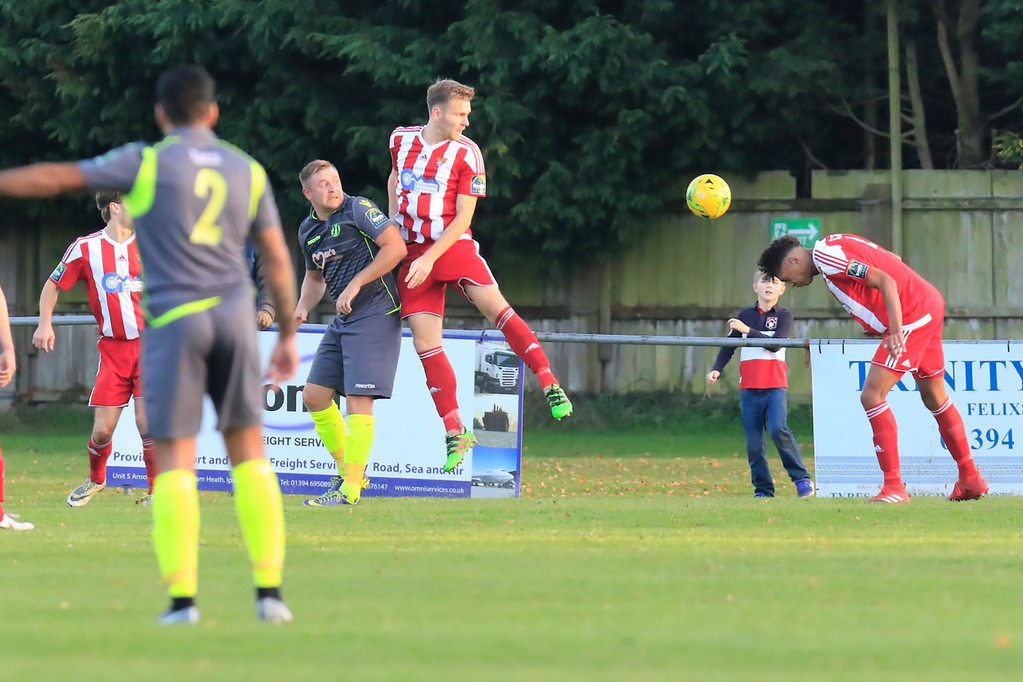 Next up is Woodbridge at home on Tuesday evening in The Suffolk Premier Cup and an opportunity to show that we can bring all the required skills together within one 90-minute period.
There were a few players who picked up knocks on Saturday but none appears too serious. Ethan came off as a precautionary measure fearing a problem with his Achilles but the prognosis doesn't seem too bad, Jamma has some bruising and may miss out on Tuesday and Jordy is suffering from a trapped nerve which hopefully will sort itself out soon.
Next Saturday we visit Basildon, who started their campaign in fine form but have faltered of late. Above all else, everyone at Felixstowe will be looking for steady consistent performances this week. A couple of wins would make for a very satisfactory week indeed.
Click here for line ups, substitutions, cards etc.
Click here for photos