Heybridge
Swifts
-
Bostik
North
(Away)
Result:

Heybridge Swifts 4 - 2 Felixstowe & Walton Utd

Date:

27 October 2018

Time:

15:00

Match Type:

Bostik North

Attendance:

234
The View from the Opposition's Dugout
With the best will in the world, it's not always easy when putting together a match report to be completely objective. Most decisions the referee gives for us are right and most he gives against us are wrong. You know what it's like!
In order to try to get a slightly different perspective on things, note taking and observation for this game (in the second half) was taken from just behind the Heybridge Swifts' dugout. There was another reason for doing this. Being a lifelong West Ham supporter, I wanted to check out how "Dicksie", that's Julian Dicks, the Heybridge Swifts' new boss, to the uninitiated, would manage affairs from the sidelines.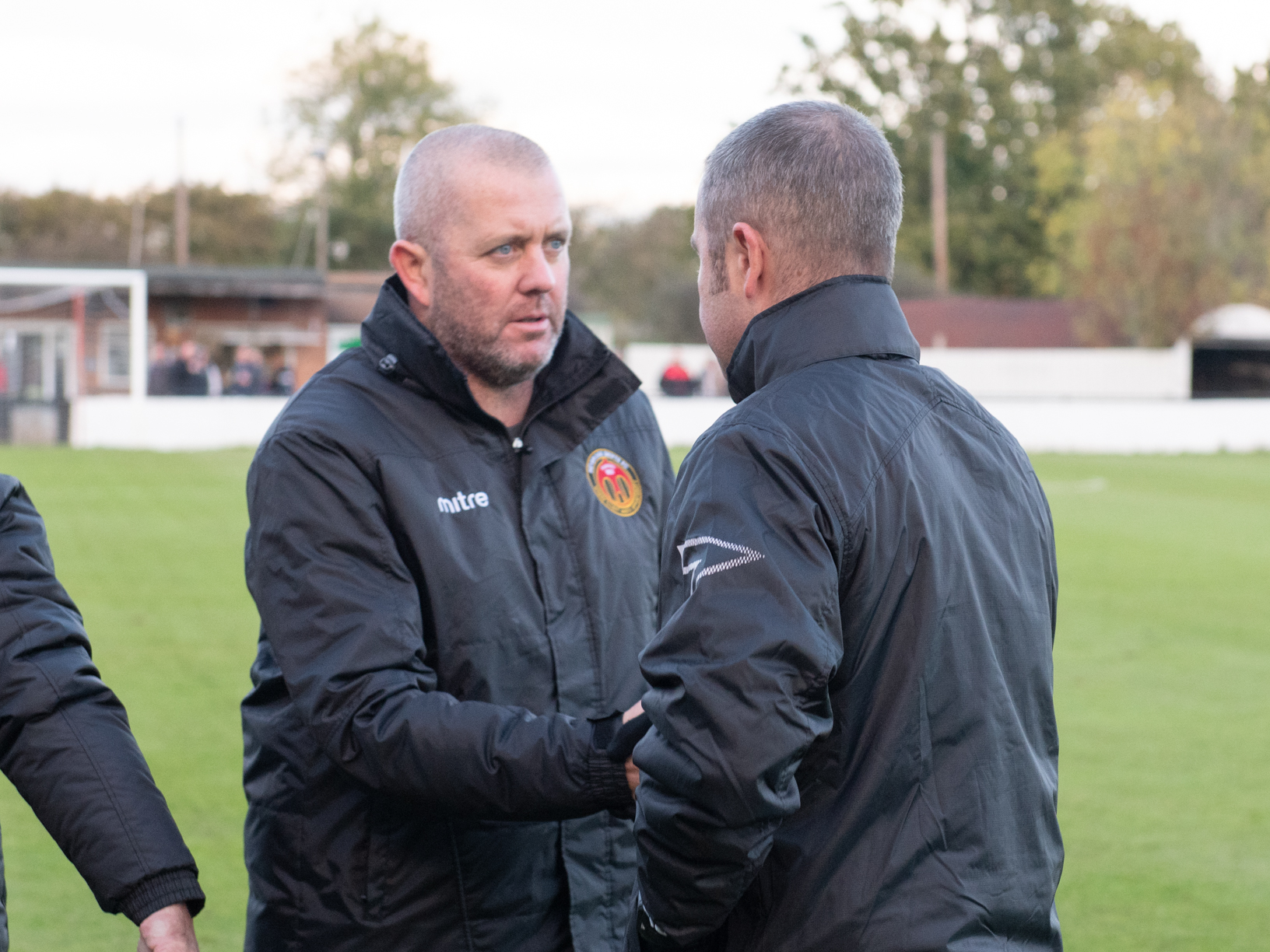 Unfortunately, by the start of the second period, the Seasiders were already 2 goals down. What had been a bright start, with not a lot to choose between either side, ended up with the home side comfortably ahead but not out of reach.
Luke Wilson, known to many at Felixstowe as Coggeshall captain last year, came on from the subs bench after just 13 minutes, replacing Joe Claridge and, just 5 minutes later, the impressive Harrison Chatting put The Swifts ahead. Danny Walker extended that lead just after the half hour mark but even at two down there is always a way back.
The Seasiders had lined up with pretty much the same side that played Northwood but with Ethan Clarke replacing young Rory Porter wide left. Nevertheless, despite the good win in The Velocity Trophy a few days earlier, Kevin O'Donnell and Ian Watson knew only too well that we were going to have to work hard to come away with anything from this game.
 At half -time you still live in hope. Two goals down, it's true. But you can always turn things round. And so we headed off to the oppo's dugout.  Within 3 minutes of getting there, however, we had to endure celebrations from the home fans as Matthew Price converted from the spot. This was now going to be a long second half and it did feel as though heads dropped a little.
 I'm afraid things got worse when Dan Davis was shown two yellows in quick succession and soon we were down to ten men. Now, this column very rarely criticises a referee but when the game re-started while Denzel was still on the pitch, we saw a sign of just a little bit of control being lost somewhere. Within three minutes, Ethan Clarke, Rhys Henry and Stuart Ainsley were all booked, with Jamal Wiggins replacing Ainsley a couple of minutes later.
 Shortly after all this excitement, Darren Mills came on to make his Felixstowe debut, replacing Jordy Matthews. Milzy went up front, with Jack Ainsley dropping a little deeper and it was encouraging to see some of the potential within the club to switch people around when necessary. Four minutes later, Harrison Chatting got his second and Heybridge Swifts' fourth. There was no way back now for the visitors.
Or was there? It was at this stage that our vantage point at the opposition dugout paid dividends. Increasingly, the frustration started to show with Heybridge unable to put the game to bed. Time and again the message from their bench was: relax, think, slow it down, too many silly mistakes. Speaking to Seasiders TV after the game, Julian Dicks said, "I thought first half we were very good but we ended quite poorly. We have to manage the game better."
With ten minutes left on the clock, a clear handball in the box allowed Jack Ainsley to reduce arrears to just 4-1. With five minutes and added time still to come, a mistake in the Heybridge defence allowed Miles Powell, on as a second-half sub, a one-on-one with keeper Chris Haigh. Facing down an oncoming goalkeeper is never that easy, but Milo kept his cool and suddenly the deficit was down to two.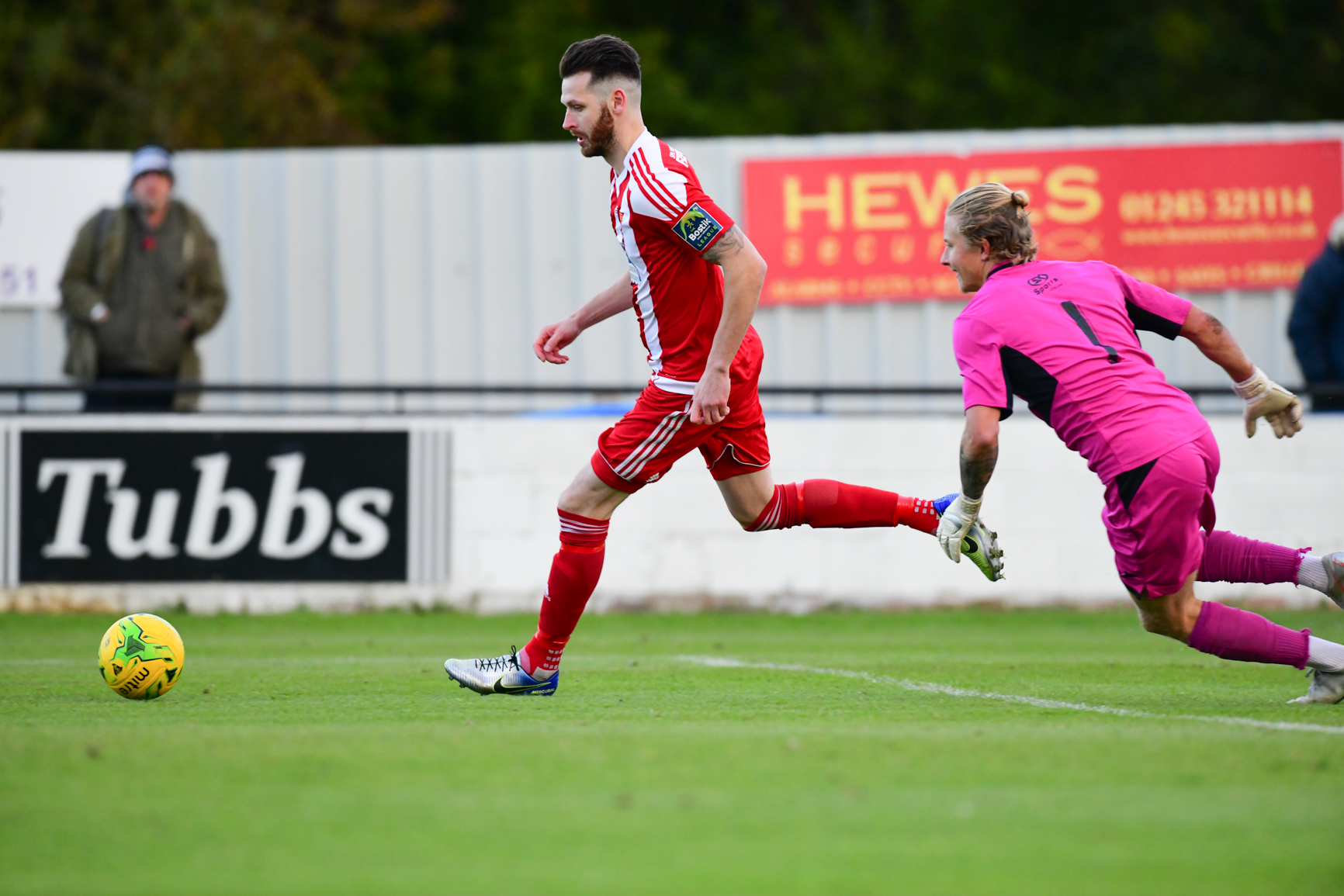 When Mills came on, he showed Felixstowe fans just what he might bring to the club. He caused problems for the Swifts' two central defenders as soon as he entered the fray, with an assertive bustling approach. But when he went down with what looked like a nasty injury to his left foot and with all subs used, The Seasiders found themselves down to just 9 men.
In the end, Heybridge were the better side, deserved their three points and now find themselves in fourth place on a good run of form. For Felixstowe, it's 13thplace but still 6 points clear of the dreaded drop zone.
 We started with mention of how hard it can prove trying to be objective. But let's finish with some realism. Despite a defeat, there were signs of some good football:  the club has strengthened with the acquisition of Darren Mills, Kye Ruel is slowly coming back from injury and now with ten games played, it looks, at least to this observer, that we are clearly holding our own at this level. A couple of wins and suddenly we are near the play offs.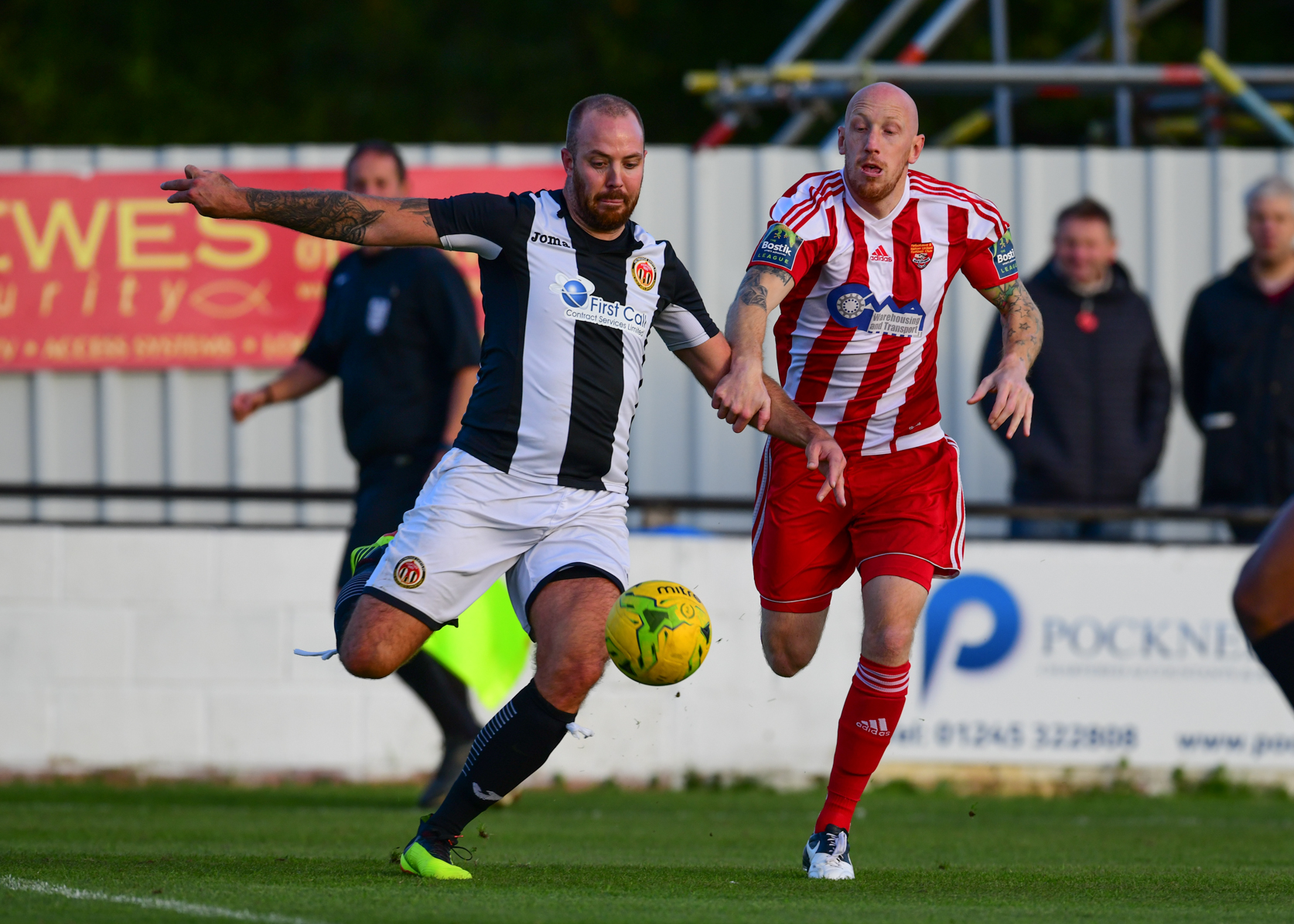 We say ourselves that there are no easy games in this league. Well, the same is true for other teams when they have to face Felixstowe. We aren't making it easy for anyone.
We'll leave the final word to Kevin O'Donnell, who said, "Yes, we're disappointed but there are positives to take from our performance today and we played some good football."  He praised Darren Mills for the fifteen minutes or so that he was on the pitch and acknowledged that, yes, Heybridge did finish poorly and this was, in part, due to the character that our players showed.
(Photos By Thomas Bradford)
Click here for line ups, substitutions, cards etc.
Click here for photos - Full gallery soon - All by Thomas Bradford