TUE
01
OCT
-
AFC
SUDBURY
(AWAY)
-
Velocity
Cup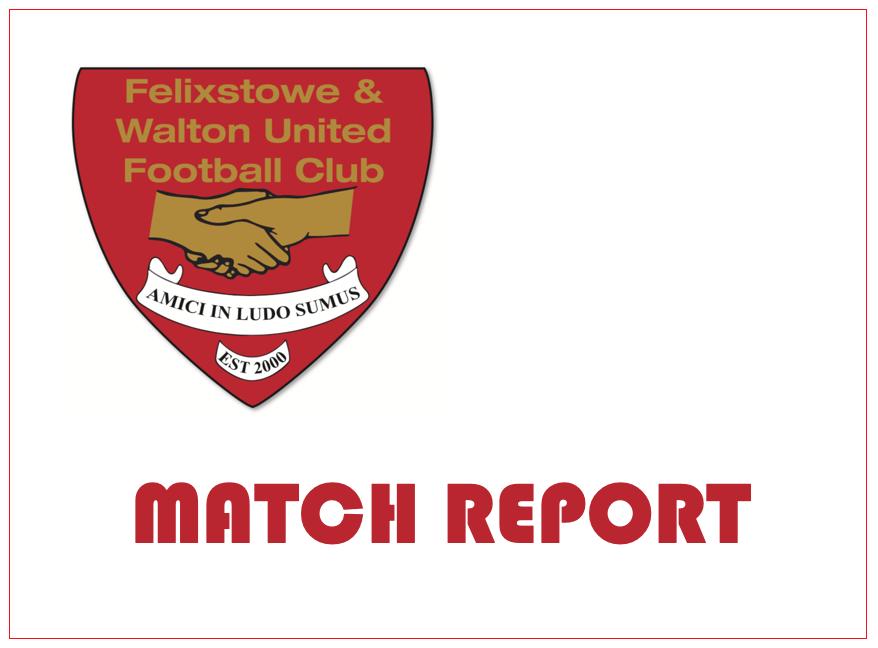 AFC SUDBURY 4 - 0 FELIXSTOWE & WALTON UTD
Attendance: 95
We went into this game away at AFC Sudbury with this being our fourth game on the bounce in cup competitions and our third visit to our Suffolk rivals this season. With no possibility of advancing in The Velocity Trophy for either side, the game attracted just 95 people at The King's Marsh Stadium on a wet and windy night.
On the back of a disappointing outing at Maldon just three days earlier and with a number of players carrying knocks, Watty and Danny made a number of changes to personnel. Missing from Saturday's game were Jack Spurling, Kyle Jopling, Stuart Ainsley, Miles Powell and Armani Schaar. In came Danny Crump, Callum Bennett, Chris Ribchester, Adam Hanson and James Hubbard.
Ribchester's name went into the book on six minutes for an indiscretion in midfield whilst Sudbury had a couple of efforts in the early exchanges and found the net when Tom Maycock put away what was to be the first of his hat trick on the night by seeming to sail through a couple of our defenders to confidently walk the ball into the net on 14 minutes.
Robert Harvey, out wide left for The Suds, received more than a few balls which by-passed our midfield, managing to send in a number of crosses which no-one for the home side managed to put away.
Our first real effort came in the 22ndminute following a good cross from Bennett out wide right, which found Hubbard's head with that attempt going wide. Tom Dettmar picked up a yellow for the home side on 25 minutes following what looked to be a slicing tackle by the touchline. Meanwhile, Crump in goal was winded a few minutes later following a barge on the goal line that resulted in a free kick going our way. Not long after this he was faced with an onrushing Harvey inside the box in a one on one situation in which Crump pulled of an excellent clearance using his feet and avoiding giving away a penalty. At the other end Hubbard was reaching incoming balls with his head but had no-one in close call to pick up loose balls resulting from that.
Wiggins went close on 35 minutes when his shot from distance went over the bar and as half time approached, it's fair to say we were playing some good football around the box but missing that killer touch in front of goal. With seconds to go until the break, Crump was called into action again, making an impressive double save before allowing Maycock to bag his second of the night.
With five subs allowed in this competition, there were numerous changes in the second half with Powell, Ainsley, Barley, Porter and Schaar all coming on at different times replacing Bennett, Wiggins, Lay, Hubbard and Matthews. Regrettably Wiggins was replaced following a knock he picked up, making him a doubt for Saturday. On the one hand the changes did mean disruption to the flow but it also brought about an improved second-half performance in which we probably edged things. Nevertheless, there were still goals to come from Sudbury, with Maycock finding his third after a defensive error on our part after 55 minutes and Shane Temple added a fourth with just two minutes remaining on the clock.
For Felixstowe, Hubbard found the ball at his feet 10 minutes after the break but couldn't manage to see the ball across the line. Probably our best effort of the night came on 65 minutes when Barley's shot was tipped over the bar by their keeper, although Powell, Schaar and Bloomfield all looked lively at times, as did Porter.
The sucker punch came on 88 minutes when Sudbury put their fourth away for perhaps a slightly flattering scoreline in the end. It could have been worse when Temple found himself in a one on one with Crump in goal with that effort coming off the post.
Speaking after the game, Watty said, "We played some good football tonight and we were ten times better than Saturday. The boys were busy and we looked alright. We defended well but then you go in 2 down at half time and 4 down at the end and you ask yourself how the hell you've lost that game by four goals to nil. One big difference was their pace. The problem is we go down 4-0 and that doesn't help with confidence or morale."
Danny added, "We probably had more balls in their half in the first half than they did in ours and yet we went in two goals down again and that's happened so many times this season. We didn't put their keeper under any real pressure first half. We're giving away goals rather than them scoring good goals. At Maldon we were poor but tonight we weren't. In previous games we've been competitive and the blow was Maldon. But outside of that, we've been OK. We played some good stuff tonight, cut them open but we didn't have that killer edge around the box. We need to get hold of some consistency."
Next up is Hullbridge Sports away on Saturday and fans will no doubt agree with the players and coaches that a return to league action will be very welcome. The Bridge sit one place above us in the table, having played one game more.
Team Line-Ups Here