SAT
28
SEP
-
MALDON
&
TIPTREE
(AWAY)
-
FA
Trophy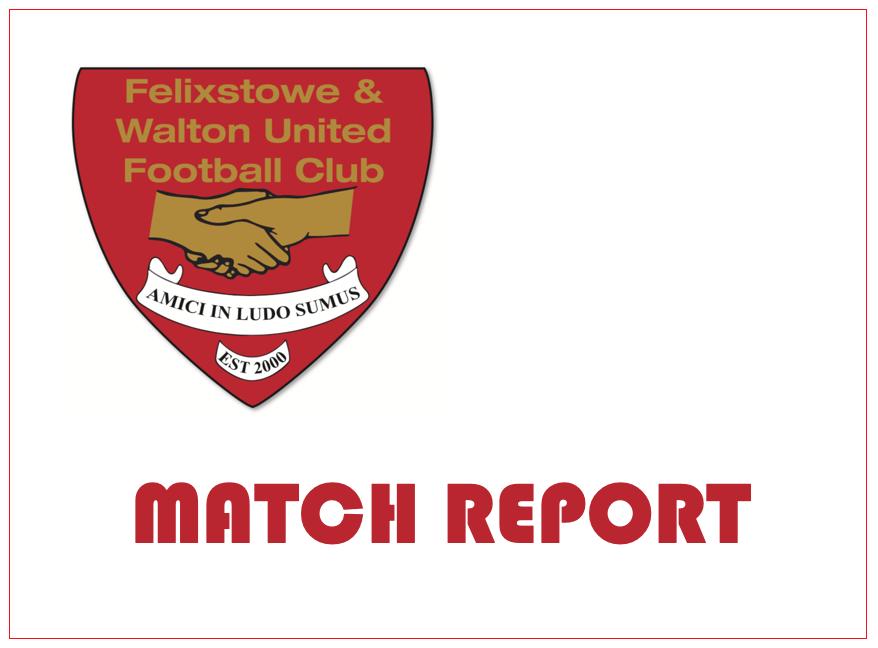 MALDON & TIPTREE 5 - 0 FELIXSTOWE & WALTON UTD
Attendance 120
When Maldon & Tiptree came to The Goldstar Ground last Tuesday for the Velocity Trophy game in which they came out 3-1 winners, they made nine changes from their usual line-up. At The Maldon Stadium on Saturday for their FA Trophy game against us, they made another nine changes; they reverted to their strongest eleven. So facing the league leaders who have now played twelve games in all competitions, won all twelve, scored 41 goals and conceded 8, this was never going to be an easy afternoon out for The Seasiders. That said, this was without question the lowest point of the season, surpassing even the poor performance away at Bury Town three and a half weeks ago.
We had Josh Kerridge, Callum Bennett  and Nick Ingram all out injured along with Tom Debenham, still recovering but on the bench. And so we lined up with Kyle Jopling and Stuart Ainsley on the flanks, either side of Miles Powell and Dan Davis in the centre of defence. Out wide were Fernando on one side and Jacob Lay on the other, with Jordy Matthews, Jamal Wiggins and Joe Bloomfield in the middle of the park. Armani Schaar cut something of a lonely figure up front on his own.
Between the sticks Jack Spurling was called in to early action facing down Kojo Awotwi and Spurling did well to deny Danny Parish who came close, having picked up a ball on the edge of the box direct from a goal kick from Ben McNamara. Maldon took the lead on 16 minutes when the referee somehow managed to award a penalty to the Jammers. Direct from Maldon's own match report we can read:Parish had better fortune after 16 minutes when what looked a pretty innocuous challenge was deemed worthy of a penalty kick by the referee which Parish slotted home with a firm shot to the keepers right. Despite any injustice around that decision, Maldon were beginning to boss the game.
Time and again, The Jammers managed to send long balls over our midfield into the box with Hughes, Parish and Slew all coming close. With our midfield being called to duty supporting our back line, very little seemed to be finding its way forward and we were failing to seriously threaten at all.
A poorly misdirected ball from our defence on 34 minutes allowed Parish a one on one opportunity with Spurling in goal, with Parish confidently converting to give Maldon a two-goal lead.
Tom Debenham came on at the start of the second half, replacing Fernando and shortly after this, Jopling came off injured to be replaced by Adam Hanson, leaving Bloomfield slotting into right back, Lay and Schaar out wide, Hanson in midfield and Debenham up front.
That man Parish added number three for the home side on the hour mark receiving a short corner from Dombaxe, weaving his way through a number of players and placing the ball to Spurling's left. At the other end, Debenham was fouled on the edge of the box and took a quick free kick, which led to a corner from which Wiggins headed wide.
Hughes added number four on 68 minutes and Slew wrapped things up for Maldon with number five just a few minutes later.
It has to be said that there were more than a few unhappy faces among the small number of Felixstowe fans who had followed the team to Essex. Everyone has their opinion and these ranged from "we simply aren't good enough", "we played too narrow", "the players aren't good enough to play the way the coaches want them to", to "Maldon are simply much better than us", "we seem to get the tactics wrong every game" and "we're all over the place game after game." There was plenty of criticism directed both at The Manager and Coach as well as at the club in general for not having a real sense of direction.
Needless to say, a number of players looked extremely unhappy after the game as did Watty and Danny, who both offered their own views.
Watty told us, "At the end of the day we've been beaten 5-0. I know we are down to bare bones, but there are no excuses. There were five or six players out there today who did step up but we need more than that. There are too many excuses out there at the moment. We were God awful."
Danny added "I thought we were competitive in the central midfield today and we were poor around it. The last five games we've been building again, we've been competitive, we've looked like a team, we were together but today we didn't look together, we didn't look like a team, some were dropping while others were pressing. Personally, I need to have a long hard think about whether I'm having any impact and getting across what I want to get across because I'm not seeing it. People were hiding, not taking responsibility, being a bit lazy. We looked a million miles off it today and I don't believe we are as bad as we were today."
Team Line-Ups Here