TUE
24
SEP
-
MALDON
&
TIPTREE
(HOME)
-
VELOCITY
CUP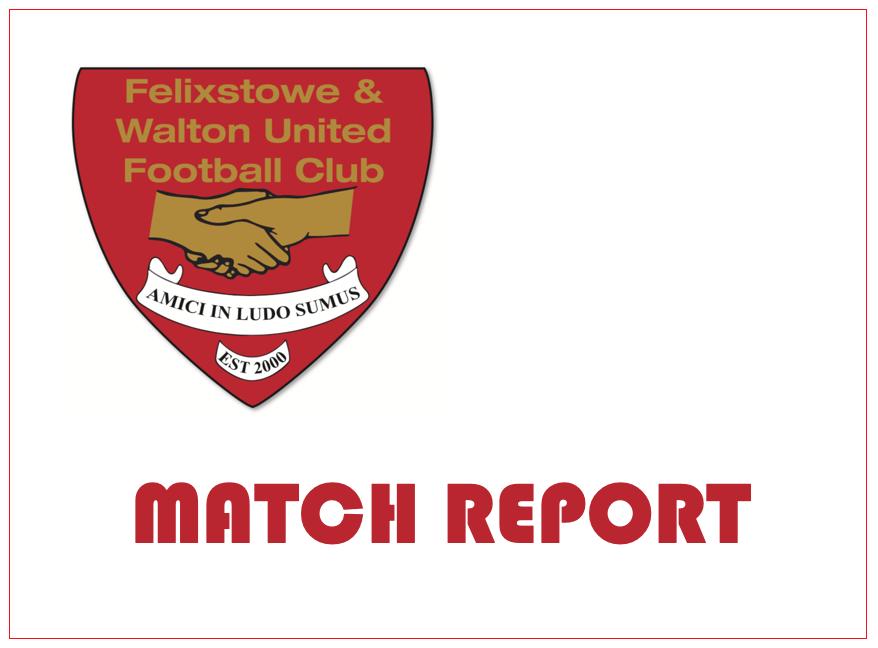 FELIXSTOWE & WALTON UTD  1-3  MALDON & TIPTREE
Attendance 120
Both sides made changes for this Velocity Trophy group stage match at The Goldstar Ground, adding to the feeling some fans hold that this is a tough competition to get over-excited about. That said, it does give clubs the opportunity to bring a few fringe players into things and is preferable to a midweek training session.
We saw Josh Kerridge and Tom Debenham (with slight knocks)  and Fernando (ill) make way, along with Dan Davis who was rested for the night. In came Joe Bloomfield, Stuart Ainsley, Henry Barley and Nick Ingram. Schaar slotted into right back with Lay and Barley on either wing. Wiggins, Powell and Hanson in midfield supported Ingram up front and Jopling, Ainsley and Bloomfield made up the back four.
It wasn't the best of weather and there had even been talk of a pitch inspection earlier in the day. This contributed to a low turnout on the night of just 120 fans through the turnstiles. Fortunately, the rain stayed away during the game which itself wasn't an easy watch for those who did come along.
Kyle Jopling sent a very tidy ball through to Henry Barley on five minutes but unfortunately there was nobody to convert from inside the box. At the other end a defensive mistake allowed Jerome Slew for Maldon to find himself in a one on one with Crump in goal. Fortunately, Slew's effort went wide.
The first goal came on 13 minutes when Jacob Hutchinson sent a cross in from wide right, having passed through our defence to find a grateful Jake Wiffen in a central position who converted from a few yards out. A few minutes later, a move, which saw Slew through on goal, was thwarted by Kyle Jopling to save the day. A couple of minutes after this, Diogo Freitas-Gouveia dribbled his way past three defenders inside the box, tapped a ball left and allowed Sam Cornish to get number two for the visitors.
We had an appeal for a penalty when Barley was upended inside the box  but, at the other end, a cross, this time from the left, found Hutchinson who was allowed a little too much time to tap in Maldon's number three.
Watty and Danny made a few changes at this point with Joe Bloomfield moving up to midfield, Stuart Ainsley coming across to left back and Miles Powell dropping into a central defensive role. The half ended with a decent effort from Barley's free kick, bringing off a good save from keeper Luke O'Reilly.
The second half was much better from The Seasiders with a Schaar effort going over the bar from a Lay corner early on. It was Lay again with a fine effort from the left a little later on. We passed the ball around much better in that second period and Lay got off the mark with his debut goal twelve minutes from time to make for a more respectable scoreline.
We talked after the game to Danny, who told us, "We played okay but defensively we got torn apart a couple of times. They were clinical but we were soft defensively. We changed it around after the third goal went in and looked tighter for the final part of the first half. The second half we were more confident at the back. We were tighter defensively. We worked harder in front of them and were brighter with possession. With the ball, that's the best we've played for the last four games. Overall play, we were quite happy with what we did." Asked about Schaar playing at right back, Watty added, " We found out Fernando was ill and couldn't play so had to change things around a bit. Armani has played in that role before. Jops (Jopling) had a great game first and second half for us and what's good about this competition is that it does allow us the opportunity to bring in one or two fringe players who, for whatever reason, haven't featured as much as they could have."
We travel to Essex to meet Maldon again on Saturday, in The FA Trophy this time. It won't be easy facing the team that sits proudly top of the table with eleven wins out of eleven in league and cup, having bagged 36 goals whilst conceding 8. Nevertheless,  we go to that game happy at least with our second half performance, with the opportunity to be the first team this season to upset the form book.
Team Line-Ups Here
Photo Gallery Here