SAT
21
SEP
-
HEYBRIDGE
SWIFTS
(HOME)
-
VELOCITY
CUP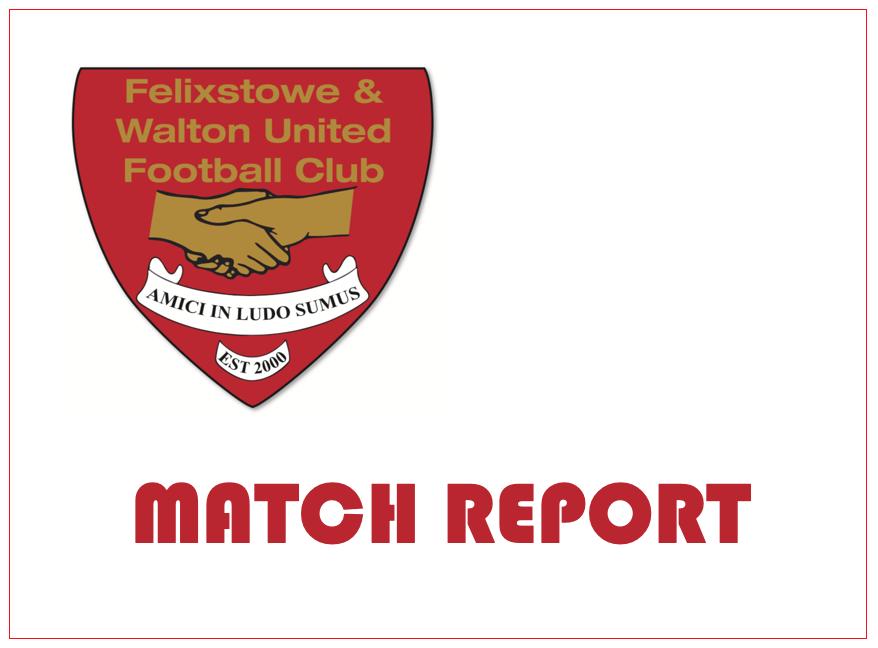 FELIXSTOWE & WALTON UTD 2 - 2 HEYBRIDGE SWIFTS (7 - 6 pens)
Having picked up three points at home to Cambridge City one week ago and then coming away from West Street Coggeshall with a well-deserved point, it was pleasing to maintain this upturn in form against Heybridge Swifts at The Goldstar Ground by finishing 2-2 after 90 minutes and winning 7-6 on penalties.
For anyone unfamiliar with the format in this, The Velocity Trophy, The Seasiders are in a tough group alongside high-flying Maldon & Tiptree, Heybridge Swifts, AFC Sudbury, Bury Town and Coggeshall. Only the winners of the group advance to the knockout stage of the tournament. Any game that ends level goes straight to penalties with the winner picking up a bonus point. Having already lost 5-1 at Bury a few weeks ago, the likelihood of us winning this group was extremely slim prior to kick off and this allowed for Watty and Danny to make a number of changes to the line up, making a total of six altogether.
Danny Crump came in for Jack Spurling in goal and other new faces on the day were Kyle Jopling, Fernando Muñoz, Adam Hansen, Tom Debenham and Jacob Lay making his debut for the club having signed from Whitton United earlier in the week. Making way were Callum Bennett and Jordy Matthews (both carrying knocks) Nick Ingram,and Joe Bloomfield (both on the bench) and Stuart Ainsley.
It wasn't the best of starts for either side with play being rather scrappy and a number of passes going astray. There were early efforts at either end but with no end product until around the half-hour mark when the visitors took the lead with a tap in from Emmanuel Osei-Owusu following a cross from Odei Martin-Sorondo. Pulling a goal within a minute or two is always the best tonic and that is exactly what we managed to do when Milo netted following a one on one with The Swifts' keeper David Leader. In the run up to the goal, Leader clashed with Tom Debenham who unfortunately had to be stretchered off and taken to hospital for a twisted ankle. Nick Ingram came on as Debenham's replacement and there is no news on Tom's progress at the time of writing this report.
Shortly after the start of the second half, Crump pulled off an important save to keep the scores level whilst at the other end a free kick on the edge of the box for handball saw Powell's effort go over the bar. A minute or two later we witnessed something of a re-shuffle following the departure of Josh Kerridge who had picked up a knock midway through the first half. On came Joe Bloomfield who went to right back, seeing Kyle Jopling move in to the centre back position.
We put The Swifts under a lot of pressure on 60 minutes when Lay beat a couple of players in the box before feeding Powell who had a couple of attempts at goal. The ball then found itself with Schaar whose header resulted in a very fine save from The Heybridge substitute goalkeeper Luca Collins who is the regular first choice man between the sticks. Straight after this, with the pressure still on, a cross from Hansen found Powell,  bringing out yet another impressive save from Collins before we finally received just rewards when Powell put away his second of the game to give The Seasiders a 2-1 lead.
Henry Barley came on for Jacob Lay five minutes after we took the lead and despite our best efforts, we couldn't quite hold on to the advantage we had when Elliot Ronto scored with a classy glancing header following a corner from the right at The Dellwood End.
Right at the end, Schaar placed a good ball for Dan Davis who headed wide whilst Evans Kousassi came close for Heybridge. Harrison Chatting received his second yellow of the game with just eight minutes to go and, as mentioned above, the game now went to penalties. We came out top in that exchange 7-6 with the pick of the bunch coming from Joe Bloomfield who blasted the ball into the top left hand corner of the net.
Next up is Maldon & Tiptree at home on Tuesday night, again in the Velocity Trophy, before we travel to Essex to face them again, this time in the FA Trophy. With Maldon flying at the moment having played six games, winning all six, putting 20 goals away and conceding just three, these two games will be tough tests for Felixstowe & Walton. Nevertheless, we go into those games unbeaten in three with clear signs of improvement all round.
Team Line-Ups Here
Photo Gallery Here