TUE
17
SEP
-
COGGESHALL
TOWN
(AWAY)
-
League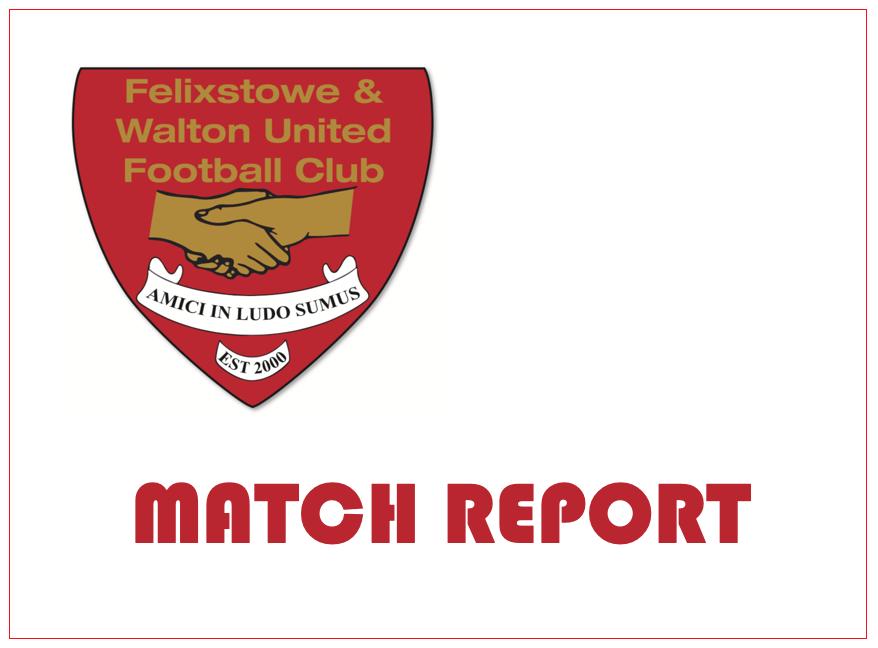 COGGESHALL TOWN 0 - 0 FELIXSTOWE & WALTON UTD
Attendance 102
The trip to West Street to meet Coggeshall hasn't paid dividends this last couple of years, but Tuesday's encounter was different. To come away with a 0-0 draw (a rarity in itself for The Seasiders) was just reward for plenty of effort and determination. Fair play also to the travelling Felixstowe fans, who made up around a quarter of the poor crowd of just 102 souls and about 90% of the noise.
With Henry Barley unavailable, in came Joe Bloomfield to join a side otherwise unchanged from Saturday's clash with Cambridge City. There were early chances at either end with a decent effort from Armani Schaar after just a couple of minutes but it was The Seedgrowers who came closest when they hit the bar on 9 minutes following a poor clearance out of our own defence. Jack Spurling in goal was kept busy early on but Coggeshall were pretty much reduced to shots from distance, none of which seriously tested Spurling. It was probably a true reflection of the game when both sides went in level at half time.
The second half took a while for things to settle and the three points could have gone either way at the end of the day. We had two late corners taken by Stuart Ainsley. The first was tipped over the bar by Asley Jones in goal for Coggeshall and the second hit the bar before drifting wide. Both very decent efforts.
After the game coach Danny Bloomfield told us, "We took confidence from Saturday, we were a lot tighter defensively and we looked a lot more solid. We settled down a bit more tonight and played a lot more football than we did on Saturday and we looked a bit of a threat going forward at times. We didn't play beautiful flowing football the whole game but we really competed with a top side in our league with a good budget and a big squad who are fancied. We came here to their ground and gave them a good run for their money and I thought we frustrated them a lot. This was a good, proper team performance which was encouraging."
Next up for The Seasiders is Heybridge Swifts at home on Saturday in The Velocity Trophy and the opportunity to make amends for the 2-1 defeat we suffered at the hands of the Swifts in the league just a couple of weeks ago. Speaking about Saturday's game Danny said, "This game gives us the opportunity to perhaps take a look at a couple of players who haven't been featuring as much as they would have liked this season so far. We're not going to make crazy changes because we want to start building consistency and keep our form. We'll be looking at this game to make the most out of our squad."
Prior to Saturday's game our Under 18s meet Cambridge City at The Goldstar Ground on Thursday evening (19:45 kick off) in the first qualifying round of The FA Youth Cup. The Under 18s have had a steady start in their league programme with one win, one draw and one defeat. It's hoped there will be a decent crowd on Thursday to encourage our young and upcoming youth side.
- Details of line up here
- Photo Gallery is here