20-Year
Reunion
of
1999
Walton
United's
Suffolk
Senior
Cup
win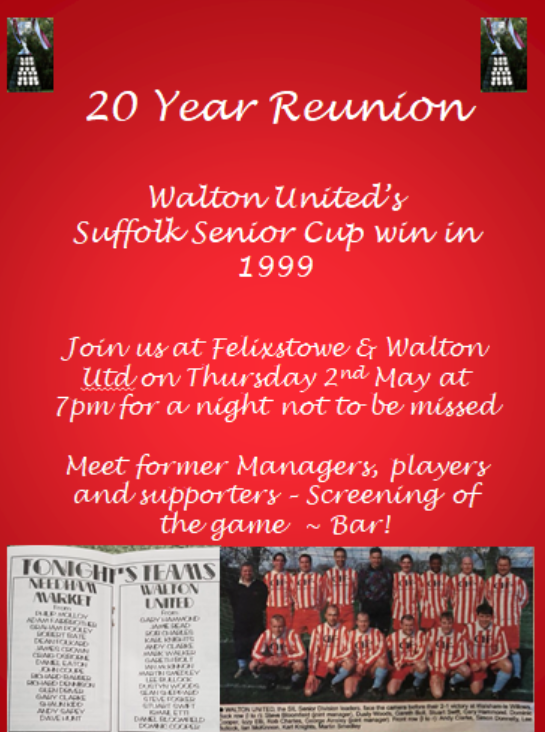 Thursday 2nd May 7pm at The Goldstar Ground
As the club approaches the Suffolk FA Premier Cup final against Leiston FC at Portman Road on the 8th May, it's worth remembering that back in 1999, Walton United FC, with many names you will recognise today, won the Suffolk Senior Cup, beating Needham Market 1-0, also at Portman Road.
To look forward to this year's final, the club will be hosting a 20-year reunion to remember that 1999 win. This will be held at the Goldstar Ground clubhouse on Thursday 2ndMay from 7pm.
On the night there will be a film of the game, a match report and other memorabilia. Everyone is welcome and it's hoped there will be a number of people who were involved on the day coming along.
At the time, Needham Market were playing at a level above Walton United who were massive underdogs but it was Walton who went on to thoroughly deserve their win. In fact, the team went on to win the League and Cup double that year. Thanks Steve Bloomfield and George Ainsley.
Here are some of the details from that game 20 years ago:
Suffolk Senior Cup Final
Portman Road 29th April 1999


Needham Market FC V Walton Utd FC




Final Score 0-1




Scorer Izzy Etti




Managers:  Steve Bloomfield & George Ainsley





Team as follows:





1) Gary Hammond




2) Karl Knights




3) Rob Charles




4) Ian McKinnon




5) Andy Clarke




6) Gareth Bolt




7) Martin Smedley




8) Lee Bullock




9) Stuart Swift




10) Izzy Etti




11) Dustyn Woods




12) Sean Sheppard




13) Dominic Cooper




14) Danny Bloomfield




15) Mark Walker




16) Michael Beddoes




17) Jamie Read




18) Steve Fosker