Leiston
FC
-
Suffolk
Senior
Cup
Final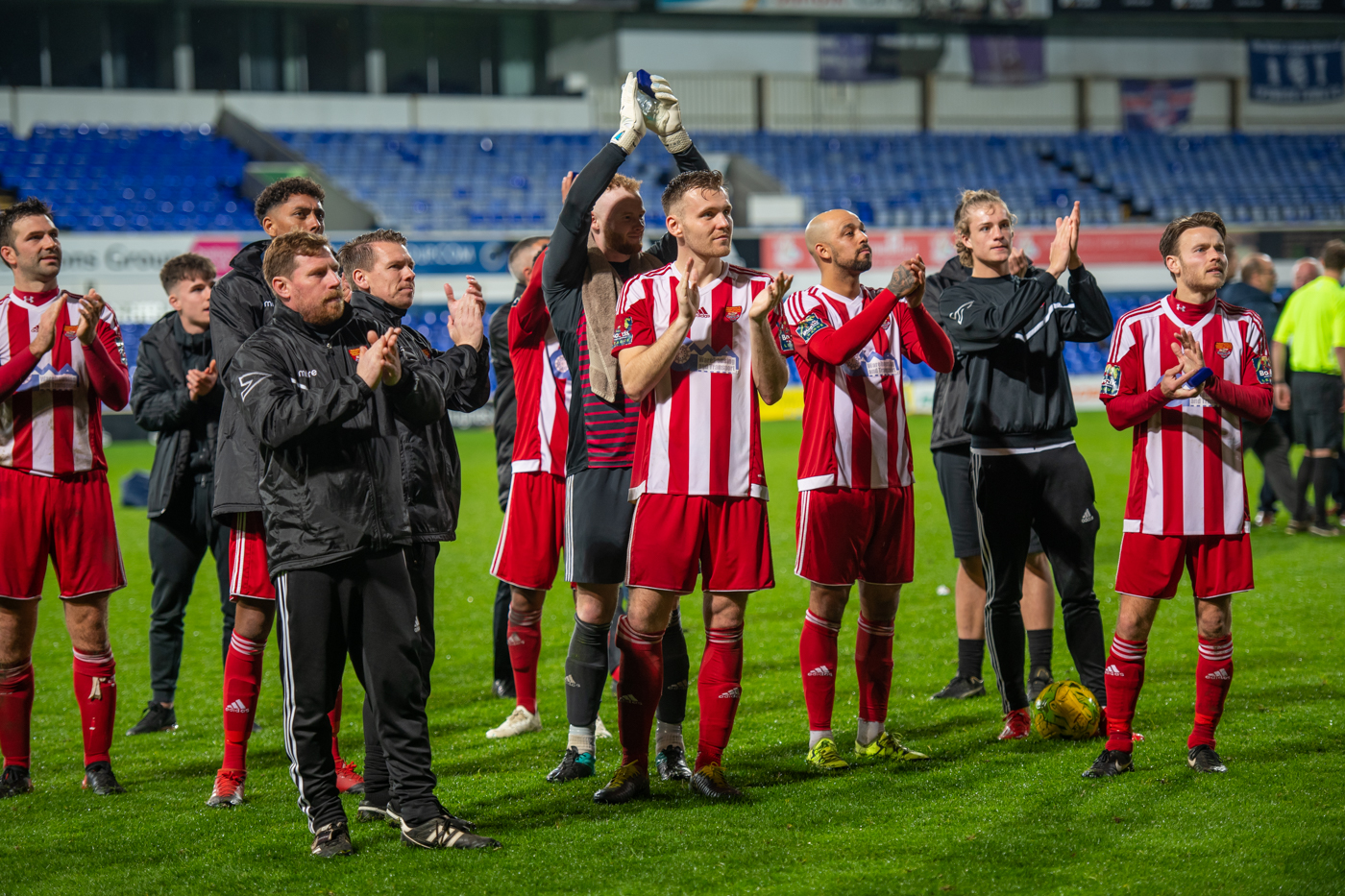 Match Report
There's no escaping the fact that there was huge disappointment last night at Portman Road after The Seasiders went down 2-3 to Leiston FC in The Suffolk FA County Cup.
The game, played in sporadic torrential rain and in front of an impressive crowd of 1,382, could perhaps best be described as a game Felixstowe & Walton somehow allowed themselves to lose. The early exchanges suggested there were maybe a few nerves around as Watty and Danny's boys struggled to settle. Conceding such an early goal didn't help matters. A Christy Finch cross from the right on 5 minutes allowed Leiston's Matt Blake, in a one-on-one with keeper Jack Spurling, to slot the ball past our number one to give Stuart Boardley's side the perfect start.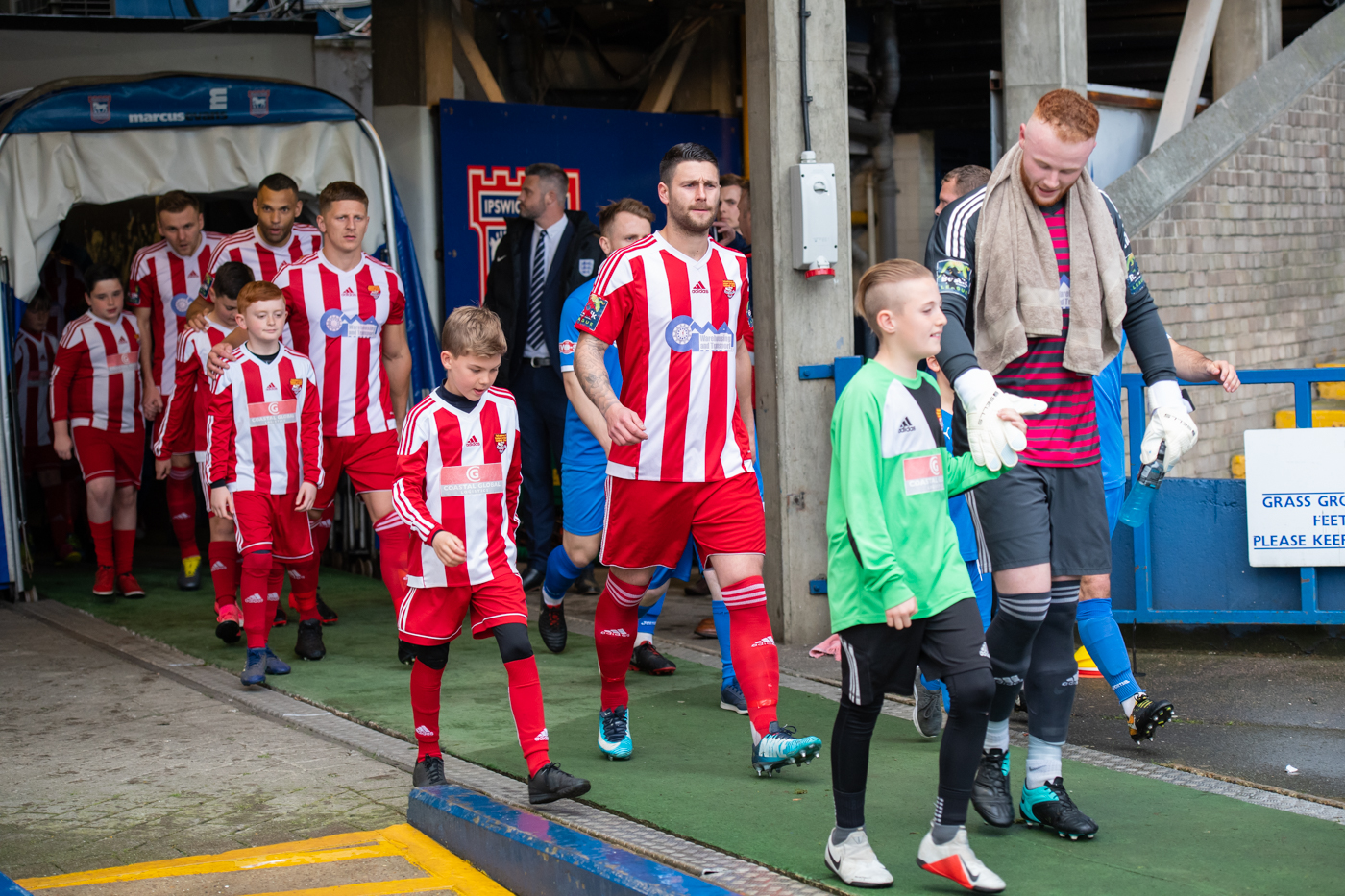 Falling behind so early on, together with a stop-start feel to the game caused by a number of free kicks, possibly due to the slippery conditions, made attempts to settle and control affairs that much harder for Felixstowe. There were half chances at either end but it's fair to say that Leiston handled those early exchanges better.
Ethan Clarke, in his last game for The Seasiders, was working hard on the left but found his name going in the book on 23 minutes for a sliding tackle.
Our first corner came on 26 minutes but, generally speaking, we were being restricted to efforts from distance, finding it difficult to penetrate. At the other end Matt Blake was making a nuisance of himself and could have caused more damage but for two Josh Kerridge efforts in defence in close succession. A double save from Spurling on the stroke of half time meant the sides went in separated by just the single goal from Blake early on. Leiston received their first yellow of the day when Dominic Docherty was booked for a foul on the half hour mark.
Leiston boss, Boardley told us after the game, "I told my players Felixstowe would come at us in the second half. I knew that would happen."
Whilst it's true we did have a better second half, and a very impressive final 15 minutes, it was that man Blake again who extended Leiston's lead just 4 minutes after the resumption of play. And it was Finc, this time from the left, who provided the pass to allow Blake to slot home, again from quite close range. This passage of play stemmed from an intercepted pass across midfield from Felixstowe, which was part of a pattern of one or two unfortunate mistakes, giving Leiston opportunities they may otherwise not have had.  
Miles Powell came close on 51 minutes and just three minutes later a clash of heads saw Joe Francis, in his final game before retirement, forced to leave the field of play, with Kye Ruel coming on to replace him. The second period did see Felixstowe that bit livelier and sharper. Nevertheless, Leiston always posed a threat and a goal-line clearance from Dan Davis kept the gap at just the two goals.
Meanwhile Marcus Garnham, in goal for The Blues, was forced to make a double save from Powell and Joe Bloomfield. When Blake netted for his hat trick on 72 minutes, you would have been forgiven for believing the whole affair was settled. But Boardley's message at half time, that Felixstowe wouldn't simply roll over, was proved to be very true. Efforts from Clarke and Rhys Henry, who replaced Powell on 82 minutes, were evidence that this is a group of players that certainly does have a strong sense of spirit.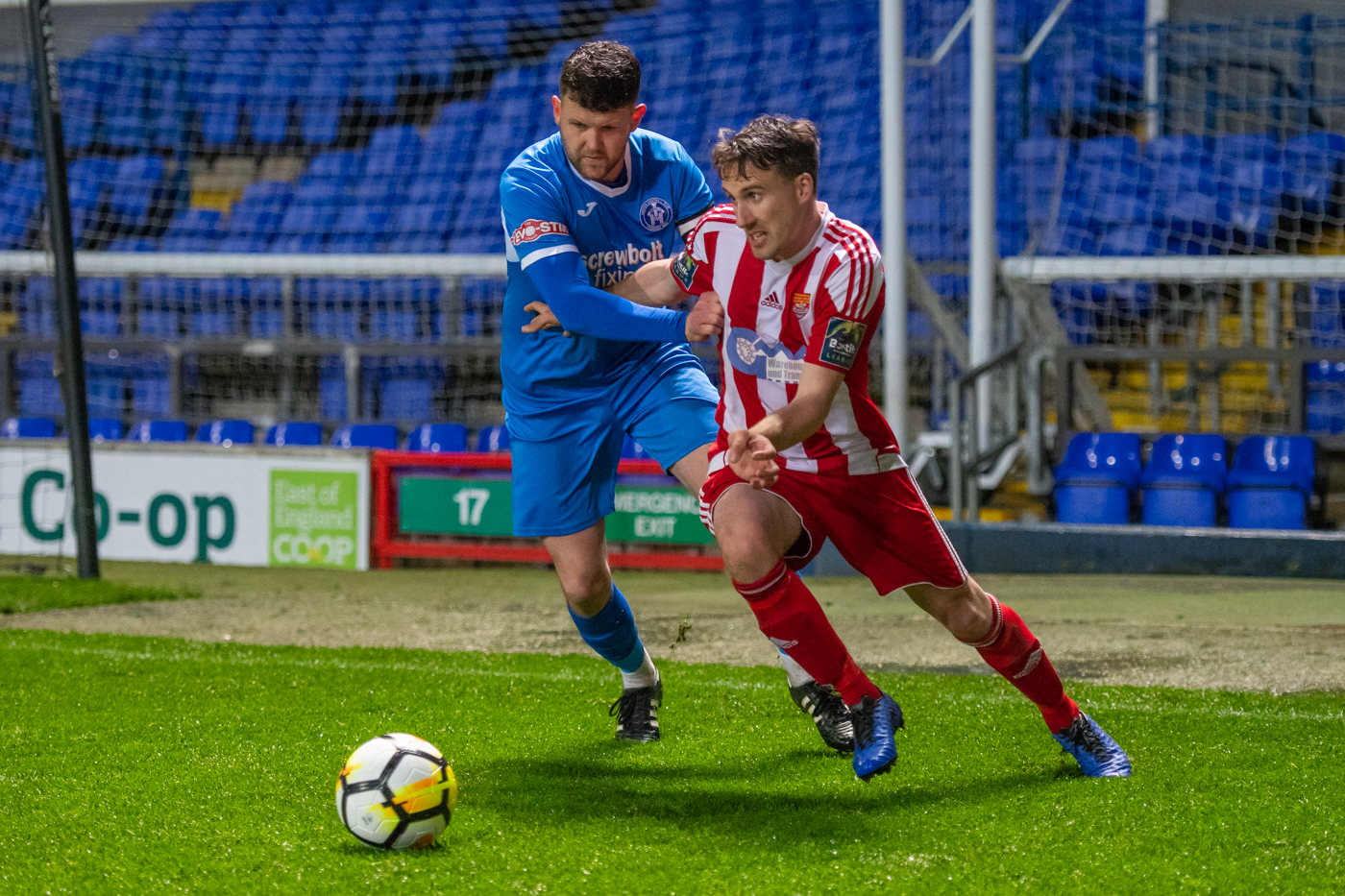 Darren Mills replaced Liam Hillyard two minutes later and when captain Rhys Barber was pulled down in the box in the 87thminute, up stepped Jack Ainsley to confidently convert from the spot. Surely it was too late for a comeback.
Having made the scoreline that much more respectable, it was homegrown Jordy Matthews who headed a second to provide just a chink of light just as it was announced there would be 5 minutes of added time. We threw everything at the Leiston defence in those closing stages and there was a real sense that, had there been just a few more minutes available, an equalizer was likely to come. Regrettably that wasn't the case. Jordy told us straight after the game, " It was brilliant to score at Portman Road, but I'm devastated with the result. We gave it a good go at the end. I'm proud of everyone and how we played at the end. We put everything in that we could, but it was too late."
Speaking to Suffolk FA, Watty said, "We don't stop. We don't give up. We keep going for 90 minutes. I'm proud of our boys, and our fans. Our support has been unreal. I'd really like to thank all those fans who made the effort tonight."
There would be no Cup Final victory but things really do seem to be in place now that with a few tweaks here and there, perhaps one or two new faces and some hard work in pre-season, a successful campaign in 2019/20 might not be far away. Despite a disappointing end to the season, Felixstowe & Walton United finished comfortably in mid table, fought hard in a Premier Cup Final, saw plenty of ground improvements, saw promising signs from the coaching side following the change in personnel just before Christmas and finished the season as the best supported team in the whole of The Bostik North Division One.
And the final words go to Ian (Watty) Watson, speaking to Seasiders TV, "Obviously disappointed to lose the final at the end of a good season. We looked dead and buried but you've seen the character of our players. We weren't brave enough at times but the way we moved the ball and played tonight shows what we're about and how far we've come."
Let's enjoy a summer break, but look forward to next season with a real sense of belief and optimism. Remember - 9th July for our opening pre-season friendly. Blink and it'll be here!
Click here for line ups, substitutions, cards etc.
Click here for photos