Mildenhall
-
Bostik
1
North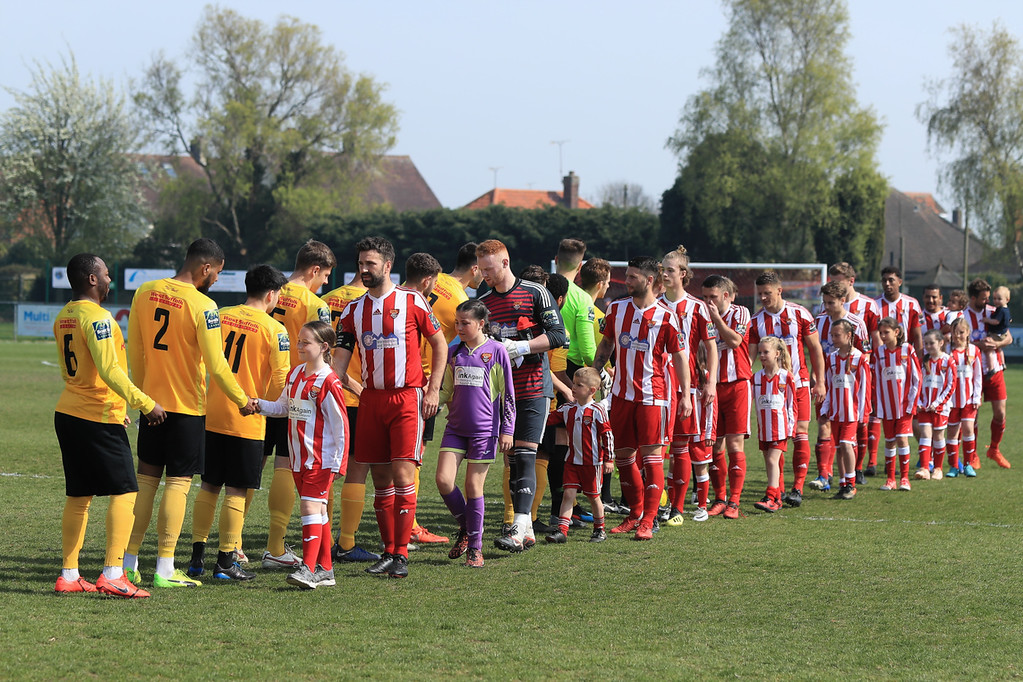 Well, it has to be said that this wasn't a great way to end our season of home games at The Goldstar Ground, but for some reason we have struggled against teams from the lower reaches while impressing against all the play off sides.
There were a number of changes to the team that lost narrowly at Coggeshall on Saturday, with Stuart Ainsley coming in to the back three, Ethan Clarke in for the injured Henry Barley, and starts for Josh Lee, Jamal Wiggins and soon-to-retire Joe Francis. Dropping to the bench were Miles Powell and Jordy Matthews, who both joined Rhys Henry, Kye Ruel and Darren Mills.
For Mildenhall, nothing but a win would do. Their slim hopes of avoiding relegation meant anything less than the full three points would definitely see them drop out of The Bostik North league this season. 
The Hall did apply some early pressure, attacking the Colneis Road end and bringing out two decent saves from Jack Spurling in goal in the first five minutes. We did, however, gradually get into the game, first with a powerdrive from Liam Hillyard, then a header from Josh Lee grazing the upright.
Despite us beginning to impose ourselves, Mildenhall still offered a threat when going forward themselves, with Spurling called to duty again in the 20thminute to pull off a fine save from a Mildenhall free kick.
The breakthrough came on the half hour when Stuart Ainsley brought down Panayiotis Boxer in the penalty area. Tommy Robinson converted from the spot giving The Hall an unlikely half-time lead and slightly against the run of play.
Mildenhall started the second half as they did the first with a spell of pressure, bringing keeper Spurling into action once again. Ten minutes after the break, things suddenly got much worse when  the visitors extended their lead following a poor defensive clearance that allowed Boxer a free shot which Spurling could only parry, providing Thomas Debenham the opportunity to successfully put away number two.
Just four minutes later, a corner from the left allowed James Seymour to head Mildenhall's third goal. Conceding three at home to the bottom club simply re-confirmed the point made earlier about how we have somehow managed this season to struggle against strugglers.
Ian Watson and Danny Bloomfield made a number of forced changes shortly after goal number three, bringing Darren Mills, Kye Ruel and Jordy Mathews on for Hillyard, Lee and Clarke, all suffering knocks or illness.
With no further action in terms of goals, this was a very disappointing final home game of the season and we now need now to restore confidence before meeting Leiston FC in the Suffolk FA Cup Final at Portman Road on the 8thMay.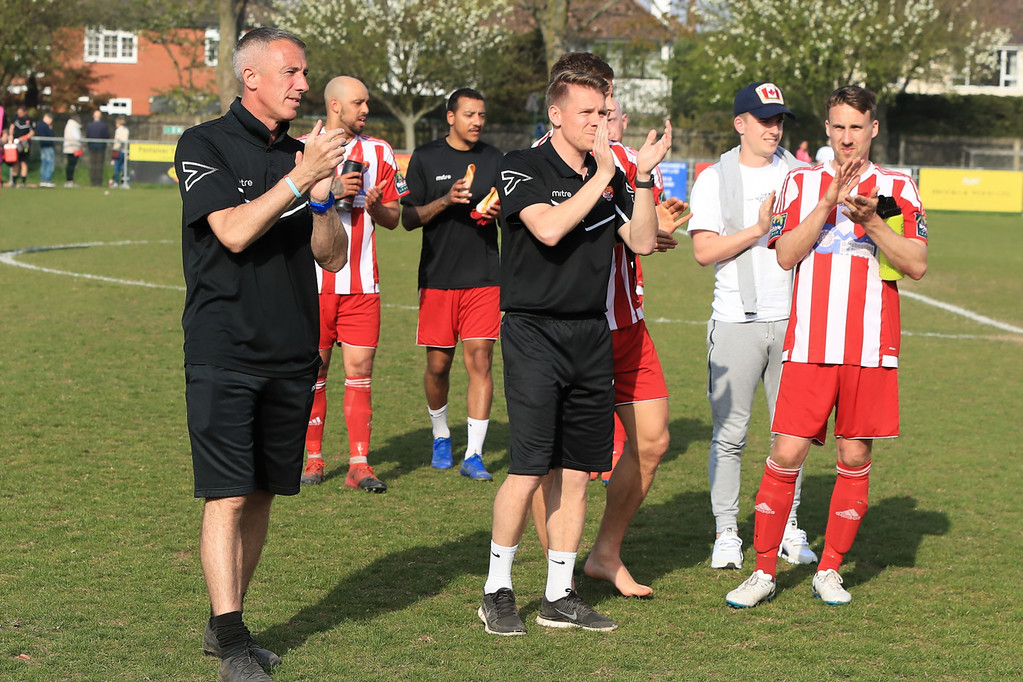 The final words for the day from assistant manager Danny Bloomfield was, "I feel deflated but there's a bigger picture. We're trying to build something here and we will learn from this. We have youngsters coming through. There will be another day."
Next week it's another struggler in Romford away but, nevertheless, a chance to restore that vital ingredient of confidence required for the upcoming cup final.
Click here for line ups, substitutions, cards etc.
Click here for photos