Campaign
launched
to
raise
funds
to
replace
junior
goalposts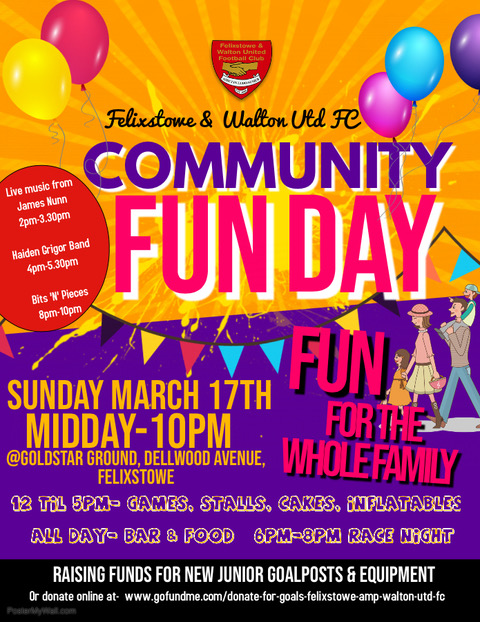 A fundraising campaign has been launched with the aim of raising £3000 towards the replacement of 3 sets of goalposts used by our many junior teams representing the Seasiders.
Despite booming attendances at the football club, there has been a huge demand on resources to develop the stadium following promotion for the seniors and together with increasing costs throughout the club on rent, rates, utilities and many other areas, finances are tight for our non-profit making club.
The club boasts over 300 junior boys and girls from Under 6 upwards and many play their matches at the Goldstar Ground every Saturday and Sunday. The heavy steel goalposts have to be lifted and carried into position for each match and this can put strain on the goalposts..... as well as on  the volunteers moving them!
After numerous repairs, the current posts are now beyond repair and are in desperate need of replacing with new goals on wheels if the junior section is to continue to thrive and provide sporting opportunities for the youth of Felixstowe.
Grants are available for some of the cost, and applications are underway, but a shortfall of £3000 still remains.
A small organising committee has been set up to raise the funds and its hoped a 'Community Fun Day' at the Goldstar Ground in Sunday 17th March can make a significant contribution to the fundraising total. 
The event is open to the whole town and wider community and will feature a host of attractions to appeal to a wide range of people from 1-101!
An 'it's a knockout' style team competition, live music throughout the afternoon, an inflatable zone, bar & food, raffle, cake stall, sideshows, face painting and a race night (6pm-8pm) are just some of the activities planned with more details released over the coming days.
The club are appealing for donations of prizes for the raffle and sponsors for some of the activities. If you can help please contact Chris on 07415886803 or email This email address is being protected from spambots. You need JavaScript enabled to view it. 
A GoFundMe page has also been set up for donations and this can be found at 
https://www.gofundme.com/donate-for-goals-felixstowe-amp-walton-utd-fc