Junior
Results
and
Reports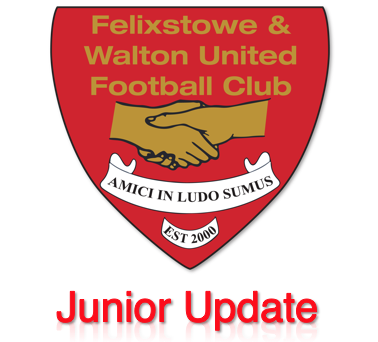 Update on the recent Junior games
The U15 EJA played at home to Haverhill today who are top of the league. We lost 2-1 after their coach said thats the hardest game they've had this season. I've had three other managers say the same. That's good in one way but in another we do just keep losing by the odd goal. We just need to be that little bit ruthless in and around the box and a little more resilient in defence. One or two mistakes are costing us every game. But the future looks good.
The U9s Reds match report.. 
Felixstowe 5-3  Claydon Dragons 
The game started well with end to end football.  Claydon looked dangerous on set pieces and eventually it paid off for them with two well worked goals but at the half way point it seemed hard to believe that our boys were two down as we had our own chances one of which Ross coupe hitting the post. 
A quick chat at half time was what the boys needed and we started getting into our stride with goals from Monty kristiansen and Arthur Harrison. The game then start becoming one way traffic in favour of us with a deflected goal for Henry Old then he added a beauty from close range. Jacob Minter-Clarke finished the scoring with a lovely strike from the edge of the box beating the Keeper at his near post. Clayton did get another goal but the boys stuck to the half time plan and saw the game out.
MOTM. Henry Old - not just for his goal but his closing down all over the pitch. 
One thing I've learnt about these boys is the character that they dig deep and never give up. Two very proud coaches on the side lines once again.
U11s Reds 3 Wickham Market 0
Returning after the Christmas break the lads got straight back into their stride and carried on their good form. From the first whistle they got the ball down and played some great passing football. Wickham played their part in the game and kept trying to play and frustrate us but the lads kept their heads and controlled the game in both half's to come out winners.
The goals came from Charlie Smith with his first touch after coming on as sub, Teddy McCarthy got the 2nd with a terrific burst of pace to slot home superbly and the 3rd came from Joe Harper who picked the ball up 10 yards into Wickham 's half ( and after a shout for him to take his time from the coach 😂) he struck a lovely shot that flew up and just under the crossbar to beat a great attempted save from the GK to make the game safe. 
The MOTM went to Dylan Dunne for another consistent game full of running box to box and always looking to pass the ball to set up others for scoring opportunities.
Well played to the whole team who once again worked hard together as one team. 🔴⚪️