Junior
Roundup
from
the
weekend
(10/11
Nov)
-
Part
2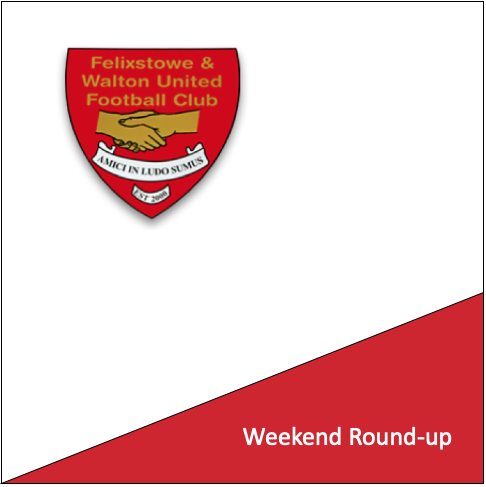 Additional reports from the Juniors
Both teams played very well this morning at Chantry Grasshoppers. The reds won 4-2 in a very good team performance. Goals from Cian Keaton and George two.
But it was their play that impressed the coaches with one touch and good passing. Tyler had a good game in defence but Cian was outstanding in every position he played.
The whites also won 3-0 with goals from Mason, Jack and Isaac. Again another great game from these boys who are still unbeaten in league.
Great games from Harvey, Max and Harry but to be honest they all played well.
Fxt & Walton U14 Red 2 v 1 Kesgrave Kestrels U14
Back to Suffolk Youth League Div 2 business this morning, at our new home match venue – Felixstowe Academy. The teams and their supporters observed a minutes silence prior to kick off. With George and Ellen unavailable and Seb not fully fit, Coaches Jason and Simon had just 11 players available to start.
Jake proudly accepted the captains armband for the day. Kesgrave gave us a good game in the corresponding away fixture in September which we managed to win 3-0, and we expected the same today. We were not disappointed.
The Seasiders performed brilliantly, battling hard all over the pitch, and Kesgrave played their part in giving us a very entertaining and nail biting game to watch. For a change, it wasn't our free scoring front three that won all the plaudits, it was the defence and midfield.
Within the first 20 mins Kesgrave put a good chance over our bar, their keeper made a great save to thwart Matt following good Fxt interplay, Josh C. made a terrific last ditch saving tackle on the edge of our box and Oscar saved well to keep the Kestrels out. This was typical of the entire game.
Harry had a great game at right back, winning tackles and distributing intelligently. 25 mins, a big clearance from Oscar put Matt through, but a superb Kesgrave tackle saved the day as he pulled the trigger.
As the first half ended, Jake rose well, but headed over from Matts corner. Half Time 0-0.
Seb had responded to the call, and was able to play the second half, replacing Josh B, who had filled in well at centre back. 3 mins into the second half, the impressive Charlie O. in midfield, put Jake away down the left, and his cross was stabbed in by Nartey. 1-0.
Kesgrave conceded a free kick on our right on 6 mins, and Seb headed over from Matts delivery. 13 mins, a loose ball on the edge of the Seasiders box was blasted home by Kesgrave, and it was 1-1. We looked the more likely to get a winner, but Kesgrave worked hard to keep us out, and maintain a real threat on our goal.
On 28 mins, the Kesgrave keeper didn't clear his lines as well as he had been, the ball was knocked down and Matt just had a yard on the defenders, kept his head and scored well. 2-1.
70 mins – Full Time. Home win. 2-1.
Players not mentioned above, all deserve a name check. Charlie G was solid at the back, Jack battled away in midfield, as did Sankerman. As news filtered though that our nearest championship rivals had both dropped points, it made this win even sweeter.
Jason's Man Of The Match – Harry, well deserved.
We would like to thank our team sponsors UKCS Ltd.
Without YOU, there isn't an US.