SAT
16
APRIL
2022
-
BURY
TOWN
(HOME)
-
ISTHMIAN
NORTH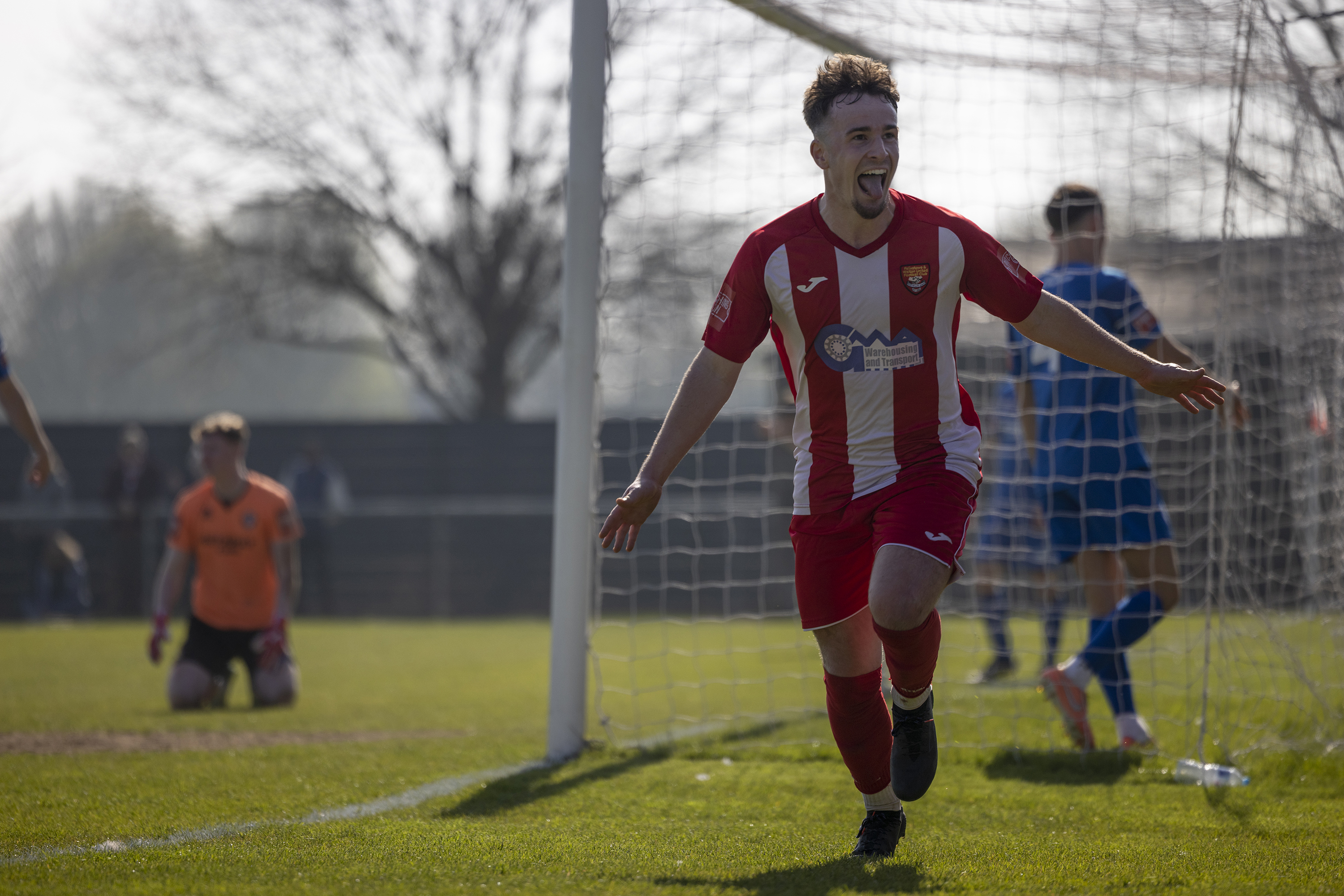 FELIXSTOWE & WALTON UNITED 1  - 0  BURY TOWN
One small step for Henry Barley, one giant leap for the Seasiders!
Felixstowe & Walton United moved into fifth place and the final playoff spot with two games to play following a one nil home victory over local rivals Bury Town. A tight affair was decided by a Henry Barley goal just before half time. The Seasiders could not find a second goal to finish off the game, but held out well to claim the three points that puts their playoff destiny into their own hands.
There was another good crowd inside the Goldstar Ground on a beautiful spring day, 500+ hoping to see another derby win after the thrills of Tuesday's win over Stowmarket Town. Zak Brown made his first start for Felixstowe for five months with Armani Schaar missing out, still suffering the effects of a shuddering challenge in midweek.
Felixstowe started the game strongly and were in total control for the first 25 minutes, dictating the pace of the game and playing patient build up football, whilst always looking to set Zak Brown off running with Henry Barley and Andre Hasanally taking the wings. Felixstowe were close to opening the scoring on 9 minutes, Zak Brown powered through the middle, beating three men en route to the box to set up Henry Barley, his shot was well saved by the goalkeeper but he could only return the ball to Barley whose second effort was again saved. Hasanally created a golden chance on 19 minutes with a great run on the left wing and a low angled shot that the keeper could only parry out to Barley, a defender just cleared as Barley was about to stab the ball home. Joe Whight saw his free kick diverted just wide for a corner on 25 minutes. The home domination had not led to a goal and slowly Bury started to settle and have a bit more possession, aside from an early corner and a long rage high and wide effort they had not troubled the home defence, but on 31 minutes they did create a decent opportunity. A break on the left seeing a cross come in right between  Callum Robinson and the forwards but no one could reach to poke it in. A volley just wide of the left post a minute later set the home fans on edge before Felixstowe again started to create chances. Noel Aitkens produced a great run to set up Barley whose cross into the box was just over Canfers head and on 38 minutes Zak Brown took the ball down well on the right of the area and smacked a volley towards goal that the keeper did well to keep out. Ross Crane for Bury saw his shot go wide on 42 minutes and from the goal kick Barley was set clear on the half way line, he burst forward but was bundled over right on the 18 yard line, he sent the free kick just over the bar. As the clocked ticked into stoppage time it was the Seasiders who finally took the lead their performance had deserved, Zak Brown made a great run on the left, his shot was saved low down but diverted over to Barley who had the job of firing in at the far post.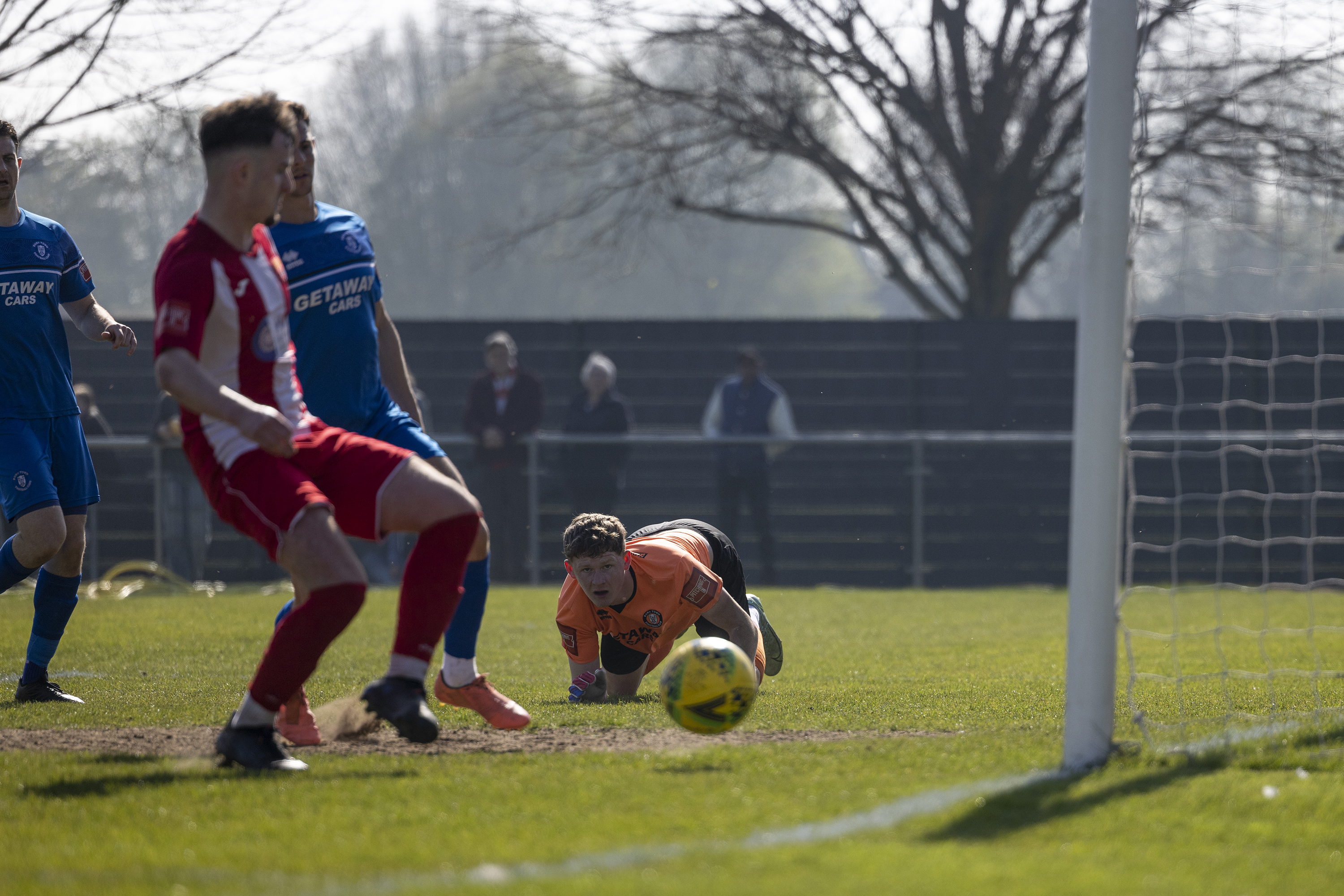 A 47th minute header for the away side was met with a weak stooping header that did not trouble Robinson. Barley was still in the thick of the action and his break on 56 minutes led to the penalty area, he turned his man and fired towards the near post but again his effort was saved and diverted out for a corner. Ollie Canfer span and shot straight at the goalkeeper on 59 minutes and Barley set up Zak Brown on 62 minutes but his header was inches wide. Most of the play was even through the half with Bury struggling to create anything up front, but with Felixstowe unable to put one of their chances away to get that cushion, it was the away side that sensed the opportunity and started to push forward and break quickly. Crane floated a ball into the six yard box on 74 minutes but the defence nodded the ball out to safety. Hasanally found space opening up for him 30 yards from goal, he opted to try his luck from distance but shot over the bar. It was end to end now as the game ticked into the final minutes, Bury had a wonderful chance on 89 minutes, they did all the hard work to make space and sent in a dangerous ball into the six yard box, but no one had gambled and the chance was wasted. The final chance of the game fell to Felixstowe in the third minute of added time, the Seasiders clearing the ball in their own area and sending it out to Hasanally, he turned and beat his man on the half way line and sprinted forward with the Bury half to himself, with the keeper coming out to meet him and the crowd roaring him on, his second touch 30 yards from goal was just a little too heavy and that allowed the goalkeeper to clear the danger.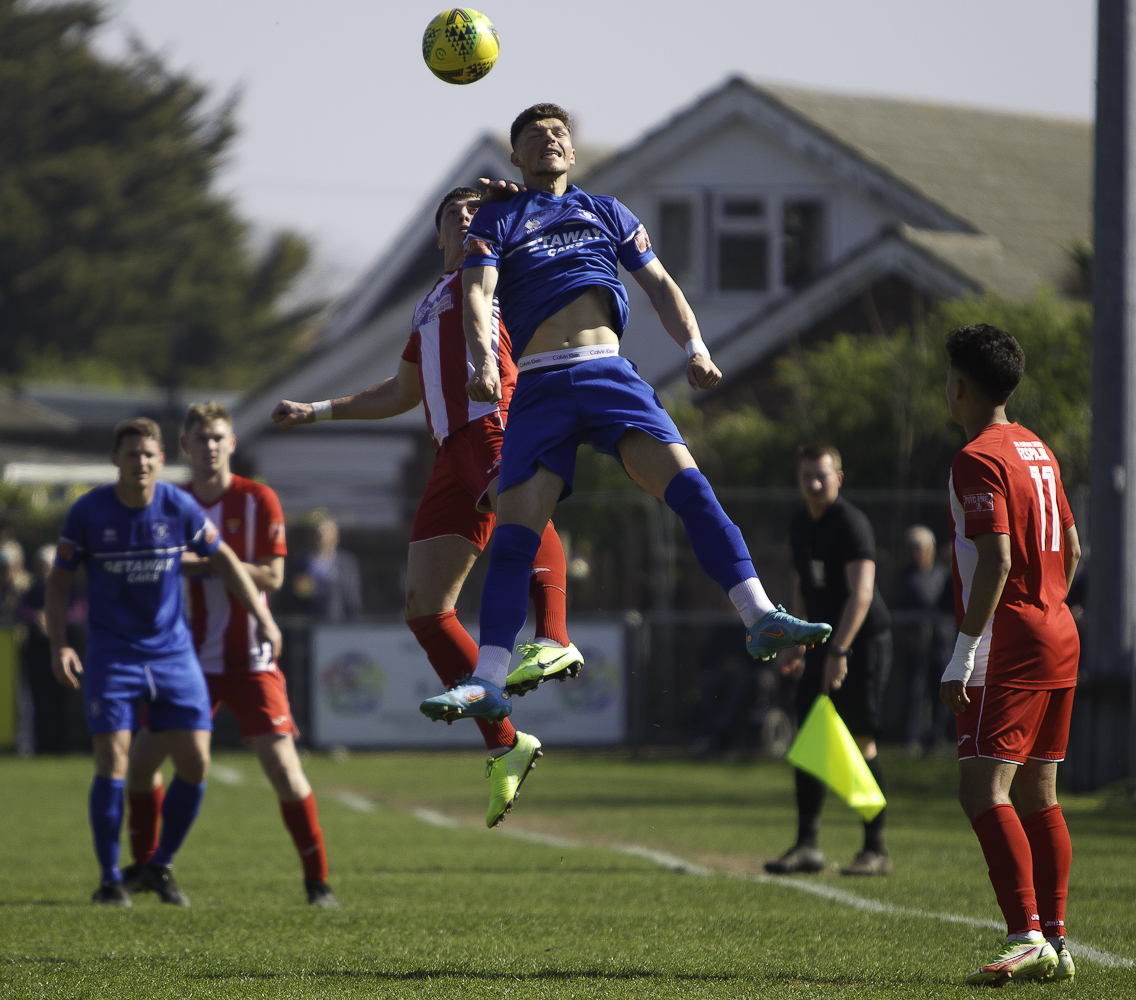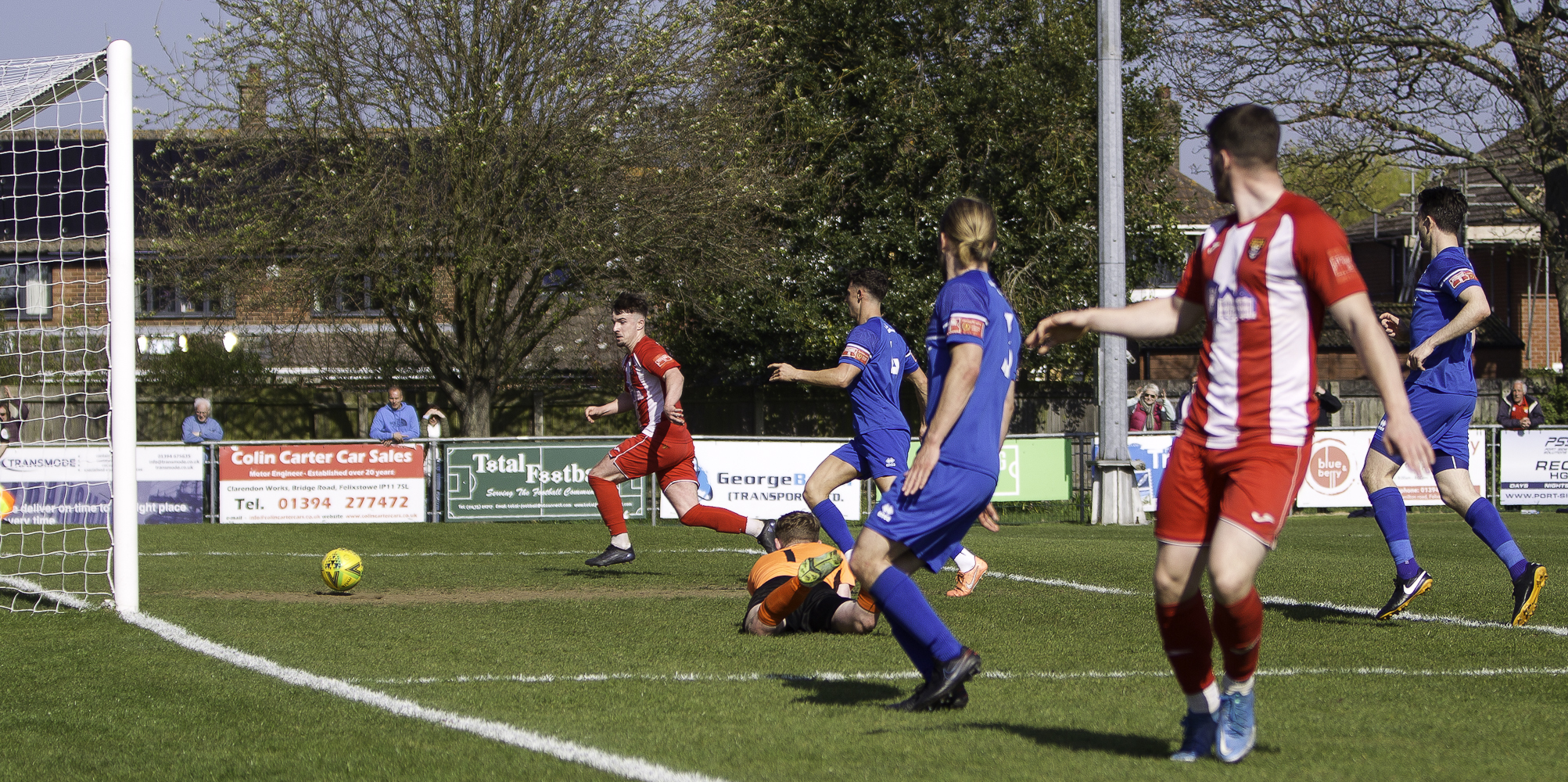 Seasiders Manager Stuart Boardley said after the game. "It was what I would call a solid, professional performance, other than a couple of scares we had where we lapsed defensively I thought we were comfortable throughout. It was an even game at times but I think we edged it and felt we should have been more ahead at half time; we had quite a few chances in that first half to be comfortably ahead. It's the story of our season, didn't take those chances and then Bury started to come on strong towards the end of the first half and for the second half, but we managed the game well, the game management was probably the most impressive thing on the day for me. I've spoken earlier in the season about how we have had quite an unsettled squad through injuries, illness and suspensions but what we've had of late is a very settled back four, when you have that and you do keep clean sheets it breeds a bit of togetherness, calmness and belief that we can keep a clean sheet and that's what we have at the moment". Boards went on to say. "Something we looked at before the game was that it would be great going into those last two games of the season with effectively the chance of the playoffs in our own hands, which we have now got. We are not reliant on other results as it stands, if we win two games of football then we are in those playoffs, that's a big step for us. Bury are still a very good side and have very talented individuals, it's a bit of a yardstick as to where we are as a club in that we are now expected to beat Bury, certainly when I came to the club two years ago, and my first game was against Bury, it would be fair to say back then the consensus from the fans when playing them was "how do we keep the score down", whereas today it's almost an expectation on our boys to go and win the football game, which I think is a good positive place to be". Looking ahead to Monday's game. "It's on the players now to rest up, recuperate well, do the right things between now and Monday, Maldon have had a bit longer to get over their game and recover so it's important we do those right things and move into Monday in a positive frame of mind, and equally important, feeling good physically".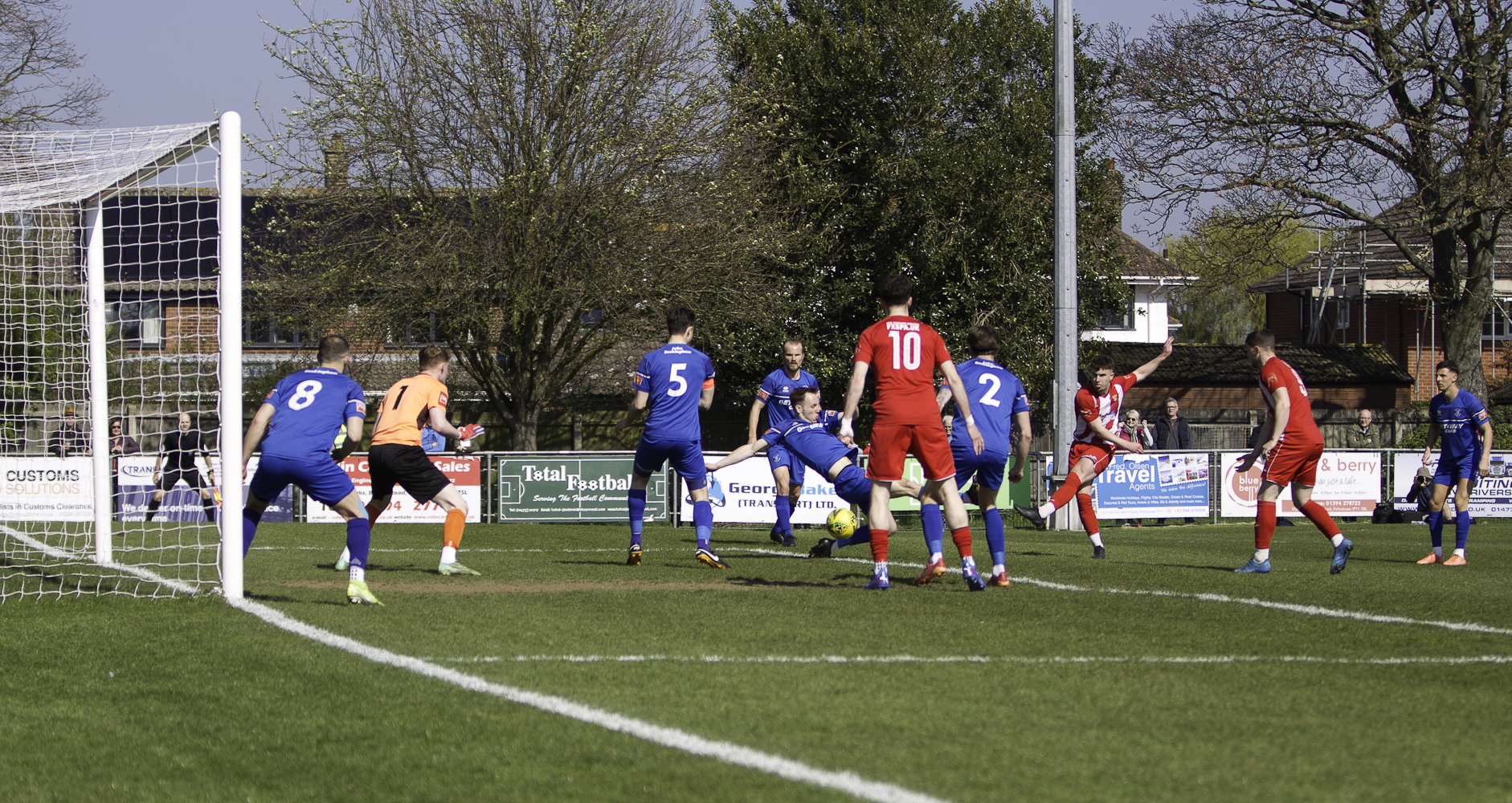 Report by Stuart Daynes
Photos by Stefan Peck & Nicholas Flexman - Freelance Sports Photographer
Team Line-Ups Here
Photo Gallery Here