Improved
performance
from
F&W
U11
Reds
Make no mistake – the scoreline to this match doesn't reflect how F&W played.
From the start we had an injured Arthur in between the sticks and Finn out on the right wing. Both teams had even amount of the play but it was F&W creating the early chances with Finn running down the wing and having a shot that was blocked. Monty (season capt) had a shot wide and Dawson was sent running through, only for their defence to stop the attack.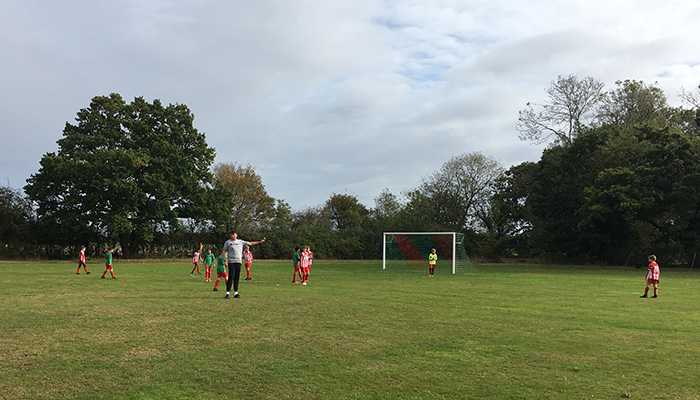 It seemed like we were holding our own against a good Div1 (Stour) team... but Maritime started to play some good football and pressure us, resulting in a corner and a lack of concentration let in one of their players to score from two yards out.
As the first half went on, Ethan, Monty and Finn were trying to make chances for Daniel or Dawson, who were taking turns as striker. But it seems the curse of corners undone F&W again, where we just didn't click today, and Maritime took advantage, going from a 2-0 lead onto 3-0. Credit where its due, the boys never gave up and carried on playing their football as the first half came to an end.
The second half continued in the same way with Vismay, Luca and Joshua all coming on as subs to give all the boys a fair crack of the whip. 
Maritime kept on coming and we kept on being strong in defence but in the end with some nice football from Maritime, the goals went in. Arthur was in goal with an injury, and all I can say is we have a really good second keeper and he should be very proud of how he played.
With the game coming to the end 8-0, hats off to Maritime, they played well. But this doesn't mean we went down without a good fight – the boys played their football and in hindsight if the chances we created in the first ten minutes of this game went in, the whole scoreline would be so different. The Maritime manager (Jon) said the same and praised the Reds for not giving in.
There were three players that could have been MOTM – Arthur, for brilliant keeping; Ethan, who just never gave up running; and Monty, Captain Marvel!!
In the end, the decision went to Monty.
Result: Maritime 8-0 F&W Reds
MOTM: Monty