Can
you
help
the
Seasiders?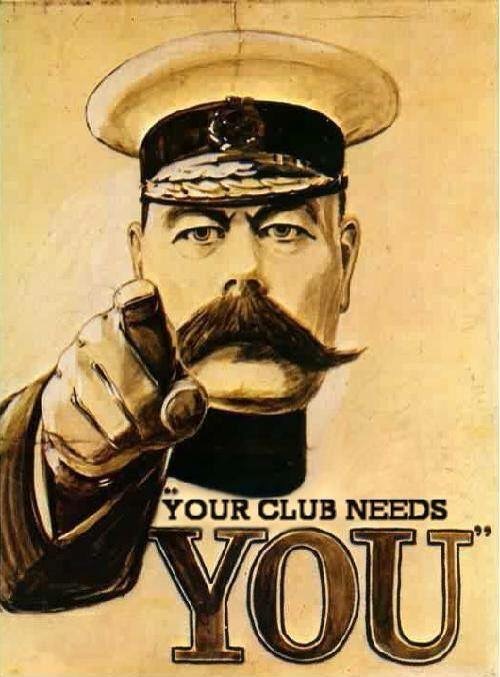 We appealed for help and support to see us through tough times ahead...and you didn't let us down!
You are truly amazing!
Once again we are humbled at the support we have received from our Seasiders family.
Yesterday we made an appeal for help to see us through the difficult weeks and months ahead, and asked if you could donate what you would have spent at the ground if our game against Histon had gone ahead yesterday.
We are overwhelmed to say we have received donations totalling £1,010!
To put this in perspective, this single gesture will pay our rent at the ground for the next 5 weeks, invaluable when we are faced with the prospect of no matchday or bar/kitchen income for the foreseeable future and even greater consequences in the longer term.
At a time when the community is facing worries over their own health, loved ones and their jobs, you have rallied around and helped our club towards its survival plan.
We don't know what to say apart from THANKYOU! 
All those who made a donation were entered into a draw and the lucky winners are-
Season ticket for 20/21- Pippa Scrivener 
Signed replica shirt- Steve Scott 
£40 prezzo voucher- Chris & Jayne Ryan 
In addition, all those who contributed £10 or more will receive a Seasiders mug or travel mug. We will be contacting all of you to arrange delivery in the coming days.
You can still continue to donate by using the PayPal 'donate' buttons on each page of this website, or by BACS using the details in below article.
Here's the original article from yesterday on how the Seasiders are being affected.....
In a public health crisis, football comes way down the long list of concerns, especially when we don't yet know the full impact on all of our lives in the weeks and months ahead.
However, it's fair to say that the Football Club is going to be affected in a way that we can't currently begin to imagine. The same will apply to all other sports clubs, cafes, restaurants, cinemas, theatres and countless other businesses.
If matches are being cancelled now, it's difficult to see any being played before the expected peak in 10-14 weeks time. That takes us to the end of June. Even if the season re-starts then.... which is impossible to imagine with so many unanswered questions regarding how it would affect next season, promotion and relegation, ground grading, scheduled close season pitch maintenance, player contracts etc etc.... the financial impact on the club is frightening.
We are a non-profit making organisation, every penny we bring in is re-invested into the club and all its teams, meaning we don't hold large reserves.
An unprecedented situation like this could never have been predicted and budgeted for.
Just think of the implications.... the groups who hire our clubhouse during the week are already cancelling their bookings, parties are being cancelled, fundraising events will be cancelled like our casino night tonight and next months quiz that was sold out. Matchday income pays all our bills from gate money, bar and food sales. the club did really well when we had the big screen for the World Cup two years ago and we were looking forward to a bumper summer with the Euro 2020 being shown at the club. The Dutch exchange weekend is likely to be affected, the end of season presentations won't be able to take place, Sportsman's Dinner, season tickets can't go on sale as planned. We are blessed to have nearly 100 local businesses supporting us with sponsorship and advertising..... and this is likely to be affected. Plus of course we have a cellar packed full of beers and food that will all go out of date.
Our bills will continue, although of course we will seek to save as many outgoings as possible..... we still pay thousands of pounds on our rent, business rates, utilities etc. 
There are probably dozens of other implications that haven't even occurred to us yet!
So, how can you help?
We would like all those who are able to, to consider donating what they would have spent at the ground for today's First Team fixture against Histon.
It could be the £3 you would have spent on a burger or a pint, or it could be the £5 or £9 you would have spent on admission.
Any donations will help us keep the clubs head above water for longer, hopefully until things get back to normal.
All those who donate £10 or more will receive your choice of a Seasiders mug or a travel mug.
And everyone who donates, no matter the amount, will be put in a draw (9pm Sunday) to win the following prizes-
-Signed replica shirt
-Season ticket for 20/21 season 
-£40 prezzo voucher 
We know it's a scary time for many of you. We know our little football club isn't life and death. We know our place.
But, we also know that it's the time for everyone to come together and support each other.
If that means you can consider a donation to keep the club going then we'd be eternally grateful.
Stay safe everyone and Thankyou for listening.
If you can donate, simply click on this PayPal donation link and choose your amount, or click the PayPal button on every page of the website.
https://www.paypal.com/donate/?token=rSNB1fjCh8oJ1GoB0mZrboNysamJf5A7qB84mC3jODelucQHJaPc8dd6hTN-HmF0WkkOVm&country.x=GB&locale.x=GB
Alternatively you can donate by BACS using these bank details: Felixstowe & Walton United FC, Sort code: 60-08-17  Acc No: 39609154
At 9pm tomorrow (Sunday) evening we will draw the prize winners and contact everyone to get your prizes or mug/travel mug to you.
Thankyou