Junior
Match-Report
Round-up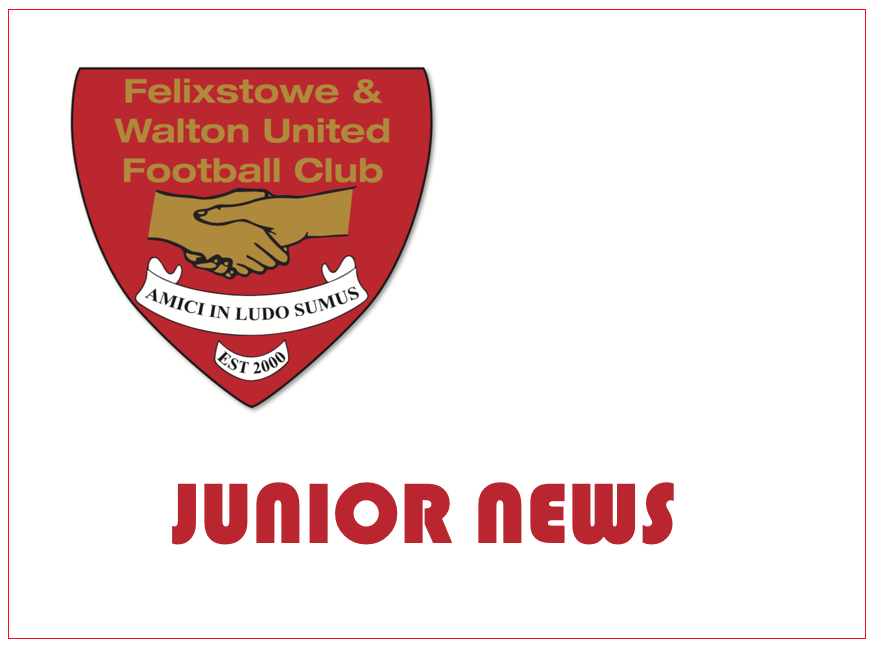 Here are three weeks worth of match reports from the Juniors from 11th January through to 26th January

Weekend 11/12th Jan 2020

U13 red home vs AFC kesgrave. First game of the year and the first 20 mins showed as we were off the pace. Once we got going and some good saves from Riley we went and got our goal. H/T 1-0 Second half kesgrave come out fast and with some bad defending we where 1-2 down.we never dropped our heads and down to 10 men (sin bin) for 10 minutes we started to play the football we can and grabbed a 25 yard thunder bold from Leo and a well worked team goal finished off by Teddy after his first effort hit the post. A scrappy last 10 minutes from both teams we held on for the win. 3-2.goals olly. Leo & Teddy MOTM Leo 🔴⚪🔴⚪

U13WHITES
Away vs TRD
Not a great start to 2020 losing 3-4.
Being disappointed is a understatement as we were so much better than them but again and don't ask me why but while out playing and playing some fantastic football we still managed to give the ball away and not mark.
Goals-
Oscar, Jamie, Louis
Motm-louis

U16 aways to Chantry Grasshoppers (who haven't lost a game this session), we knew it would be a tough game, and it was 50/50 throughout most of the game but we weren't able to capitalise on the chances we had. Score one was 8-1 to Chantry. First game back full of Xmas Dinner. Used this game to reassess some players in different positions for a stronger finish to 2020. The players battled hard to to whistle and were rewarded with an outstanding goal from Jamie.

U11 girls home vs IVR. A awesome display by the whole team today goals lily x3, poppy, Katie x5, cailey, charlize & lula.
Poppy. 🔴⚪🔴⚪

U12s Reds V Bury
After blowing away the cobwebs after the Christmas break last week with a rearranged fixture away to Wickham Market which showed we hadn't played for 3 weeks and ended in a frustrating 5-3 defeat we again traveled away to top of the table Bury. After working on a few things in training in the week we asked the boys to try and put them into action on the pitch and wow did they respond they played fantastic and showed skill determination and togetherness that had been lacking in the weeks leading upto Christmas. Unfortunately this week ended up losing 1 nil to a scrappy goal after our keeper made a great save from a free kick but just didn't manage to clear the follow up. We had chances to score but it just wouldn't happen but as coaches we were very proud of the boys. I'll say it again they were fantastic even in defeat against a very good Bury side.
🔴⚪️


Under 12 whites battled hard in a tight derby match against local rivals Trimley. We took a 2 0 lead with Noah banging in 2 quick fire goals. The game was quite even and Trimley pulled one back before the break. After half time Trimley grabbed an equaliser with a well taken goal. From there both teams battled hard for a winner. Final score 2 2.


Weekend 18/19th January 

U11 girls away to Ipswich exiles. Girls played really well again today winning 0-4 goals from poppy, cailey, faith & lily w.
Lily & faith. 🔴⚪🔴⚪


U13WHITES
Away vs TRD REDS
Game started off with us playing the better football good passing and simple football soon started to create chances but our finishing was on top form from more than player but eventually went 1-0 up and just b4 h/t with the great play starting from our GK within 6 great passes Archie spilt the defence and unleashed a cracking 25yarder only to see it shave the crossbar.
2nd half started with both teams pressing each other which saw TRD go 2-1 up from poor defending but Jamie Grant made it 2-2 with a fantastic free kick from just side the box. This was very short lived as b4 we knew we were 4-2 down again from giving the ball away rather than doing a simple pass with the clock ticking and running out of time Louis made it 3-4 with another great shoot. F/T 3-4 lose. Goals- Oscar/Archie/Louis motm- Louis.

U13Whites 18/01
Home vs Framlingham
Back at Langley and now knowing we need to all rest of our games to stand any chance of winning the league and on a sunny morning the boys knew that only good/simple football is wot the boys needed to play.
The game KO and both teams were playing good football and equal each other and with both defences defending strong and both keepers being strong  you couldn't pick a winner.
h/t 0-0.
With 2nd continuing as the first it was looking like draw and only 1 mistake would separate the teams and soon we got a break with a good shot from Jamie Grant and should've been a simple save for keeper saw him drop the ball and could watch it roll into the goal 1-0.
This gave our boys added spirit and Framlingham were obviously down and feeling robbed but our boys soon started to edge ahead and with a great pass Archie held off the defender strongly to make it 2-0 with great shot across the keeper into bottom left. After 3 successive corners and great corner from Lucas Oscar smash in a fantastic volley.
H/T 3-0
Goals-Jamie/Archie/Oscar
Motm-Archie

U8's Reds v Witnesham Wasps Yellow's - First league game of the year started off well with Oliver Durrant scoring after lovely run and finish. Witnesham then got back in the game scoring 2 goals. Oliver grabbed a hat-trick but Witnesham stung the back line on a few occasions ending up victorious. Some great individual performances, including a fantastic second half from Braydon. Wasps ending the game 6-3 winners.
Under 8's Whites v Witnesham Wasps Black's - Withesham got off to a great start scoring an early goal. Felixstowe rolled up their sleeves and tried to make something happen, with lots of runs from Olivia and Sam who were up and down the pitch. A couple of cheap goals gave the advantage to Witnesham at half time. Second half, Felixstowe huffed and puffed but couldn't get back in the game. Witnesham were able to increase their lead winning 7-0.

Weekend 25/26th January 

Cup and plate 1/4 finals

U10s Reds won 3-2 away to Bourne vale in the cup. A brilliant come back after being 2-1 with 10 minutes to go. Goals from Dawson, Monty and Arthur!

MOTM Henry old

We have been drawn at home on the 7th march against Stowupland. That could be a tasty tie.

U13Whites
Q/F Plate HOME
Vs Woodbridge (div.2)
We kicked and dominated from the off and after 2 chances from Archie we eventually after abt 10mins and switching back to 4/4/2 we just clicked and with a great move of simple passing Archie scored by now we were ripping them apart down both wings by Jamie and Isaac and playing fantastic football thorough the middle from Freddie and Lucas soon we 2-0 up with a penalty from Archie after great pressure in the box by Jamie then it was 3-0 a great move down the right and with great cross by Isaac found Oscar who feed Jamie who slotted it home.
Woodbridge found the net just before H/T with cross come goal.
H/T 3-1.

U8's Reds v AFC Kesgrave Blue
A fairly even opening to the game saw Ronnie go close with a shot after good build up play. Braydon drove into the box but great defending by Kesgrave to block the shot. Toby played well in goal dealing with all that was directed towards him. Oliver opened the scoring with a cracking finish from distance. In the second half Charlie showed composure and always looking to make something happen as well as being Mr Dependent at the back. Kangulan made an impressive run skinning players with ease but was tackled at the crucial time. Kesgrave pulled a goal back in the second half. From our kick off Finley drove forward danced around players and shot with venom to restore our lead. With seconds left on the clock, and with one player telling me we have won the game, Kesgrave scored an equaliser. Final score 2-2

U8's Whites v AFC Kesgrave Reds - Kesgrave started strongly and the Whites were caught napping, going one nil down. It got worse shortly after as the home team made it 2-0. But the Whites started to find some rhythm and Olivia pulled one back. Zach made a couple of save but Kesgrave scored a 3rd to make it 3-1 at H/T. In the second half Oliva showed her class with her second. Sam and Elliott we're linking up well. Both boys got on the scoresheet to put the Seasiders ahead. Noah, then made an important tackle that was as good as a goal as Kesgrave pushed forward. Anthony then shot from an angle and the ball would have hit the back of the net, but was cleared off the line, by the head of a teammate. Sam got his 2nd to seal the win for the Seasiders 5-3.