SAT
04
JAN
-
SOHAM
TOWN
RANGERS
(HOME)
-
Isthmian
League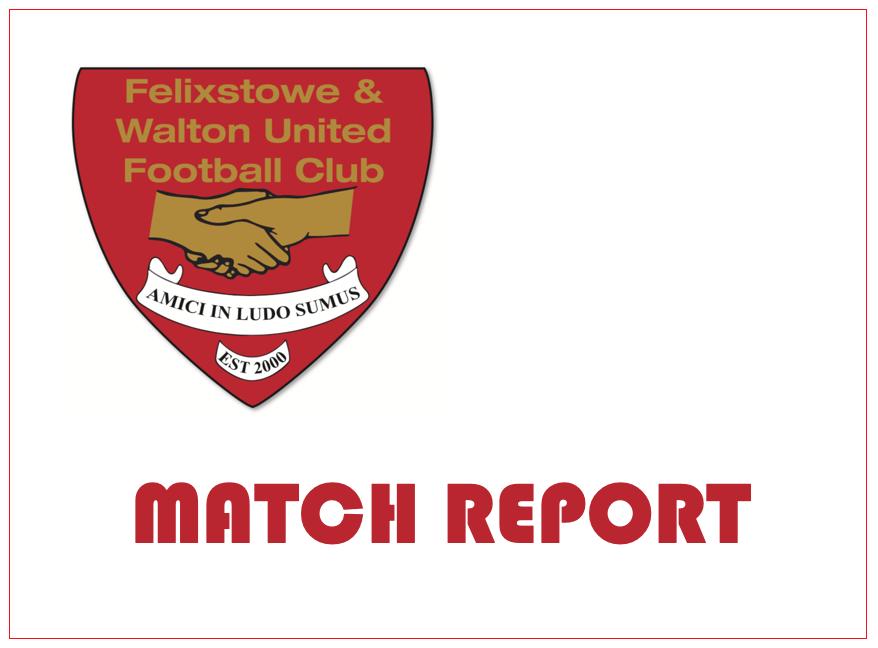 FELIXSTOWE & WALTON UTD  2 - 2 SOHAM TOWN RANGERS
 It's the late late show for the Seasiders as they grab a point at the death
The Seasiders battled back from a two goal deficit to grab a crucial point against Soham Town Rangers, Goals in the 89th and 90th minutes from Joseph Yaxley and Ollie Canfer rescuing the game.
Felixstowe were forced into changes for the match due to injuries to Armani Schaar and Jamal Wiggins, Josh Lee and Joseph Yaxley replacing them, whilst George Clarke and Sam Nunn remained side-lined due to illness and injury respectively.
There looked to be a healthy crowd inside the ground for kick-off on a sunny but cold afternoon, including some very friendly ground-hoppers who had travelled from as far afield as Hereford and Fleetwood for the game.
The first half began with the home side struggling to get a foothold in the game; the visitors were quick when with the ball and were causing nervous moments in the Seasiders area. Soham used this spell to good advantage, Luke Brown rifling in the opening goal on 11 minutes following a ricochet. Felixstowe were gradually forcing their way into the game as the first half wore on, Miles Powell and Josh Lee were looking dangerous and were starting to create chances, Powell volleyed wide from the edge of the area and Stuart Ainsleys free kick from 20 yards was scrambled away at the post. Soham were being restricted to playing on the break and although they were seeing plenty of the ball, they were not troubling Spurling too much in the Seasiders goal. It was from set-pieces that Felixstowe were looking most likely to get some joy, a succession of well-placed free kicks and corners came to nothing, despite some good deliveries from Ainsley.
The second half was again slow to get going, Ainsley did see his in-swinging corner strike the face of the crossbar, but time and again, good build-up play by Felixstowe was not leading to an equaliser as the final ball was often lacking. Soham were looking good defensively and seemed content to wait for the occasional foray forward on the break, it was from one of these breaks that Soham doubled their advantage, Sam Mulready meeting a cross from far out wide to steer his shot into the roof of the net for what looked like the sucker punch goal.
 Felixstowe brought on Adam Hanson and Henry Barley and it was these fresh legs that gave the home side the impetus that had been lacking thus far, they were now dominating the game and eventually on 89 minutes, the ball finally landed in our favour and Joseph Yaxley was on hand to fire past the keeper to halve the deficit. With the board showing 4 minutes added on time, Felixstowe were pushing hard for the equaliser and it wasn't long before it came, this time it was Ollie Canfer who was in the right place to stab the ball home to cheers of relief from the home supporters.
Speaking after the game, Manager Stuart Boardley said. "It was a tough one, I don't think we played well at all and we huffed and puffed at times, we looked very heavy legged, especially first half, Although we started to get to grips with it second half, it was the introduction of the subs that changed the game in our direction. We have had a lot of games in a short spell of time and also, when you look at the type of player standing on the side-line today watching, Wiggins, Schaar, Nunn, and with George Clarke only out of hospital yesterday after an illness then it does show we now have a strong squad."
Felixstowe now have a fortnight off before heading to Bury Town on 18th January and Stuart Boardley confirmed after the game that several first team players would line-up for the Reserve side next Saturday vs Gt Yarmouth Town at the Goldstar Ground, this will include new loan keeper Charlie Beckwith and players such as Josh Lee, Adam Hanson, Joseph Yaxley, Harry Knights, Nick Ingram, Jack Newman and Kyle Jopling.
Team Line-Ups Here
Photo Gallery here