SAT
14
DEC
-
CANVEY
ISLAND
(AWAY)
-
Isthmian
League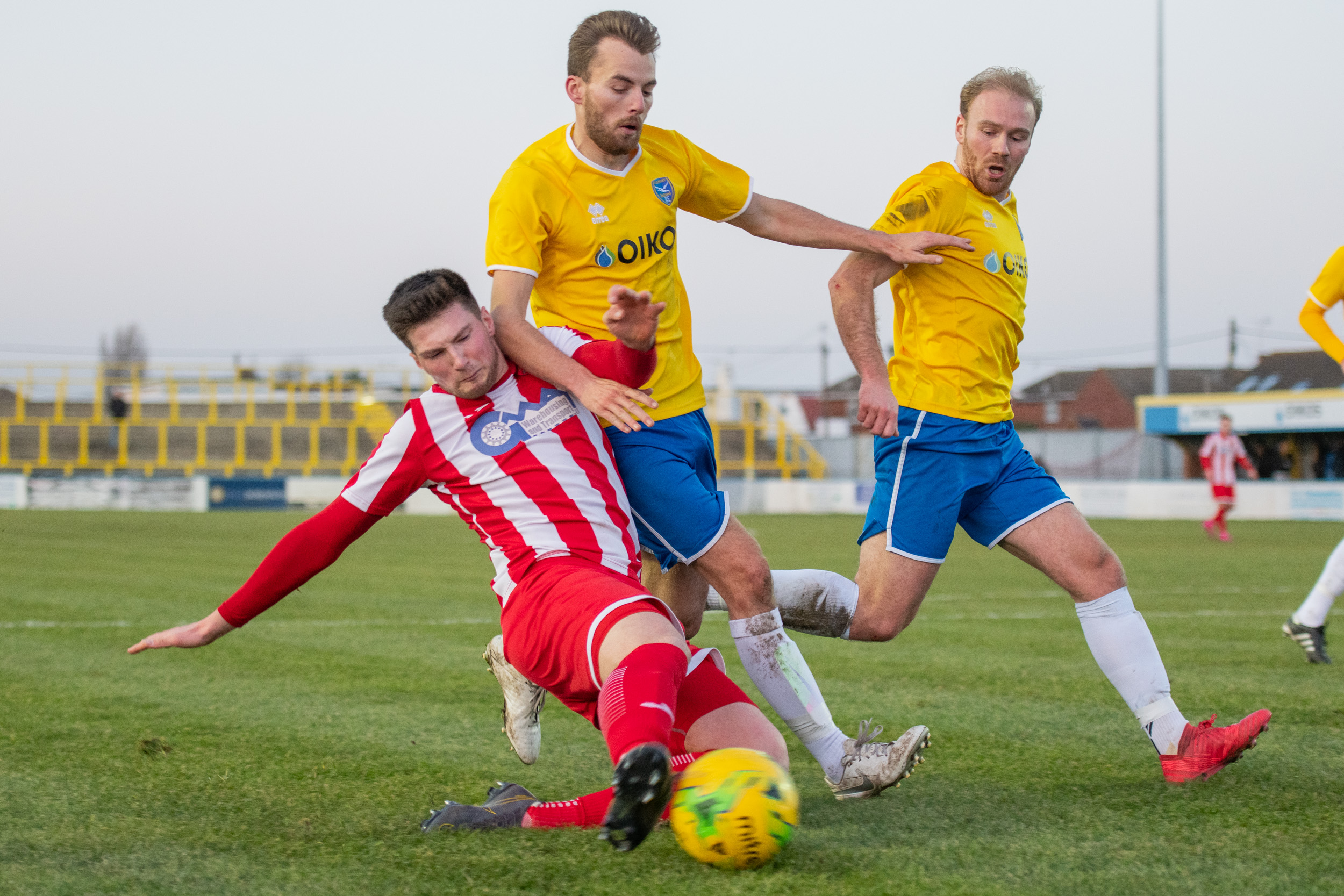 CANVEY ISLAND 3 - 1 FELIXSTOWE & WALTON UTD 
"We were poor today" were Stuart Boardley's words immediately after the game against Canvey and, in many respects, this sums thing up. Apart from a 15-minute spell at the start of the second half, The Gulls were in control and deservedly picked up the three points on offer.
Mark Bentley, The Canvey boss, was upset that his side had gone out of The Essex Senior Cup midweek in a 1-2 defeat away at local rivals Grays Athletic. Bentley said, following that defeat, "You have to question whether the players' mentality was right for the game and it might sum up how we are at the moment -inconsistent." He went on to say, "We have to get this (the Grays game) out of our heads by getting three points against Felixstowe & Walton. It's a massive game for us because we are nowhere near where we want to be. I don't know what I am going to get from players in each game because we are so inconsistent. We want consistency and we need to get our home form back on track."
Well, Mark Bentley had certainly prepped his team well for this game. As Stuart Boardley himself said, "I've never ever come to Canvey and experienced anything different from facing a side that is at you from minute one. They're loud, boisterous and in your face. They're that kind of team." And they were at The Seasiders from the first kick.
George Clarke, playing in a slightly deeper role, did put Canvey keeper Lamar Johnson under pressure early on but it was the hosts who manufactured a good goal with just 5 minutes on the clock. New signing from Romford, George Woodward, in the left back position, played a well-timed through ball to left wide man Tobi Joseph who cut inside before finding the left hand corner of Danny Crump's goal to immediately put us under pressure and challenge the always vital sense of self-confidence, crucial to any side struggling at the bottom of the league.
"Confidence is still an issue without a doubt" Stuart Boardley said after the game. "As much as you can try to build it up, it's difficult when you keep losing. Confidence is without doubt low in the dressing room because defenders are struggling to keep clean sheets at the moment and strikers are missing chances."
It certainly didn't help Stuart Boardley and Andy Crump having to deal with the fact that Miles Powell and Jordy Matthews were both unavailable on the day, Boardley admitting, "We missed Jordy's industry in midfield today." Elsewhere keeper Jack Spurling was also unavailable, meaning Danny Crump continued in goal.
With crucial players missing, Sam Nunn going off after 20 minutes with a hamstring problem and being a goal down so early on, we failed to establish a foothold in the game and when a defensive mix up led to Jason Hallett doubling Canvey's lead after 27 minutes, something had to change. New signing Joe Yaxley replaced Jack Newman just before the break, allowing the 4-3-1-2 formation to change to a 4-3-3 set up in order to stop their full-backs getting forward.  We now found ourselves with Armani Schaar, George Clarke and Ollie Canfer as a front three.
There were words at half time and the early stages of the second period did show signs of improvement.  Boardley said, "I expressed my disappointment at half time with the first half performance and told the lads they had nothing to lose because they were going to go out there with our fans probably expecting us to get a hiding after that first half performance. I told them they just needed to go out there with no pressure and with nothing to lose."
When Joe Yaxley, very busy and very lively after coming on, picked up the ball and put it into the top left hand corner of the net around 10 minutes after the break, things looked interesting for a while. Unfortunately, this didn't really last. Stuart Boardley again: "The endeavour was there from all of the front three but it didn't quite work for them today. We lost the game in midfield if I'm really honest. They were fitter than us and they wanted it more than us."
Another good ball from George Woodward in the air and across the box allowed Michael Finneran to add Canvey's third goal with just over 20 minutes still on the clock and, to be fair, the game was pretty much over by that stage.
In an extended interview with Stuart Boardley after the game we were told,  "We've been at the wrong end of comebacks in previous weeks and there's nothing better than a comeback. So that's what we put to the lads at half time and I thought for the first 15 minutes of the second half, blimey, we're up for this.  Joe got his goal and we really thought we were at them, but to then concede a 3rd in a poor manner like that was disappointing.  We were second best for 70 minutes and, of course, we're very disappointed. I feel a break has come at the right time and we have a lot planned in that two-week period. The two sessions this week will be fitness based and the lads know they will be working extremely hard."
This coming Saturday, with no first team fixture, our Reserves face Leiston Reserves at The Goldstar Ground. Stuart hinted that there would be a number of first team regulars playing in that game and there will, no doubt, be a decent crowd in attendance, particularly with the Leiston – Felixstowe connections.
Moving from "objective reporter" to biased fan, Saturday is an excellent opportunity for everyone connected with Felixstowe & Walton United to come along to The Goldstar Ground for the Reserve game and then again the following Saturday for the  crunch bottom-of-the-table clash against Basildon to show that the support is there from everyone, the fight is there and that The Great Escape starts now.
As a footnote, Seasiders TV will be filming a one-off Christmas Seasiders special this Saturday and needs everyone (fans, officials, volunteers, players) to play their part and simply be there. Apologies for the rally cry but Your Football Club needs You
Team Line-Ups Here
Photo Gallery here