Juniors
Round-up
16/17
November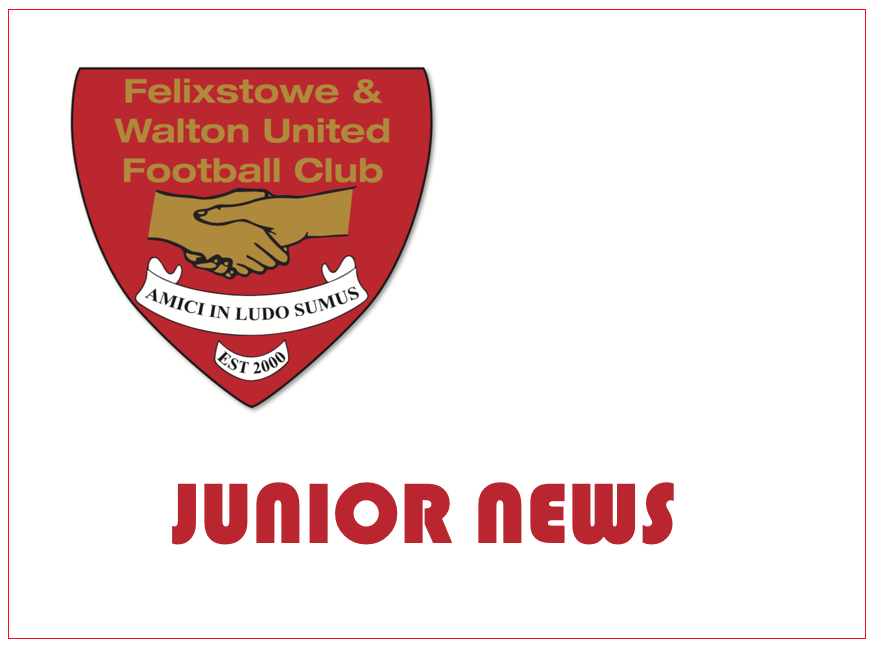 Juniors Round-Up From 16/17 November
U13 reds home vs Whitton. They boys played some good football first half and is always a close game with Whitton. We managed to go in 1-0 at half time. Second half we started really well getting 2 more goals early on. Whitton then had nothing to lose and pressed us our boys dropped of there pace and Whitton got back in the game with 2 quick goes themselves. We never recovered and Whitton finished off the stronger team with a 3rd unfortunately. Result 3-3 goals max, Olly & Connor. MOTM Riley.

U8's Reds away time Woodbridge Blacks.
Competition set before today's game. Can the Reds make more passes in a game than their team mates in the Whites. Reds, had players feeling under the weather today and that was evident, but fair play for them wanting to play. At half time we were 3-0 down. Second half was a struggle and although Charlie pulled a goal back Woodbridge were in the mood for shooting,scoring 7. Final  score 1-10.
U8's Whites v Woodbridge Whites. Two weeks ago we played Woodbridge and drew 6-6. Managers Defib at the ready the game started off fairly even. Whites managed to complete more passes in the first half than the Reds managed in the entire game. Elliott scored a great goal and covered every bit of grass. Half time 2-1
Zak had his best match between the sticks and Woodbridge Mgt were complementary regards Oliva's performance. Game could easily have finished 6-6 again. Unfortunately it finished 6-1 to the home team.

U16EJA had a home league game against 2nd place Needham Market. Came away with all 3 points, in a hard working and battling display with few chances for either side. A well worked free kick enabled Zack to fire home with 10 mins of the 1st half remaining. Nathan burst clear with 10 mins of the 2nd half to go, sliding the ball coolly past the keeper for the deserved win and unusual clean sheet.

Coplestonians 1 - 1 F&W Whites
The boys made the short journey up the A14 looking to bounce back from the disappointment of last week. They began the game brilliantly, moving the ball up the pitch very well with neat passing, far from easy on such a bobbly pitch. An early corner was soon followed by a cracking effort from Luca, who held off three opponents before unleashing a thunderbolt that thumped the crossbar. The visitors were well on top and were soon rewarded, with Alex finishing with aplomb following a great team move. The boys continued to dominate proceedings, with the midfield dictating the play and the defence cleaning up any danger. Against the run of play the hosts found themselves level. A good break down the right saw Copleston put a superb ball in to the middle that their forward finished neatly.
Proceedings evened up somewhat in the second half, with the hosts coming in to the game far more and making the most of their physical advantage. The whites however continued to create chances and almost went ahead with Charlie hitting a shot just wide. Having given so much throughout the game, the boys began to tire in the closing stages as Coplestonians went hunting for a winner. However, heroic defending from Oliver and Charlie ensured this didn't happen, with numerous outstanding last ditch challenges. The Seasiders could've snatched it at the death with a corner leading to a goalmouth scramble. But it wasn't to be and the final whistle was greeted with warm applause from both sets of supporters.

Coplestonians 0-3 F&W.
Today we played our first away game for a while which makes us realise how lucky we are with our pitch. We spoke before the game how we would play as we knew our passing game would be affected due to the poor conditions.
The game started quite slow as we tried to find our way through. It was after 10 mins we got our chance via a freekick. Jacob stepped up to take he tested the keeper but for the goalie to spill to an on rush Harley who placed the ball in to the back of the net. With that we started getting into our game and have to lions share to the ball. We continued to to press and had some lovely one touch passing happening with the normal suspects making this happen Henry, Arthur and Monty this lead to the ball reaching ross who saw his effort clip the post. The half ended with the boys being 1-0 up.
The second half continued how we ended the first with the boys working hard to keep the lead with Flynn and Ollie P doing a great job defending allowing jacob to push further forward. This allowed us to push on their defence with purpose. After some good work from Harley down the wing the ball was put in to the box and Henry had do more work to create a chance for Jacob to slot home into the far corner. The boys continued to look for another goal but this left us a little exposed at the back but some great goal keeping from Ollie T kept us in the game and our clean sheet intact. Henry who had been working hard to create chances for others got his chance and he took it well and put the boys 3-0. At this point all the boys on the pitch worked hard together to see the game out which we did quite easily in the end.
A great team effort today boys.
MOTM. Harley for his efforts of going forward and tracking back. He took his goal well too which I know will mean the world to him. Well done Harley!


U12s Reds V Kesgrave
A strange atmosphere at dellwood today with us being the only game being played.
The boys started the game very well and mostly dominated the the 1st half but as the same as the last few games the lads didn't turn the pressure into goals and the first half some how ended 0-0.
The second half started with Kesgrave much more in the game and started brightly and scored the first goal of the game. The lads responded well and pressed forward and found an equaliser with Dylan firing home. Unfortunately straight from the kick off we gave away a free kick on the edge of the box and Kesgrave scored a cracker from it
Once again the lads pushed forward and again found another equaliser after pressure from joe. Unfortunately again straight from the kickoff Kesgrave went straight up our end and found the net to once again lead the game. The boys tried hard to find another goal but the clock ran out and somehow found themselves defeated again. Tough on the lads and very frustrating but that's football but games are coming round quick and we are back at dellwood next week to try to turn around the results.
F/T 2-3