Juniors
Round-up
09
November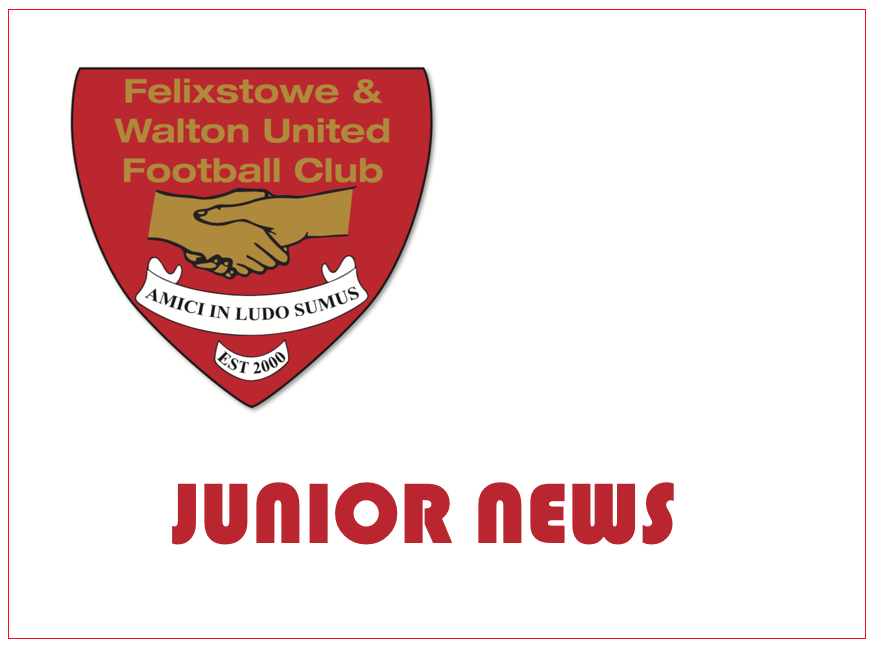 Juniors Round-Up From 09 November
U13 reds away to salvation army in a top of the table clash. Score line does not reflect the result of us going down 6-1. We had many chances but just could not score today.goal olly and MOM olly. Roll on next week.
U13 WHITES
Home vs Kesgrave.
Today the boys proved they can play football, talk, look-up and pass.
As they walked away happy with a 6-0 win.
With in the first 10 minutes and just gone 1-0 with a great move from the half way ending in Lucas scoring and you could see from our football it was going to be our day, and soon with a good move down the left Jamie made it 2-0.
We didn't rush the game just kept it simple and pressed high stopping Kesgrave playing, soon it was 3-0  after Archie hitting the crossbar then the post he scored with a great shot just inside the box from great move  down the right
H/T-3/0
We started 2nd half the same with our game being faster than Kesgraves  it was soon 4-0 (og) as the defender turned in a Oscar shot, we then started to get tired and sloppy at times but our football kept us in control and with a good move from midfield out to left and after a cross the ball fell to Branden who  slotted if home 5-0 then just towards the end Archie who had moved out to L/W went on a run cutting in along the goal line after beating 3 to drive the ball home giving the keeper no chance.
F/T 6-0.
Lucas D
Jamie G
Archie D
O.G
Branden
Archie D
Motm-Archie D
U8's Red welcomed Whitton Greens to Dellwood on a sunny November morning. The pre match message was to emulate the Whites performances and play as a team. We worked on crossing midweek so it was pleasing to see Braydon whip over a ball from the wing that actually found the back of the net. Oliver managed 2 classy goals in between the visitors scoring. H-T 3-1.
Message to players at half time was not to rush things and kick the ball away if he feels under pressure. So it was great to see one lad take this on board and rewarded in the second half. We managed 5 more goals to Whitton's 3. Toby keeps improving in goal, Kangulan works hard and is adding to his game every week. Charlie put in two excellent blocks and always looking to find a team mate with his passing. Still lots to work on in turning individual performances into team work, but moving in the right direction. Second half goals 2 for Oliver and Ronnie.  1 for Finley. 8-4
U8's Whites v Whitton Greens
Really chuffed with the way the Seasiders are performing in recent weeks. They didn't disappoint today and played some one touch football and neat build up play that was pleasing on the eye. Zach made some fine saves when called upon and gave instructions to his defenders. Noah may be small in stature but he has the tackle of a first team defender. Jordan is enjoying his football and made a lovely run down the wing as well as an important tackle. We ended the first half 5-0 up and added 4 goals after the break. Whitton got two back in the closing minutes.
Goals: Sam 4, Elliott 3, Ant 1, Olivia 1. 9-2
U11G away to Needham market.A good and tough game of football against a good Needham team. 1-1 half time. Second half the girls played some good football and ended up winning 1-2. Goals cailey & Katie. 🌟April.
U16EJA travelled to Woodford FC for a 2pm ko in the Cup that we reached the Final in last year. This was possibly our longest journey to date. With Meshach deciding late last week to transfer to Sudbury FC and with 3 other key players missing it was always going to be a tough ask but the 13 players who did travel performed heroically but lost 3-2. How we didnt equalise in the last 5 minutes with the 3 glorious chances we created was mind boggling.
U12 Reds V Bury
The sun was shining for this top of the table clash. A tough morning was made even tougher when we had to play without 2 of our playmakers so went down to 10 boys so only one sub. The game started with us on the back foot with Bury starting quick and getting players forward but we slowly started to get into the game and pressed forward only to get hit twice on the break to go 2 nil down no heads dropped and the boys keep plugging away and were rewarded with a penalty which we scored to make it 1-2 at H/T
The second half started with us on top and chances were coming and it felt only a matter of time before we equalised but unfortunately for the lads two defensive errors were punished in quick concession to find us 4-1 down. I've said it time and time again about this bunch they never give up and work tirelessly for each other and with very tired legs with little substitutions available we pulled a goal back but for the game to end 4-2 and a win for Bury.
A harsh score line for the lads to take but we continue to learn and develop as a group 🔴⚪️⚽️
F/T 2-4.