SAT
09
NOV
-
HISTON
(AWAY)
-
Isthmian
League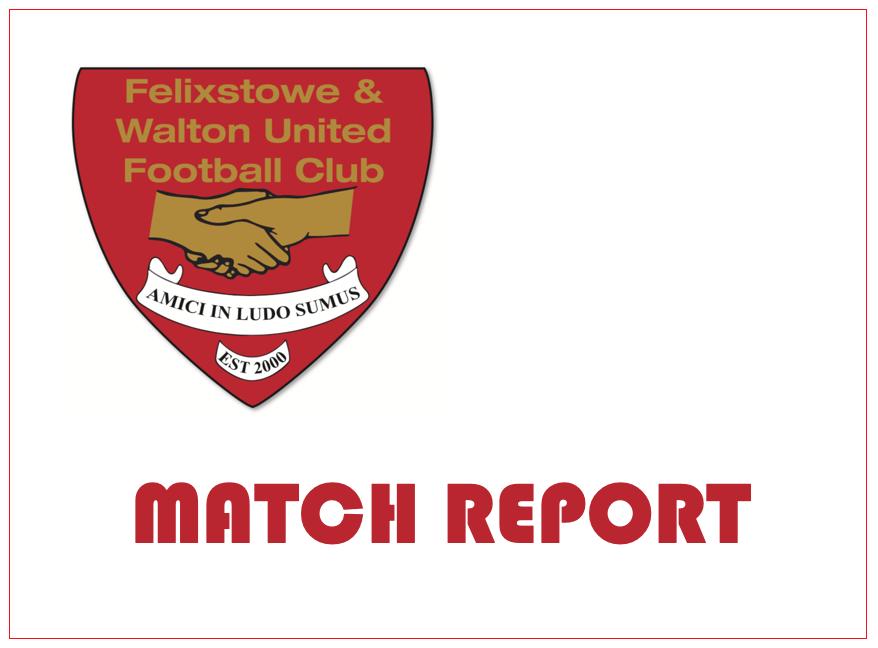 HISTON 1 - 0 FELIXSTOWE & WALTON UTD
We returned home from the drizzle in Cambridgeshire with nothing to show for  our effort in a game that for long periods looked for all the world to be heading for a goalless draw. In fairness, a point each would have been a reasonable outcome, would have meant being unbeaten in two and, of course, a confidence-building clean sheet. Alas, it wasn't to be.
This was a game of few chances which was settled in the 83rd minute when the home side scored the sucker punch goal that saw them consolidate a very healthy eighth position in the league table, Danny Gould getting on the end of a long ball into the box and slotting past Danny Crump in goal. In fairness, it was a very well taken goal.
The game was played on a very heavy pitch and could best be described as "a nothing start" with very little happening in the early exchanges. A cross from wide left on 8 minutes provided the home side with the first chance in the game and an excellent save from Danny Crump in goal, tipping the ball over the net on 12 minutes, kept "The Stutes" at bay.
Some 20 minutes into the game there were chances at the other end for Jordy Matthews, Jamal Wiggins and George Clarke but all to no avail and, despite Histon perhaps slightly having the upper hand, we did put some pressure on the home defence including a Jack Newman chance pulled back for hand ball.
We were looking organised at the back as Histon were caught out offside time after time and it was Sam Nunn who made a very important stop on 33 minutes preventing Dan Brown for the home side being through on goal. As half time approached, Buster Harradine came close for the home side but level pegging at the break was probably fair to both sides.
Frustratingly, after the re-start, we did get crosses into the box from both Henry Barley and Armani Schaar only to find no-one in the box to put the ball into the net. In truth, this was turning out to be a better second half for us but had it not been for a Josh Kerridge clearance off the line we would have gone behind with a quarter of an hour to play.
As it was, with 8 minutes left on the clock, Danny Gould beat two or three players on the edge of the box to put away a good goal leaving us facing disappointment once again.
Histon took their one-goal advantage to the final whistle and this result means we stay in eighteenth place, whilst extending our winless run in the league to seven games. Suspensions meant team captain Dan Davis, alongside Callum Bennett and Miles Powell all missed the game and instead all had a run out for the Reserves back home at the Goldstar Ground.
Manager, Stuart Boardley, said after the game, "I didn't think this was the greatest game from a spectators' point of view" and  "both teams huffed and puffed a little". He went on to say, "It was quite an even game and in summary we were unlucky to lose. When you are down there it's hard to get out of that rut. The players are really disappointed as they felt they did enough to get at least a point today." 
Defensively, we were strong on the day and Boardley heaped praise on the entire back four, singling out Sam Nunn for having a particularly good afternoon. Josh Kerridge and Stuart Ainsley ensured Danny Crump was rarely troubled, with the former having cleared off the line during the second half and Kyle Jopling put in a solid performance despite playing with a knock for much of the second half.
Looking ahead to a tough game next Saturday when sixth-place Grays Athletic visit the Goldstar Ground, Boardley felt sure the players would pick themselves up for the game, saying, "I've told them to be positive and keep believing that we are not far away, and the players can see and feel there is continual improvement week on week." The Seasiders will be missing Josh Kerridge for a couple of weeks due to planned surgery this week, and will be hoping that on-loan striker George Clarke and defender Kyle Jopling can recover from knocks sustained at Histon.
Attendance:171
Team Line-Ups Here
Photo Gallery here