Re-structuring
of
coaching
roles
at
senior
level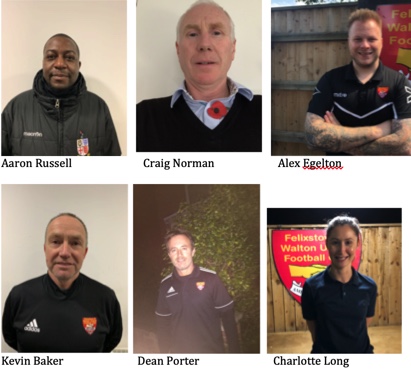 Felixstowe & Walton United would like to announce a number of changes to the coaching staff here at the seaside following a full review of responsibilities by the new management team of Stuart Boardley and Andy Crump.
Leaving the club for work reasons is coach Simon Betts who told the club, " I'm calling it quits chaps. Work is busy and the shifts are not helping. I don't enjoy having to miss matches. Good luck and keep up the good work. It's been a pleasure working with you all." Needless to say, the club would like to thank Simon for everything he's done at the club.
First team coach Alex Egelton is changing roles and will be taking over Youth Development with responsibility in that area for both the Reserves and the Under 18s.
Returning to the club in the important role as kit man is Craig Studd and joining the club as sports therapist and matchday physio is Charlotte Long replacing Pat Alexander in that role. As a consequence of these changes, moving forward, Stuart Stevenson will concentrate on his first team coaching with responsibility around squad fitness and game preparation while supporting Charlotte with recovery from injuries.
Under 18s manager Craig Chidlow will now be working with the Under 16s EJA and responsibilities for the Under 18s and Reserves are as follows:
Reserves Manager:                         Kevin Baker
Reserves Assistant Manager:           Dean Porter
Under 18s Manager:                      Aaron Russell
Under 18s Assistant Manager:        Craig Norman