SAT
26
OCT
-
WITHAM
TOWN
(AWAY)
-
Isthmian
League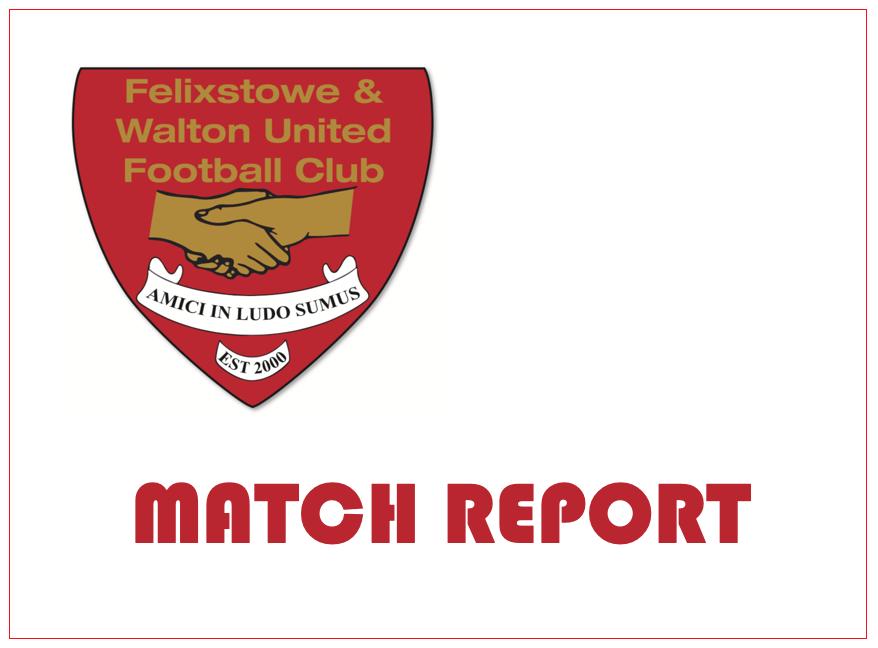 WITHAM TOWN 3 - 1 FELIXSTOWE & WALTON UTD
Attendance:74
Most football fans will readily accept defeat when you've been thoroughly outplayed by a much better team. What is hard to accept is when you come away with nothing, having actually been the better side. Of course it's goals that count, and fair play to Witham who netted three times while we only managed the one, but this 3-1 defeat could have been quite different.
All due respect to "The Town" but our opponents on Saturday weren't the strongest eleven we've come up against this season, so coming home with nothing will be a tough pill to swallow for players, coaches and fans alike.
Talking immediately after the game Stuart Boardley said, "This was a difficult game to analyse really. On the balance of the game overall I think we were the better side. We tried to pass the ball but the pitch made that difficult to do but, nevertheless, I thought we did OK but there were just three lapses for their goals and that seems to be the way with us at the moment."
A paltry 74 souls ventured out to Spa Lane for this BetVictor North clash and this included a decent following of Seasiders who made the journey south. There was just the one change from last Saturday's game at home to Bury Town with loanee Sam Nunn coming in for Kyle Jopling who dropped to the bench. Nick Ingram had the number 10 role with George Clarke as the main striker.
From the start we looked lively and witnessed our first real chance on just 5 minutes when Clarke received a cross from Bennett following a Milo free-kick, but keeper Rhys Madden saved from close range. This was followed by a Barley effort from distance which allowed Newman to test their keeper. With further efforts from Bennett, Ingram, Kerridge and Clarke, we were certainly on top in those early exchanges.
It took until around five minutes before the break before Witham came close to scoring when Crump saved from close range. They had had a couple of chances throughout but never really looked like breaking the deadlock.
With fans making their way to the clubhouse and with the referee with whistle at the ready, Scott Kemp, Witham's best player in that first half, sent a chance to nothing, low cross towards Crump who did save, but failed to hold on to the ball with this allowing striker Marcus Bowers to scramble the ball across the line  giving the home side a rather undeserved half-time lead.
During the half-time break fans were divided in their opinions. Some felt we had certainly edged the game and didn't deserve to go in a goal behind, while others made the point that, being dominant is all very well but at some stage we need to start scoring goals.
As fans made their way back to covered parts of the ground to keep away from the rain there was a sense that things could certainly be put right in the second period. Within ten seconds, however, we were caught half asleep and witnessed what seemed like a goal in slow motion as our entire defence seemed stationary a Crump watched George Bugg's shot from around 12 yards sail over his head to double Witham's lead. This was not the kind of start to the second half Stuart Boardley would have wanted. Jordy Matthews had replaced Jack Newman who picked up a knock in the first half and now it was all about somehow getting back into a game that had slipped away from us within a matter of seconds either side of the break. The problem, of course, was that as we had to chase the game, we would leave gaps at the back and make ourselves vulnerable to the counter attack. And that's exactly what happened.
There were efforts from Barley and Schaar at one end and Kemp and Bowers at the other but the game did become disjointed. There were numerous free-kicks, offsides and disruptions to play with Witham appearing to be following something of a game plan which we would have done better at controlling with a little better discipline. In fact, the game did get a bit feisty at times as did some of the banter between rival fans. All quite light hearted-ish.
Mid way through the half, Nick Ingram powered a drive towards goal which looked, for all the world, to be heading past the goalkeeper. Unfortunately it hit the back of George Clarke and, in some respects summed up the afternoon. At the other end, a couple of crosses from Kemp on the right could have resulted in joy for Witham as we failed to pick up their advancing midfielders, all as a result of us having to push forward to try to close the gap.
Twice we hit the post in the latter stages but the more we pressed the more we came under pressure from the counter attack. Crump made a very good save in a one on one situation but then found himself in exactly the same situation shortly thereafter, only this time George Bugg doubled his tally for the day and gave Witham their third of the afternoon.
Two minutes later Milo found the back of the net with a fine solo effort, first dancing round two defenders, then placing the ball neatly in the bottom right hand corner. What followed was one of those muted goal celebrations as we came back for the re-start knowing that with just a minute or two left to play this simply wasn't going to be our day.
Stuart Boardley, adding to his earlier comments had this to say, "We need better game management. With just a minute to go until half-time we commit too many men forward and then get caught at the back. We can't be too harsh on our defenders because our strikers made errors today as well. It didn't fall for us first half but we felt confident going in to the second half that we'd turn that round and then within ten seconds we're 2-0 down because we went to sleep. We get on top in games, then we concede. (on the plus side) the players have a good attitude in training, they're giving it their all but deep down they're lacking a little bit of belief and the only way to combat that is to get a result"
Tuesday night we host Maldon & Tiptree and whilst this might be a tough game it could, as Boardley added, act as a catalyst. A decent result against "The Jammers" would be just what the team needs. No doubt there will be a good turnout at The Goldstar Ground for this one and playing against a side that has won all sixteen games in all competitions this season is a game you can't really lose.
Team Line-Ups Here
Photo Gallery here