SAT
19
OCT
-
BURY
TOWN
(HOME)
-
Isthmian
League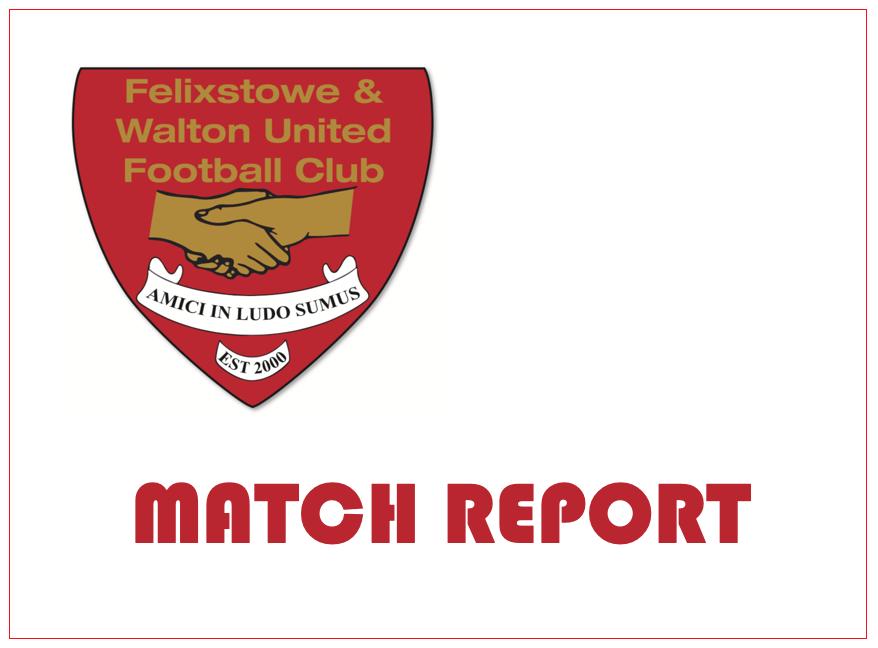 FELIXSTOWE & WALTON UTD 1 - 2 BURY TOWN
Attendance:424
Seasiders Captain Dan Davis said after the game on Saturday, "If you want to look at scorelines, Saturday's 2-1 defeat (at home to Bury Town) was an improvement (and) Bury are one of the two best sides in the league."  He was referring, of course, to coming unstuck away at Bury in The Velocity Trophy back in early September 5-1 and going down again a few weeks ago 4-1 in The Suffolk Premier Cup. Davis added, "The new coaches are trying to implement ideas and people are listening. There's more discipline. We're working on a new shape and for large parts of the game it worked. Now we have that shape, we need to build on it. Although we didn't threaten going forward, we are competing better."
With Jordan Matthews and Jamal Wiggins still not fully recovered, we set up with Miles Powell in midfield and new loanee George Clarke up front, albeit in a wide role.
The Blues brought with them plenty of support and it was the visiting fans who were the happiest in the early stages, which saw both Cemal Ramadan and Ollie Hughes go close within the first minute or two. On 10 minutes keeper Danny Crump pulled off a decent save when clearing his line from a Ramadan effort at very close range to keep the game goalless.  
Not long afterwards, a Callum Bennett corner resulted in a Miles Powell header straight at Bury keeper Daniel Barden.   Meanwhile, at the other end, the early stages saw any number of free kicks and corners going Bury's way, resulting from consistent pressure, and it was almost inevitable that the deadlock would soon be broken. A Ross Crane free kick from the right, just outside the box, resulted in a Jake Chambers effort saved at close range, only for Gardner to pounce on the loose ball to give the visitors a deserved lead on 23 minutes..
Our first serious effort in front of goal followed another Callum Bennett corner on the right which allowed Armani Schaar to test Dan Barden in goal but, alas, to no avail. We had another chance when a training ground free kick on 35 minutes, taken by Callum Bennett, allowed Milo to float a good ball through to Josh Kerridge whose effort sailed across the face of the goal and just a little wide.
Bury had another couple of chances just before the break with Ramadan and Ryan Jolland both coming close.
In the second half, Nick Ingram was replaced by Jacob Lay shortly after the interval and Adam Hanson came on for George Clarke, who went down with a groin injury in his first game for the club.
Unfortunately, the second half was offering no real relief for the Seasiders with Oppong and Jolland both coming close for The Blues before Ollie Hughes managed to somehow head over Crump to give Bury a 2-0 lead.
With ten minutes to go until the end of proceedings, substitute Adam Hanson shot wide, providing just one of very few chances that fell our way. We did manage to pull one goal back deep into injury time when Milo was brought down in the box allowing Armani Schaar to step up for the resulting penalty. Daniel Barden did manage to save but Armani was first to the rebound to bring the score to 2-1. Under the new rules of the game this is now judged to be a goal from open play.
After the game we spoke to Assistant Manager Andy Crump who said, "Bury are a great side and against good sides you can't afford to give away the amount of free kicks and corners that we did. There were probably over ten set pieces we had to defend." Andy added, "Over the next week to ten days we hope to see a little activity with regard to new faces coming in."
Next up for us is 16thplaced Witham, away on Saturday. Despite having picked up 8 points in total, Witham have yet to clock up a win at home. Probably a bit too early to describe the game as a six pointer but it's certainly an important game and, in the words of Dan Davis, "a game the players are really looking forward to."
Full post-match interview with Andy Crump and Dan Davis is available here: 
Team Line-Ups Here
Photo Gallery here