SAT
12
OCT
-
COGGESHALL
TOWN
(HOME)
-
Velocity
Cup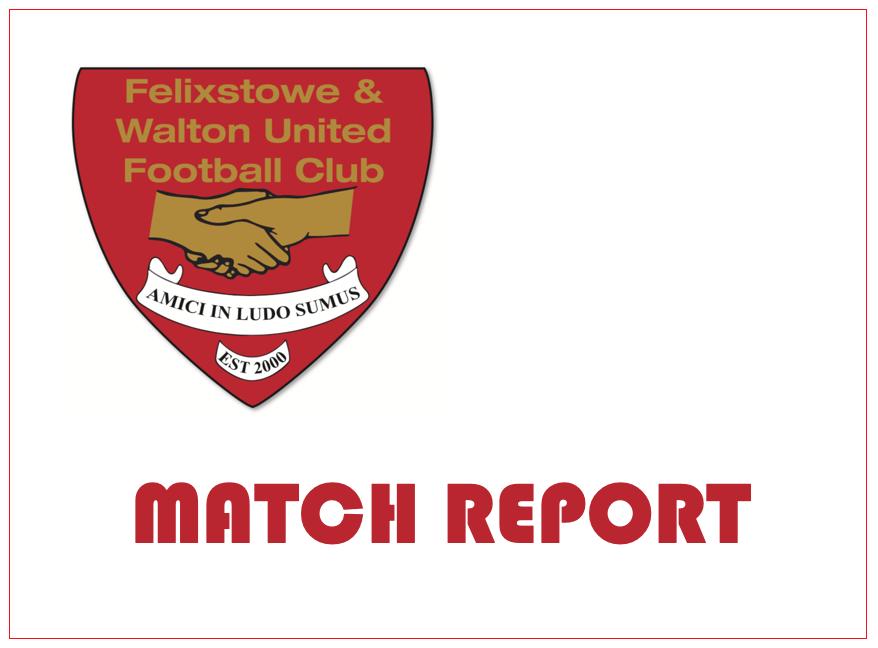 FELIXSTOWE & WALTON UTD 2 - 2 COGGESHALL TOWN (Felixstowe win 5-4 on penalties)
Attendance: 263
To take the lead on just 58 seconds in your first game at home as manager really is the ideal start. Stuart Boardley's instruction to his team was to make an impression early on, to get at them with pace. He was duly obliged. A through ball to Nick Ingram out wide left resulted in a well-placed and well-timed cross which found Miles Powell centre stage with the goal in front of him. Milo didn't hesitate as he confidently slammed the ball past keeper Ashlee Jones. 1-0 to The Seasiders; just the start everyone wanted. In fact, it could easily have been 2-0 on 6 minutes when a free kick from the right bounced off the upright.
At the other end the ever-lively Josh Pollard tested keeper Danny Crump from close range bringing out an impressive block to keep the advantage our way. A minute later Milo found himself on the edge of the box, where he deftly beat off two defenders and fed Armani Schaar, who made no mistake in extending our lead with just 11 minutes gone.
There's no question about the fact that this was breakneck speed in the early stages. Stuart Boardley told Seasiders TV, "We clearly started fast, that was an instruction - to start positively." Going ahead in the manner we did undoubtedly settled any lingering nerves from the 263 spectators, which was actually a good turn out given the fact that this was a Velocity Trophy game in which we had no possibility of advancing from the group and played on a rather wet and miserable day.
We came close again on 26 minutes, only to find Milo judged offside and shortly after that, a Callum Bennett cross from the right found Nick Ingram on the edge of the box ready to cross for Armani to place inches wide.
On the 34thminute, Kyle Jopling went down heavily, seeming to land on his back resulting in a stoppage of a couple of minutes at least. Kyle stayed on the pitch and saw the game through despite carrying the knock he picked up which apparently was to his shoulders. Straight after this, Jamal Wiggins also went down with a groin injury. He did return to the field of play but a few minutes later needed to come off being replaced by Ollie Dunlop.
As half time approached Jack Newman chanced his arm with a long-range effort which went over the bar. What was good to see was the confidence the players seemed to have to attempt long shots like that.
With seconds remaining in the first half, Ross Wall pulled a goal back for Coggeshall, coming in from the right after finding our defence somehow static on this occasion. Stuart told us, "Coggeshall had parts of the game where they were good in that first half, but I thought we were a lot more effective than them and went in deservedly ahead but to be honest I thought we should have gone in two up. I thought 2-1 was a bit unfair."
The second half saw The Seedgrowers with more of a presence and interestingly they found themselves caught offside on more than a few occasions. It could have been all level with ten minutes still to play but Crump pulled off a very good save from George Cocklin to keep the advantage in our favour. Three minutes later Coggeshall did bring the game level following something of a mix up in the centre circle, which allowed us to lose possession only to see Josh Pollard bury his effort and take the game to penalties for the bonus point.
Right on the stroke of full time a melee involving practically all 22 players resulted in a yellow and a red for the visitors with Jack Simmons given marching orders for allegedly throwing a punch.
The atmosphere changed somewhat for the penalty shoot-out, which saw both goalkeepers place the ball on the spot to see if they could find the net themselves. The whole experience was quite light-hearted and brought a smile to everyone's face, including Ashlee Jones, the Coggeshall keeper whose own effort seemed destined for the neighbouring back gardens and possibly Dellwood Avenue itself. We won 5-4.
On a slightly more serious note, this was a decent performance in which we saw lots of energy and passion despite the actual outcome being irrelevant with respect to progression in this particular tournament.
Speaking to Seasiders TV at the end, Stuart Boardley added, "I thought we edged it overall but you can't really grumble about 2-2 really."  With respect to the decision to play Henry Barley in a flat back four Andy Crump said, "Henry did well. Today's decision was influenced by Stuart Ainsley being suspended. He went and did his part last night and played for the Reserves. Henry came in today and did fantastically. Our job is to manage a squad of players and to put the right side out for each game. Sometimes decisions are forced upon us, sometimes it's about how you want to go and approach a game."
When asked about team selection and the choice of Danny Crump in goal, Stuart said, "I always knew this was going to be a decision we had to make. I'm a big believer in playing your strongest team and for a goalkeeper, consistency is key. Our decision was made very easy at Bury because Jack had been ill the night before so he was not really available to play. Danny played against Bury, did very well and he keeps his place. And that's how we want to run the team. If you do well, you keep your place. Decisions will be on form and application. At the moment Danny's got the shirt and it's up to Jack to replace him."
Elsewhere, Jordy Matthews and Josh Kerridge still have knocks they're recovering from and Joe Bloomfield should be available again soon.
Next up is Bury Town at home next Saturday back in The BetVictor North Isthmian League. When Stuart came in as manager last week, he had already booked a family holiday, meaning Andy Crump will take control of The Bury game. Regarding that encounter, Andy said, " We've got the advantage of having been able to see Bury last week. Their style is very clear. They're an attacking side. I've got two training sessions with the boys this week really to get them thinking about just what we are asking the boys to do. Every game we approach individually. We're at home so having the support we get will help us."
No doubt Seasiders fans will be out in force to help see the team start climbing up that table to a much healthier position than the 17thspot we currently occupy.
See full post-match interview with Stuart and Andy at
Team Line-Ups Here
Photo Gallery here