Match
Report
Reserves
1-2
Norwich
CBS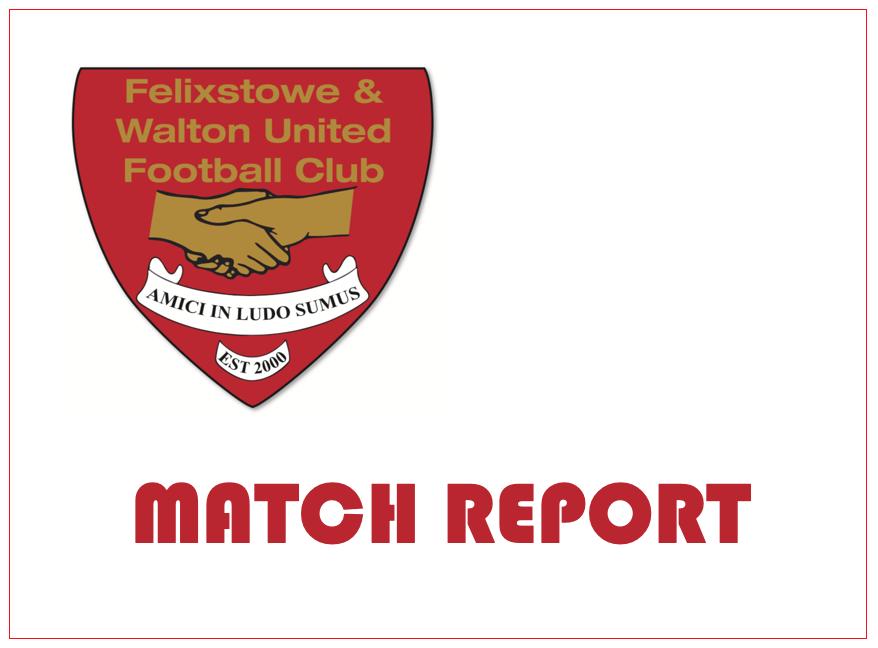 Match Report: Terry Dean
Felixstowe Reserves returned to The Goldstar Ground on a pleasant day for football after an away loss in the Cup against Wivenhoe.
The Reserves  have had a change in management with Simon Tricker stepping down as manager and Kevin Baker taking charge with Dean Porter coming in as his assistant from the under 18s. With the side looking to improve on recent results, they were able to attract an attendance of 91 for today's league fixture against visitors Norwich CBS.
On the back of a disappointing loss mid-week, Baker fielded a very young attacking 4-2-1-3 formation. Danny Crump was selected as keeper, the four in defence where made up of Cale Jones, Morgan Rushton, Kristian Haighton ( C ) and Kyle Joplin. The two in midfield where made up of Dan Legget and Joe Clifford. Rory Porter sat in the holding number 10 position. Ollie Dunlop started as the central striker with DeCosta Holness and Josh Lee playing as attacking wingers. This week saw Lee and Clifford come back from trials with England School Boys and were hoping to impress off the back of it.
We were quick to concede after 6 minutes as a low corner was swung in from the right and opposition captain Daniel Barraclough glanced a header from 6 yards into the Reserves net. With an early goal conceded, the Seasiders needed to regain focus and it wasn't long after the first goal that a counteractive diagonal ball over Felixstowe's defence saw Norwich's striker one on one with Crump who was able to execute a brilliant low save and keep the us in the game. We were unfortunately caught out a few minutes later when the visitor's left back was tackled, but advantage was given and a ball was played over the defence and Norwich striker Connor Delaney was able to tuck the ball in the corner making it 2-0 to Norwich after 19 minutes.
2-0 down so early on, we looked to try and avoid letting the game get out of our grasp. On the 20thminute, Holness cut the ball back from the right byline to Dunlop who was 6 yards out only to fire his shot over the bar. After this wasted opportunity, we won a free kick moments later in the oppositions half. A high ball was played in from the right and headed out to the edge of the box only to be headed back in high by Legget where Dunlop was able to squeeze in behind the defence and stretch a leg out to toe poke the ball into the top right corner making it 2-1.
Now the momentum was back with us, and we looked to attack to get the scores level for half time. A few moments later, winger Holness was able to go on a mazy run through the middle with options of players waiting to break through the defensive line and scooped a ball over for Lee who latched onto a half volley just outside the box only to see it smash off the bar and cleared away.
After that missed chance, we had one last attempt on goal in this half when a ball was played in deep from the left into a sea of bodies and Haighton was able to get a touch with his upper body through a crowd to Lee who was awkwardly rushed into a shot from 5 yards out that went over the bar. The Norwich players where all caught flat footed from this attempt, first appealing for a hand ball against Haighton then an offside from Lee but it just wasn't to be for the Reserves as we went into the second half 2-1 down.
It was a busy first half with three goals scored and the Seasiders looking to bring the scores back to level after opportunities had been wasted. When the teams were out for the second half, they knew that the next goal would be vital. It was Felixstowe who where first to attack in a second half of few chances where a free kick was awarded close to the left byeline and veered to the back post only for Jones to misjudge a header from a few yards out. After this close encounter, Norwich became a lot more reserved in there approach. The second half had become more of a midfield battle as opposed to the  counter attacking football we had seen In the first half. Neither team was wanting to lose the ball as it would give the opposition momentum. With 15 minutes remaining, a hard-low ball was played in from the right from the opposition, only for it to hit a wall of bodies and fall to a Norwich stricker 5 yards out who rushed to smash the ball at Crump.
Norwich were able to see out the game and we found ourselves subject to another loss in the league. Baker will hope that his side's form will improve as they look to gain points in their next league encounter on the 11thOctober away at Ipswich