TUE
08
OCT
-
BURY
TOWN
(AWAY)
-
Suffolk
Prem
Cup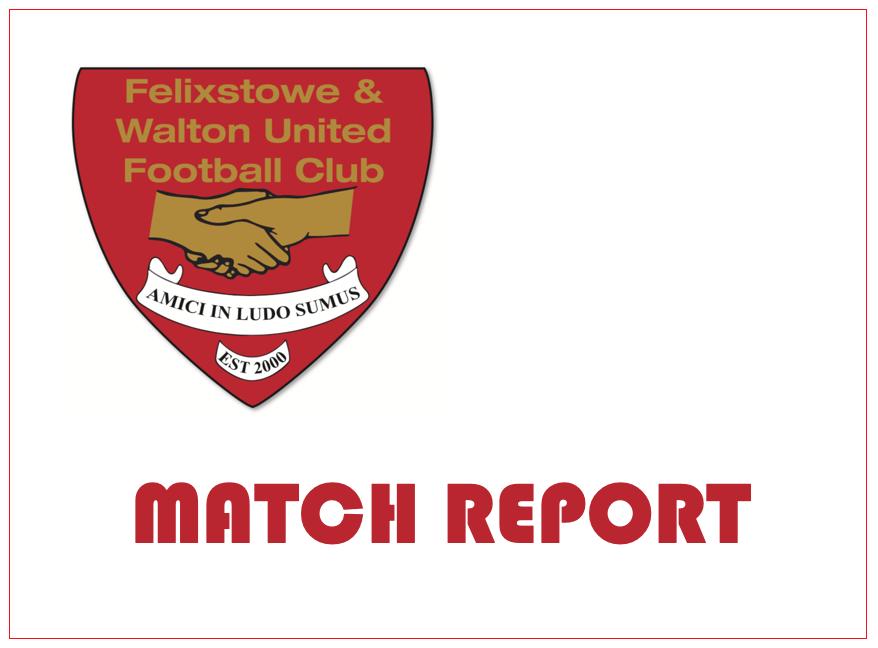 BURY TOWN 4 - 1 FELIXSTOWE & WALTON UTD
Attendance:209
New manager Stuart Boardley and Assistant Andy Crump took charge of things in The Seasiders' Suffolk FA Premier Cup tie away at local rivals Bury Town FC on Tuesday night at Ram Meadow. We came away on the end of a 4-1 defeat and, regrettably, have now said goodbye to any advance in cup competitions for another year. This was, in fact, our fifth cup game in just seventeen days with another encounter in The Velocity Trophy this coming Saturday, at home to Coggeshall.
We lined up with Miles Powell in a more advanced position than in recent games and Danny Crump in goal. Full details of the line up can be found at the bottom of the page. High-flying Bury, for their part, also put out a strong side, although it did feature four or five fringe players including keeper George Bugg.
As usual, there was decent support for the Seasiders among a crowd of 209 who witnessed an early goal from the home side after just three minutes. Ryan Stafford picked up the ball from the right and seemed to find easy passage in our penalty area to put Bury a goal up. This was not the kind of start required for a team perhaps suffering loss of full confidence at the moment.
At the other end, the ever-busy Jordy Matthews impressed a few minutes later when he found himself surrounded by three defenders by the corner flag on the right. Somehow he managed to wriggle his way clear and sent in a decent cross for Milo who made good contact but sent the ball wide of the keeper's post. On the quarter hour mark, Callum Bennett shot from distance, seeing the effort go wide but we had clearly responded well to going behind and were showing real spirit and determination.
As is often the case, it was shortly after this that Bury extended their lead when Cemal Ramadan found the back of the net when another through ball from the right found our defence wrong-footed. It was now a matter of keeping heads high for the Seasiders.
Again we came back, this time with a decent effort from a Milo cross which was cleared by the home side's defence in front of goal. At that stage, a two-goal lead did look, perhaps, a little harsh on Felixstowe.
This was another competitive game, a little feisty at times and whilst we witnessed some good footwork in midfield, we were not penetrating up front. Goalscorer Ramadan put in a very good effort as we approached half time, which Danny Crump saw clear the bar by a matter of just an inch or two.
We hoped for a turn in events as the second half got under way but goal number three came after 9 minutes, this time from Emmanuel Machaya, again following a cross from the right. Three down and there seemed to be a sense of the inevitable certainly within the visiting fans and quite possibly from the eleven men on the field of play.
Adam Hansen had replaced Jordy Matthews in the second half with Jordy picking up a knock before the break.  Straight after us conceding goal number three, Armani Schaar made way for Henry Barley and just after the hour mark Tom Debenham replaced Nick Ingram.
Max Maughn for the home side found himself in a one on one with Crump in goal but fortunately the shot went wide, but shortly after this, Ryan Stafford picked up number four, this time receiving a ball from the left instead of the right. Within just two minutes, second-half sub Adam Hansen pulled one back, beating their keeper from just inside the box. The game was lost by that stage but it was good to get the ball into the back of the net, to show we can penetrate and, of course, pleasing for Adam himself.
And so we came away from Ram Meadow on the end of a 4-1 defeat, following our 5-1 undoing at the same ground back on the 3rdof September.
We spoke to Stuart Boardley after the game, who said, "There were negatives but there were also positives, particularly first half. I felt that we played some decent attacking football, created some chances, particularly probably the first half an hour. We actually started the game really well and created the better chances. Bury had to change their shape in order to live with us. So we went in at half time actually quite pleased, bar a few defensive errors that cost us the goals. The players are low on confidence and we have a job over the next couple of weeks to really lift that. They need to have a bit more belief because although we were two nil down, I thought we were probably the better side the first half. Losing Jordy for the second half was a blow because he was one of our better players in the first half but he picked up a knock and we had to take him off. But I thought young Adam did very well when he came on but he offers us something very different to what Jordy does. It's fair to say that Bury dominated the first half of the second half and there were more defensive errors for the rest of the goals. Still, we kept going, the attitude of the players was good and there's lots for me and Andy to work with."
Regarding Saturday's game against Coggeshall in another dead rubber game, Stuart added, "It's one of those games it can be difficult to get players up for but we can use it as a springboard hopefully to get that confidence that we spoke about improved and get some belief back in the players so I see it as quite an important game. We want to put a mark in the sand and build a foundation on Saturday."
Saturday's game will be our first home game since Maldon on the 24thof September and coincides with it being National Non-League Day where fans will be invited to pay what they want. It's also an opportunity to get behind the team and welcome Stuart and Andy back to The Goldstar Ground with, hopefully, a return to winning ways.
Team Line-Ups Here
Photo Gallery here