SAT
05
OCT
-
HULLBRIDGE
SPORTS
(AWAY)
-
LEAGUE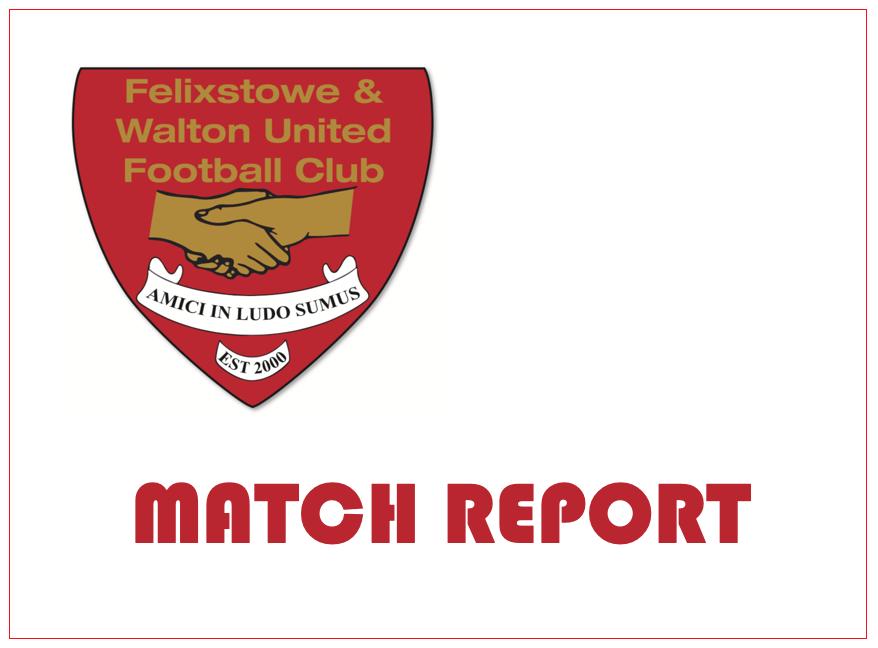 HULLBRIDGE SPORTS 3 - 1 FELIXSTOWE & WALTON UTD
Attendance: 105
With the management changes currently taking place at the club, Goalkeeping Coach Gary Hammond took charge of this game away at Hullbridge Sports as we returned to league action after a run of four games in various cup competitions. With injuries and players unavailable, there were a number of changes in the starting line up from Tuesday's game at AFC Sudbury in The Velocity Trophy. In came Jack Spurling, Henry Barley, Josh Kerridge, Stuart Ainsley, Jack Newman making his senior debut, Nick Ingram and Armani Schaar.  Missing were Danny Crump, Fernando Muñoz, Jamal Wiggins, Chris Ribchester, Jacob Lay, James Hubbard and Jordy Matthews.
There was decent travelling support amongst the sparse crowd of 105 and they were all able to witness a competitive game between two evenly-matched sides. In simple terms, Felixstowe edged the first half while Hullbridge came out tops in the second.
The home side did find the back of the net after around ten minutes only to see the flag raised immediately for offside. Shortly after this, Timothy Monsheju's effort cleared our bar in what was a decent effort on their part. It was then our turn to come close at the other end when a Barley cross from the left sailed over heads to graze the bar. There were semblances of previous games this campaign where, despite some good work  in midfield with some neat footwork, we seemed unable to penetrate and offer a serious threat in front of goal.
Having said that, we did take the lead on 32 minutes when a Barley cross, this time from the right and a flick on, found debutant Newman ready and able to put away his first goal for The Seasiders.
Coming out a goal ahead in the second half, it was important to keep things tight early on but, unfortunately, a defensive error allowed Joseph Wright the opportunity to lob Spurling to give the home side the equalizer they wanted. Suffice it to say, Spurling was not best pleased to have had to concede a goal in that manner. It was yet another individual error at the back which allowed Hullbridge to go ahead with Monsheju slipping the ball past Spurling in the 69thminute.
As the game approached full time, we worked hard to find that elusive equalizer but Hullbridge put paid to that endeavour when Yemi Ogunfunmilade converted from the spot in what was maybe a slightly contentious decision. It's probably fair to say that 3-1 was a kind reflection of the game in  Hullbridge Sports' favour.
After the game we caught up with Caretaker Manager Gary Hammond: "In the first half we kept the ball well. We played some nice stuff and got them worried. We had a quite young midfield with Joe Bloomfield, Adam Hanson and Jack Newman who played well on his debut. This midfield was key to how we played in that first half. The goal came from playing some nice one touch, two touch football." When talking about the second half, Gary added, " Unfortunately it was a couple of individual errors which led to the goals and a penalty which was disputed hotly by a lot of our players. It did look harsh but the referee was closer than me so you have to go with his decision. We came away with a 3-1 defeat which flattered them a little bit. We were a lot better value than a 3-1 defeat today."
We also spoke to Gary about the immediate future, bearing in mind the management changes referred to above. On this point he told us, "Going forward we've got to all stick together. We all want the right thing for Felixstowe and Walton and want people to concentrate on what's on the pitch. We have a game coming up on Tuesday. Hopefully we may have one or two players returning from injuries. The squad is going to be stronger when we get to Tuesday."
Following the game, the club announced the appointment of former Seasider and ex-Leiston Manager Stuart Boardley as the new manager with former Seasider Andy Crump as his assistant. Stuart and Andy will take charge of Tuesday night's game away at Bury Town in The Suffolk Premier Cup.
Team Line-Ups Here
Photo Gallery here