Junior
Round-up
28/29
Sep
-
Part
2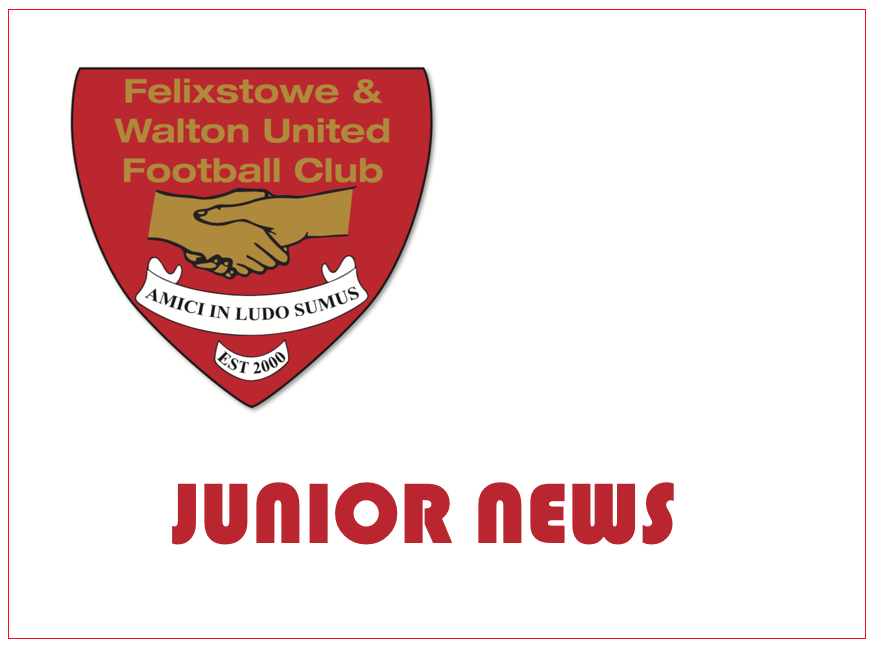 Second roundup from the Juniors' weekends action
Felixstowe U13 reds away to table topping and undefeated coplestonians tigers. A great game to watch end to end and some very good football from our boys. Game ending with Felixstowe winning 7-2 goals from Josh x2 Hugo x2 Max x2 & Jack. Mom Alex. 🔴⚪🔴⚪
U13 WHITES 
Home Vs Boxford 
Another scrappy start from the boys missing several changes before going 1-0 up just before H/T.
After a good chat we started the 2nd half again very scrappy and soon it was 1-1.
As the boys start to settle and use the space and pass its was soon 2 then 3 and as Boxford started to struggle with our pace the boys eventually dominated the game and won 10-1
Jamie x2, Archie x2, Lucas x2, Branden x2, Isaac, Oscar.
Motm-Callum S
U16s home to Woodbridge. Fantastic bright start 1-0 up within the first 2 minutes. Woodbridge came back at us but we held our nerve before losing a moment's concentration gifting them an equaliser midway through the first half. 1-1 half time.
Second half we came out string again against a good Woodbridge team and strong wind. We created some fantastic play but couldn't find the net in second half. Woodbridge kept coming and we had an answer every time with some great saves from Oscar. Final score 1-1
U11 girls home vs Ipswich Exiles. The girls played some lovely football and some brilliant saves from Georgina in goal.Home win. 8-1 goals from lula, katie, Cailey, lily w x2 & kyra x3. 🔴⚪🔴⚪
U13 girls home vs IVR in the cup providing a very entertaining game that saw the home team win 3-2 and progress to the next round. Goal scorers were Evie Lake (2) and Talisha Mays.
Under 12 whites fought so hard yesterday and against Coplestonians. Unfortunately just before half time we lost Young Rhys with a broken arm. He had been immense. After the break we conceded 3 second half goals. I think the trauma of the first half and with no subs left its mark. Sam was awesome in goal whilst the MOM award went to Matthew. A leader in defence.
U16 EJA another Long trip to Haverhill and with a new formation we went 1-0 up in the 2nd minute when the two strikers combined well and Alex slotted home but in doing so collided with the keeper and couldnt continue. A wrong offside decision prevented us going 2-0 up then we smashed the underside of the crossbar and the ball bounced clear. The three CB's were looking solid until 5 mins from half time when a very fortunate equaliser squirmed under our keeper and we will never know if it really crossed the line or not. This was followed a minute later with a good shot into the corner of the net and somehow as happens in football we found ourselves 2-1 down at HT instead of 3-0 up
Not sure why but the boys were not the same in the 2nd half. We only had two subs and 3 or 4 boys were struggling with injuries or illness so that certainly didnt help and we lost the game 5-2 Nathan firing in the last goal of the game. (Last goal wins?)
U8's Reds v Coplestonians Leopards - The pre match message to the Reds was not to worry about the score and to play as a team and encourage each other. Defend together and attack together. Scooby Doo wouldn't be able to catch the monster without his gang. We lost 7-1. Finley scoring a consolation goal for Seasiders. Back to the Mystery Machine to workout how to get the kids playing as a team. 
Under 8's Whites v Coplestonians Panthers - The Whites went 2 behind but as always showed great spirit to keep going. They were rewarded with a goal from Anthony. The move of the game involved Anthony and Elliott with a 1-2...3-4, the latter shooting wide. Elliott grabbed a couple of goals but so did the away team. With a minute left Elliott burst through and found the back of the net to make it 4-4. Fantastic comeback!!
Diss V U12s Reds 
After a hours drive to Diss for this top of the table clash we arrived to a warm welcome from our Norfolk hosts and a good playing surface to boot. 
From the whistle we once again attacked with pace and soon went a goal up scored by Charlie, we continued to press and were unlucky not to score another couple of goals and this would come back to hurt us. Diss started to get back into the game and moved the ball around and used their wide players well and punished us with 3 quick goals to lead 3-1 at the break. 
The boys regrouped after the break and went about trying to get back in the game and had two good chances to do this but we couldn't seem to take them and against the run of play Diss struck again to make it 4-1. The lads kept playing football the right way and were rewarded with our second from the spot when Joe smashed in the spot kick after Teddy was brought down after some great work in the box. The game was now end to end with two teams playing football how it should be played but it wasn't going to be our day with us not being able to convert our chances and Diss got the fifth right at the end of the game to win 5-2. 
One thing this group of lads do is never give up which always makes us coaches proud and again today they kept going to the very end. Fair play to Diss they played some great football and although the score line didn't reflect the whole game they deserved the victory and we look forward to them visiting Dellwood for the return fixture in December. 🔴⚪️