All the latest news from behind the scenes at the club.

If you have anything you'd like to go on this page, or want to get involved with the new media team then please e-mail:  This email address is being protected from spambots. You need JavaScript enabled to view it.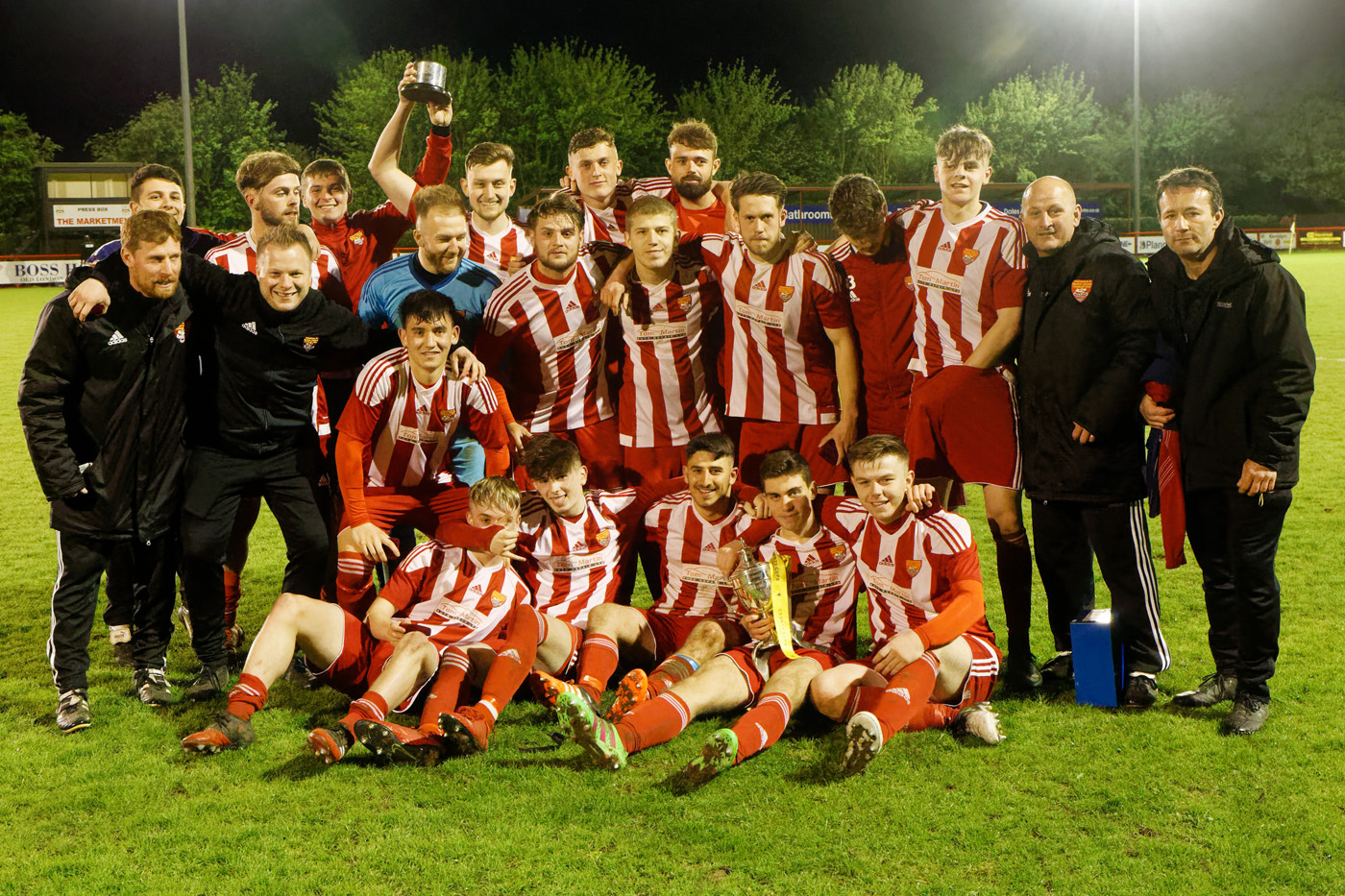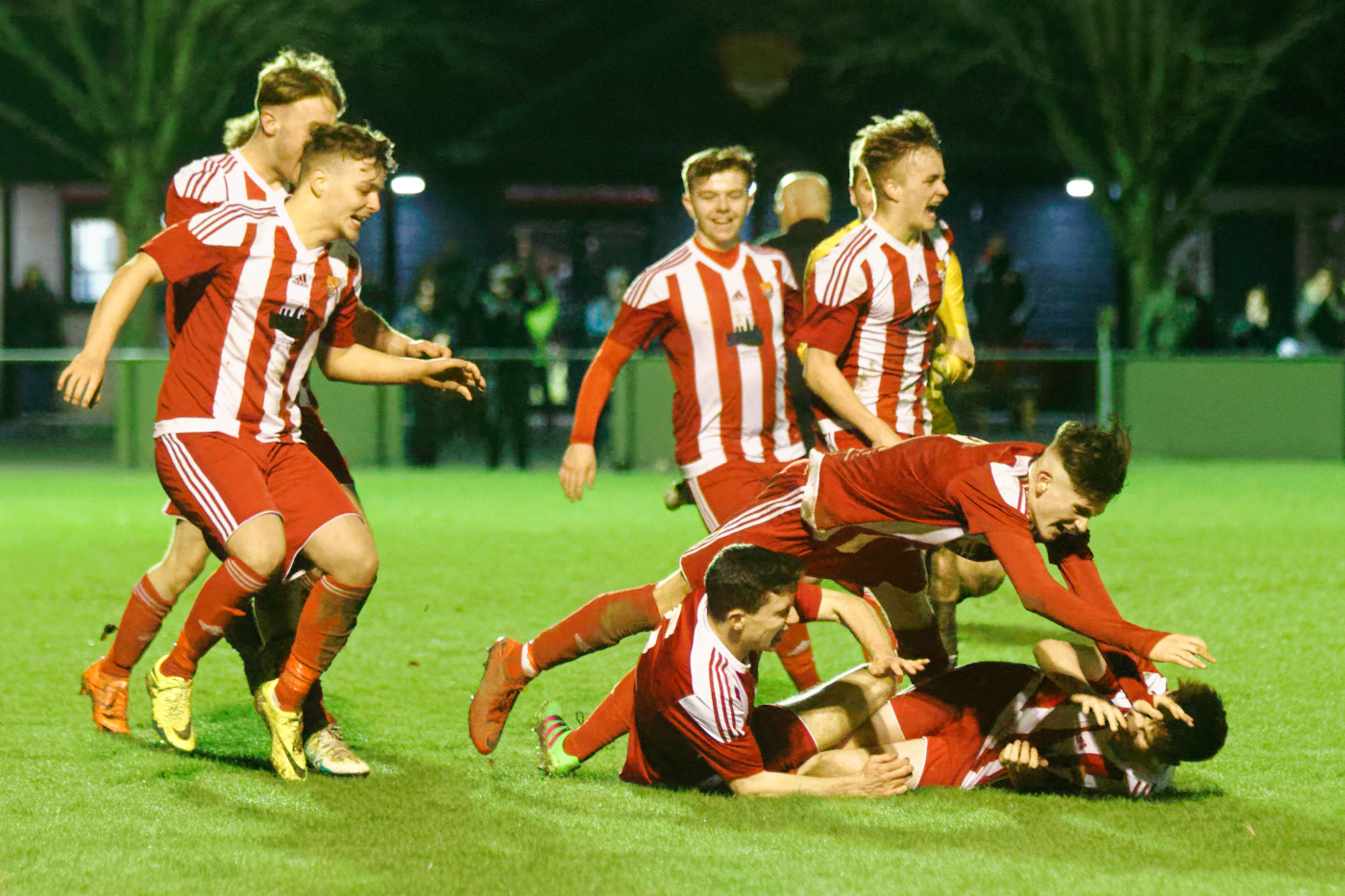 13
July
2018
-
First
Three
Reserves
fixtures
released
Sat 04 August: Reserves v Downham Town
Tue 07 August: Reserves v Leiston Reserves
Sat 11August: Lakenheath v Reserves
12
July
2018
-
Bostik
North
Fixtures
The fixture list for the First Team has been released and is available here
11
July
2018
-
U18
Fixtures
The Under 18's will start their new season at home against Coplestonians on Thursday 16th August - All fixtures up to end August available here.
10
July
2018
-
Thurlow
Nunn
Youth
(U18)
Thurlow Nunn Youth fixtures expected to be released on Thursday 11 July 2018 for the month of August.  The U18 will be in the Central League and will be made up of the following teams:
- Coplestonians

- Felixstowe & Walton United

- Framlingham Town

- Hadleigh United

- Ipswich Wanderers

- Leiston

- Needham Market

- Stowmarket Town

- Walsham Le Willows

- Whitton United

- Woodbridge Town
The full Thurlow Nunn constitution is available here
09
July
2018
-
Training
continues...
Training will continue for the First, Reserves and Under 18's on Tuesday (10th) and Thursday (12th) but at the Ipswich Academy between 7pm and 9pm.
04
July
2018
-
Rory
Porter
Joins
the
First
Team
Squad
Felixstowe & Walton are delighted to announce that Rory Porter is part of the first team squad for the forthcoming season. Rory first played for The Seasiders when he was just 8 years old and Joint managers Kevin O'Donnell and Ian Watson told us earlier, "It's good to see a quality youngster progress to our squad and (it's) a good incentive for the other younger players".
Rory spent some time at Ipswich Elite and at Brantham Eastern Junior Alliance as well as enjoying a spell with Bishop's Stortford where he won The Hertfordshire County Cup twice along with numerous other titles whilst still playing for Felixstowe on a Saturday. He also played for Whitton under 18s when he was just 15 years old.
This will be his third season in his current spell at this club where he started playing for the reserves towards the end of the season before last (2016/2017). Rory made his debut for the senior side in the season just gone and we're sure he'll make a positive contribution to the squad during the coming campaign.
The Bostik League announced that fixtures will be released for the new season on Thursday 19th July.  Meanwhile, the Reserves fixtures are likely to be released around the 26th July.  
Last night, England secured a place in the Quarter Finals of the World Cup (as if you didn't know!) - See the clubs Instagram page for 3 small videos of the party mood at the club house.  Roll on Friday and Saturday for the next round of games - details of opening times available here.
03
July
2018
A very successful training session last night (2nd July) with a huge number of lads took place with the First Team, Reserves and U18 all linking up.  It started with a tough run down by the beach led by coach Stuart Stevenson and ending up with an additional hour of training at the club house.  They do it all again on Thursday!
Catch up with videos on Instagram here and on IG TV (Instagram TV) 
Seasiders.TV also got to interview new goalkeeper coach Gary Hammond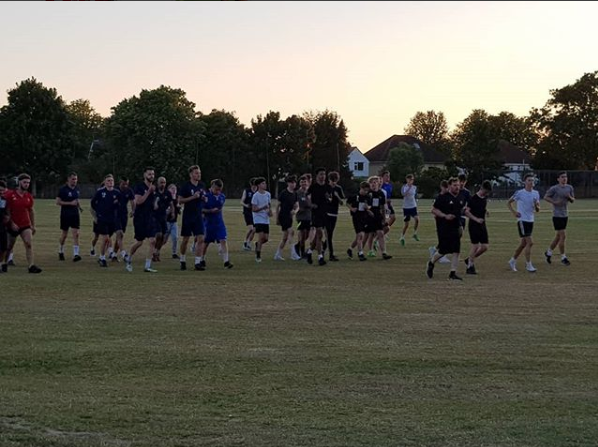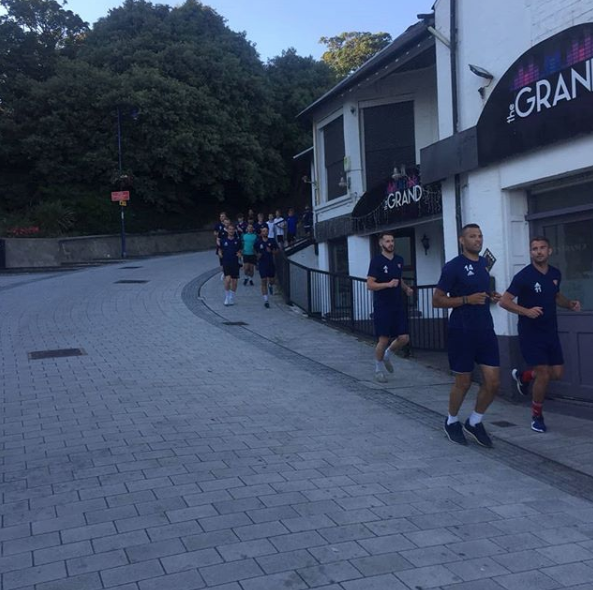 28
June
2018
The First team will now have their opening training session on Monday 2nd July at Felixstowe Football club for a prompt 7pm start.  There will also be a follow up training session at Felixstowe on Thursday 5th July. 
The media team had their first meeting and all the information can be found here
The under 18's fixtures will be released on Wednesday 11th July and opening week will be w/b 13th August.
26
June
2018
The Reserves and U18 completed their second pre-season training session last night (along with a few first team players) which included a run down Felixstowe Beach. Seasiders.TV were there once again to capture the action with Reserves Manager Aren Howell and Coach Alex Egelton also being interviewed.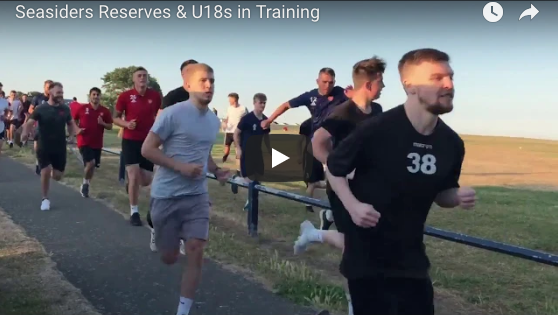 25
June
2018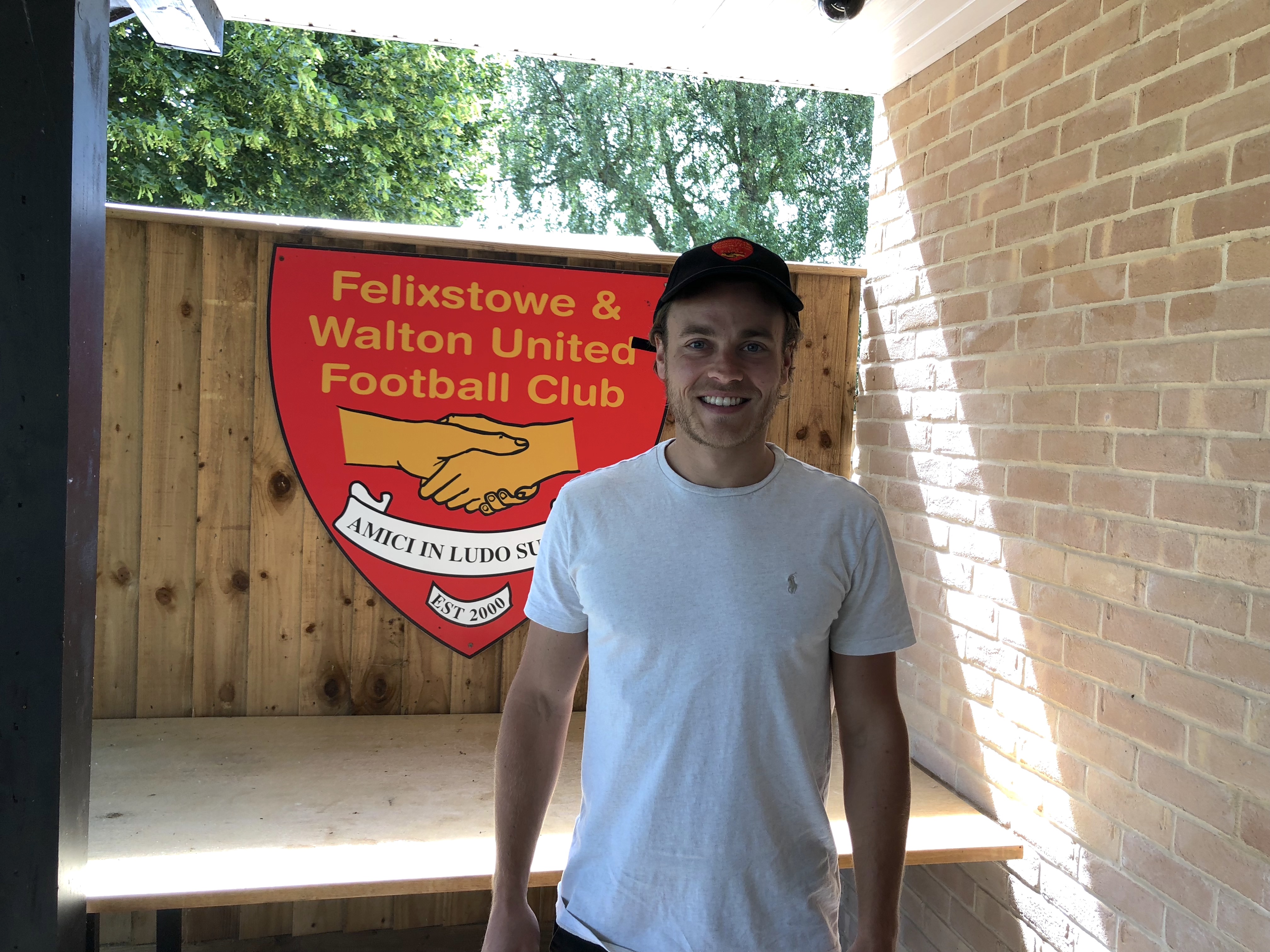 New signing Joe Bloomfield talks to Seasiders.TV and the first team sign new coach Simon Betts for the new season
24
June
2018
The first team commence their pre-season training for the new season in Step 4 on Tuesday 3rd July at the Ipswich Academy all weather pitch from 7pm to 9pm.
The Reserves and Under 18 continue their training this week on Monday and Wednesday.  Another visit to the cliff top green and a run along the beach awaits...
You can now see profiles of the First Team available by clicking here - will be updated as the pre-season and season progresses.
...and finally a Happy 30th Birthday to @seasiderwithers - a massive Seasiders fan and an amazing cake!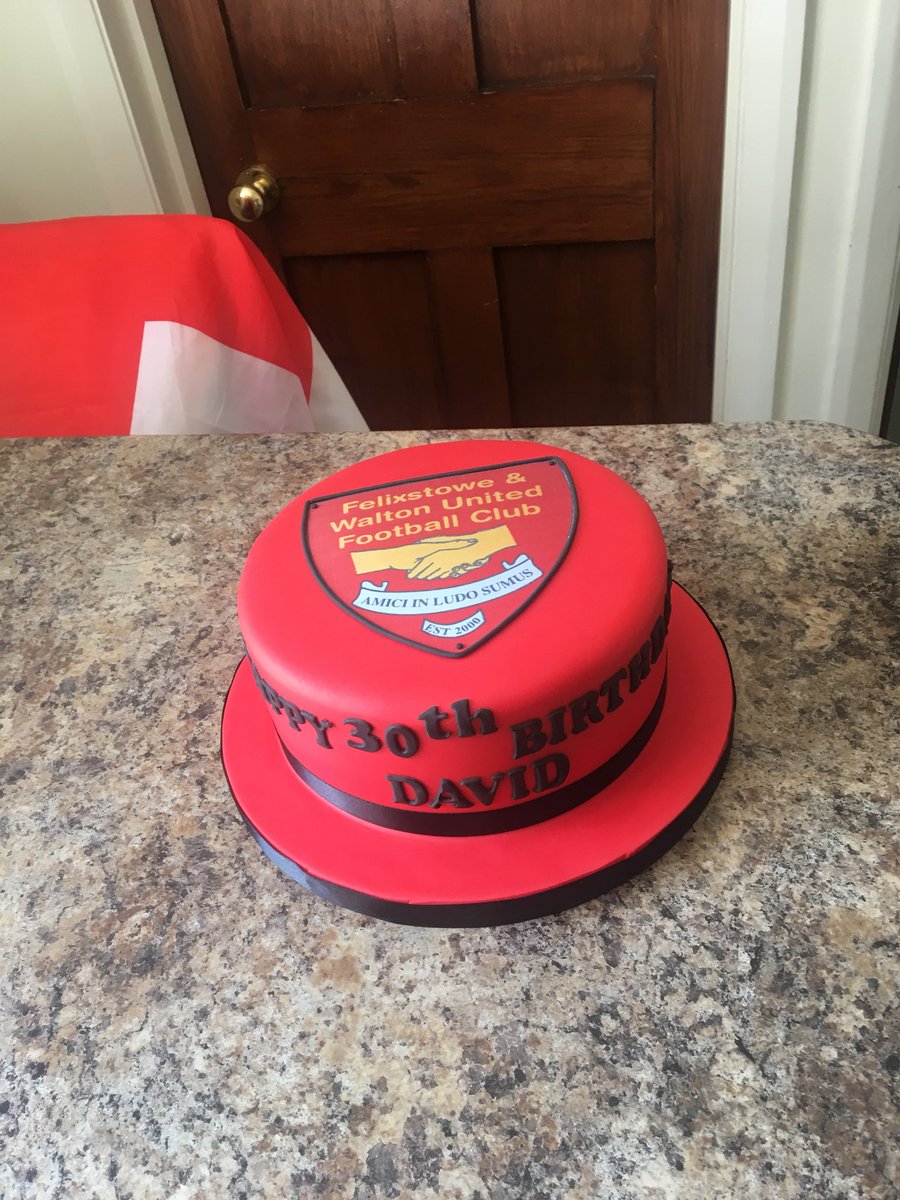 23
June
2018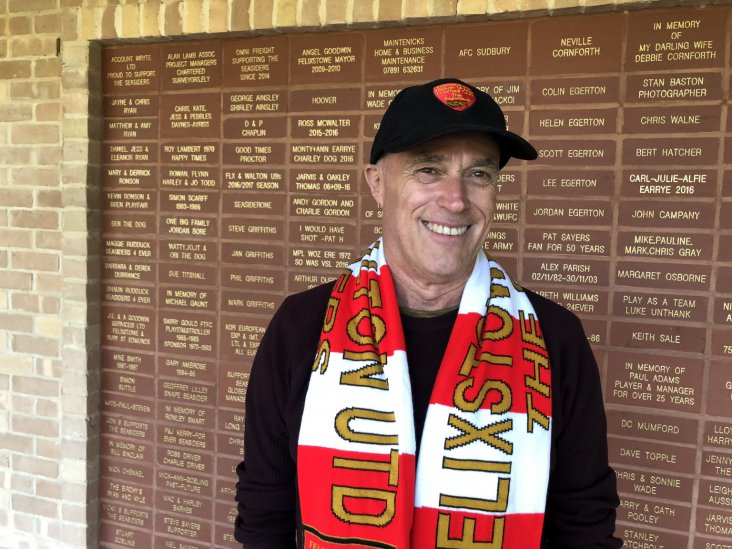 Our new press officer Barry Grossmith wrote an excellent article for the Official Bostik/Isthmian League "Take A Bow" feature for new clubs - Have a read here.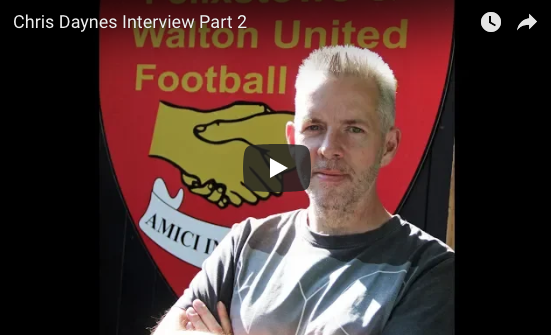 Meanwhile, Seasiders TV released Part 2 of interview with Chris Daynes where he talks about the importance of fundraising for necessary ground developments.
22
June
2018
-
Further
update
on
Joe
Bloomfield
Joe is Felixstowe born and bred and grew up together with Jack Ainsley where they know each other also from their Ipswich days. After he was released by Ipswich, where he also played alongside now England goalkeeper Nick Pope, Joe spent 2 years playing full-time at Felixstowe and whilst at University in Warwick studying Business he also played for The Seasiders outside of term time.
Joe works in Cambridge but is now living in Ipswich. His connection with our club goes back a long way with Joe's father, Steve having been manager at Dellwood Avenue when our own Watty was playing.
Joe has lots of experience in non league football where he has played for local teams depending on where his work has taken him. Most recently Joe has been playing at Ipswich Wanderers having now moved back to the area. Joe is a midfielder but considers himself a versatile player.
Speaking to Watty we were told it was always Joe's plan to come back to Felixstowe and he and Kevin are really looking forward to him wearing the red and white this season.
Joe told us  "It feels great to be back at my home home club after some time away. It's an exciting time to be involved with Felixstowe and I'm looking forward to the start of the season"
We all wish him great success at The Goldstar Ground.
21
June
2018
We are pleased to announce that Joe Bloomfield has joined us this season. Joe played the last part of the season playing for Ipswich Wanderers having moved back into the area. He is the younger brother of Danny and Matt and son of our previous manager Steve. He played for our first team previously from the age of 16-18 before going to university. It was always his plan to come back to the club having played the step 5 level in every area he lived in previously. He has also now come home and we look forward to him wearing the red and white this season.
The Reserves and Under 18 started their pre-season training today.  A very large number turned up and endured a run from the clubhouse to the Cliff top green where a 1.5 hour training session took place. 
This is the first meet up since the end of season presentation dinner and the aim is to have training twice a week to the lead up to the new season.   
The first league game for the Reserves is Saturday 4th August with the Under-18's expected to start week commencing 6th August.
18
June
2018
Chairman Andy Wilding sent an open "online" letter to all supporters of Felixstowe & Walton outlining the plans and requirements for the club to fulfil their obligations to the Bostik League for the first team, and asks for support on all upcoming fundraising events.
The club are delighted to announce the singing of Jack Ainsley from Leiston FC. Details here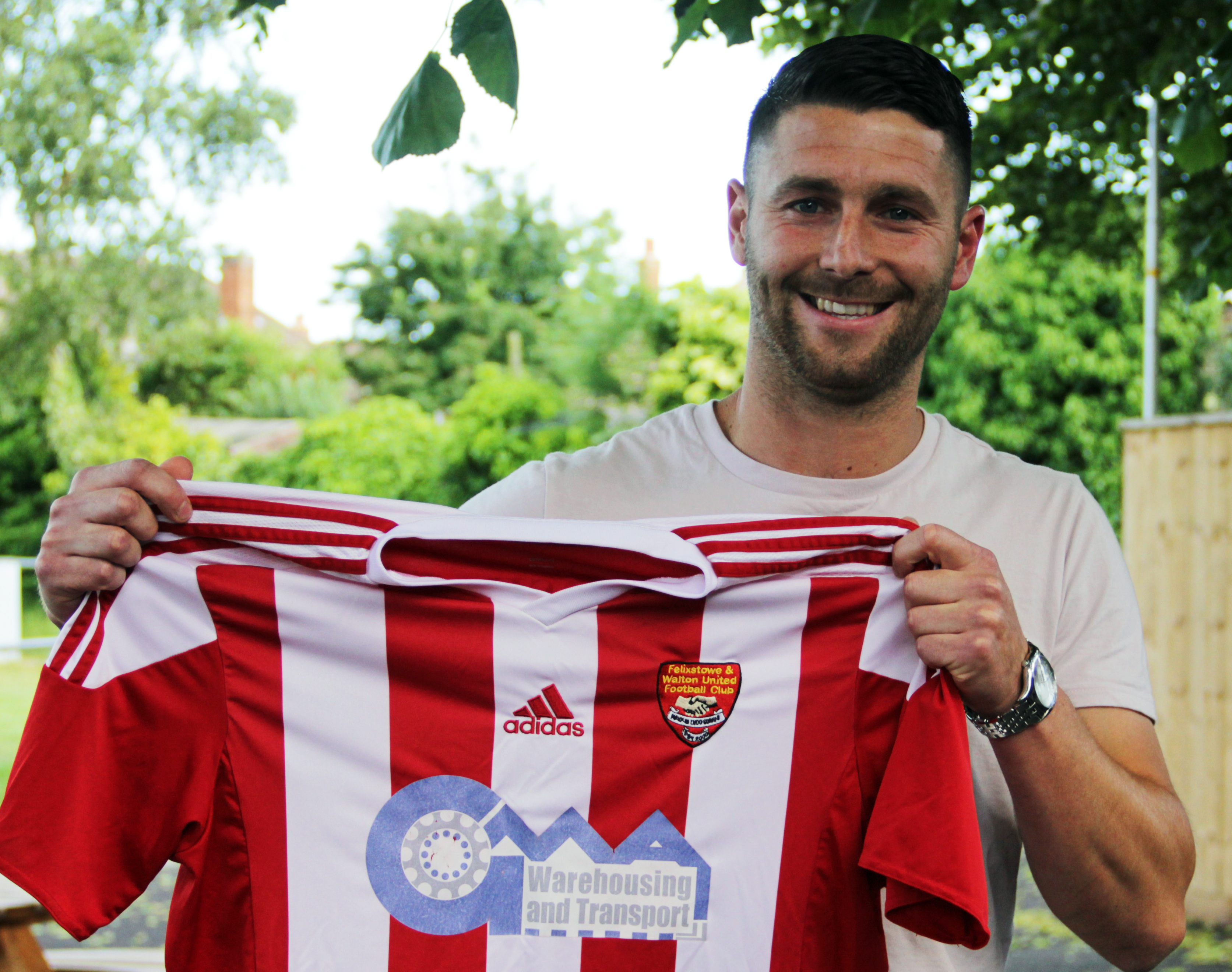 17
June
2018
Signing ons now open for the Thurlow Nunn Reserves and Under 18. 
16
June
2018
Midfielder Rhys Henry joins Seasiders from Maldon & Tiptree, details online here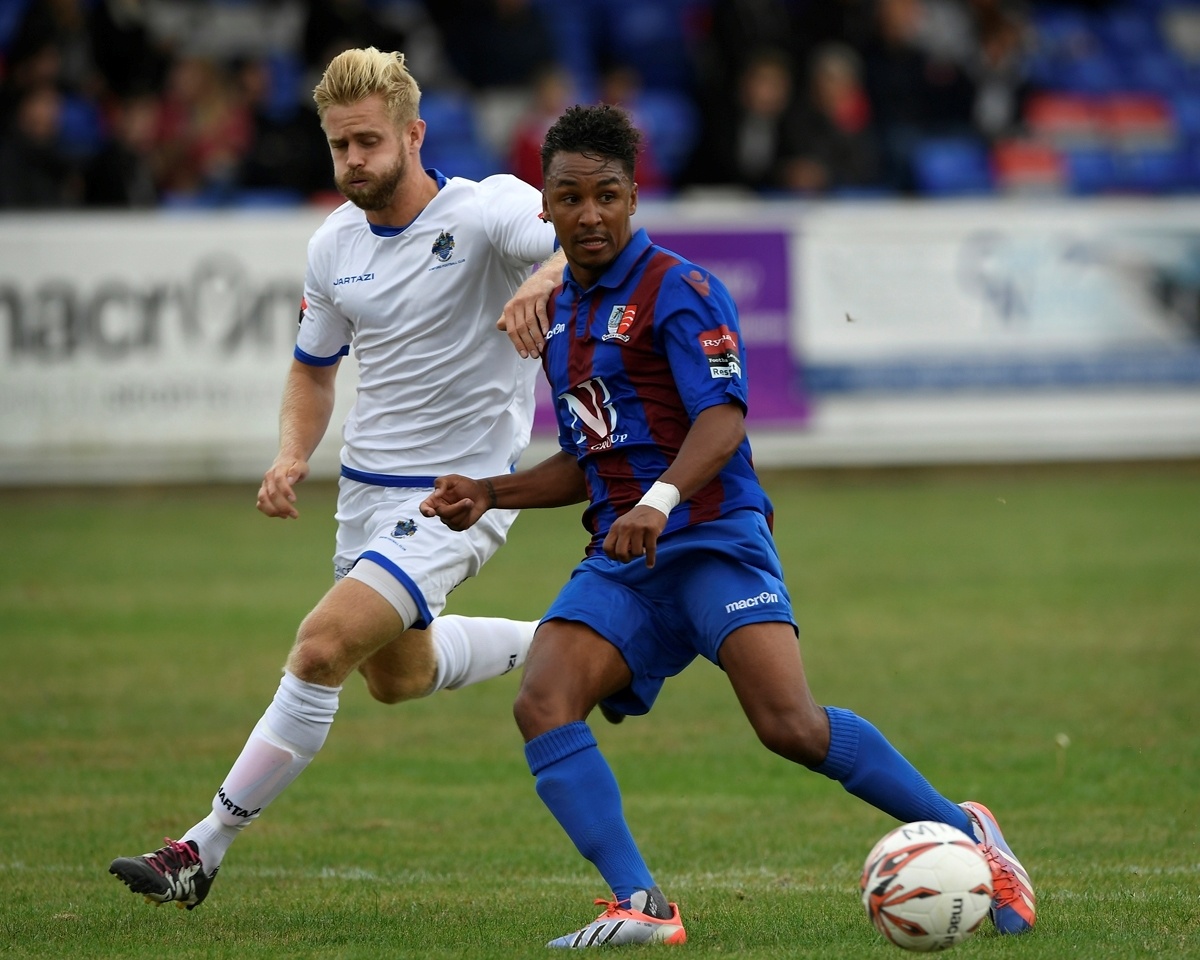 AGM for the Thurlow Nunn at Diss took place today where the Reserves got confirmed as being in Division One North and the Under-18's for the Central League
15
June
2018
-
Taylor
Hastings
Re-signs
for
2018/19
Felixstowe and Walton are delighted to confirm that Taylor Hastings has re-signed for the 2018/19 season and we look forward to seeing him in action for The Seasiders.
14
June
2018
-
Scott
Chaplin
Departs
We can announce that Scott Chaplin has left Felixstowe & Walton.  Due to the club stepping up a league he has been unable to commit because of the increased travelling and the affect it will have on his work. Scott has therefore made the decision to play more local football again and has joined Stowmarket Town for 2018/19.
13
June
2018
-
Kye
Ruel
re-signs
The club is very pleased to announce that Kye Ruel has re-signed for The Seasiders for the coming campaign and look forward to another fine contribution from him from midfield.
09
June
2018
-
Two
re-signed;
Sheri
Retires
Felixstowe and Walton can confirm that both Ethan Clarke and Miles Powell have re-signed for the club for the coming season. At the same time The Seasiders will be wishing Sheridan Driver a fond farewell. Sheri first played for the club in season 2009/10  and re-joined in 2014 having spent time playing for Needham Market. Sheri has decided to retire from football in order to spend more time with his family. A big thanks to Sheri from everyone connected to the club and best wishes for the future.
02
June
2018
-
New
Goalkeeper
Coach
The club can now announce that it has secured the services of Gary Hammond as the new goalkeeping coach.
Gary has recently retired from playing, most recently with SIL side East Bergholt. In the past he has played for a host of local sides including Ipswich Wanderers and Stowmarket Town.
There will be some fans reading this who know that Gary was part of the Walton United team that won the Senior Cup prior to that club's amalgamation with Felixstowe. We extend a warm welcome to someone who will also be a very good coach and mentor to our young keepers. 
01
June
2018
-
More
Player
Comings
and
Goings
You may have already heard that the club has now bid a fond farewell to Danny Crump after his loyal service to the club. Since Danny's departure three other players have also left the club having been released.
We now say goodbye to Callum Bennett, Regan Pelling and Nick Ingram. It goes without saying that we would like to thank all four players for their commitment to the cause and wish them all the very best in the future.
Promotion and the Summer break would always bring about change both on and off the pitch. Jack Spurling, as you already know, has left Ipswich Wanderers to join The Seasiders and the following players have all been retained: Joe Francis, Stuart Boardley, Rhys Barber, Josh Kerridge, Jamal Wiggins, Stuart Ainsley, Dan Davis and Jordan Matthews.
27
May
2018
-
Jack
Spurling
Joins;
Fond
Farewell
To
Danny
Crump
Felixstowe And Walton are pleased to announce that Jack Spurling has joined the club as First Team goalkeeper, replacing Danny Crump.
Many thanks to Danny, who leaves us having enjoyed three spells at the club, the first dating back to 2006. We are sure that his familiar face around the club and the fans' cries of of 'Crumpy!' will be greatly missed.
Many Seasiders may recall the fine performances that Jack Spurling put in for Ipswich Wanderers against us at Humber Doucy Lane on Boxing Day and at the Goldstar later in the season and, if Jack puts in performances like that for the Seasiders in the coming campaign, we are certain fans will be very happy indeed.
On signing, Jack, who has previously played for Brantham Athletic and Leiston, said: "I'm happy to be at Felixstowe and looking forward to see what the season holds. I have had a good couple of seasons and gained a lot of experience. I'm ready for the job in hand this year and can't wait to get started."
21
May
2018
Two
Sign
Contract
Extensions 
Seasiders' striker Joe Francis and midfielder Stuart Boardley have both agreed to sign contract extensions for the new 2018/19 season as we make our debut in Step 4 Isthmian Bostik North. Francis, joined Felixstowe last season from Leiston played 47 games and finished the year as leading goalscorer for the team with 37 goals and Boardley now coming up to his third year made 34 appearances and 4 goals last term.