Tilbury
-
Bostik
North
(Home)
Result:

Felixstowe & Walton Utd 1 - 1 Tilbury F.C.

Date:

16 February 2019

Time:

15:00

Match Type:

Bostik North

Venue:

Goldstar Ground, Felixstowe

Attendance:

351
When former joint manager Kevin O'Donnell spoke to Seasiders TV back in April 2018 about the prospects of promotion to The Bostik North, he said that it would wrong to assume that all Step 4 teams would be better than Step 5 teams. The point he went on to make was that football at the higher level was as much "different" as it was "better", meaning it might be more physical with toughened and seasoned individuals making up the opposition.
It can be argued that this point was proven in the early part of this season when we often faced teams that somehow managed to "get in our face" a little too much. It was incumbent upon us to learn how to deal with situations like this and there are signs that the steep learning curve we have been on this season is beginning to pay dividends.
Assistant Boss Danny Bloomfield, speaking after Saturday's home fixture with Tilbury said, "We stood up to a physical side who put it around and made it difficult for us. I think a little while ago we would have got turned over."
In fairness to Tilbury, however, they did appear to be well organised at the back and limited our chances to just a few in the first forty-five minutes. Inevitably it was that man, Lewis Smith, The Bostik North League's leading scorer with 20 goals to his name so far this season, who put The Dockers ahead three minutes before the break. If truth be told, the visitors probably did deserve that half-time lead.
There have been a few matches recently where we somehow seem to have picked up our game in the second half after a not too impressive first half. That was the case again against Tilbury. After a good spell of pressure from The Seasiders early in the second period, a Callum Bennett cross found Miles Powell in goalscoring mood and we were back on level terms. Milo must have put some power behind the header as he needed some attention immediately after equalising. He was, however, soon back on his feet but unable to add to his season tally of 11 league goals so far this campaign.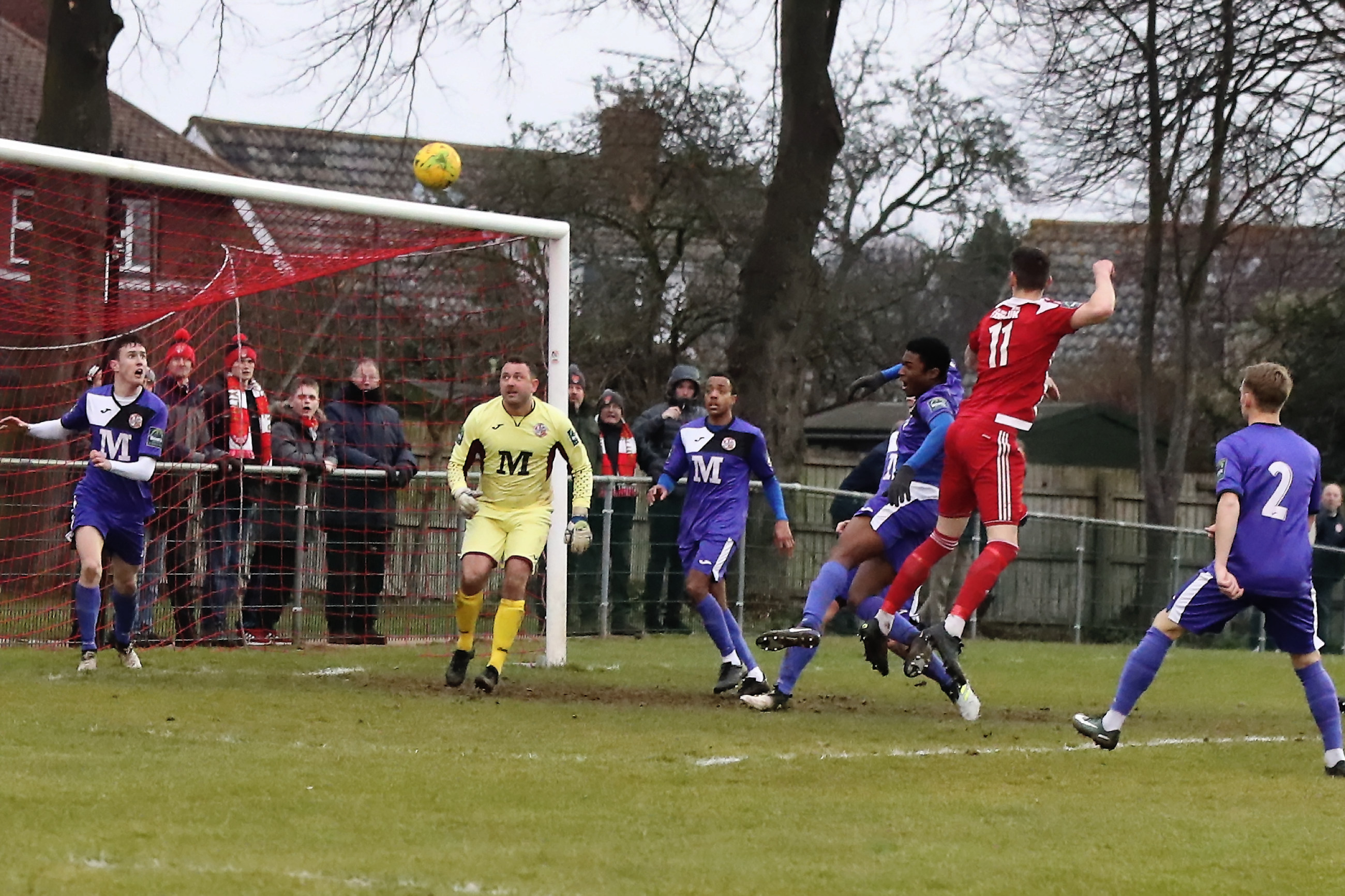 In the end, this was another point which was probably a fair reflection on the game overall, although there were opportunities in the second half for both sides to claim all three. Danny Bloomfield, always one to look at the positives in a game, did appear a little disappointed after the final whistle and said, "Overall we probably deserved just to nick it. I never felt we were going to lose the game. There is a steeliness now and we are competitive. Nevertheless, we weren't brave enough with the ball and we could have done better when in possession. Still, we roll forward with another point."
That point leaves us in eleventh spot, some fourteen points clear of relegation and fourteen points shy of the play off places with eleven games still to play.
In what is beginning to look like a satisfactory season, in which we are establishing ourselves and consolidating our position and right to play at Step 4, there is still a possibility of silverware to come. In the draw for the Suffolk Premier Cup semi-finals, Felixstowe & Walton found they will play Stowmarket on Tuesday the 12th March, 19:45 at the home of Hadleigh United. Meanwhile, Leiston FC will meet Ipswich Town here at The Goldstar Ground the following day, the 13th March, also at 19:45.
Next up in the league is Barking at home on Saturday 23rd February. Meanwhile, our own Reserves face Ipswich Wanderers at home on Tuesday 19th February here at The Goldstar Ground.
Click here for line ups, substitutions, cards etc.
Click here for photos